Google loves who becomes consistent with the targeted keywords… Keywords are the building blocks of SEO. These are the words or phrases that we use in our web content. Content is the king if it is targeted with the relevant and right keywords. Keywords play a major role in a website ranking when it comes to Search Engine Optimization. It's highly recommendable to enlist targeted and relevant keywords in the content at the right places. This will not only help search engines to understand the purpose of your website but also rank your website easily. For this, there is a need for keyword ranking tools, to let you find the best keywords.
Why there is the need to track the keywords…?
Ranking high on search engines is be all and end all of SEO. The outcome of the ranking of your keywords and website and being able to get traffic on your website directly depends upon how pertinent keywords you have put in the content of your website. Monitoring these keywords using keyword ranking tools can help you judge which keywords are consistently yielding the results so that you can use those words in your guest posts, blogs, and other organic SEO methods. These will not only help you rank those pages of the website that are not working well but also help you collectively ranking of your website.
You will able to rise like a lotus in the mud – the keywords that are trending or relevant to your products and services. But the question is how to find apposite keywords? Right keyword ranking tools can help you to not only find the relevant keywords in a short time frame but also help you to spend your time analyzing the outcome produced with the usage of those words and take your next step according to that.
Here we are enlisting some of the best keyword ranking tools with their purpose, you can choose the best out of these…
Keyword Ranking Tools:
1. AHREFS
Ahrefs – The tool which helps you find the diamond out the dust. It is a new tool in the link research tool space. Ahrefs uses its own index (which is based out on the trillion websites which are connected with it) and their own bot. It helps you to audit your website, research keywords, and backlinks, explore competitors – all in just one tool. Ahrefs is powered by big data and trusted SEOs.
This is one of the most popular digital marketing analysis tools. It is a paid tool with an annual subscription starting at $832/month for agencies and $82/month for personal use. Its 7-day trial package is available at $7. It is an incredible tool but can be converted into a useless tool if you have no knowledge of how to use it.
2. Moz- The Keyword & Link Explorer
Moz -The Marketing Analytics Software for backlinks, SEO, and branding. It is stated as the world's no.1 accurate keyword tool for SEO and it has recently updated with over 600 million keyword suggestions to make the competition even tougher with its competitors.
Its Keyword Suggestions expand our keyword research with thousands of keyword from different crawled websites.
OnPage Gradle of  Moz helps to find out the no. of hurting in your website that will help you to figure out the mistakes you are making in the development and in the content of your website.
Link Explorer will let us know the domain authority (DA), PA, the spam score of any website.
Such powers of this tool help it to stand out from its other competitor's results.
3. RankScanner
Rankscanner is another keyword ranking tools that enables websites to track their keyword rankings. Keywords are automatically analyzed and their statics will be displayed in an easy to understand report. It gives us the simplest way to monitor Google keyword rankings automatically. You can compare each and every keyword ranking tool and can opt the best out of it.
RankScanner is a package full of useful tools. These tools will not only analyze the SEO performance automatically but will also notify you for the changes to your ranking status. RankScanner is a cloud-based keyword ranking tool. Its basic package is free of charge but has limited options only. It offers other packages like Silver, Gold, and Platinum, etc. From all of these, Silver is the most recommendable one.
4. Small SEO Tools
The Small SEO tool is for checking track keywords position, backlinks, etc. It is one of the SEO tools which offer plagiarism checking, article rewriting, backlinks maker, Keyword position checker and much more. Most of its features are pretty legit, like the plagiarism checker. We would recommend you to must try it.
Plagiarism Checker enables you to run your articles and texts. It will detect the copied or plagiarized data in your article and recommend you to make necessary changes according to it.
Article Rewriting enables you to copy someone else data but in a different format, so that it will not look plagiarized.
5. Google Keyword Planner
Keyword Planner is a Google Ads Tool for its advertisers so that they can build new Search Network Campaigns. We can use its Keyword Planner to search for new keywords and see how well they are ranking on the search engines like Google, Bing, etc.
Keyword Planner is followed by two more different tools:
Find New Words – Let you find out new and relevant keywords for your website.
Get metrics and forecasts – Let you find out well your keywords are performing on the search engines and what changes are to be made for the improvements.
6. WooRank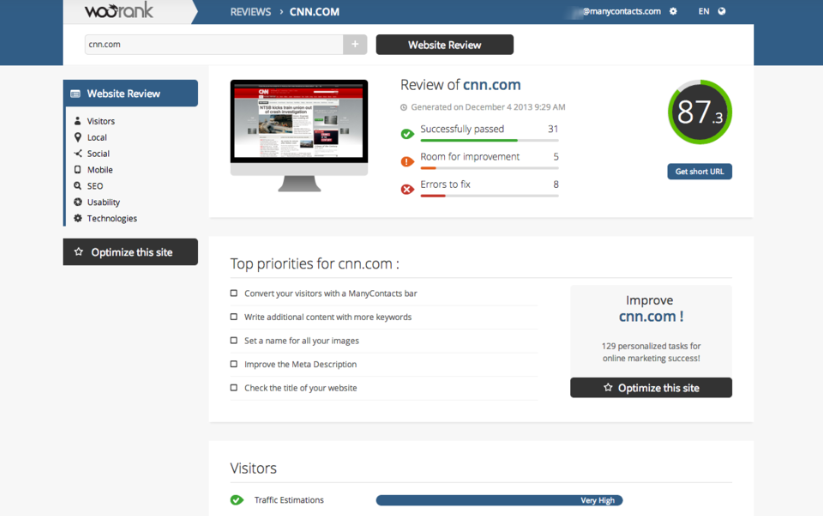 WooRank- SEO Checker is a tool to find issues on the website and track keywords. Help to find identify new opportunities and create statistics according to it. WooRank's dashboard helps us to find technical issues and information on our site and also allow to analyze your competitors' sites so that you can make comparisons and can make strategies according to it.
It not only explores our website but also highlights those sections of the website which demand improvements and changes. This tool also has a built-in function website review function that will allow you to review your site multiple times and you can compare with your previous report to check whether it works or you need more improvements.
7. SEMrush
SEMrush is a complete package tool that offers us the solution for content, SEO, social media, PPC and competitive research and that will spy your competitor's sites and their works and help you to climb the ladder of success if you use it effectively.
It is an ALL-IN-ONE competitor analysis tool founded by SEM and SEO professionals. It tracks the keyword strategy by your competitors, does the keyword research, runs an SEO audit of your blog, looks for backlinking opportunities and lots more.
8. SEO Profiler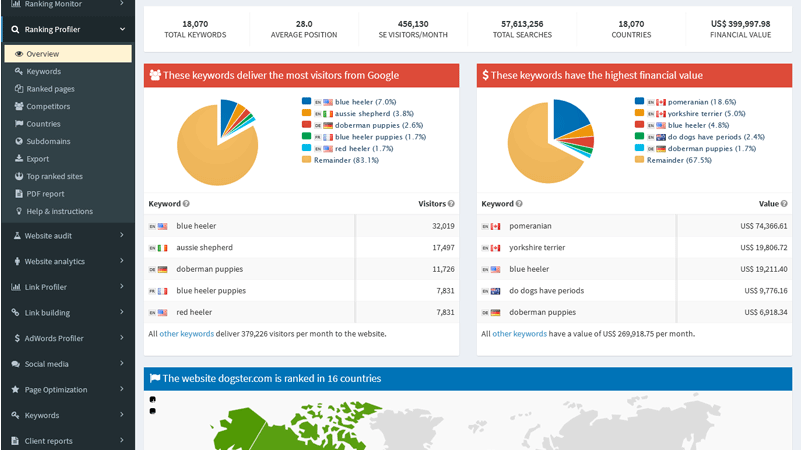 SEO-Profiler is a full-featured promotion tool that offers us all the things we need to get high rankings on search engines. This web application helps you to get higher rankings on search engines. With higher rankings on search engines, you will indirectly get more customers, more website visitors and also more sales of your products.
The two best advantages of using this tool are:
Competitor's Analysis: SEO Profiler's constant eye on your competitors helps you to stand out them
Keyword Opportunities: SEO Profiler keep on notifying the relevant and in trend keywords as keyword opportunities give an advantage over the competition and make our work easy.
9. DYNO Mapper

Dyno Mapper will catalog your website and create an interactive visual site map that displays the hierarchy of the website. This will easily help us to understand the improvements in the website and what amendment needs to be followed for more good results.
It will also help you to figure out your most ranking web pages, which is a good thing and lets you make proper and necessary improvements in the web pages that are not gaining high traffic. Other features integrated into this tool include information related to the internal links, Google Analytics, accessibility testing tool, content inventory, and audits.
Moreover, it will also keep on notifying you on your site performance, weekly and monthly content monitoring with sitemap comments and daily keyword ranking on the search engines.
10. AWR- Advanced Web Ranking
AWR is a robust SEO software that provides more comprehensive keyword ranking functionalities. It also includes a wide range of optimization tools like
Link management

Competitor analysis

Link building

Performance Reporting

Keyword Optimization, all these tools integrated into one software.
The one best feature of AWR is we can schedule our report. We are able to automate the updated report according to our needs and can check how well our website or pages are ranking.
11. SIMILAR WEB
SEO Centro is  another one of thes keyword ranking tool to obtain traffic insights and web analytics for your website. This website offers complete analytics including keyword analysis, web traffic volumes, and referral sources. Similar Web allows us to gain insights about any website or mobile app.
In this way, Similar Web empowers us with the knowledge that we need to win the market. It also helps you understand the concept that keyword ranking not only depends upon the content of the web page but also on the images, videos, news, shopping, snippets, Google Places, and many more such thing.
12. Authority Labs
Authority lab is a great tool to check search engine ranking and stuffing the content with the keywords to automate our SEO monitoring.
Recently this tool also launched some new features like the ability to track and report the pages or domain ranking with its local packs. The tool is designed to make the competitor tracking fast and accurate, local and global tracking, white label keyword reporting and such many more things.
It offers a free 30-day trial and then the premium packages starting from the range of $45 and ending up to $450.
13. RankWatch
RanksWatch is a cloud-based software that is more than just a rank tracker. It believes in building interfaces that are simple so that complex data can be accessed easily and accurately. This tool prevents you from being pushed down the ranks.
RanksWatch's features are limited. So, need to purchase Medium, Extra Large, Large, ranging from $30 and $499 per month. It has two drawbacks –
Keyword research tool – power doesn't match as per your expectations.
Backlink Checker – not being able to yield appropriate results on a regular basis.
14. Wincher
Wincher, another Google's keyword ranking tool designed to make your keyword rank on the top. It does it by allowing us to add multiple keywords and domains, so you'll be able to compare your site to the competition.
If however, your competitors rank up, Wincher will send you the notification so that you can analyze the occurrence. With this, you can decide what necessary steps need to be taken. So, that you can respond to the changes and no other site can take your rank.
The best feature that is supported by the Wincher is that, if you have created your site using WordPress, Weebly, Shopify, you will be able to add Wincher as a plug-in in your content management system's dashboard, so that you can easily access it.
15. SEO SERP Workbench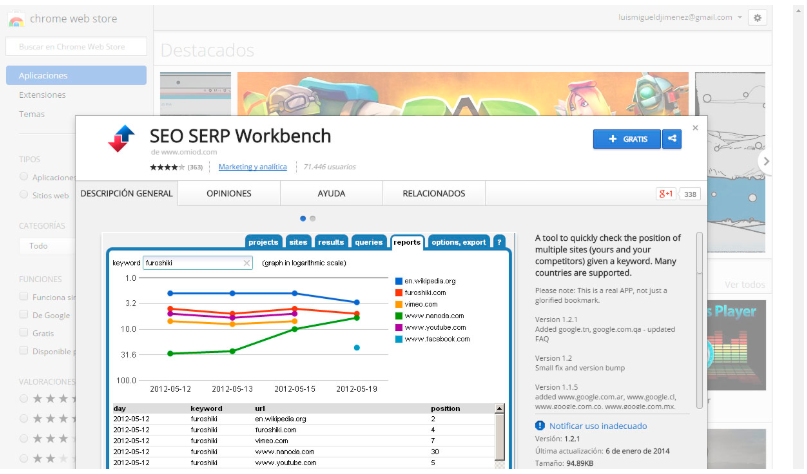 A free Google plug-in, SEO SERP Workbench allows you to rank your website not only locally but also globally very quickly. It helps you to match relevant keywords to your website and then websites to keywords. Then to analyze the outcomes you can use any SEO tool and can make amendments according to it.
The most stunning feature of this tool is that we can work offline. In this way, you can save all your reports in case of any network issue or failure.
The main drawback of this tool is that it fetches the results from the Google Search Engine.
Conclusion:
Keyword Ranking is the best way one can opt to make their website rank among the top results of the search engine. Therefore, if you also want to be on the top just choose the best out of these keyword ranking tools. Additionally, keep an eye on the latest trends and changes the search engines are bringing. It will also help you to stay within the spectrum.
Writing is expressing your mind through words. Being a content-writer I always try to script the best of my knowledge about the topic in the form of blogs, articles, and content.