Automation tools can be incredibly helpful in businesses of all sizes. They can save time and help to improve efficiency. Here are a few reasons why you should consider using an automation tool:
Automation tools can help you to automate tasks that you previously would have had to do manually. This can save you a great deal of time and energy, and it can also help to ensure that your business remains efficient.
they help you to automate processes that are time-consuming or difficult to carry out manually. This can streamline your business and help you to achieve greater efficiency and productivity.
and create custom reports that provide detailed information about your business. This can help you to make better decisions, and it can also help you to identify areas where you can improve your operations.
LinkedIn is one of the most popular social networking sites on the internet, and for good reason. It's a great way to connect with potential employers and friends, and it can also be a valuable tool for your marketing efforts.
If you're using LinkedIn to build your business, here are a few tips to help you get the most out of it: First, make sure to create a profile that's professional and well-designed. This will help you stand out from the competition, and it will also make your profile more attractive to potential employers. Next, make sure to add relevant keywords to your profile and blog posts. This will help you attract more traffic and find new customers.
Finally, be sure to connect with people who are relevant to your industry and who you could potentially work with. This will help you build relationships and ultimately improve your business. LinkedIn is a great tool, and with the right strategy, you can use it to build a successful business.
Is LinkedIn automation illegal?
You cannot use third-party software on LinkedIn's platform, according to their page on Prohibited Software and Extensions. The approach to ensure that LinkedIn continues to convey that it is a platform for professionals is to block spammers.
Does this mean it's illegal to use LinkedIn automation?
Your utilization of automation tools will depend on the actions you perform. If you use them for activities that the LinkedIn platform may deem illegal, such as spamming, data scraping, sending offensive communications, or other similar actions. If you are discovered, LinkedIn will terminate your account.
Utilizing the proper automation tools in the correct situations is essential for using LinkedIn automation tools safely.
What Are LinkedIn Automation Tools?
LinkedIn automation tools are a great way to help your business grow. They can help you increase your website traffic, track your leads and contacts, and more. With the right tools, you can easily manage your LinkedIn account from a single location.
This means you'll be able to track all your activity in one place, and you won't have to spend hours manually entering data into different fields. Plus, with the help of LinkedIn automation tools, you can increase your productivity dramatically.
You can automate your email campaigns, website visits, and more. So if you're looking to increase your business productivity, then consider using LinkedIn automation tools. They're a great way to streamline your work and make it easier than ever to manage your business.
BENEFITS OF USING LINKEDIN AUTOMATION TOOLS: Do You Really Need It? This Will Help You Decide! This high possibility and error-free connection with leads can be highly helpful in a variety of sectors. The following are some more advantages as illustrations.
Conserve Your Resources
Tools for LinkedIn automation help you save a significant amount of time and money that you would otherwise spend looking for the right leads. That's probably their biggest strength,
Improve Options For Customisation
Depending on how many prospects are on your list, LinkedIn automation tools may help you customize your outreach so that every single one of them receives human-like communications with a suitable offer.
Assist in reporting on Engagement
In order to provide you with regular reports on your campaigns, LinkedIn automation tools track your performance, including the number of responses and conversions.
LinkedIn campaigns' A/B testing
They allow you to experiment and determine which ones get more responses due to A/B testing tools.
Automate Your Social Media Posts
you may use a messaging system with LinkedIn automation. You can upload messages in this manner, and the system will automatically post them at predetermined intervals. This can occur again during a day, a week, or even several months.
How to Choose The Best LinkedIn Automation Tool?
LinkedIn is annoyed by automation. Any error could result in the account getting banned. It might be permanently taken down from the platform, which would mean that all your efforts would be for nothing.
Therefore, it is essential to exercise caution when considering purchasing a program to assist you in automating your LinkedIn operations. Simply put, you must make sure that the tool you select is secure to use on LinkedIn.
Web-Based LinkedIn Automation Tools:
These tools need to be opened in a browser in order to be used as an extension, but they have some drawbacks:
The tool cannot run continuously.
They are simpler to identify because they rely on browser caching.
Every time you log in, use a different IP address.
Cloud-Based LinkedIn Automation Tools:
Utilizing a cloud-based LinkedIn automation solution has numerous noteworthy benefits, including:
Exclusive IP address.
It is more difficult to spot because it doesn't function at the beginning.
Availability of cutting-edge features that increase your conversion rates.
Top 5 LinkedIn automation tools, based on suggestions from industry professionals
Expandi
"The most effective cloud-based technology that advertises itself as the most secure LinkedIn automation solution"
One of the most effective and user-friendly LinkedIn automation tools is Expandi. You can use this cloud-based software to identify pertinent Twitter and Facebook profiles. By building connection campaigns, customizing your LinkedIn messages,
and utilizing sophisticated targeting capabilities, you may raise your profile. It also provides a few built-in growth hacks to help you build your company more quickly.
Features:
Invite people specifically using Connect, Messages, and InMails.
Using a single dashboard, you can manage many accounts thanks to this LinkedIn outreach automation.
You can use the same IP address to access the profile function.
a limitless number of campaigns are available.
Hyper-personalized Images & GIFs can be used in your outreach.
Describe metrics and reports in detail.
Auto-reload and expand the search campaign
campaigns CSV file import.
Based on the behavior of your leads, you can develop scenarios.
Pros
cloud-based, reducing computer fatigue
analyzes how people act
Create user roles and permissions for clients and coworkers.
Highly customized messages
Cons
Expandi is a very expensive tool.
Safety features might become irritating.
Phantombuster
"Recommended for the development of intricate lead-generation workflows, data scraping, and task automation."
Online, there is a well-known LinkedIn automation program called Phantombuster. One of the top marketing tools available for automating LinkedIn and other social media sites is this one. Phantombuster offers a range of pricing tiers suitable for all types of companies.
Features
Give you access to a powerful API so you can automate your LinkedIn account.
You may quickly expand your network thanks to its batch processing of the majority of operations.
Any online operation you perform can be automated with its assistance.
supports the creation of complex workflows using cloud-based LinkedIn automation and chain automation.
Make your actions run on autopilot.
Supported platforms: LinkedIn, Instagram, Twitter, and Google.
Pros
It makes it easier for you to automate any online action.
Take LinkedIn users out of a group or search
Your LinkedIn connections can send targeted messages.
automatically accept pending LinkedIn connection requests.
Obtain all the information possible by scanning LinkedIn profiles.
Cons
lacks sufficient third-party Integrations.
DRIPIFY
"Best For your prospect analysis, this cloud-based automation solution leverages cutting-edge algorithms."
Dripify is a powerful LinkedIn automation solution made to assist sales teams in increasing LinkedIn prospecting and closing more deals while operating automatically. Since Dripify offers total automation and operates in the cloud, you can use it even when your device is off.
Features
Pick up the required LinkedIn steps to build your prospecting sequence.
It assists you in creating a selected workflow and in establishing preferable roles and privileges for your team members.
You can trackable metrics to analyze your regular LinkedIn dynamics.
You may use LinkedIn to find business emails and relationships.
Create a fully automated sales funnel by utilizing different LinkedIn actions.
By using LinkedIn Search to filter your target audience, you can add leads to your campaign.
Pros
Over many LinkedIn profiles under one account, you can introduce different outreach campaigns.
With a few clicks, you can easily onboard new team members.
Manage all of your discussions in a single, simple location.
To a specific target audience, connection requests can be automatically sent.
Cons
UI could be improved; it appears outdated.
LinkBoost
"On the basis of title, location, and seniority, it is best for Search to identify and target decision-makers."
LinkedIn message automation that connects with members on the platform automatically. It also allows you to interact with others directly and establish a long-lasting connection.
Using search criteria like title, geography, and seniority, you may locate and target decision-makers. By participating in relevant pods, you may use this tool to increase engagement with your content.
Features
Boost Sales with LinkedIn Automation and Automated Prospecting
You are in charge of creating your community.
By geography, industry, and the number of relationships, you may filter out who is contacting you.
Get more relevant engagements by customizing.
Connecting with other pod members is simple.
Pros
Create a customized audience for your content to receive immediate feedback.
Through our reports and timeline, you may follow the interaction.
Boost the caliber and significance of your boosts.
Any user you don't wish to interact with can be easily blocked.
Cons
Remark Templates are not a feature of the Basic Free Plan.
LinkedProspect
"ideal for It offers customized Messages with higher acceptance percentages because they seem to be sent by people."
Identifying your target market with the use of an automation solution can ensure that the visitors to your account are appropriate for your industry. Writing customized, targeted messages is made easier for clients using this LinkedIn automation tool.
You can attract more customers to your brand and increase revenue by doing so. It offers customized Messages with higher acceptance percentages because they appear to be sent by people.
Features
Boost sales or start a new business
Choose the right categories of prospects to target.
Time and resources are saved by automation.
Pros
Make contact with carefully chosen decision-makers.
Personalized bots assist you in establishing first-degree contacts with new people.
Cons
Reaching out to a limited number of individuals each month requires a modest amount of time and effort.'
What else should users know about automation on LinkedIn?
It's time to launch your campaigns now that you have your LinkedIn automation tool. Before you rule the platform, learn a few more facts about LinkedIn automation.
WHAT IS LINKEDIN MESSAGE AUTOMATION?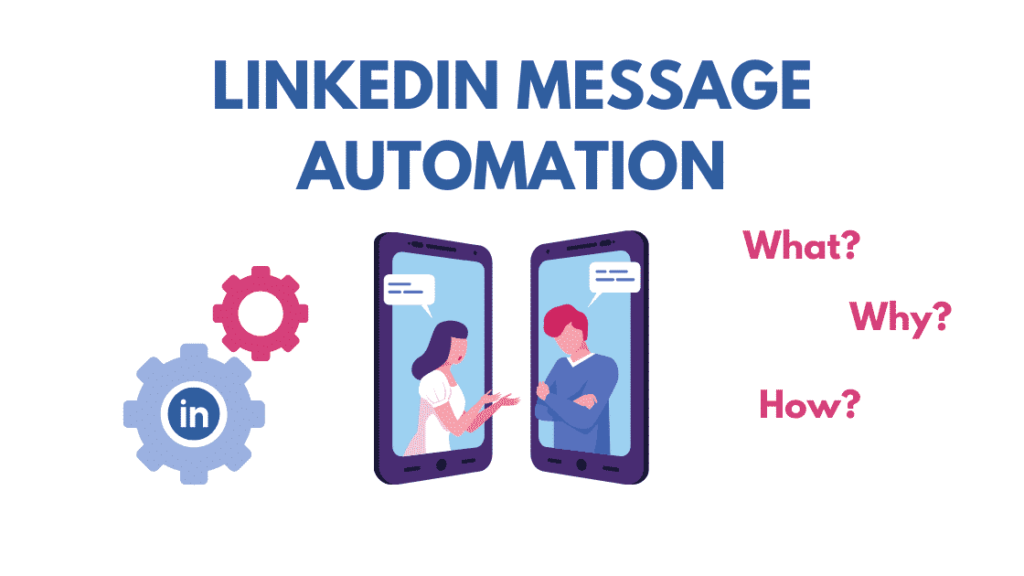 Automating the messages you send to connections on LinkedIn is known as message automation. This applies to any kind of communication you might want to send on LinkedIn, such as a connection request or a prospecting message.
However, automating LinkedIn messages must be done safely. Don't overload your connections with a large number of texts at once. That is seen as spam, and LinkedIn will ban you for it.
HOW MANY CONNECTIONS ON LINKEDIN CAN YOU SEND PER DAY?
The type of account you have has a lot to do with how many LinkedIn connection requests you can send in a day. The following suggestions for each account's limits:
LinkedIn Free: 50 connections maximum per day.
LinkedIn Premium.:Between 100 and 125
LinkedIn Sales Navigator:200-225
Having said that, refrain from making all of your connection requests at once. This can cause some people to wonder. Spread them out throughout the day as an alternative.
WHAT IS A LINKEDIN AUTOMATION CHROME EXTENSION?
You'll find several LinkedIn automation tools listed as Chrome extensions when searching for them. These are merely Chrome-based, browser-based LinkedIn automation solutions.
You must sign into your LinkedIn account from your browser in order to use a LinkedIn Chrome extension.
What crucial Dos and Don'ts apply to social media automation?
Do's
Share only material that is pertinent to your audience.
Make Your Post in Advance by Using a Scheduling Tool.
You may choose the ideal times to schedule your social media posts.
Always be aware of your upcoming posts.
Listen to the Dialogue
Personal Statements & Curated Content with "Promotional" Content.
For more control over your posts, use an automation program.
Don'ts
Don't just shoot and walk away.
Personal messages shouldn't be automated.
Never share the exact identical message across all networks.
Never state the obvious.
On Twitter, you cannot send automated direct messages.
In scheduled posts, avoid connecting your Twitter account to your Facebook page.
Never use automation to solve problems.
Without a doubt, LinkedIn is an excellent tool for generating leads and closing businesses. However, the work required to support your success may take some time. Because of this, you require an automation solution to act as a helping hand and complete all the employment tasks without breaking a sweat. Selecting the right automation technology that will only benefit your company is crucial because these solutions occasionally cause more harm than good.
Content Inditer | Fond of exploring my Innermost phrenic Conceptions to engender content that will evoke deep relatable emotions and ardency in others.