What Is Landing Page?
Landing pages are designed to promote the desired action such as sign-up form filling, making a purchase, subscribe with an email address. These web pages are created specifically for marketing and advertising campaigns.
Why It Is Called Landing Page?
When a visitor clicks on the given link in email, ads on various platforms like Facebook, Google, Instagram, Snapchat, email newsletter and so on.
How Landing Pages are Different from Normal Webpages?
Normal Web pages have multiple call to action buttons promoting multiple goals. Unlike landing pages that mainly focuses on single goal promotion one CTA (Call-to-Action) button. This consistency raises the conversion rates of your campaigns. Hence, landing pages helps in acquiring more leads.
How Landing Pages Promotes Conversion?
Landing pages are CTA focused which is the main reason for increasing conversions.
As landing pages are 100% focused on single CTA and raises the chances to convert well. Landing pages targets the group of specific audience that leads to total sitewide conversions.
Key Elements of Landing Pages
Headline: What you are going to provide to a visitor that instantly grabs their attention? Try to write a catchy headline.
Sub Headline: Sub headline add more details to your offer and tells a user why it is more valuable?
Images of the Landing Page: Images must be attractive and relevant to your audience.
Call To Action (CTA): A compelling CTA that is action-oriented for a user.
List of Features: A user may require more information before clicking on any call-to-action button so in order to increase the worth of your landing age list if features is provided. It also ensures the high conversion rate of the offer.
Social Proof: Show the authenticity of your brand with handful of testimonials from your happy clients. This works as social proof for your visitors.
Final CTA at Bottom: It is recommended to place CTA at the bottom so that after knowing all the necessary information about the brand a visitor can register with your business as per call to action.
Landing Pages Template
Creating a landing page by following right structure is also a very technical task. Opting right template structure is necessary for ensuring high converting rate from landing page. Now I am going to share the template of landing page according to different Call to Action (CTA) button.
Landing pages are structure based that means you don't need to be so creative here just by infusing branded elements and images you can create a good landing page.
Email Sign Up Page Template
Email sign up page landing page is created to collect the emails of the visitors in exchange of newsletter, report and e-book. It is also known as "Squeeze Page".
Sales Page Template
Sales landing page template are used to sell online course, one to one training, product, event tickets, newsletter subscription and so on.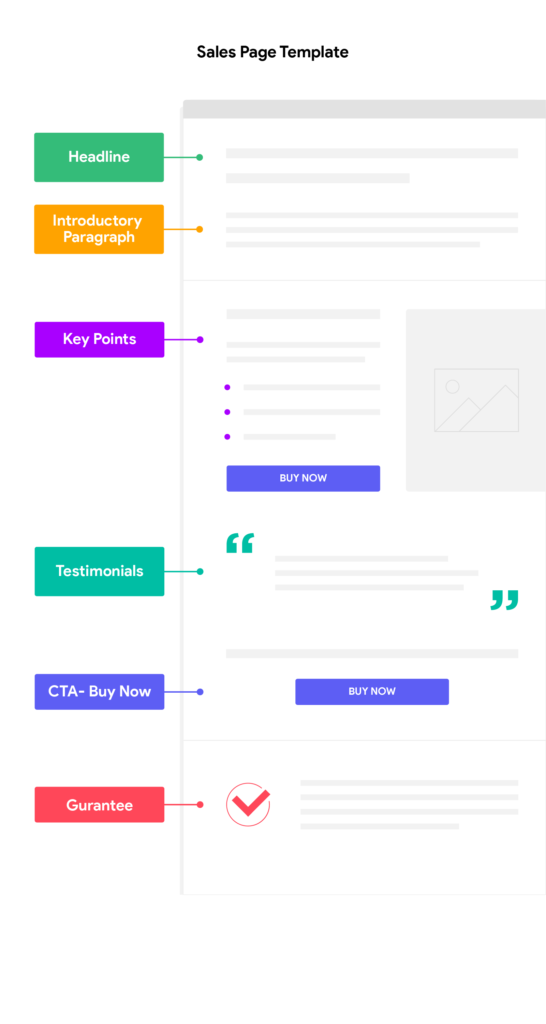 SaaS Free Trial Page Template
When you want to get someone to dive into your signup flow then SaaS free trial page template is used. The difference between Squeeze Page and SaaS free trial page is that conversion happens right on the squeeze page unlike in the SaaS page where visitor is pushed towards another page for actual sign up.
Lead Generation Page Template
Lead generation landing page is used to ask for more information from the visitor. It helps in generating follow-up through phone-call and email address after signing up.
Best Landing Pages Examples
Now let us watch the best landing pages example and why it is the best. One can also replicate this approach on their landing page to make it more compelling.
Amritsar Digital Academy
Parekh Dental
A/B Testing of Landing Pages to Ensure Conversion
Is your landing page is not providing you conversions as you expected? Then, go for A/B testing of those landing pages.
How to run A/B test?
Testing two landing pages with slightly different changes like changing the color of the button or little changes to the headline will not deliver you accurate results.
You are suggested to make some drastic changes. Like chopping off the content of another page and delivering a single call to action button instead of providing social proof.
Use Heatmaps for Insights
However, if you want to analysis the visitor experience and interaction with you landing page then you can make the use of heatmaps.
Note, that heatmaps won't tell you that why user did not convert and how to fix that. But you can get insights about user interaction with your landing and improve accordingly.
Landing Page Conversion Strategies
Convert Your About Page Into Landing Page
Best and easy option is to convert your site page into a landing page. For an instance, you can convert your About Page into Landing Page.
How To Rank Landing Pages In Google?
Yes, it quite hard for landing panging to rank on Google first page but let me tell you that it is not impossible. With proper planning and providing valuable content on your landing page, you can do so.
Choose a keyword on which already two or three landing pages are already ranking and want to see your landing page rank.
Cover Main Points
Don't forget to mention the main points that you want a visitor to focus on. The main points include the benefit of your product or service(features), how you help in offering solutions to user's queries along with social proofs, and so on. This helps to build a strong perspective of your brand on visitors.
Use Action Triggers
Action Triggers eliminates the last-minute doubts from the mind of visitors and ensures conversions. They are positioned just after the CTA button that encourages the visitor's mind to migrate on the decision of clicking CTA.
Here are Some Action Triggers-
Money-back guarantee
Easy unsubscribe
Be One Of Our Happy Customer
Privacy policy
Decrease Page Load Time
Landing Page Loading time plays a very important role in ensuring conversion from it as delay of single second results in 8%-11% fewer conversions and page views. It also sometimes leads to customer dissatisfaction and frustration.
Some proven tips for Website Speed Optimization may help here.
Great User Experience
When a visitor clicks on the link and redirected towards the landing page then they must not be surprised with the results. So, the idea is to create a seamless experience for the user with every click. The data on the landing page should exactly provide the things that your advertising with the ad or relevant to the search term of the user. Use the same words that drive the visitor towards the landing page, no matter that how they arrived there by paid ad, social post, blogs, email.
Now Ensure Conversions With Landing Pages
Landing Pages helps in generating more leads by dragging the attention of the intended audience towards your brand. With a plethora of additions, variations, and strategies you can create a landing page that converts well.
As long as you remain stick to best strategies of creating high converting landing pages mentioned above, you are on a right track. We always ensure to be a resource for our readers by providing useful content.
Writing is expressing your mind through words. Being a content-writer I always try to script the best of my knowledge about the topic in the form of blogs, articles, and content.