Living in this modern world, where everything has just become instant, So the replies for the business-related queries. You, owing a business must want to resolve your customer queries as quickly as possible so that your customer does not have to wait for hours to get revert back for their email.
What's the solution then?
Having live chat software for your website is the best solution for instant queries. It enables the customer to give a quick and hassle-free process for contacting a website and resolving their queries.
Olark live chat software is one of the best live chat solutions for your website because of its incomparable features the work in the increasing sale.
What is Olark Live Chat Software?
Olark Software provides an online chat platform for making direct conversations with the visitors of your website. It offers real-time chat features with a clean and attractive design.
Olark from the last 10 years is continuously providing the best of its services serving over 40,000 customers in more than 170 countries.
Quick and easy way to build customer relationships along with incredible Olark features. Olark live chat is best suited for small and mid-sized businesses including retail, education, eCommerce or more websites.
---
Features Of Olark Live Chat Software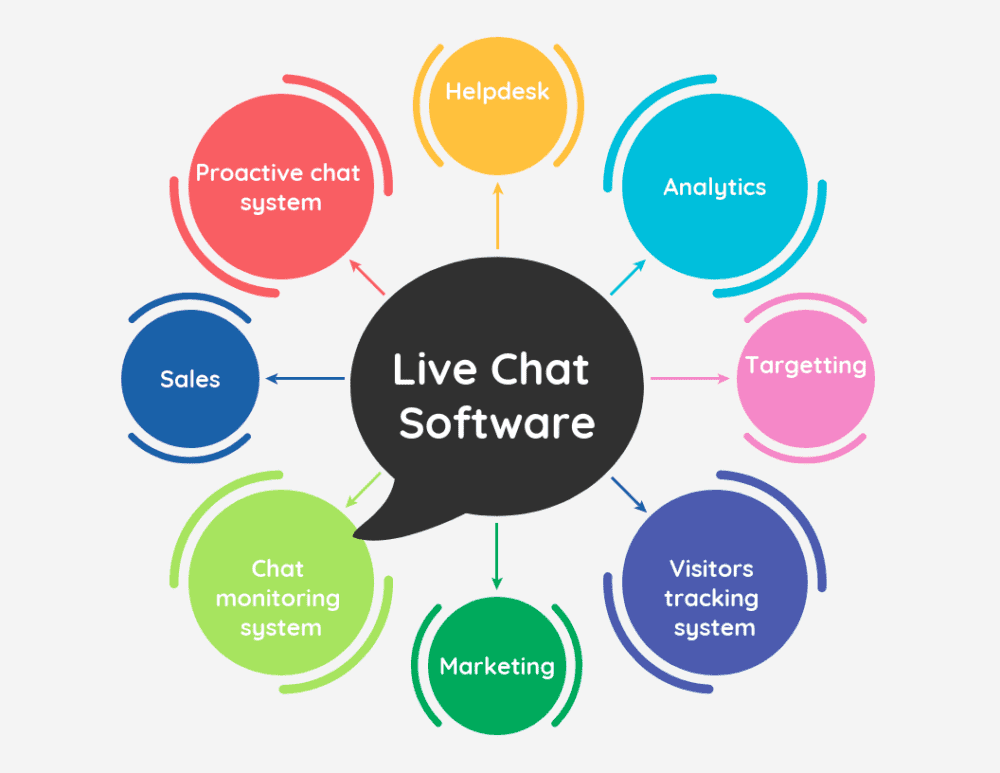 Real Time Chat Reporting Solution- Olark
Olark's unique features make it quality software for live chat. It provides a quick dashboard having all kinds of customer reports and agent's performance reports, chat histories to make string strategies.
You can also check for the busiest days on chat plan your staff scheduling strategies well. Along with this, also can find more customers interest in which topic and can work on resolving those queries quickly.
Additional filtration features like high and low rated chats, routing of chat to email in case your team is offline is also available.
Easy Customizations
Olark live chat software provides simple ways to customize and change the appearance of the chat window. You can make it just more eye-catchy with few clicks. An option like a color wheel or hex numbers enables you to incorporate your brand colors into the chat window. Language preferences also provided to the user. You can even set your agent's pictures in the chat window so that your customers know whom they are talking to.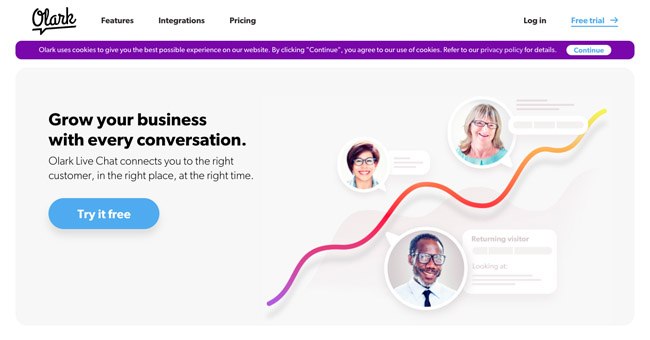 Just a trick to make it more interactive platform!!
Send Automated Messages
The best way to initiate a chat is by sending automated messages. This feature is also provided in Olark software that allows you to begin a chat with automated massages after that you can take over the conversation to make it to conversion.
It allows you to send automated messages to visitors on the basis of browsing behaviors of URL and location. It helps in saving you time. The best feature for a startup where you are engaged in lots of roles at the same time.
Limitless Conversations
Olark live chat software offers you a limitless conversation with your clients. If you sign in with a free plan then also you get the facility of having 20 chats.
What's more?
Well, along with limitless conversation the volume of conversation is also unlimited.
Great!!!
Team Management Features
Olark Software provides some amazing team management tools that allow you to track your agent's performance by seeing real-time agent report. It provides you valuable insights about your agent's performance and adjusts training if needed.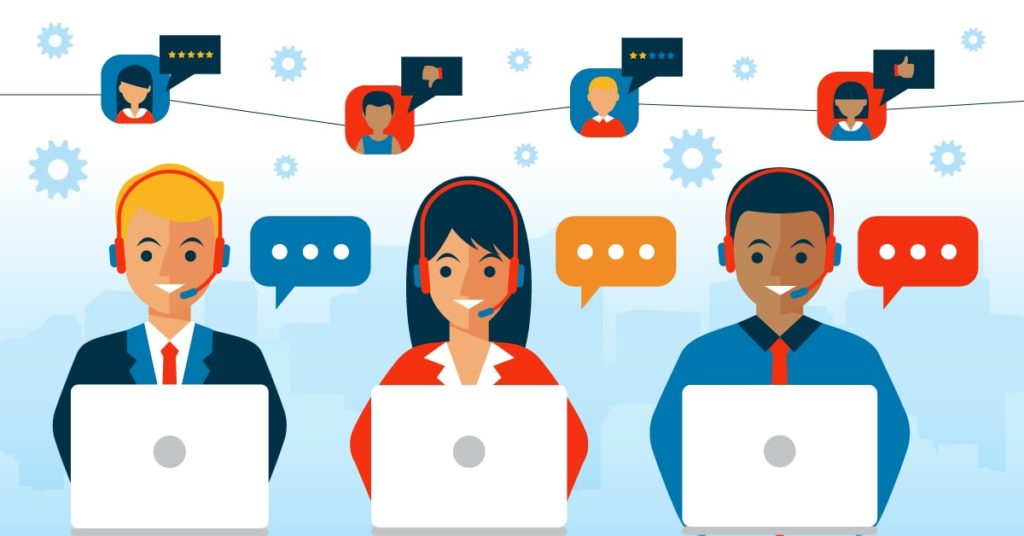 Olark Integrations
Olark software integrates with other help desk and various e-commerce platforms like Groove, Zendesk, Shopify, BigCommerce, WordPress, and so on to change into support tickets for your records.
Along with this Olark also connects with Customer Relationship Management apps like Highrise, Hubspot, Salesforce. It helps you to get information about customers.
Live Chat Analytics
Olark live chat software provides you Real-time analytics that allows you to monitor chat volume, customer satisfaction rate agent's performance, and activity. Summary reports can also be delivered into the inbox directly.
Chat Targeting Features
This unique feature allows automating decisions on how to interact with your visitors. Additional options are- engages your customers, hide chatbox from some specific pages and you can even block some visitors for a chat.
Transcripts
Olark transcript dashboard captures every conversation in the chatbox. This allows sharing of chat with you team members along with customers name, email, and location. Various filters for chats using keywords, tags can also be used.
---
Olark Pricing Plan
Okay. Now I'm sure you must be willing to know about the pricing plan for such exclusive software having uncountable features.
Let's discuss about its plans.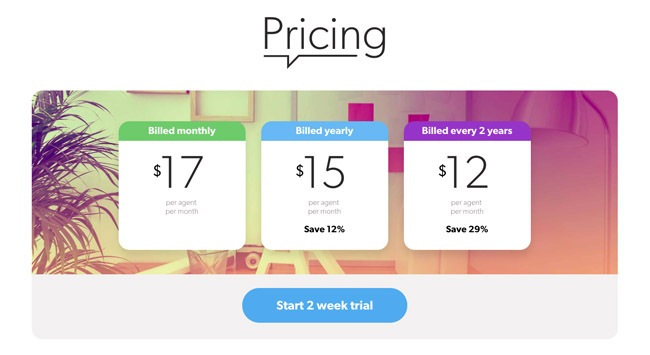 Olark has very simple pricing structure. Firstly talking about its free trial, it offers a 14-Day free trial to all of its users. Its free plans allow 20 individual conversations along with its additional features.
It also offers premium plans on monthly and yearly basis.
| | |
| --- | --- |
| Olark Plan | Pricing |
| Monthly Plan | $19 Per Agent Per-Month |
| 1-Year Plan | $15 Per Agent Per-Month |
| 2-Year Plan | $12 Per Agent Per-Month |
Quite Affordable!! Right!!
You can cancel it anytime whenever required.
---
Advantages Of Olark Software
Olark live chat software has numerous benefits from which some of the best are enlisted below:
➡️ Hassle-Free Live Chat Solution

▶️ Quick and Accurate Insights in Real-Time

➡️ Easy Installation

▶️ Third-Party Integrations

➡️ Website Visitor Tracking

▶️ Excellent Customer Support
---
Disadvantages Of Olark Software
Image Sharing Not Available:
Olark does not provide image sharing option that sometimes becomes frustrating. A customer has to switch to email in order to share graphics.
One User At A Time:
Only one agent can log on the software at a time which means if a business is having more than one customer to deal with time then it is not possible.
Olark Review: Why To Choose Olark Over Other Live Chat Software?
Every company has different needs and objectives from live chat software. Olark suits best with the objectives of small and mid-sized businesses. Olark unique features make it different from other software. Some of those are enlisted below:-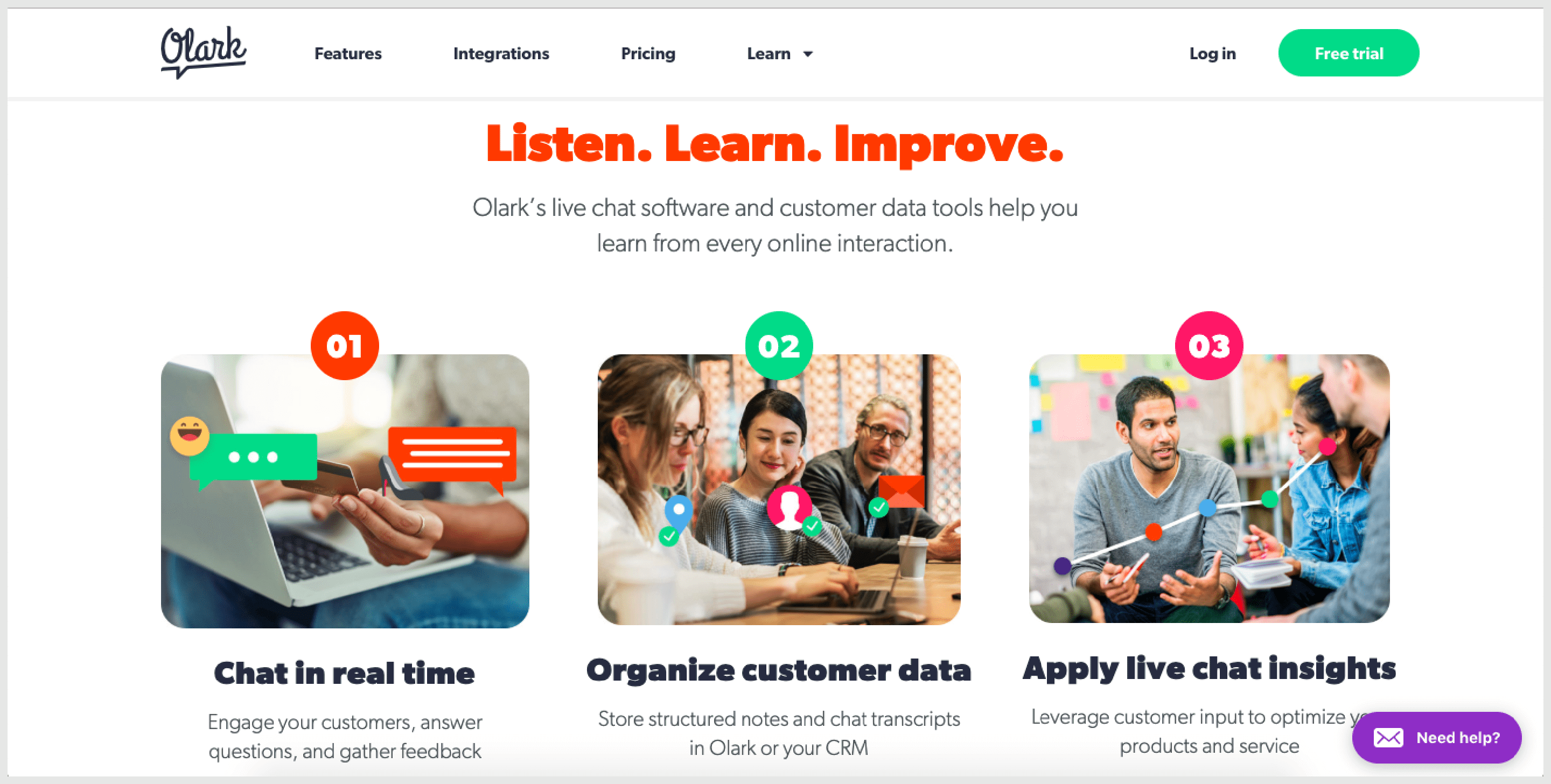 ➡️ Interactive chat window with numerous features

▶️ Highly Detailed Insights Report

➡️ Show helping hand with excellent customer support

▶️ Automated replies to initiate conversations and reduce waiting time

➡️ Free trial for 14 days with extensive features

▶️ Worth For Money Spent
Final Verdict
Olark provides an excellent platform for live chat solutions of websites having a bundle of satisfactory features. It allows easy installation just embed the code into your website and install its extension into your eCommerce or CMS platform.
The final choice is up to you. It is suggested for making right decision one with be clear about the objectives and requirement from live chat software for a website. You can check out the top 10 Best Live Chat software for more precise decision.
Writing is expressing your mind through words. Being a content-writer I always try to script the best of my knowledge about the topic in the form of blogs, articles, and content.