Most people prefer buying their items online nowadays because of the vital benefits that come along, such as One does not need to move out of their places for the sake of buying. Secondly, You can check online reviews and ratings to get in-depth knowledge of any brand or product. Third, you can browse various websites and choose the item you like the most. Moreover, there are countless e-commerce platforms along with the best shopping carts, available on the internet today. The Internet has made it way easier to buy and sell off any items ever since the pandemic began. You can find an ample number of e-commerce platforms, one of which is Thrive-cart.
Why should you use the right shopping cart?
Any online shopping website providing the best shopping cart service has proved to be successful in the long run. Do you know what excites the customers on shopping sites? They can save their items or products in their shopping cart and buy them anytime. Customers love to add items of their sturdy interests like clothes, skin care products or household appliances, etc. On the other hand, if somebody has shown interest in any product but is out of his pocket, he may eventually buy that later if a shopping cart service is available.
Shopping Cart Benefits Enlisted Below:
Right shopping cart services on online shopping platforms make it convenient and secure for online transactions from the customer's end. They will be more relaxed if they see their money in the right and safe place without fearing fraud.
Buying the items you have saved on your cart sounds more comfortable and an effortless task than repeatedly browsing to seek the desired results. Moreover, it has been seen that the shopping cart facility makes it simple for customers to be ready for transactions if they decide to buy anything instantly. Also, you can keep adding items to your cart and purchase either all at once and get your cart empty or buy one out of all and pay for that item only.
Along with being the best tool for customer shopping, it is also a wise facility for data collection and showing patterns and product stats calculations. It is instrumental in maintaining a person's records and payment history, gathering and processing customers' credit card details, and suggesting some potent statistics on selling styles for varied durations.
One of the best marketing strategies to keep your old customers and make new customers is by allowing them to form their wish lists, and browse through product services page or catalog. Furthermore, one can enjoy offers on the selected products or apply discount codes (applicable), and save some money.
Although shopping carts are considered amongst the best parts of a shopping website, and once the process is successful or fail, Your customers have the right to give you ratings and reviews according to your services and recommend some suggestions for tweaks, meaning that you will get the customer experience information to get along.
Thrive-cart Features
Thrive-cart has benefits over other shopping carts in unique ways, and let's discuss each of them:
Easily converting pages: Chances of conversions are more here. As you can see from the image below, it appears to be easy and time-saving to fill in necessary details, complete the check-out form, and increase the conversion rate for the site.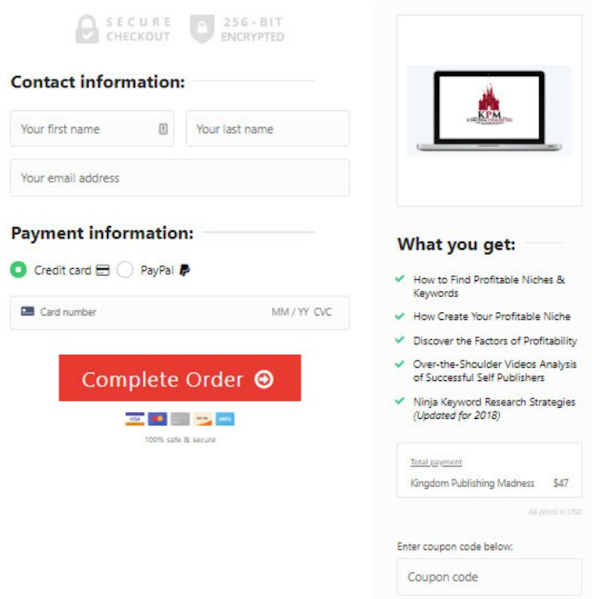 Shopping Cart Patterns In Thrive-cart
Single or a Two-Step cart for order completion.
Grant various payment options like debit/credit card or apple pay or net banking, etc.
Paying in instalment options (EMI).
Tax Option and Your Product Price
Test Mode to make the order-forms process as needed.
Since users can personalise this best shopping cart, therefore, in your cart, you can add on some factors to enhance your conversions more quickly. For example:
Coupon Code blocks
Buy Button
Numbering or bullet points
Countdown Timer
Video carts
SPLIT TESTING Testing using thrive-cart? Yes. You heard right. Users can perform A/B testing on sales pages and turn them into highly converting pages. However, the order-completion page is just one step in the check-out process. Thrive-cart is the best platform that makes it convenient to perform an A/B test, as shown below. The testing is beneficial for making a remarkable difference in the total sales and profits.
Affiliate Tracking Management Most marketers prefer using cart software for managing their affiliates. ThriveCart is one such software, offering affiliates tracking unique identities they can attach to the affiliate links. Suppose your companions want to promote your item via their vlog or YouTube. There is no good way of gauging affiliate sales via other traffic channel sales. Their affiliate marketing links are international URLs—ThriveCart triumphs by allowing your affiliates to make as many tracking identities as they need while selling your items.
Multiple Integrations
The following are combinations the ThriveCart renders to its users for email and membership platforms. Appending your leads to your email list and membership platform with this shopping cart's marketing automation is essential to modify the customer's billing and order completion process.
| | |
| --- | --- |
| Email Marketing Providers | Membership Platforms |
| Ontraport | MemberPress |
| InfusionSoft | WishList Member |
| HubSpot | OptimizeMember |
| GetResponse | LifterLMS |
| Drip | Thrive Apprentice |
| ConvertKit | Digital Access Pass |
| AWeber | MemberMouse |
| ActiveCampaign | Teachable |
ThriveCart offers more options than Stripe and PayPal regarding payment methods.
| | | |
| --- | --- | --- |
| Payment Gateway | Fulfillment Services | Webinar Platforms |
| PayPal | Kunaki | WebinarNinja |
| Apple Pay | Shopify | Demio |
| Google Pay | Printful | |
| Stripe | Zapier | |
Thrive-Cart recently launched its drag and drop editor feature, making it an outstanding shopping cart solution. It has unlocked full customization for all the landing pages throughout one's shopping cart experience.
Thankfully, users don't have to strive to learn coding to customize their landing pages.
You have two ways of accomplishing business higher growth with online marketing: bumps and one-click upsells.
Bump Offers: One of the simplest and quickest features you can have for any one of your items.
Traditionally they seemed to be like this. You can append these to any of your checkout carts with ease. Anyone would need a web developer to get it added to the site in earlier times.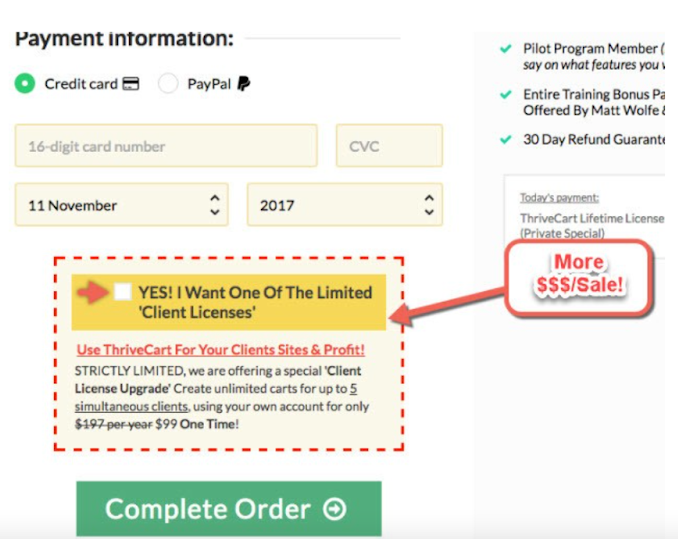 Coming onto next,
Upsells: Upsells are old business strategies used for several years. An upsell page is likely to add up to thirty percent to an online marketing operation. ThrivCart provides you with two options here:
One can use their default cart offer page or your custom pages.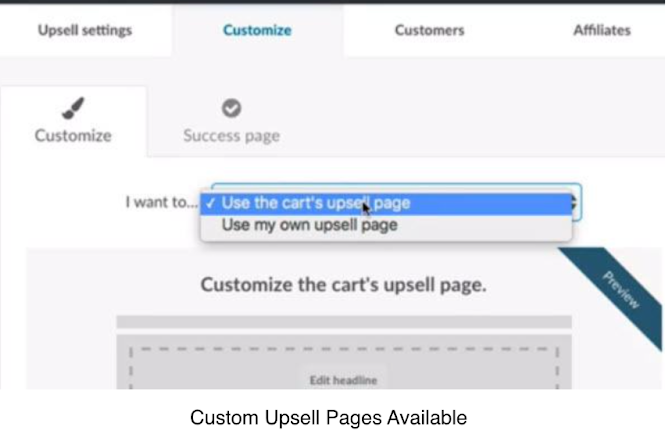 Want to know thrive-cart Pricing?
Currently, ThriveCart is rendering any user a lifetime license for a one-time fee of $495. Still, it has declared that it will be changing to monthly pricing at $97/month. They also provide access to a Pro Account. It probably has more features, and its one-time cost is $690. Both are lifetime options, so you don't have to stress about frequent monthly payments.
User's Reviews and Ratings:
It is a call for business owners to buy any digital marketing software. However, ThriveCart is found to be the best fit for the shopping cart software.
hello everyone. My name is vanshika khanna. I am a content writer by profession and loves to do social media marketing as well. My aim is to become a successful digital marketer by reinforcing and honing my skills.