Live Chat Software is a SaaS-based messaging application that provides one or more customers instant response or real-time response to the customer's query. Free Live Chat software is a widget that is added to the corner of the website in the bubble form. It can be used by the customers in a few clicks. It is one of the most trusted and preferred way of getting instant responses from direct customers.
Live Chat Apps are web-based software that can be embedded on to your website by just pasting its code. It keeps a customer attached to a website. As per research, many visitors shift from a website when they don't understand what is the actual purpose of the website? What is the solution to their query? or it can be anything, an instant response can help a website to reduce its bounce rate and gain more traffic.
What Can Be The Benefits Of Having Best Free Live Chat Software On To Your Website?
Free Live Chat software enables better customer engagement on to your website
Quick Responses can be generated to numerous customer's queries at a time
Best Customer Support Chat Apps engage more traffic to the website
More conversation lead to more sales of the product
Instant Feedback collection can be possible from the customers
List Of Top 10 Free Live Chat Software-

tawk.to- Forever Free With Extensive Features
tawk.to is forever free live chat software. It is extremely easy to use yet full of amazing features. It provides every essential thing which is required for am efficient customer support. All premium services are available for every customer that too without a price tag. A single dashboard can help you to keep complete control over customer management
Features Of tawk.to-
to offers a number of unique customizable widgets
Real-Time Monitoring of the customers is possible with this live chat software
Give your company name to the tawk.to branding. Like Powered By- "Name Of Your Company"
All information regarding visitor's IP, email, previously visited or not, etc. is informed to you to keep complete track of your visitors.
Number of emojis available for expressing well in place of words
Unique Feature
tawk.to have one unique feature of hiring live customer support agents for the website at very affordable rates. This service can be hired at $1 for an hour about a month. The native language speakers can be hired as per your requirement.
---
Smartsupp- Completely Free For Three
Boost up your sales with free live chat software Smartsupp. The chat process is very easy. At the same time having powerful features. It is completely free for the first three agents. If the requirement of your business is more, then Smartsupp offers an affordable and genuine plan. The features of Smartsupp include-
Get complete information about your user's check that is currently accessing the website or track their complete information about the email, IP etc. in one place.

Create your own personalized messages that are automatically triggered on certain sort of queries
Unique Feature
Smartsupp offers a unique feature of video recording of the customer behavior by this we mean that one can keep a complete track of the customer where he/ she visited on the website on which point the go lost? This helps in better analysis and provides the basis for improvement.
---
Olark- Every Conversion Counts
One of the widely accepted best free live chat software Olark is being used on many websites to chat with your customers. Olark blends with other third party software like mail chimp or groove.
Three main features that are offered by Olark are sales, feature acquiring leads, providing customer supports. This makes very easy for you to focus on every area separately in a better way.
Features-
Advanced customization options according to your brand

Chats can be distributed between members very easily

Customs forms can be generated to collect information from your customers in the chatbox

Various automation tools available that work on certain queries
Unique Feature
Olark offers a free two-week trial but after choosing its paid plan you can do millions of chat by paying the same price. Worth it to your money paid.
---
HubSpot- More Than Just A Software
HubSpot is completely free and offers multiple software that performs better together i.e. customer service, sales, marketing, and free CRM (Customer relation Management) software. It offers forever free plans for live chat and lets you promote and grow your business. It is best suited for small businesses as it is free with free CRM ability.
Its free plan lets you assist your customers 24/7 as it provides chatbots that give canned responses to your visitors. One can use these chatbots for collecting information about visitors, booking meetings, email subscriptions, etc. About its pricing, It is forever free for unlimited users along with CRM. The rest of the HubSpot services like marketing, sales, and service start from 50$ per month with extensive add-on features.
Unique Feature
Hubspot offers free CRM that includes live chat and Chatbots. Additional software can also be included to improve functionality. It will let you know with whom you are talking whether he/she is a new customer of contact with your website or you have to chat with them earlier.
---
ZohoSalesIQ- Chat-Track-Analyse
Bundle of features is combined within ZohoSalesIQ. Keep a free track over your customers free of cost. Free live chat software helps you to chat live and quickly with your customers giving exceptional service. It is an amazing software that provides detailed analytics and customized chatbox settings that well suited to your brand.
24/7 engagement is also available at ZohoSalesIQ with the use of chatbots that converse with your customers anytime and provide relevant answers to their queries as per your customizations.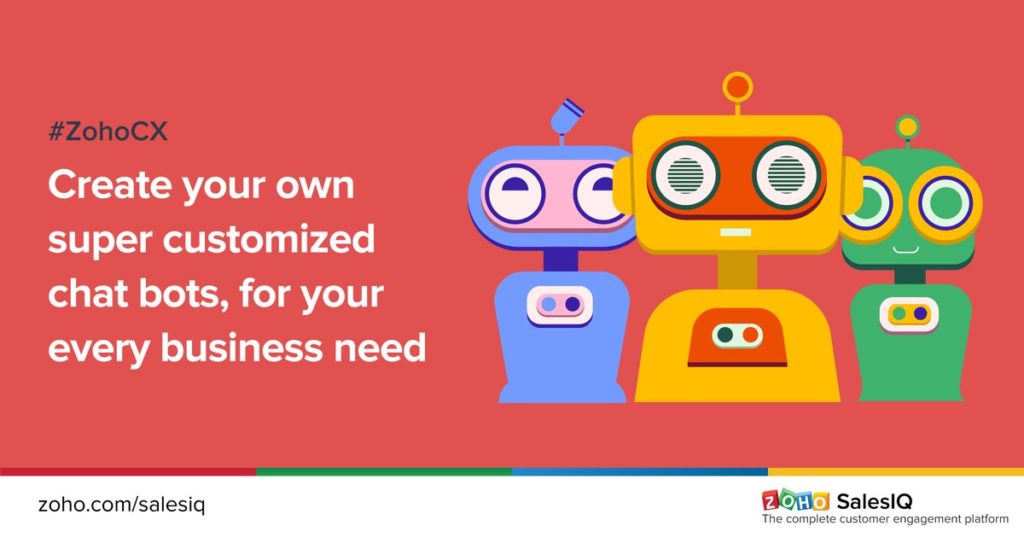 Better knowledge of your customers can be gained like their geographical location, digital footprints, unique and revisited visitors and much more. A clear and detailed analysis of your customers can be gained on the basis of their score which helps to make your policy strong.
Zoho CRM makes it even better & beneficial. Chat histories help to improve conversions better with follow-ups.
---
LiveZilla- Flexible & Hassle-Free Live Chat Software
Easy installation, fast, flexible and highly customizable is some of the common features of LiveZilla. It provides an easy and complete setup in just 20 minutes approx. by simply adding its code on the footer of your website. It supports over 70+ languages to keep in touch with your customers belonging from every country.
Provide direct assistance to your website visitors instantly by asking questions or help if needed. It will improve your customer support service by triggering an online web form. It can be filled by the customer and whenever you get online to give the required feedback on to their query.
Live Monitoring can be enabled which can help you to know who is currently on your website and the activities of the visitors on the website, what keywords were used to locate your site, trending keywords and much more.
Pricing
It is fully featured and forever free for 1 Live Chat agent if the business requirement is more frequently increasing as per the needs of the agents. A paid lifetime plan is also available. Unlimited agents & bots can use it.
---
LiveSupporti- Forever Free Plan For 1
LiveSupporti is extremely easy to embed in your website coding and quick to set up. It is preferable for those who are just doing their start-ups. When you don't want to spend much money on live chat software. It is completely and forever free for 1 agent. Moreover, its premium features are totally free for 14 days. LiveSupporti includes easily customizable color schemes. It also provides a multilingual interface so that any customer speaking in their regional language can interact with your website easily.

Logo and colors can be set as per your brand name and color combinations of the website. Customizing of dimensions is also available for its clients. Own canned responses can be added as per the requirement of the company.
Unique Feature-
You can keep a sneak peek over your customer by getting to know that what a customer is typing before clicking the send button. It gives you enough time to type your answer accordingly and give feedback to your customers more quickly.
---
Pure Chat-100% Free With Numerous Features
Add customer support free live chat software to your website free of cost. 20+ free features are provided to upto 3 agents. It includes easy setup, customizable widget as per the brand, canned responses, complete visitor information and many more. After taking your company to the growing phase, you can also opt for its paid plans. Its paid plans starting from just $39. Adding on even better features to improve the working and for the growth of the business. Then there will be no restricted boundaries. You can use it to unlimited chat, unlimited operators and integrations with different applications.
Not only this, but it also provides assured money-back guarantee in case you like its services without any questions. It makes Pure Chat risk free and more trustworthy.
Unique feature-
Pure Chat provides free automated Chatbots i.e. ArtiBot.ai with which you can easily capture the leads, or schedule appointments, Get Payments, get notifications through emails, etc.
---
ZenDesk – Increase Conversations: Increase Sales
ZenDesk is extremely customizable to match up to your website level. It offers a free plan for one agent and for one concurrent chat only, it is not considered as that well but suited for small scale businesses or start-ups that don't want to invest at first in live chat software. works will be other web-based services like WordPress, Magento, etc.
It is suggested to pick up its affordable paid plans as a free plan is quite restrictive and in the paid plan, you can avail its best services ultimately leads to improving your sales and customer interaction with your website. Complete control over the dashboard can help you to find about your visitor's complete information and agent's performance.
---
Chatra- Grow Your Business
Chatra offers a bunch of useful features, free of cost to one agent. It is popular free live Chat software as it offers the following features like design the widget with the matching color scheme of your brand, it keeps the chat history forever for both the parties- you and your customer, visitors complete information, save the replies and much more. It integrates well with other services like Google Analytics, Zapier, Slack, etc.
Pricing
Chatra offers a completely free plan to 1 agent and completely free paid features for 14 days. The paid plans are more advanced and affordable. It's starting from $15 per agent.
---
Check Out Some Free & Paid Email Marketing Software As Well For Growth Of Your Business!!!
Writing is expressing your mind through words. Being a content-writer I always try to script the best of my knowledge about the topic in the form of blogs, articles, and content.