Nowadays, it is not uncommon to say that data plays a vital role in various business sectors, and keeping it maintained for a prolonged time is a Must. Earlier, people were supposed to do tedious tasks of manually handling and assembling all data using pen and paper, which has now been replaced with online forms, survey forms, etc. In addition to it, you don't even have to stress about creating online forms because you can make forms online with the help of the best online form builder tool.
So, anyone can generate complete responsive documents that will save and maintain their data instantly only with the help of the right online form creation tool. Moreover, it is easy to use, accessible, and spontaneously editable, web forms state that you are just a few steps away from making the manoeuvre to a paperless world.
Benefits Of Using Online Form Builder Software
Customer-oriented
Customers can skip the irrelevant content or questions in the lead form. Therefore, they can arrange the settings in their style.
Easy Analysis
Today, Online surveys or forms are all the rage since the data entered is easy to process, evaluate, and analyse. Also, it acts as a supporting wall for the data between data collection and evaluation.
Time-Saving
The online visitors can resume from where they left, so they do not need to refill the information again. Spending time again putting in details is very tedious and time-consuming during rush hours.
Auto-confirmation responses
If someone is about to introduce a new event or new item, she would want to gauge her followers and consider their interests. Also, paper can take some days to proceed to the recipients and wait longer to submit their confirmation. With online forms, one receives a quick guarantee. Furthermore, Online form builder tools make your planning more approachable.
Ease of Use
On hearing about an online form builder tool, they are likely to start pondering over the technical knowledge to use it. But making use of an online form builder can be helpful because of its simplicity and ease. Also, you do not need to hone special coding skills.
Responses Increase
Most customers are likely to get engaged in online debates. Due to the upsurge in demand and usefulness of the internet, customers probably respond to questionnaires or survey forms. It raises the chances of receiving the response rate excellently. Implementing a call-to-action button is necessary to make customers feel that they are noticed when they have any queries.
Get more Leads
Moreover, anyone must execute better lead-generating strategies to receive more potential users. Leads do enhance in a short time via better interaction between users and forms. If online pop-up forms show presence and come out with more information, What else would you opt for as a better option to increase an engaging audience? Via discount offers as well, you can win the game. It is beneficial to convert users into potential customers. Further added that, a discount offer can play an imperative role by encouraging visitors to submit your form if they are allured to any deal.
Types of forms
NAMES
Practical Uses or benefits
Survey Form:
To begin with, it is mandatory to know about your customer's interests with the help of these forms. Also, you get to know what your customers feel about your products or services, and in the future, it makes you more focused when launching any new item in the market. But one must not create lengthy forms else your visitors may get discouraged from completing the survey. Also, you can create such forms via survey builder sites.
Applying to Job forms
It is essential to create a form that includes all the necessary information about your visitors, like what and how many experiences they have. Also, their salary expectations and availability matter a lot, followed by contact and resume files. This is useful to lure top-notch talents for the growth of the business.
Registration Forms for Contest
User Name
Email address of the user
User Contact details
Links to broadcast on various social media platforms
The above mentioned are all the essential information to put in a registration form to ensure more customer visibility. A contest is often helpful in upsurging business leads and chances of creating awareness and raising interest in your visitors. Furthermore, you can make such forms by using online form creator tools.
Appointment Making Forms
Customers must feel free to contact your business online. In addition, they feel better with appointment-scheduling way than directly calling at office or store. Making a prior appointment for consultation saves time and you are all there to meet your doctor or service provider online without having to travel to them. Remember, you can make interesting forms via an online form builder.
---
Survey Form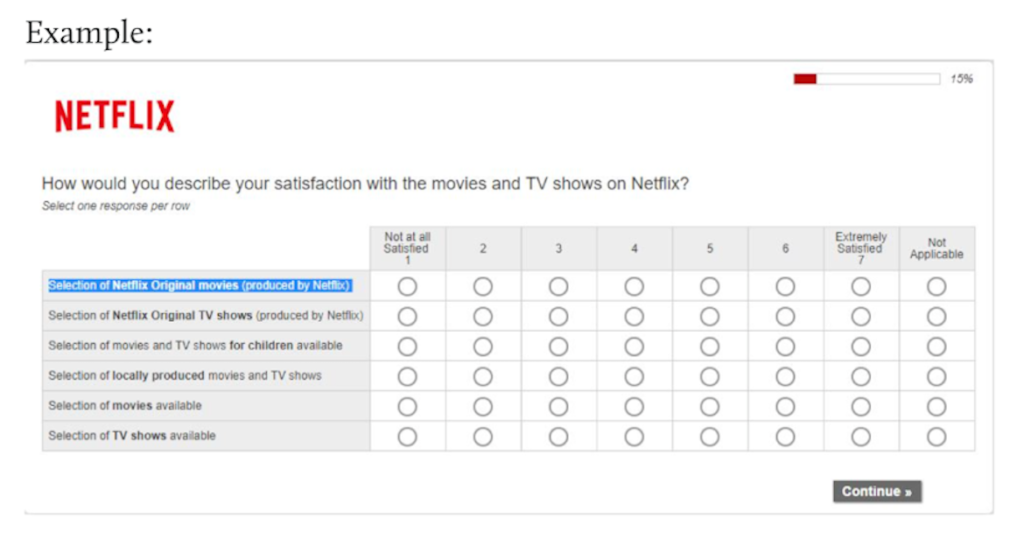 Registration Form
Job Application Form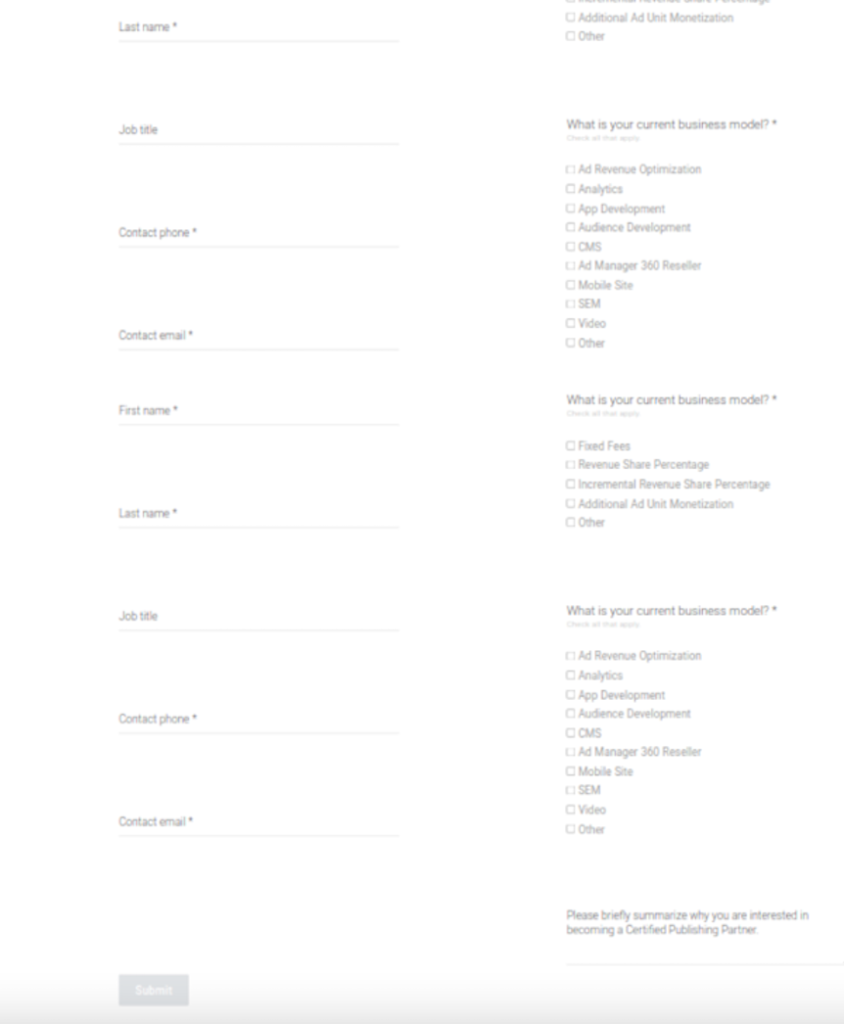 Appointment Form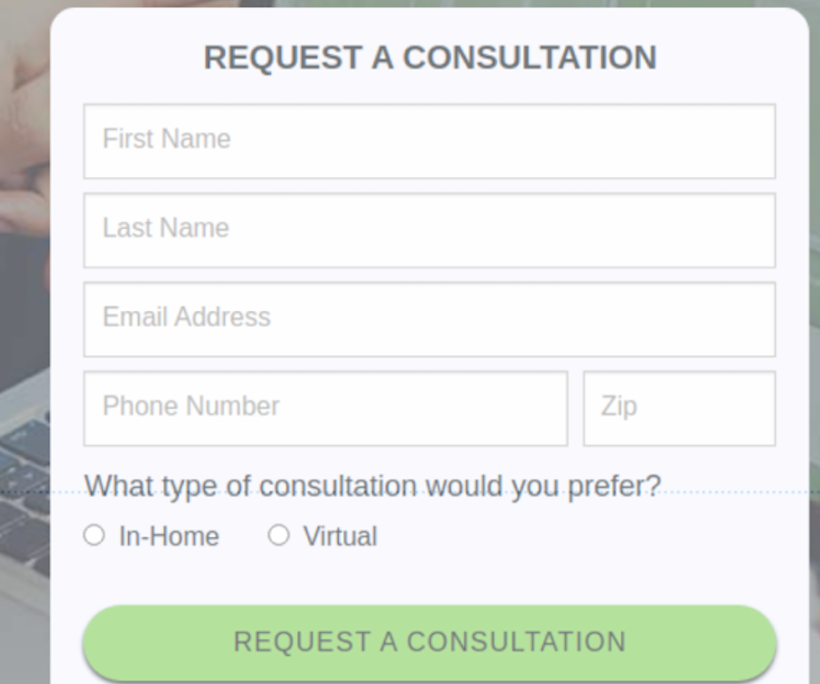 Conceptual Knowledge of Online form builders:
Data Collection Planning
To begin with, one needs to do sturdy research on what you want for your clients. What kind of data are you looking to collect? Secondly, you will analyse your information via technologically advanced methods. Last, it is important to have an estimate of your data needs and target audience.
Method for data collection
Moving ahead with the next step where you are more likely to proceed with the plans for collecting data. However, various ways are available such as interviews, surveys, questionnaires, and campaigns. Also, one can use questionnaires to integrate specific answers by raising a few questions.
Secure your information
Furthermore, one must remember that he is responsible for the information received via digital forms. Also, a user will need to keep it safe from spam, unauthentic users, or third parties.
Why snackeet??
You need the best form builder for an excellent digital gathering of data. That is where snackeet comes to play. Snackeet is the best form builder because it provides all the giant features and functions required to have a seamless data collection procedure. Apart from its usage, it also gives you some fantastic templates that you can personalise to make them suitable for your Brand's image. Also, it helps brands to respond to their clients, and clients can schedule a meeting with them any time of day or night. Moreover, it uses workspaces to get your work done quickly by sharing the details of the project you are working on with your colleagues.
One can put up a Snackeet widget on your website to spread swiftly your forms and quizzes or confine them on your site. Further added that, create a standard landing page with means of landing page tools for your site, and you can share a link on your social channels to let users browse directly to it. You can even produce an alluring animated screenshot to use while providing the link through email.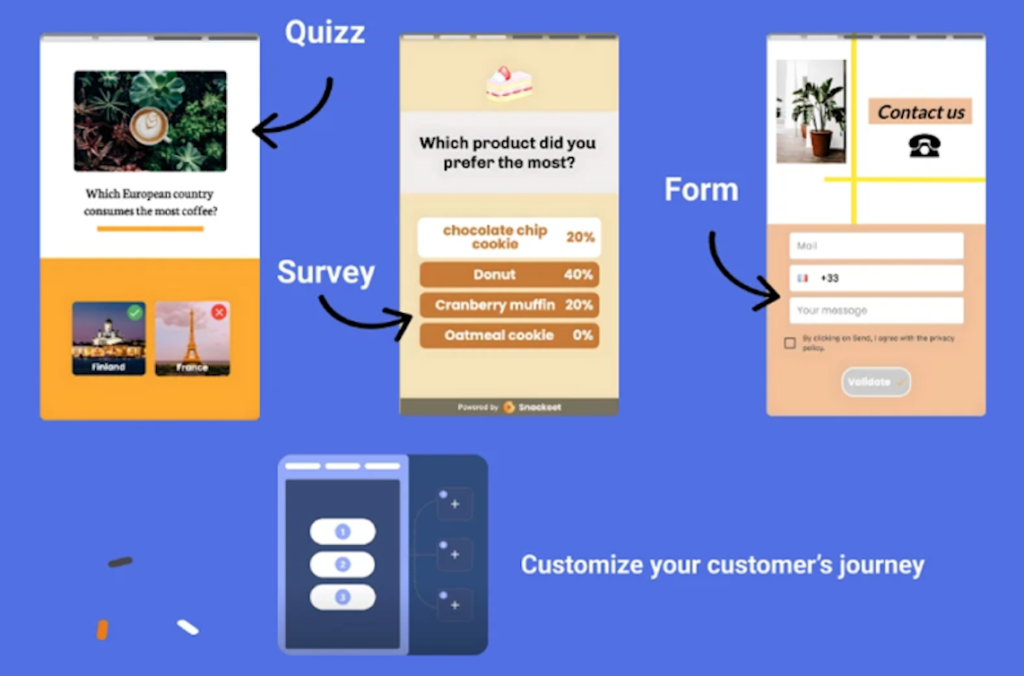 Snackeet Pricing:
Depending upon your requirement, you can surely buy a plan after 14 days of trial. Just look below for clarity:
| | | | | |
| --- | --- | --- | --- | --- |
| Choose the right strategy: | Starter | Eclair | Croissant | Donut |
| Monthly charges | 0$ a month | 19$ a month | 49$a month | 79$ a month |
| Persons | 1 | 2 | 5 | 10 |
| Premium integration | ❌ | ✅ | ✅ | ✅ |
| Data export | ✅ | ✅ | ✅ | ✅ |
| Google Sheet integration | ✅ | ✅ | ✅ | ✅ |
Plans:
First, Full-time permanent access to Snackeet
Second, All upcoming updates regarding Croissant Plan
Moreover, You ought to get your license activated within two months of purchase
Also, Faculty of upgrading or downgrading between 4 license tiers
Also, data protection is followed
Last, Your money shall get returned within 60-days with guarantee, no matter the reason.
Conclusion:
In conclusion, you would be free of confusion and perplexities related to the best online form builder. Also, to enhance your business growth, it is a must to implement efficient digital strategies to increase your leads. Furthermore, having implemented better online forms according to your needs and business, you will notice an increase in online presence on your website and better conversion rates if you create lead generation forms for your various landing pages.
FAQ's
Why do you use snackeet?
Snackeet helps you build web stores and interactive online forms for your business. A web story is designed to build stronger relations with customers.

Does snackeet provide API?
No, Snackeet does not render you with API.
What is the importance of online forms?
They are easy to create, and provide a solid solution to collect the data you need. With the help of the right online form creation tool, users can surely produce fully interactive forms that will instantly save and keep the data.
How does an online form builder benefits you?
Tools like online form makers or survey makers allow users to make modifications from the smallest to the biggest level to your forms. Therefore, A/B testing is also simple and easy to perform on forms that further determines which kind of form is best suitable to optimise your business.
How can anyone create a free online form?
You can search and make use of free online form creators. This will let you build as many forms as required.
hello everyone. My name is vanshika khanna. I am a content writer by profession and loves to do social media marketing as well. My aim is to become a successful digital marketer by reinforcing and honing my skills.