Before starting writing a new blog just wait for a minute and think about it
Have you ever reviewed the old data of your website?
If it's no. Then, it is the best time to remove outdated content of the website by evaluating the old data with the help of some tools.
We always have to keep this thing in mind that Google ensures that the readers always get accurate, updated and fresh data through it. So only updated data provides value to your website and grab traffic.
So let's explore more about What outdated content is and how it affects the website's health in a bad way. Also, how to remove it safely from the website.
What Does Outdated Content Mean?
Any page of your website having inaccurate content, invaluable content, doesn't contribute to your website's positioning, attracting zero traffic is a webpage with outdated content. Some examples are-
👉 Product and Service no longer available

👉🏻 Irrelevant content to business

👉 Time-Sensitive Content

👉🏻 A webpage with poor SEO

👉 Former Employee profiles
And much more that surely deserves to scan again. Removal of outdated content helps in the higher positing of the website as it serves Google's goal best.
No doubt that it's a time-consuming process but it's worth doing. The big sites having numerous pages also have collected up hundred of outdated content pages that are providing no value to the website.
Why It Is Important to Remove Outdated Content?
Well, the content having irrelevant or no value information is a kind of excess burden over the website that spoils Google's ultimate goal of providing fresh, relevant, updated, and accurate data to its users.
This is the reason that updated blogs or recently published blogs rank higher than outdated pages.
Google judges your content on the basis of Search Quality Evaluator Guidelines according to the which content is marked meaningful or accurate.
Meaningful and accurate content increases the authority of your sites according to the Google algorithm. The beginning of writing useful content is started from the research of writing topics. If you choose your topic wisely and according to the interest of the audience then are hardly any chances of getting the page outdated early.
A suggestion, if your website is having a lot of pages then deleting outdated content is the best option as it will let Google focus on only those pages for which you care for the most. The more the quantity of low-quality content pages more it will impact the crawling speed of your website.
One another major reason to remove outdated content is that it reflects the poor image of your brand in front of your audience.
I'm sure you don't want that to happen. So, further, I am going to share how we can detect outdated pages and can work on its removal.
How Can I Find Outdated Content?
How will you detect that these pages are reasons for the low ranking of your site?
It's quite simple with the help of some tools. Let's discuss one by one
Google Search Console
You must have used Google Search console for page crawling but it helps in doing much more than that.
Start with comparing a year-ago data with last month's data and check its "Performance", then change the filter to "compare".
Ascending order sorting of the CTR column can help you to find high impression pages in just a few clicks. Now you are having a list of pages that are ranking well but getting fewer clicks according to impressions. These pages are needed to be updated.
Ubersuggest
Just enter your domain on Ubersuggest and press enter to detect all the outdated data of the site. Now click on Site Audit to get a list of all outdated pages of the website. Now it's up to you to analyze it deeply and update it with fresh content.
Google Analytics
Another Google tool for detecting outdated data is Google Analytics. Just open your Google Analytics account, click on the Behavior tab, and then Overview.
Now check out the full report by clicking on the "view full report" button. You can also export the file. Now it's time for analyzing it one by one.
If your site has a small number of pages then analyzing it one by one is possible but what if you have a website with thousands of webpages
A simple solution, filter on the basis of traffic, conversions, and bounce rate. Now the leftover can be analyzed.
Screaming Frog
Might be a full content audit is required by your website. For this, I would like to suggest an excellent tool i.e. Screaming Frog. It can also display the pages with no search traffic. Also, you can filter the pages on the basis of the date of publishing and can check that old pages manually.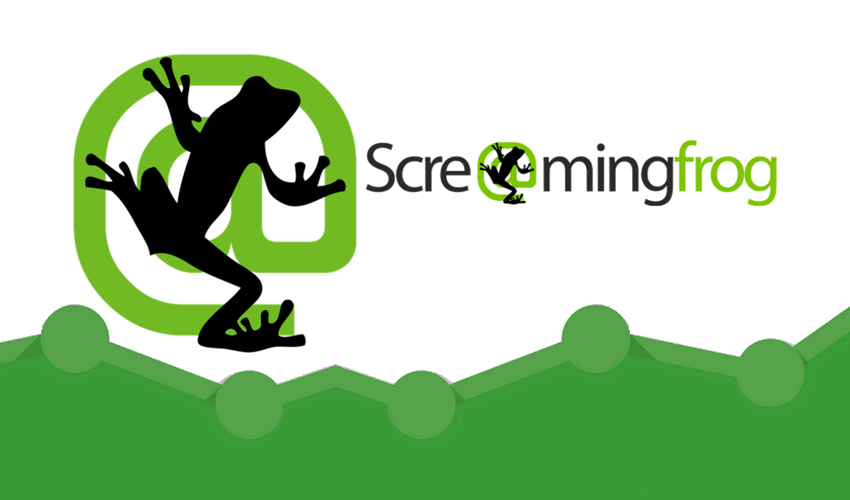 Know About Useful and Useless Outdated Content
Since you have collected the list of all outdated data pages it does not mean that all pages are needed to be thrown in the trash. You can divide that data into two parts one part is of dead pages having no chance of improvement and another part is of those pages that you really think can be improved by doing minor changes in the content and by updating the inks and information of the page.
How can your categorize?
Just ask yourself some of these questions to analyses that data belong the which category-
👉🏻 Whether the page is receiving organic traffic

👉 Are there any backlinks to the following page?

👉🏻 Is the content is still relevant to your audience

👉 Links presented in the blog are updated or not?

👉🏻 Can the data be improved with updated information?

👉 If the blog is about any product or service then you must check whether these products and services are still going on?
This will surely help you to sort a list bit. Now its time for actually updating the data and removing the useless content pages from the website.
Make sure to start with new and fresh keyword research for the updating of old content.
How to Remove Outdated Content from A Website?
No traffic, No Search Volume, Outdated Data, if your webpage is stuffed up with these negative factors then the best option is to delete it.
How to delete site data safely?
I am going to suggest you three best ways to delete data safely from your site-
Redirecting the page
A simple and best way to remove it safely from the site is redirect the links of pages pointing towards that particular page with outdated data to another relevant page with fresh data or service.
410 Deleted Status
In case there's no suitable page to redirect the visitors, you can let Google or other search engines to understand that your page has intentionally been deleted from the web. You can do so by "410 Deleted" status.
Wait!! Don't mix it up with 404 Not Found Status. It is served when a search engine could not find the page but the 410 status code tells Google or another search engine that you have intentionally deleted the data. It is quite a safer approach to remove outdated content without affecting your website's overall ranking.
No Index Tax
Add a no-index tag to your webpage in case you don't want to remove it from the website. Google will crawl that page but never show it in search results.
Also, make sure to remove the webpage link from the sitemap or from all that pages having links to that outdated page. This will minimize the crawling of the page by the crawler.
Outdated Content Removal Tools
Outdated content may take long duration of time to get removed from search results instead of deleted by you.
But if you want to remove it quickly then there is a great tool named as Google Search Console to trigger this action at fast pace.
One Can-
👉🏻 Temporarily hide the URL's

👉 Reported URL by users and isn't showing in search results

👉🏻 URLs filtered by Google's SafeSearch filter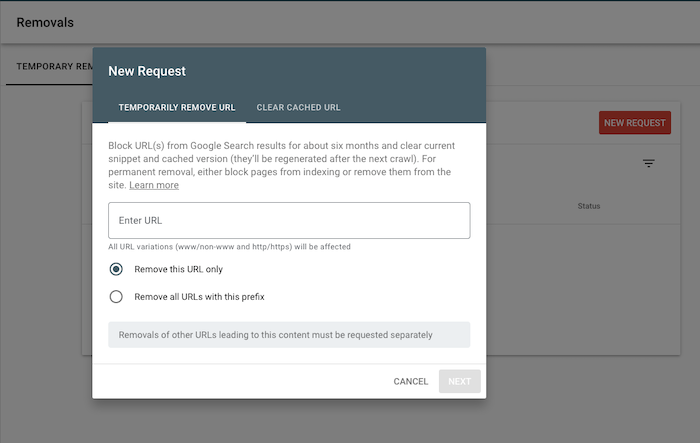 We are interested in temporarily hiding the URL's
Click on New Request Button. Enter your URL to remove.
It won't remove the URL permanently you still need to update the page status to 410. It will stop showing your page when Google recrawls your site.
Click on the "outdated content" tab to see a list of pages that Google has removed from its results.
How Can I Remove Outdated Content from Bing?
Bing is another very popular search engine that many people prefer as well. It also has a content removal tool that ensures removing of outdated data. Just enter the URL of the outdated page and click on "Submit".
Summing It Up
Spare some time from your busy schedule and evaluate the webpages with outdated content providing no value to your website.
Just detect the pages stuffed with outdated content with the given tools and also make sure to remove that data safely from your site.
Boost up the ranking of your website by providing updated and accurate data to the visitors. It also strengths the crawl capacity of the website.
Writing is expressing your mind through words. Being a content-writer I always try to script the best of my knowledge about the topic in the form of blogs, articles, and content.