Are you looking to buy expired domains? Do you want the best domain website with good DA PA and get all the information like DA, PA, backlinks, domain age, and much more. Then you are in the right place because I am going to share all the necessary information about buying terminated domains. So now the question is which is the best place to buy expired domains? Let's read this in detail:-
What Are Expired Domain?
Expired domains are those which are not renewed by the owner after the domain ends. If you run a website then it is necessary to renew your domain from time to time. Every domain should get renewed after one year or it depends on which package you should choose for your website for renewal. When you renew your domain you will get options such as 2 years, 3 years, 4 years, 5 years, etc. It all depends upon your budget. In this digital era, every day thousands of domains get expired due to several reasons. Some of them are:-
👉 People forget to renew their domain

✔️ Some people don't have so much time to work on their website and are not interested in renewing their domains

👉🏼 Some people just leave their domain because they don't want to pay
Things To Keep In Mind Before Buying Any Expired Domain
Make Sure To Find Out The History Of The Domain
If a domain has more than 15+ DA then it's a good one to buy. And if the domain has a trust flow with more than 20+ DA then it's the best domain that you should definitely not miss.
Don't Forget To Check The Backlinks Of The Domain
Suppose the if the expired domain has good backlinks from various websites then it is easier to rank the keywords that you want to rank for in the future. There are several tools available to check backlinks such as Moz, Ahref, Semrush, etc.
Top 10 Famous Sites Where You Can Buy Expired Domains
One of the most popular and most favorite websites where you can buy expired domains. This website gives you various jaw-dropping deals and can buy terminated domains at a pocket-friendly price using GoDaddy auctions. With the use of the Godaddy auctions section, you can type the keywords according to your need like "travel". This will gives you the list of all domain names that match your requirements.
Another most loving website that attracts millions of people where you can easily buy expired domains. This will not take you much time, because within just a few clicks you can find the domains. If we talk about today's report then this website has more than 20 million expired domains list. It has 31 domain extensions including .com, .net, .org, .mobi, .info and the list goes on. The website also provides you advanced search functions like majestic metrics, Alexa rank, Moz rank, etc. You can easily analyze the terminated domains that you want to buy. Some of its outstanding features are:-
👉 Every month 10 million new domains are added by Domcop

✅ Save your time and money by using its advanced filtering options

👉 Its advanced feature will give you all the expired list of domain names including its age, Moz DA, PA, Page rank, Domain price, etc.
NameJet is the marketing place for buying terminated domains. Its advanced domain software shows all the domain professionals, small businesses, and individuals to acquire domain names including those that just expired. At NameJet you will get three sections. One is hot picks, the other one is the last chance and the last one is open auctions.
Hot Picks
In this category, you will get all the handpicked domains by professionals. They are a little bit expensive because they come with high quality and search-friendly keywords. This is the reason why they cost you some extra money but they are good domains.
Last Chance
This category is for those domain names which are going to auction very soon. So you can make an offer to buy as soon as possible.
Open Auctions
Here you can get all the domains in open public auctions. You will find all the closing domains soon so you have to bid the amount to grab them.
World's largest domain marketplace which is started in 2007 and now it has 3.7 million domains available on FreshDrop. Sounds interesting? You can access millions of domains very easily to find the expired domains according to your requirements. The best thing about Freshdrop is that you will get all the information related to domains such as Moz rank, DA, PA, Page rank, domain age, backlinks, and many more. This will save your time and money too.
Another most popular website for buying and selling domains. Its search engine option helps to find the expired domains, active domains, soon going to end domains, brokered domains, and much more. Well, the cost they offer for domains is a little bit high as compared to other websites. The website also offers you an editor's choice column where you will get a wide list of domains that are affordable.
Snap Names give you an option to buy expired domain names of your favorite choice. Currently, they have 30+ million domain names that suit your budget. You can search, bid, or buy dropped names that you are looking for a long time. They have a different section where you can have access to the handpick domain names by professionals. You can also get high quality and search-related domain names.
One of my most favorite websites where thousands of domain names added every day. As we all know that thousands of domains expired every single day. If you want full valuable information related o domains that you want to buy then this website is perfect for you. They also give you an additional option to get necessary information like page rank, backlinks count the age of the domain and many more. Here you will find deleted domains also.
Here you will get all the web hosting services. Do you know? They are operating from the US since 2003 and now it is one of the leading web hosting providers who provide reasonable internet products like domain registration, site creation, hosting, etc. The website allows you to renew your domain within 30 days. But if the users don't renew his/her domain within a given period, the domain will automatically move to the auction place.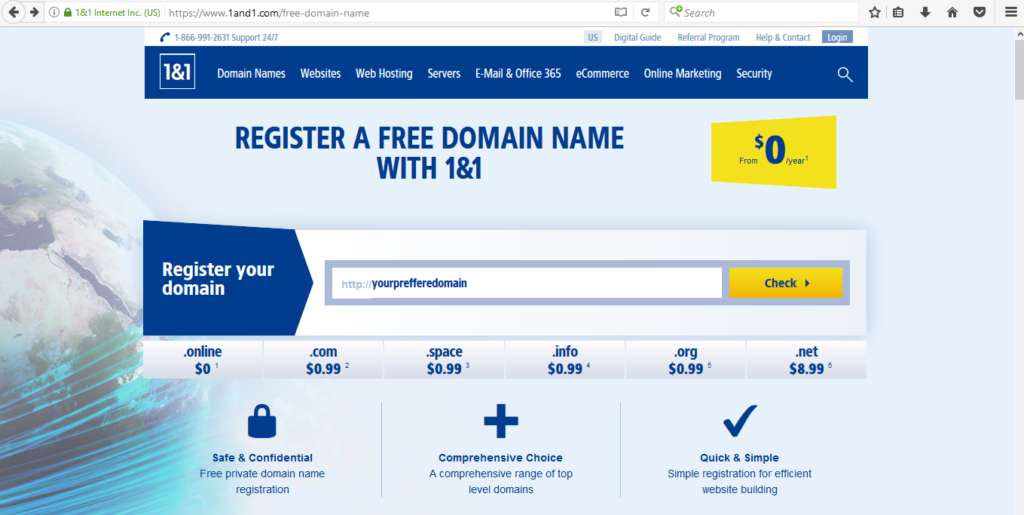 We all heard about the NameCheap, one of the leading domain registrations where you can sell or buy expired domains at an affordable price. All you have to do is just set the filter of expired domains or their price and get the full list of expired domains according to your need.
Now it's more easier to find unlimited brandable domains from all over the major domain auction websites including GoDaddy Auctions, Flippa, and many more. Its advanced filter allows you to find all the best-terminated domains no matter what niche you are looking for or interested in. One of the best things about this website is:-
✔️ Get unlimited high quality and high PR domains

👉🏽 Find domain according to your keyword

✔️ Get thousands of domain within just a few clicks