Getting a web hosting platform is no pain until you are looking for something economical and functional both. Either you have to compromise on must-have features or you have to pay a pocket-burning price. You were not getting everything and that was quite a reason for getting disappointed. This issue is no longer there in your life after Cloudways have started taking care of what you require. Here is the descriptive Cloudways review to add more clarity on what this platform is all about.
What is Cloudways?
Cloudways is a cloud-based managed WordPress hosting that gives assurance of fast loading WordPress sites and uncomplicated hosting procedures. Here you can scale hosting resources as your website starts growing. Cloudways has developed its system for optimum performance, high speed and excellent security which is almost impossible to crack.
Cloudways works together with 5 cloud infrastructure providers, and that are- DigitalOcean, Linode, Vultr, Amazon Web Services and Google Cloud. You do not require a separate account on these as cloudways will link it up on its own. Cloudways Review will explain features and will enlighten you about them.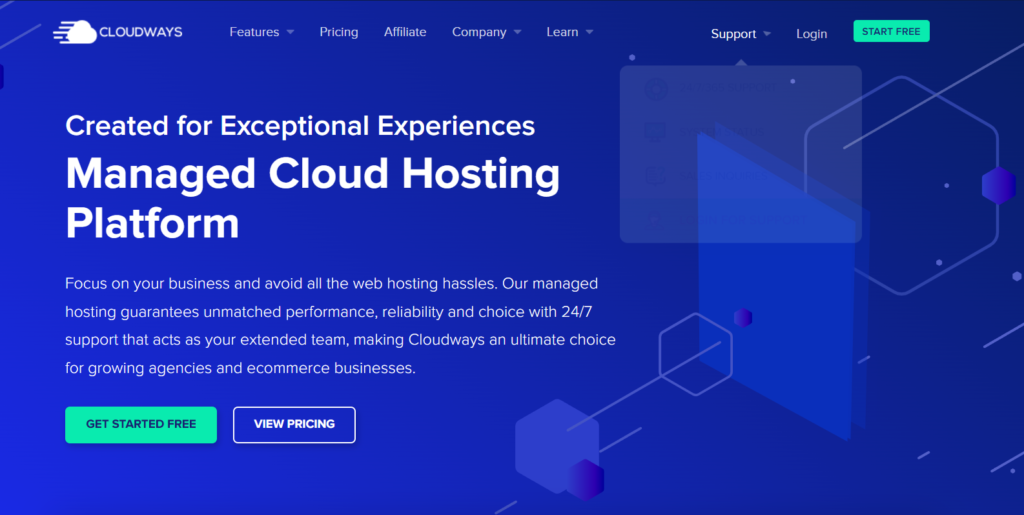 Why Cloud-Based Hosting is better than others?
There are a few types of web hosting solutions, out of which we have named.
Dedicated server or managed hosting server
Shared Hosting Solutions
Cloud-based Hosting Solutions
The dedicated server is the ideal choice if your motive is to get privacy and speed, you won't get that in shared hosting. Moreover, you need really good know-how to manage dedicated servers like a pro. The glitches and issues will mess up your brain. On the other hand, the shared solutions are cost-effective but will make you crazy waiting for them to load. Also, it can't assure the much-needed security.
Now comes cloud-based solutions like cloudways. Its hassle-free server operating system is appreciated and loved. It is designed to provide the most required features at a pocket-friendly price. So you don't have to adjust with any of these.
Let's know more about it and start with its features.
Features of Cloudways
Cloudways supports other systems but still, it is considered as a WordPress hosting platform and is well-optimized for that. It has everything like SSL installations, HTTPS redirects, backups and some other features for highly experienced techies.
1. Control Panel Customization
Basic customization on the control panel of the cloudways is very much possible. After adding your server to the system, you can add applications to the platform under the application management feature.
After the application management, you need server management for the next move. You can run the regular aspects of your website under the server.
The next title on the screen is team management where you can add team members to assign them access.
2. Create Staging before Finalizing
Making changes is absolutely fine but you will love to take a look before finalizing it. This staging and cloning feature helps in doing that. You can see how your changes will look after completing them. It is a blessing for some features which you can't undo after launching the site. Also, cloning your site helps in understanding the outlook perfectly.
3. In-house Caching Plug-in
This cloud-based hosting provider uses an in-house caching plug-in named Breeze, which can be removed, optimized and set up without any problem. It supports cloudways own content delivery platform known as Cloudways CDN.
This caching plug-in is not available on a free trial account but can be used with the most basic paid pack. You can start it by going to application management. Moreover, there are some other caching mechanisms too- Varnish and Redis, but cloudways has recommended avoiding using that.
4. Upgrade the Server
While using your server, if you need to upgrade it to add anything new then this process is just a few steps away. After a few clicks, you can upgrade and downgrade your server. This setting is there in Server management, known as Vertical Scaling. You can undo the previous editing and can come back to where you were earlier.
5. Support System
The support team at Cloudways is just a text away. There is a 24/7 customer support live chat system is available and you can even request a call, send an email and check out the blogs or FAQ for the solution of a query.
There is an automated feature called CloudwaysBot which gives notifications and alters if any update is required or any issue is seen in the server. This makes cloudways even more perfect because you don't need to keep a track of updates.
Cloudways Pros
✓ Gives the option to choose from five Cloud Hosting Services
✓ Amazingly fast server
✓ The Control panel is very easy to access
✓ 24/7 customer support services available
✓ Provide free SSL
✓ Offers dedicated environment
✓ Highly secure and cost-effective
✓ Pre-configured stack for popular apps like WordPress, Magento, etc
✓ Free of cost WordPress caching plugin
Cloudways Cons
✘ Do not provide email hosting
✘ Doesn't have a file manager
✘ Customer support becomes tough to understand
✘ Registration of domain name isn't possible
✘ Multisite SSL is limited to 100 sites
Cloudways Review and Rating
Cloudways Review
After analyzing all the reviews and studying about this platform, I feel that cloudways is a good platform to rely on. But if you have a team that can resolve all coding issues and have the issues sorted related to cPanel, then go for the infrastructure platform, which will save your money in buying cloudways. If you are looking for something simplified, then Cloudways is the ideal choice. Moreover, you have 3 days to use it for free and I really liked the cloning and staging feature.
Cloudways rating
Ease of Using- 4.0/5
Speed- 4.5/5
Customer Support- 3.5/5
Prices- 3.5/5
Features- 4.5/5
Cloudways Pricing
The Cloudways pricing is classified on the basis of 5 cloud infrastructure providers. Each one has further 4 plans and different pricing. This gives you innumerable options to choose from. Cloudways offers a 3-day free trial pack also, but it doesn't provide access to all the features. Also, you can't get a free trial on Google Cloud and Amazon Web Services. Look at all the prices mentioned below.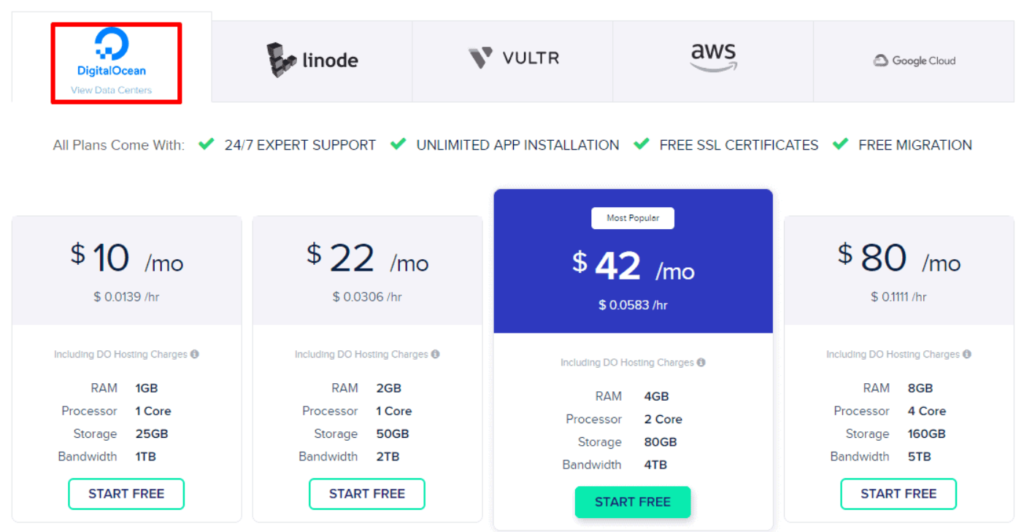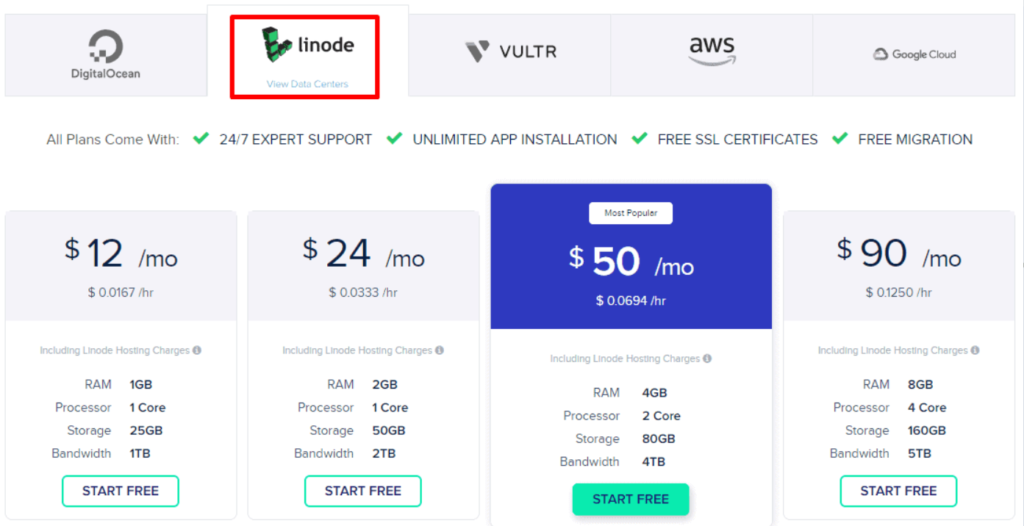 All these plans are designed for pay-as-you-go with utmost flexibility and ease. Only pay for what you are using and upgrade your plan or features anytime by going to vertical scaling.
Cloudways Alternatives
Though Cloudways is the top-notch platform for users, everyone has different requirements. There are some Cloudways alternatives that might help you.
WP Engine
Pressable
Pagely
FlyWheel
Also Read- Guide to Sell Online Courses
Cloudways FAQ
Q. Why do we need Cloudways when we can directly go to Google cloud?
A. There is no doubt that you can directly go to the mentioned sites and pay a lesser amount of money but those sites require cPanel, a technician and end-to-end knowledge and coding abilities. You cannot resolve the issue on your own without the guidance of a professional coder. Cloudways cut out all that effort and ease up your work.
Q. Which one does it allow: Pre-Paid or Post-Paid billing?
A. All the other web hosting providers allow pre-paid billing but cloudways have a post-paid billing system which means you'll pay for the services after using it. It makes it even more amazing.
Q. Can I get assistance moving my site to cloudways?
A. Yes, Cloudways offers a free site migration service when transferring your website to its cloud platform for the first time. Any additional migrations will occur a fee depending on the type of app your website is running.
Q. Does cloudways support email hosting?
A. No, Cloudways does not support email hosting but they have a partnership going on which a company that provides it, named Rackspace. They cost $1 per email monthly whereas their actual pricing is $2 per email monthly.
Q. Does cloudways have yearly pricing plans?
A. No, cloudways have multiple pricing plans but all the plans are monthly and there is no upfront fee.
Conclusion
Cloudways is the cloud-based hosting service provider which has been offering some worthy features and suitable pricing including 5 cloud infrastructure providers. Cloudways Review was a way to educate the readers about what features they will get after purchasing it. Mentioned above, are all the pros and cons that this platform will provide you. Read the Cloudways review for selecting the supreme platform for your website. Comment down your views on it.
Content Inditer | Fond of exploring my Innermost phrenic Conceptions to engender content that will evoke deep relatable emotions and ardency in others.