Do you want to sell online courses and don't know where to start from? Well, this article is specially written for you. Here is a full-fledged guide that includes all the detailed information regarding your queries. Don't forget to stick with it till the end; you won't regret investing your time here. So, let's get started.
Why Online Course?
A study suggested that the market for an online course is booming and the reason for that is quite obvious- social distancing. The year 2020 has taught us to shift to online places for every basic requirement. Experts believe that income from online courses can increase up to $300 billion by the year 2025. E-learning had sales of more than $46 billion in the year 2018. So, it is better to sell online courses for a long-lasting income source.
Which is better- Single Course or Membership Sites?
Single course websites focus on providing a direct solution- It targets the exact problem of what a person must be facing and solves it right away. That does not build a long-lasting relationship with the audience.
This traditional method is super amazing if your niche is to solve basic problems. If you have a YouTube channel for blog page for that, then it's good to choose this traditional form of targeting people.
This HubSpot YouTube video has explained how to conduct research for content. This channel has various How-to videos on different topics.
Every time a person has to create a course online, they have to do it from the beginning. From introducing the topic to creating content for that, it is a whole new task. Single course sites have to find new customers after a while, they cannot hold on to a customer for a longer period and that is an issue for both parties.
And that is a point where membership sites play a vital role. It builds a long-lasting relationship and it is more beneficial to both parties. You should be clear about your niche. Once you decide, then it will be easy for you to work.
For example, you decided on a niche- home décor, now all your further topics will revolve around it. The possible topics for the blogs/ videos would be-
Affordable home décor items
Things to keep in mind while buying
Best combinations for your home
Things which can make your house look bigger
This was an example that shows the results of choosing a niche. Now just like this, you plan to develop your courses under one niche, at a membership website, how will that help you?
Take an example of Hubspot Academy, they have planned a niche- Digital Marketing Course. Now they are providing further courses like
✓ Content Marketing Strategy
✓ Instagram Marketing
✓ Email Marketing
✓ Social Media Analytics
This will help the audience to get all the knowledge on one platform and will also develop a strong brand-customer relationship.
In this blog, we will provide a step by step guide of what things to consider while planning to sell online courses now!
1. Select Your Niche
You might have observed till now that selecting a niche is the first step here. If you are already started working or operating a YouTube channel and blog section, then you can move to the next step, but if you are still confused then here are the points which will help you to find a better topic-
Your niche should be clear to the people
It should neither be vague nor too specific
The idea should be money-making
Don't take a too common niche, that will make it difficult for you to grow
You and your team should have enough in-depth knowledge
For instance, if you want to start a course related to teaching a language, then your title should be specific enough to tell which language you are teaching and broad enough to attract students, like
❌ Learn a language in an online course
❌ Learn how to greet people in the French language in our online course
✔️Get proficiency in the French language with our Online Course
See, this image is taken from Coursera where they have used the accurate title for the course.
Pro tip- Sometimes topics do not perform as expected. It is better to conduct research before working. Try making some videos for free and observe people's reactions to them. It will really help you to make a better decision.
---
2. Starting Deciding the Content
After planning the topic, now is the time to plan the content which you will be coving and adding to the course. Think smartly and work in a sequence, start by keeping four questions in mind
What is your target audience
What is their likes and dislikes
What is something which only you can provide and nobody else can
What are the points which you want to convey through video
If you are clear regarding these points, then you can create a wonderful strategy. The basic understanding will guide you to create videos for your course.
You can consult a specialist or conduct some research to understand your audience. Knowing your viewers is the foremost and vital step to start from.
Keep in mind that –
All these video are going online and it is very difficult to hold the interest of viewers throughout the video. Use such techniques which can keep your audience engaged like keeping the duration short – 3 minutes to 20 minutes.
Don't cover multiple topics in one video. No matter how short your video can get, but always make separates videos for separates topics.
Add real life examples and personal experience to make the content more approachable. People tend to like real experience than hypothetical situations.
Look at the description and list of sub-topics, on which the videos are created. These are the images of the syllabus of week 1 of learning French. You can visit their site to get more detailed information and check how they have classified all the topics and managed every lesson. It will give you an insight into how to organize the content.
---
3. Things You Need to Shoot Videos
People usually ignore this step and that is what makes their videos less popular. The minute details help you to stand out from your competitors. Though these points don't make a huge difference I think it is vital to focus on every aspect.
Other than an outstanding script, you need to have a few other things like-
HD camera
Microphone
Editing Software and tools
Lighting
Green Screen
All these products will make the understanding easier and clear. You don't need to make big investments, just start with something simple. Don't buy extravagant cameras or full lighting set-up at first. Here's an example of why one should use good products.
Look at the editing, voice clarity and video clarity in this video. When you add such clipping or real references, it looks more appealing. And to add these, you need good editing software and skills. Let's jump to the next step to sell online courses.
---
4. Select a Hosting Platform
Content is planned, content is created and videos are done, now comes one of the most important questions where are going to post videos. You need a hosting platform where you can upload video lessons for the people.
As it is a video course, you need to select a platform that is specially developed for that. The platform should be convenient where you can monetize, edit, share and track the growth of your videos.
I have a list of platforms that can help you in doing that. Before reaching there, check these few points which you should keep in mind while selecting a platform-
Allows you to upload the video and organize that
Sharing the videos at online platforms and other mobile apps
Making the video downloadable for people to watch later
Able to monetize content according to requirement
Platform should have all types of payment modes
Allows you to use live streaming method
Tracks the growth of audience
List of top platforms to sell online courses-
✓ Udemy
✓ Uscreen
✓ Skill Share
✓ Kajabi
✓ Thinkific
✓ Teachable
✓ LearnDash
✓ Ruzuku
✓ Springboard
✓ Podia
Read about all the platforms before choosing the perfect one to sell online courses. These platforms will boost your business and get you income through videos.
---
5. Plan Your Pricing Strategy
Charging money for courses is the way to earn through it and get your investment back. There are basically 2 types of pricing systems. People add PayPal plug-in but there are more than that for your platform.
The first one is the Subscription method and another one is the Transactional method. In the subscription method, people will pay for the duration of one month or year, where they will access all the content in the course. In the Transactional method, people have to pay individually for each course they buy. They cannot access the whole library at once. Let's dive deep to know more.
In Subscription Method–
It is somewhat like Amazon prime or Netflix, where users pays and watch any video of their choice. It is ideal choice of most of the companies. It allows the people to explore and reinforce them to subscribe again. It is feasible for both viewers and course providers. It generates constant and good income in long-run. Furthermore, it is trendy way of presenting your course and people love this system too. Subscription method fits best if you have multiple courses to serve.
It builds the trust of a subscriber and motivates them to maintain the subscription. Making all the courses visible and available allows people to subscribe again when it is going to end. It allows you to add entire video under one roof, it builds your course even more stronger.
In Transactional Method-
In this method, the whole course content is not available after paying an amount. People have to pay individually for each course or video. It is a traditional method of making transactions, and is beneficial for the people who create single video courses. It is a profit gaining approach at first as you can charge amount according to your choice. But I believe that it shouldn't be preferred for long-run. The courses have to be extraordinary to attract the student back to the channel.
It is recommended to check the hosting platform because few platforms do not allow you to set your prices and add discounts to attract audience which can directly affect the overall earnings of yours. So, select that platform which allows you to do that.
Now, feeling confused between both of these methods is very obvious. So, here is a solution to that too- Hybrid Monetization. It is a mixture of both the monetization methods mentioned above. Viewers can subscribe to your channel or page and can select the particular thing which they want to watch.
It boosts income possibilities, makes your channel diverse, attracts more audiences and widens the reach of your content. To manage this method in a more systematic way, you can provide access to the whole library of course (including basic videos) in a subscription monetization method, and then you can use transactional method for additional videos like
⮞ Expert Advice
⮞ Webinars
⮞ Live Sessions
⮞ Advance level Videos
⮞ Mock Tests/ Exam
⮞ Interviews
6. How to Finalize Pricing
This question is tricky because it can affect your audience directly. If you don't have prior experience, then it could be a big task for you to decide. You can experiment before finalizing it by considering these points-
Keep the demographic factors in mind- who is your target audience
Check the piecing plans of your competitors in mind
Plan according the quality of your content
How much can your audience spend?
All you can do is create multiple pricing plans and add different facilities in all and then observe how people are responding to that. You can observe audiences' behaviour and then alter your plan again.
Pro Tip- You can add a trial pack also, to see if people like your content or not.
---
7. Start Creating Content to Sell Online Courses
This is the time to execute all the planning you have done till now. Use all the products which I mentioned above and start making videos. You can record and edit your videos on your own or hire a videographer and editor too. It depends on your budget or takes the help of YouTube to learn basic editing.
You can use this video tutorial of basic editing for beginners.
Anyway, let's get back to it. Using creative content ideas is a must, but creativity differs from person to person. You need to find what creative can you do in your niche. Know your audience, I have said it earlier too because it is the linchpin.
Note down the points you want to deliver and anything which others have not explained till now and that makes you unique. Keep in mind to add all the possible things which link to your video and also, all the other supporting content. You can redirect them to other courses to keep them engaged.
Here is the example;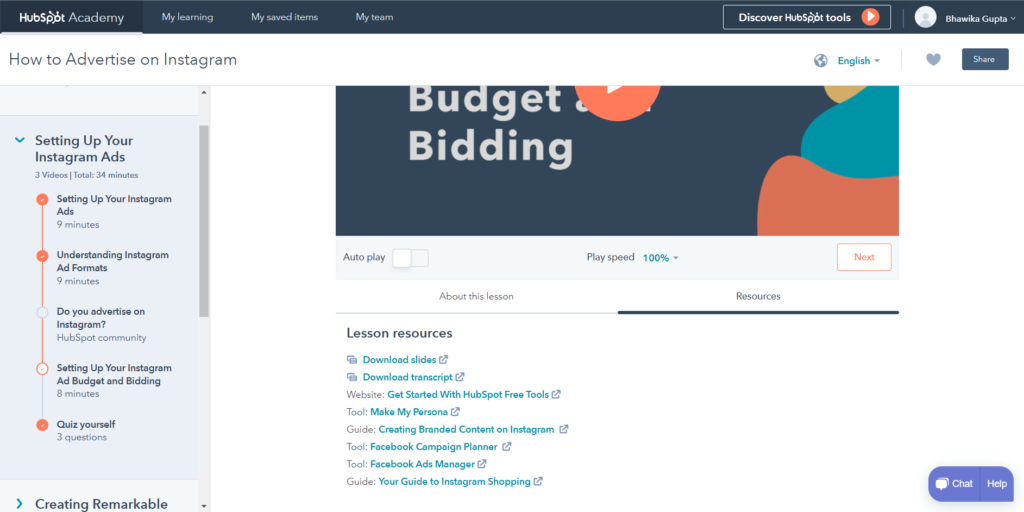 Hubspot academy has this course where they are teaching about Instagram marketing. In the videos for this course, they have mentioned multiple things and provided documents, PDFs and links of the same in the resource section. Hubspot provides the details of their tutors and allows viewers to check former's profile too.
Why did they do this?
Because it is easy for readers to understand the concept and it increases traffic on the other pages of the course. People may have not noticed what other courses you have. This way they will create a long-lasting relationship with you. Adding the information of tutors will earn the trust of viewers, which results in a reliable relationship.
---
8. Make the Content Stronger
It is crucial to provide something extra or something unique to keep your viewers busy. You can organize live sessions or webinars which will make them stay connected to the channel. Getting the audience is one thing but being able to hold them, is another. This way you can hold them for a longer period of time. I have an example here.
Let's talk about Hubspot again; HubSpot academy creates a conversation where the expert has asked a question. People comment down their views or question regarding videos, which, then leads to a discussion. It is an effective way to add more audience and directly engage them with a channel.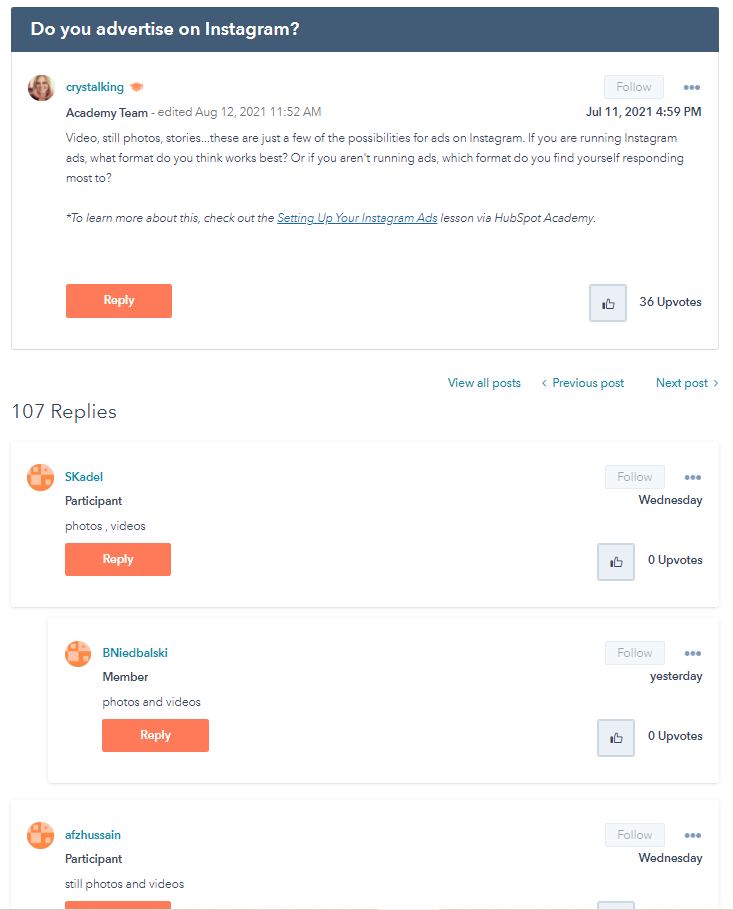 ---
9. Content Organize
Presenting your content properly helps the audience to find videos easily. The content should be presented in systematic way. It enhances the user experience and shows what the audience wants to see. It saves the time of people and leaves a good image in their minds.
To improve presentation, you can do-
Maintain Sequence
Add title to every video
Add description of what the people will learn through it
Make visible time duration
Additional resource, PDF, Document, links etc
Take a look at this sequence of videos presented by Hubspot Academy-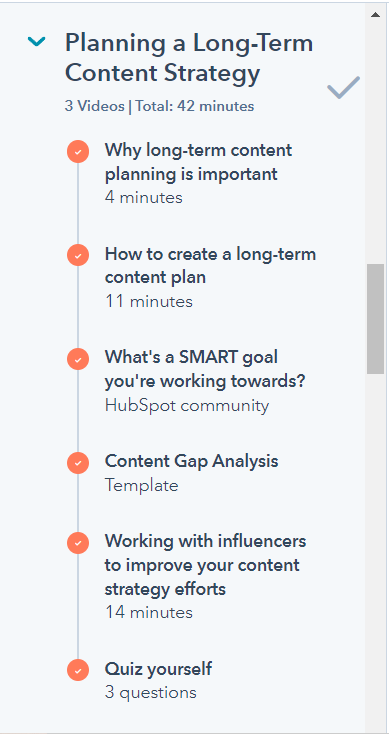 It is one of the topics from the Content Marketing Course, which has further videos, discussions and quizzes. Everything here is organized properly like the Title is descriptive, Time is given and flow is maintained. This gives a clear idea to the student of what are they going to learn.
---
10. Design Your Website to Sell Online Courses
You don't actually need to design a website; you need to make changes in the platform you've chosen. Make sure to select a platform that has these features or customize your site. Choose colours, designs, logos, and templates to make it look more professional and impressive. Designs and colour schemes play a role in creating focus.
This video has multiple options of themes to choose from. Uscreen is one such site where you can submit your video courses and customize your site too.
Pro Tip- Use similar images, descriptions, colour combinations and logos on all social media platforms which you have used on the cover of your video at the course selling platform. It improves your image and boosts reliability.
---
11. Launch it for Trial
The exact term for this point is 'seed launch', which means, you are trying to know the audiences' reaction over your course before actually launching it for the people. This course will be provided to a few people of different categories who fit in the niche of the course. It is vital to sell online courses.
A well-researched strategy is required for this because you have to select people and send your course to them and then notice their behaviour and reaction toward it.
You don't need full-fledged marketing plan
You don't need to reveal your full course
Just select few students from your social media followers, your friends, family members, your email marketing list or anywhere you want
Select 40-50 people for this trial
Provide free course to them
Show the answers to most asked and highly popular questions
If people will get satisfactory results, then you will come to know about it and all the flaws will highlight too. Work on the loopholes and you are good to go.
12. Marketing and Selling Course
Now let's discuss the after work of creating a course. You have developed this course for generating your income and now is the time for that. Marketing is a broad concept and you have to plan every step of it. A good marketing campaign will get more audience than any person can ever get.
Target your audience by starting-
🡲 EMAIL MARKETING CAMPAIGN- Emails have a good reach among the people, it is 40%more effective than social media. You can send an email regarding your course and its information or you can take help from paid email ads. Send the mails to those who are interested and this will make people aware of your course. You can track the results of email which helps you in performing better in future.
Pro Tip- Choose effective words as your subject and title, they will boost opening rates of email.
🡲 SOCIAL MEDIA ADS– Organizing paid ads campaign on Social media will increase brand awareness. It re-targets the audience on social media on the basis of their location, preferences etc. Social media has the most active users, so this will be beneficial for sure.
🡲 GOOGLE ADS- PPC or Google ads are becoming the most common way to reach audiences. If someone has doubts, the first thing they'll do is- search on Google. Google puts your course on the top of SERP which will get you more subscribers.
🡲 RE- TARGETING YOUR AUDIENCE – People have the tendency to check about the product, save it for the future and then leave the site. In those cases, re-targeting is a productive technique to work on. It will show your course to the interested people again, so they can come back later and purchase it.
🡲 FREE TRIALS- People needs to be sure what they will be getting after paying money. So, usually websites provide a free trial to the people to give them a glance at what will be offered to them. This way is used to increase temptation and people usually buy subscriptions after a trial. Mind that, you need to increase their curiosity and not provide solutions to every question for free.
🡲 ADDITIONAL WEBINARS AND SESSIONS WITH EXPERTS- Providing something extra without spending a penny is something that attracts our public. If you provide additional knowledge or access to a few books or something like that, people tend to take more interest in your course. It will enhance promotion through word of mouth.
🡲 USING PAID TOOLS OR AI-POWERED TOOLS- This one requires a lot of investment but usually, the investment is worth it. There are many AI-powered tools and many methods which will work on their own and you hardly need to worry. Check about cross channel marketing, ai tools for social media marketing, programmatic media buying and many more.
Check out the blogs of Amritsar Digital Academy to know about tools, that helps you in gaining more visibility in the competitive world.
---
13. Promotion is the Key to Sell Online Courses
Social Media platforms
This is no secret that social media is widely popular, so if there is anything promotional you want to do after creating a video, create social media accounts. Post similar stuff on all channels and try to engage with the audience and tell them about the course.
YouTube
YouTube helps in creating awareness through videos. The reason why YouTube is one of the most popular platforms is that people trust more visuals, they can relate more to it and videos are way more descriptive than images.
Influencer marketing
With the increasing popularity of social media, the influencers on these platforms are also increasing. They post some entertaining stuff and gain followers. Brands hire them to market their product or services, which reaches more audiences at once. Influencers have the most active audience and when people see their favourite person recommending something, they will think of trying at least once.
Blog
Starting your blog page and keep posting written content on it regarding videos will raise interest in the minds of audiences. When the creators of videos are sharing their knowledge and solving others' queries, then people will build trust in them. People want satisfactory results, if you are providing that to them, they are obviously going to follow you.
Collaboration
Last but least important point to promote your online course is by collaborating with different brands, companies, apps, tools etc. Collaboration not only creates awareness of your course but also gets you income. Both parties get the benefit of collaborations and that is what makes it one of the best methods.
---
Conclusion
An online course is more preferred than any offline course because it is easily available and handy. So the trends of these courses are increasing with each passing day. Experts are creating courses for their audiences and that works as a good income source too. Sell online courses is not as easy as a pie. It requires a lengthy, accurate procedure and marketing strategy for online courses. We have launched this guide for all our readers who wish to sell online courses but don't know the process. It contains everything- from conducting research to creating video, from pricing plans to marketing strategies, we have not left a single point. Use this guide and share your reviews on it.
Note- All the videos, images or brand names used in the article are not paid. It is the result of well-conducted research, so you can rely on us.
Content Inditer | Fond of exploring my Innermost phrenic Conceptions to engender content that will evoke deep relatable emotions and ardency in others.