The ideas of a learning management system arose straightforwardly from e-Learning. Learning management systems make up the biggest section of the learning system market. The learning management system or LMS are the software that is used by the educational institute, corporate offices, government authorities and many more to educate, administer report and track online courses, training programs, learning programs and development programs.
Online learning is the main origin of the growth of such websites. The trend of online shopping is increasing and so do the trend of online learning. It is very hard for a tutor to note the progress of each student, so software like this helps in doing so. It bridges the communication between an instructor and student. Learning on this software becomes fun and interactive because the instructor can add video, timely quizzes, tests, games oriented lessons. It helps people to learn quickly and they never get bored.
Where can we use LMS?
We can use LMS in almost all the sectors where learning is required. To be specific, these are the few areas where it is used the most.
The Corporate sector and organizations
Educational institute
Government Organizations
Private Tuitions and institutes
For the corporate world, it is helpful in organizing training programs for the employees. The instructor can maintain the track with all the employees and guide them. Companies use it when they come up with some learning for employees.
In educational institutes, instructors can make videos, create lessons and share them with all the students and also, they can keep a track of their progress. Teachers can connect to the parents with this software.
The government organization too can use it to provide training to the employees as the trend of online learning is reaching new heights. People living at different locations have a great benefit from this software.
Average Cost of LMS
The LMS is paid software so the people who are looking for opting an online course from here, have to pay for the charges. The average cost of all the learning management system software is $1 to $10 per course for each student.
Advantages of LMS
Software like this decodes the learning procedure and system of students and presents that in the easiest way.
Shifting to digital mode of learning helps students to stop making notes. They will always have their videos handy.
It increases the student's mobility as they can start their learning anywhere.
Learning new concepts become more interesting with the help of videos and lessons created with games.
Simple compelling management is easy with LMS and data accessibility turns out to be speedy and precise.
LMS gives an across the board stage for acquiring and updating the range of abilities.
It gives huge variety of internet based courses, which gives a choice to the people pick according to their liking.
It guides in following individual improvement progress.
It decreases the learning cost and commuting time which is beneficial for people.
Parents can also connect with the instructors on learning management system and know about the performance of their students.
Disadvantages of LMS
The greatest disadvantage of Online Learning is that numerous things that need physical presence couldn't be achieved.
The effect of eye to eye interaction is decreased, as no personal guidance is expected for learning.
It builds the passage impact of learning, consequently the extent of wide reasoning might get decreased and the people may simply see through LMS, subsequently leaving numerous opportunities aside.
A student requires inspiration, guidance and consolation to perform better, which will be missing and in this manner
Students/ Users cannot rely on this form of learning. Tutors cannot add personal touch to the lessons.
Note– The LMS is similar for all types of industries but still there are few education-focused learning management systems and corporate LMS for corporate training. So, you can search about the software and then select your industry type.
What are the features that LMS should have?
Give a stage to instructors to convey online course to their students.
Convey tasks to students and permit teachers to grade completed task.
Manage advanced evaluation techniques for the students
Instructors can provide individual assessments and feedbacks just like the comments and response to the assignments.
Create performance dashboards for following understudy progress
It consists of grade book usefulness or coordinates with other grade books as well.
LMS collaborates with Student Information System to create better insights for students and provide more accurate and reliable results. It is also helpful in student data management.
Top Learning Management Software
| | | |
| --- | --- | --- |
| LMS SOFTWARE | RATING( out of five) | DAYS FOR FREE TRIAL |
| SkyPrep | 4.5 | 14 days |
| ProProfs LMS | 4.3 | 15 days |
| iSpring Learn | 4.0 | 30 days |
| Docebo | 4.6 | 14 days |
| Moodle | 4.5 | – |
| Litmos | 4.8 | 15 days |
| Canvas | 4.6 | – |
| Edmodo | 4.4 | Free Version |
| BlackBoard | 4.4 | – |
| Joomla LMS | 4.3 | 30 days |
| Brightspace | 4.3 | 30 days |
| Absorb LMS | 4.2 | 30 days |
| Talent LMS | 4.7 | Free Version |
| Schoology | 4.7 | 30 days |
| Adobe LMS | 4.8 | 30 days |
SkyPrep
SkyPrep has one of the easiest user interfaces among all the learning management software. It is designed in a way that an amateur can use it with such ease. An award-winning LMS software like this supports cloud-based solutions. The users can easily manage their videos, track the performance and create quizzes in this software.
You can create lessons and videos without putting in much effort and also, you can use game-based features to make the lessons even more connecting. The impressive feature of making interactive learning for your team makes this, one of the top Learning Management systems.
SkyPrep Features
➣ You can create videos and track the progress in real-time
➣ Customize the course as per your and your team's requirement
➣ The creators of course can sell it online too
➣ You can deliver, manage and track the training process
➣ Supports many languages which improve users' experience on the platform
SkyPrep Cons
☐ It gives limited functionality to course authority
☐ The course creator cannot swap old video with new; they first have to delete it to add something new.
SkyPrep Pricing
○ It offers a free trial to users for 14 days.
○ Pricing starts from $349 monthly if billed annually.
---
ProProfs LMS
ProProfs is considered a great platform for learning in the corporate industry. It is used to organize and transfer all the training programs which are required for the better functioning of a company. Good learning and effective training can boost the quality of work in an organization. It has a quiz-making tool, surveys, collaboration tools, and advanced reporting.
Employees can use it even post-training and it has no age bar to use as well. So, it fits perfectly for all kinds of corporate sectors.
ProProfs Features
➣ It has already developed a library that has many courses, you can simply customize those and add your brand name. It saves time and effort.
➣ This virtual classroom let you create the group admin, course assignments and learner's group.
➣ You can track the working and growth of all these factors easily.
➣ It has a Question/ Answer teaching community which makes learning even more accessible.
➣ Examine your learning through well designed and planned quizzes and assignments and also, keep assessing your work.
➣It also provides insights on new joining in the course, the engagement level of people, course gaps and completion rates.
ProProfs Cons
☐ Though features are amazing, it is only available with the premium plan purchase
☐ Doesn't allow users to use all the features in a lesser amount.
ProProfs Pricing
○ It is offering a free version and a free trial for 15 days for any of its packs.
○ It starts at $20 for a month but you have to pay annually.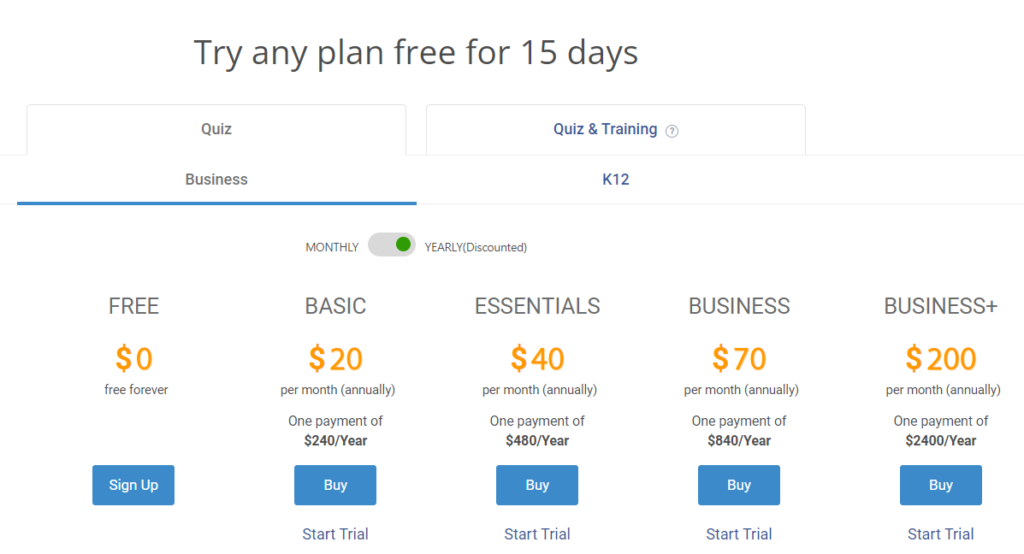 ---
iSpring Learn
This software is constantly growing because iSpring learn contains all the required features an LMS software should have and that too, at affordable pricing. The core goal of this software is onboarding, product training, sales training, channel training, compliance training, certification, and more. This is mainly designed to contribute to the corporate sector and to help employees to learn better.
iSpring Features
➣ Just like other LMS software, the tracking tool of this platform is amazing as it is telling you that which person is learning or which is not.
➣ It is a flexible learning platform where you can add customization and flexible structure for learners' convenience.
➣ It supports multiple formats and offers a good amount of storage where you can store video lessons and many courses.
➣ Its self-registration system is commendable. It sends emails to the people regarding invitations and users can get themselves registered.
➣ iSpring has one more feature which is called Event Calendar. You can schedule workshops, webinars, live sessions or anything.
➣ There is integration with Zoom and Microsoft Teams, which helps in arranging meetings in the training program.
iSpring Cons
☐ It doesn't include a readily made learning content
☐ It doesn't analyze the content to suggest keywords or tags; you have to add it manually.
☐ iSpring doesn't have an e-commerce feature.
iSpring Learn Pricing
○ iSpring has a free trial for 30 days in which, users can learn about its features.
○ You have to pay for it annually, and the monthly cost is USD 2.82 to USD 3.66
---
Docebo
Docebo is a platform for all the automated, personalized and unmatched learning experiences for the people. It provides an excellent learning opportunity to enhance the customer experience. It has all the features readily available on a single page and that means user accessibility is simple and client-centred. It saves a lot of time for its users by enabling support for multiple environments without any integration issue.
Docebo Features
➣ Docebo supports education-centric gaming videos, different languages and allows favourable customization
➣ It has features to manage the admin's tasks automatically, reduces work and increases mobility.
➣ It contains pages, quick notification features, and marks pages which can be imported easily and you can create a course out of it.
➣ For user's improvement, it contains ITL classrooms and a high reporting structure. It helps the client's performance.
➣ It contains good UI designs and experiential and strong integration and an audit trail.
Docebo Cons
☐ Docebo requires improvement in the API features and a few functions.
☐ This app is quite complex to use for a new user, so this can be a drawback for people.
☐ Customer Support Services of this company are not well appreciated, that requires improvement.
Docebo Pricing
○ Provides trial for 14 days to its potential customers
○ It charges $ 10 to each customer and registration fees, but that is for one time.
---
Moodle
It is the single strong Learning management system that provides tutors, instructors or guides to the learner. Moodle has a safe and secure integrated platform for developing customized learning platforms. It suits better to educational learning, as the dynamic system of this platform allows you to use it anywhere. It increases mobility and has a global reach which improves its localization.
Moodle Features
➣ It offers quick backup and easy data management
➣ You can create your own courses and learn on them both on the same platform.
➣ The outlook of the website can be customized; all the layout and design can be changed.
➣ It supports multiple languages, multiple tracking functions etc.
➣ It takes care of all the users' responsibilities and permissions, making the work easier for people.
➣ It has a personalized dashboard, peer and self-assessment, a safe authentication process and mass enrollments with support for open standards.
Moodle Cons
☐ Initially, it is difficult to understand which makes the learning process tougher than other platforms
☐ The UI is not updated and it looks kind of messy too. That needs to be updated with the new version
☐ One cannot assign learning programs to different categories.
Moodle Pricing
○ Moodle has a free version for the people.
○ There is a customized version and the billing starts from $110 to $370 annually.
---
Litmos
Litmos learning management software is a tool that is used to train and educate the team, partners, and employees. Litmos integration with the system is very helpful because it has some unique and amazing features which are helpful for any organization's smooth working. It enhances the skills of the employees for better performance. It is useful to educate both internal and external groups.
The best thing about Litmos is that it is perfect for tracking growth and creating performance feedback reports. You can analyze your work and course with its features and track the performance.
Litmos Features
➣ It has an inbuilt feature that develops content with the help of content creation tools supporting multiple formats.
➣ It provides instructor-led training with quizzes and assessments to improve knowledge
➣ Litmos provide customized learning ways, reports and dashboards for analyzing performance.
➣ It has a system of providing clearer insights to boost up the performance in the learning course.
➣ It helps in creating e-commerce quick maintenance of your program.
➣ The method of gamification is also used by Litmos, it motivates people to perform better
Litmos Cons
☐ The customization feature of this software needs improvement.
☐ Few problems of Litmos are solved after a prolonged wait that promotes dissatisfaction for the customer.
☐ Reporting capabilities should be improved for customer satisfaction
Litmos Pricing
○ It has a free trial for 14 days for all of its users
○ The pricing stays between $6 to $2500 USD.
---
Canvas
Canvas is software developed mainly for educational purposes. The dashboard is easy to understand and all the system of this platform is easy to understand. It is designed to educate the users and also, it is scalable, open to customization, have a good support team, is secured and have low risk in it. It makes learning easy and convenient and is available for everyone. Canvas is loved by users and it motivates them to do wonders.
Canvas Features
➣ It has a collaborative workspace that allows people to create and record video and they can share it too
➣ It allows integrated learning results, like copied links from the browser, LTI integration and RSS support
➣ In order to provide a better customer experience, it provides open API and integrated tools like Google docs.
➣ There is an inbuilt feature called content editor, that edits profiles as per requirements and insights
➣ Allows and support external integration. For example- Facebook, Google, Canvas Mobile app
Canvas Cons
☐ The customization feature requires improvement
☐ After the updates, the grade book has become a bit more complex
☐ There is a feature called e-portfolio which is not ideal for a good experience.
Canvas Pricing
○ It has a free trial version to give a glimpse to the users
○ It costs $22.50 USD annually to all the subscribers.
---
Edmodo
Edmodo is software that works toward making learning experiences better than before. It is feasible for students, teachers and parents too. It helps the instructors to connect with their potential learners and provide learners with the best instructors for clarification of concepts and topics. It is one of the largest learning platforms for students because it keeps engaging them with suitable learning methods. It has the best collaborative learning system which provides a more open environment to students.
Edmodo Features
➣ Edmodo offers a free administrator account, which can be activated by customers as it helps in boosting the speed of learning programs.
➣ It motivates students by awarding them with badges for their good performance.
➣ To improve communication among users, they can create polls and create a community network
➣ The performance and progress measuring system is good
➣ Personalization is easily possible on this learning management system software
➣ It promotes online discussions which can further connect students, administrators and parents
Edmodo Cons
☐ Children's login activity is not well monitored
☐ There is room for customization for children and teachers
☐ When you will upload your file, you may face some difficulties. There is a need to improve that.
Edmodo Pricing
○ Edmodo offers a free version to all the users
○ The annual billing costs nearly $55 USD.
---
BlackBoard
This is one of the most popular learning management systems helping students and teachers both at the same time. It uses advanced innovative studying technology which helps in making the study live, and that further contributes to the overall growth of a tutor too. They get an opportunity to know about more features. Moreover, they stay updated on what changes this software has brought to them.
BlackBoard Features
➣ It provides a portfolio to the students and improved cloud profiles.
➣ It also gives the reminder of any previously scheduled meeting, assignment or anything like that.
➣ It has a strong collaborative integration mechanism and data management for students.
➣ Students can actively participate in group management systems.
➣ BlackBoard has a grading improvement system, drive and content editors
➣ It has amazing social learning, retention centre, enrollments of programs, dynamic content and active collaboration
BlackBoard Cons
☐ The updated part of this software has some problems regarding the teacher and student connection setup.
☐ The support team doesn't provide help until the local support team hasn't tried
☐ The grading centre of this LMS is not appreciated, which requires heavy changes.
BlackBoard Pricing
○ This tool has a free trial just like other LMS software.
○ The annual billing costs US $2500 for the school.
---
Joomla
Joomla is a learning management system that provides a wide range of opportunities to learners and instructors. This virtual learning system is useful for all the employees, the team, students and teachers also. It is highly suitable for self-registration and enrollment of users for any learning program they choose. This LMS software is also popular for the safety and security it provides.
Joomla Features
➣ It supports SCORM 1.2, 2004, AICC compliance, multi-language user interface, configurable LMS front page & searches user-friendly URLs.
➣ It has automated features of registration and enrollment, import-export user profiles, global and local groups.
➣ Creates courses in no time and allows you to control course display, designs etc.
➣ You can create surveys and quiz stats; add videos and images to the question, get informed about how many tries are given to a question and many more.
➣ It contains forums, course chat, chatting users list, course announcements, email, automatic email notification, calendar view, etc.
Joomla Cons
☐ It creates problems while installing a plug-in.
☐ Customization is not easy, that requires the expert team
☐ Automated updates work more slowly than other LMS
☐ Doesn't clean the cache automatically.
Joomla Pricing
○ It provides a trial period of 30 days
○ The annual price falls between $299 to $799.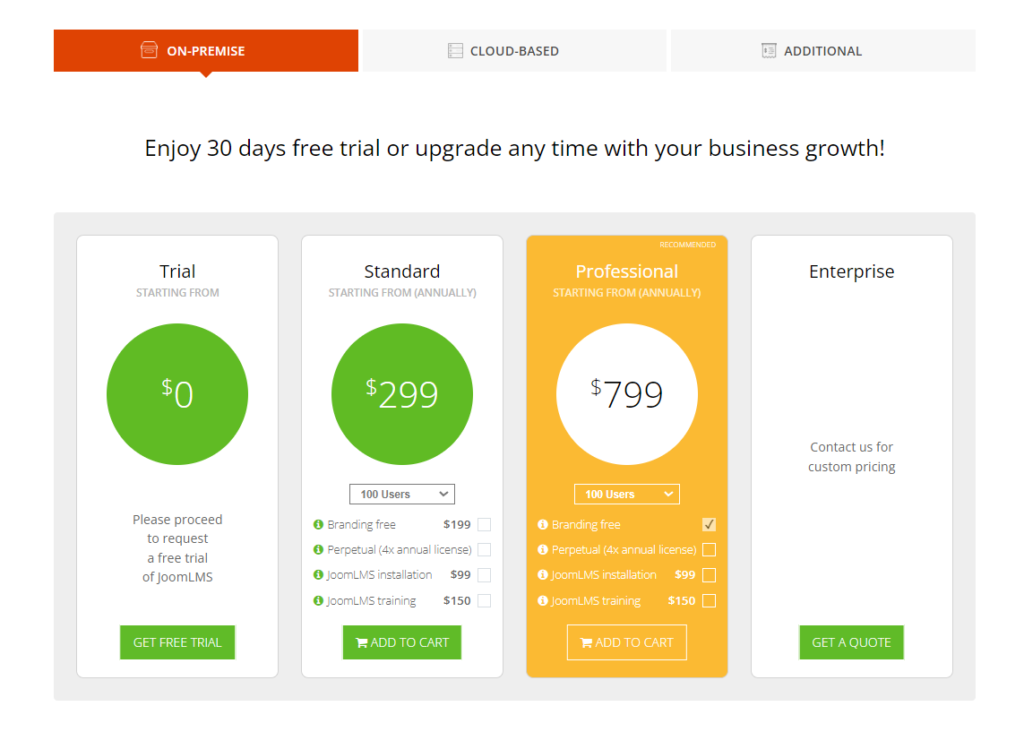 ---
D2L Brightspace
This LMS software motivates people to understand concepts, drive learning success and inspire the modern workforce. The new learning system and techniques become easy and interactive for all learners. Moving from school to college and then to any organization/company, D2L Brightspace makes your learning experience much more memorable. The digital experience it provides is highly personalized and unique.
Brightspace Features
➣ Brightspace can create courses that can engage and content that can enhance knowledge.
➣ It makes class administration easier, add customization and provide an effective learning environment.
➣ The assessment grader of Brigthspace provides insights into the students of learning progress.
➣ It has a wide learning repository and a digital portfolio too
➣ It contains a binder, pulse, a virtual classroom which makes the learning experience even more valuable.
➣ The easily customizable user interface is amazing and scalable for customers.
Brightspace Cons
☐ A proficient person is required to set dropbox with grade book
☐ The quizzes which are quite common in other LMS is not as perfect as it required being.
☐ The integration with other tools, platforms needs high improvement
☐ The mobile interface is a bit complicated
Brightspace Pricing
○ It has a free trial version for one month so that people can understand its features better.
○ The monthly charges for this tool are between $1- $1250.
---
Absorb LMS
Absorb LMS is a widely used platform that has transformed the learning management system and its experiences upside down. It is a smartly designed tool used to humanize the things which need to be done on daily basis. It supports almost all kinds of learning formats which broaden the online learning systems. It has a wide range of digital learning for learners and instructors. Learning modules are simple and straight and avoid complications.
Absorb LMS Features
➣ It has a simple and uncomplicated UI design and it takes intuitive actions.
➣ It is innovative, responsive and HTML based 5 interfaces that support hardware devices
➣ It has the capability of importing SCORM (Sharable Content Object Reference Model) content, generated by another party
➣ Creating exams, assignments, quizzes are easy because of its course assembly tools.
➣ You can add YouTube videos to the courses
➣ It contains multiple payment gateways for users' ease.
Absorb LMS Cons
☐ Customer Support requires improvement
☐ There is a possibility of improvement in Customization
☐ Searching inside the platform is tough; moreover, it is not easy to report too.
☐ While more operations are in the way, the responses become slower
Absorb LMS Pricing
○ A free trial for one month has been offered by this platform
○ The monthly charges of using this LMS is $1250- $4000
---
Talent LMS
Talent LMS is a hassle-free way of learning new concepts in the learning management system. The user interface is understandable and simply amazing. The Users of Talent LMS are quite satisfied with the services of the Support team because they resolve the issues in no time. It has tools that adjust to e-learning program easily and makes it even more interactive. The graphical representation of the insights makes it easy to understand them.
Talent LMS Features
➣ It has impressive management of courses; the user can create and manage all the courses easily and systematically.
➣ The design of this software is impressive and is built according to the comfort of users.
➣ It offers individual plans, classifies your task, can be used anywhere, provides grade to your assessments, and also, provide insights into data overtraining program.
➣ The registration procedure is well managed and supports ILT, web conferences, and many more.
➣ It supports exam engines, e-commerce, notifications, multi-organization structure, training metrics, etc.
Talent LMS Cons
☐ The setup of learning programs and materials can be more structured and robust.
☐ More power on language changes can be implemented.
☐ Talent LMS requires improvement so much in the customer support department.
Talent LMS Pricing
○ This has a free version which has limited access. Only 10 courses are accessible for 5 users.
○ If you opt for an annual billing process, then it will cost you $59 to $429 monthly.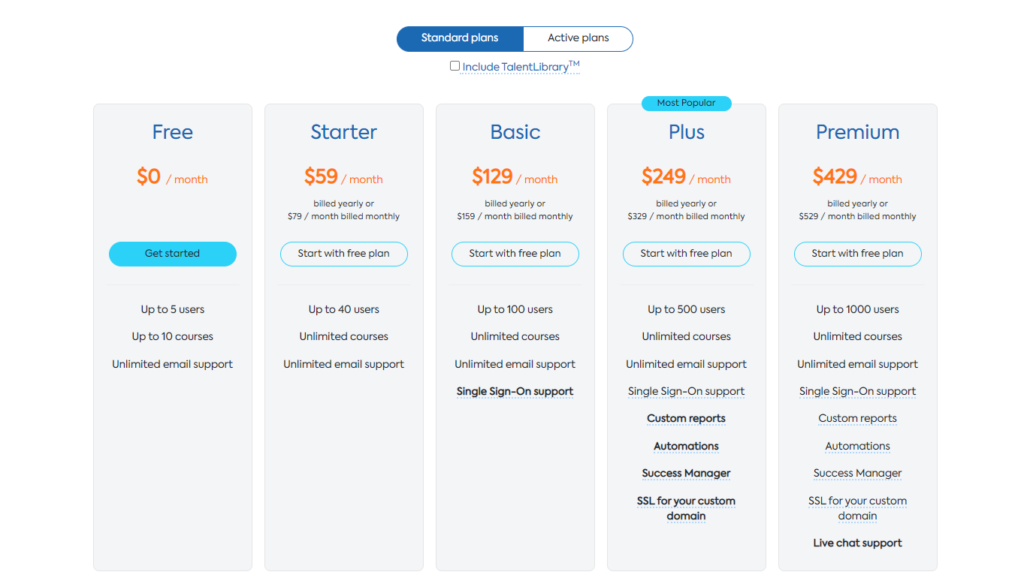 ---
Schoology
Schoology is one such learning management system that contains multiple ways to conduct quizzes and create assignments. It suits best to the instructors and students both. It is very useful in creating and sharing the learning material and they can practice their course and learn anywhere in the globe. It is a versatile e-learning platform helping out all learners altogether.
Schoology Features
➣ It has such tools which help the instructors in designing the assignments. They can add annotations and can highlight the words
➣ Schoology offers strong communication and collaboration with data, analytics and personalized learning.
➣ The other features are employee training, gamification, content library, mobile learning etc.
➣ There are SCORM compliance, testing, and assessments, automated grading systems, curriculum management, etc.
Schoology Cons
☐ The grading system of this platform is not up to the mark. It has some flaws which need changes.
☐ Working on IOS devices and on the web-based app has a difference
☐ Assessments variety needs to cover a wider range to offer more knowledge to the students
Schoology Pricing
○ Free usage is possible of this platform for one month.
○ It charges $10 per month.
---
Adobe Captivate Prime LMS
Adobe is the next-gen LMS providing an engaging learning experience in all the devices which increase the feature of mobile learning. It combines all the local training and online training to enhance the user experience and skill set for employees. Customization on this platform is amazing and it can complete the entire routine task automatically. This learning management system is best suited to people who like to learn through entertaining videos like gamification.
Adobe LMS Features
➣ It automates tasks and provides help with mundane work
➣ Tracking the progress of learner and providing that report for further improvement is one f the qualities
➣ The user can also create sub-instance for LMS, powerful API integration, and strong accessibility features.
➣ The support team is responsive and is available at every hour of each day. It solves the issues you are facing online.
Adobe LMS Cons
☐ The support team takes a lot of time in resolving technical issues.
☐ If you import a PPT file, it automatically transfers that into images which are not convenient in many cases.
☐ It requires a lengthy coding procedure for interacting with a third party. There should be some solution for it.
Adobe LMS Pricing
○ Adobe provides a free trial for one month
○ It charges $4 to $16 monthly to its users.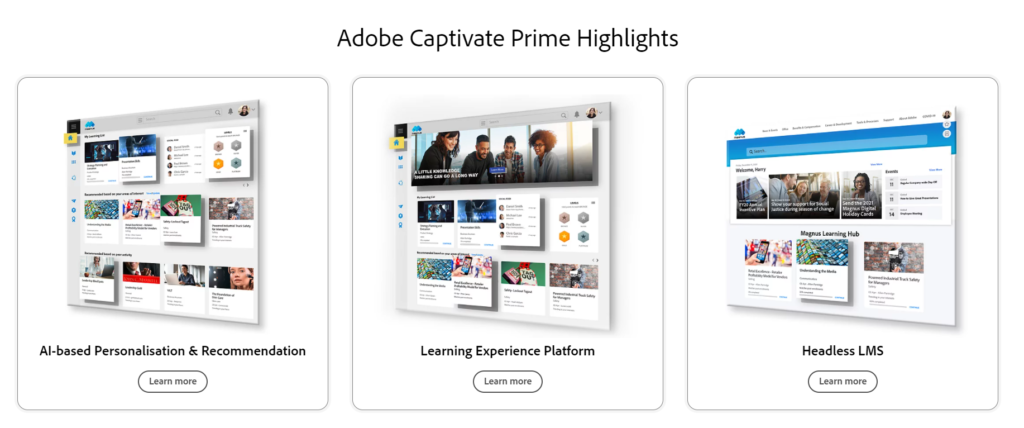 ---
Conclusion
Learning Management System is used when one instructor has to share lessons with many students and needs to keep a track of performance and many other factors. These LMS platforms offer a wide range of possibilities to companies and educational institutes. Read about all the top platforms and choose the best for you. Also, you can get your LMS added to this blog for our readers. We will study and analyze your software and will definitely share it with readers.
Comment down your views on this blog!
Content Inditer | Fond of exploring my Innermost phrenic Conceptions to engender content that will evoke deep relatable emotions and ardency in others.