Unaware about Bitrix24 software or does not know what exactly it does? Don't fret, you will get a proper understanding of collaboration software through the Bitrix tutorial.  
What is Bitrix24?
Bitrix24 is a collaboration software with complete tools for management, collaboration, and communication. Basically, it offers you complete platform for managing your files, projects, messages, tasks, and contacts. Its very simple platform you can immediately use the platform and invite the colleages once you register for an account.
All the team members can keep track of all the tasks and effectively work together to progress on the project. It offers multifarious solutions to its users includes social network, tasks and projects, CRM, document management, file sharing, calendar and planning, sales team management, email, telephone, and HR management. The great thing is you can also use it on your smartphone or tablet whether it's Android, iPhone, or iPad.
Bitrix24 is a productivity suite that offers features like:
➤ CRM (Customer Relationship Management)

➢ Project management

➤ Internal communication

➢ Video conferencing

➤ …And the list goes on!
Bitrix24 Introductory Clip
---
Who Can Use Bitrix24?
Here are how different departments can use Bitrix24:
➤ Sales & Marketing: Generate leads, improve conversion rates, and automate processes.
➢ Management: Schedules their tasks and improve the team's productivity
➤ Human Resource: Easily Manages employee information and generate their performance reports
➢ Legal: Streamline the legal process and generate new leads
➤ Customer Service: Allows customer support executives to connect with users via multiple channels includes chat, telephone, social media, etc.
Features and Benefits of Bitrix24
1. Unified Platform ith multiple features to help every kind of Business
Business Process Automation – Bitrix24 CRM platform reduces your stress of repetitive tasks. In addition, your teams can manage business processes efficiently from employee onboarding to creating accounts payable invoices.
Improve Sales Prospecting – It offers tools that can create reports, sales analyses, and target audience segmentation.
Web Form Builder – Bitrix24 CRM tools have a free web form builder that can be used to create different forms and templates.
Direct Access to Social Media Pages – Your employees can engage with clients on different social media platforms
Intuitive Software – This platform enables your sales managers to monitor the company's sales funnel.
Sales Progress – Sales managers can check on the progress of each sales officer easily.
Unique CRM Dashboard Design — Through CRM Dashboard, your managers can quickly take a snapshot of how many leads a team has generated.
2. Tools to make the tasks manageable in an Efficient Manner
Project Groups — you can assign separate group to separate project. Each group can store all files, discussions, and tasks per project.
Project Timeline Tools – Users can organize a project's timeline by using the project timeline tool.
Calendars and Gantt Charts — This platform also allows you to organize project timelines through creating calendars and Gantt Chart.
Task Dependency Analysis — it can also help sales managers in establishing logical relationships between project related tasks. Moreover sales managers can have an easier time monitoring each sales agent's progress.
Customizable Tools — The platform enables users to customize checklists, notifications, and reminders. It also has a customizable task planner, which lets different teams delegate and customize fields in each task. These can help different teams rate different tasks easily and share templates.
Gantt chart Definition: A Gantt chart is a chart that depicts the tasks, status per task, and the responsible persons. It helps sales managers to monitor deadlines and delays.
3. Constant Task Supervision and Monitoring
Email for Task Assignments — The platform also lets your supervisor's list tasks from emails. It also lets business owners spot recurring tasks to reduce turnaround time.
Task Assignment and monitoring — The collaboration software can also let your managers assign the counters and roles per project in one ecosystem. This helps managers to get more holistic view on the status of each employee's tasks.
Kanban View — This great feature lets business owners manage employee workload, to avoid tasks being overdue.
4. Provides Support for E-Commerce
Easier Calculation — You can calculate for discounts, variable prices, and shipping costs easily.
Assists in Website Creation —  It can also help you copy web pages and take advantage of Google Analytics and Google Maps.
Stores Sales records — By storing the records of your sale, this collaboration software can speed up releasing sales and other financial reports.
5. Offers Various Methods of Access
Bitrix24 can be accessed either through cloud or on-premise with a unique source code access. In addition, the pricing is different based on the type of access. Moreover you can also install software in your company's server and customise it as per your requirement.
6. Instant Integrate with Third-Party platforms
Bitrix24 enables users to integrate with third-party software, such as skype, slack, Google Drive, and Office 365. Moreover, you can also link your software to other online marketplaces.
Apart from this, you can also create your own apps as API and REST API are available in the cloud and on-premise editions.
7. Easier Communication through Central Inter-Company Messaging
Bitrix24's messaging features are great as it allows inter-company messaging through different channels and messengers.
Project Channels — Employees can assign a respective channel for each project and the interface also allows users to transfer conversations from one channel to another.
Automated Greetings — Teams can develop automated greetings and replies which can be used to engage with clients from different social media platforms.
What Can Bitrix24 Do?
Bitrix24 itself focuses on 5 key areas:
➤ Communications

➢ Tasks/projects

➤ CRM

➢ Live chat support

➤ Website builder
Thus, you should have enough understanding to confidently begin your journey with this valuable tool. Lets start!
Communication
One of the best things this platform does for your team is to facilitate communication as it can handle internal communication through a number of features. However, the most important component in communication is the activity stream.
Activity Stream
The activity stream offers users an extreme overview of the modification that has taken place within their organization. Let suppose if a user posts a poll, a new employee joins the organization, scheduled an event on the calendar, a summary of the change; everything will appear in the activity stream. Just have a look at how the activity stream helps you know what's going on in your organization.
Chat
Another important feature of collaboration software is chat. However, collaboration entirely depends upon being able to talk with colleagues so that's why they have integrated chat into their platform. As chats are less formal so Bitrix24 users can send messages to other individuals or groups. Thus you can do your more formal meetings via Bitrix24 as well.
Document Management
Document management is a handy way to facilitate communication among your team members.
This collaboration software comes with three different document drives:
My Drive – My Drive is Bitrix24's personal file storage. Documents stored in My Drive will never be seen by a user's colleagues.
Group Drive – Group Drive is a drive shared by all members of a work group. Only members in that work group have access to files in a Group Drive.
Company Drive – Company Drive is where a company will store files they want to be accessible by all employees.
Let's take a look at how Bitrix24 helps keep your company's documents organized.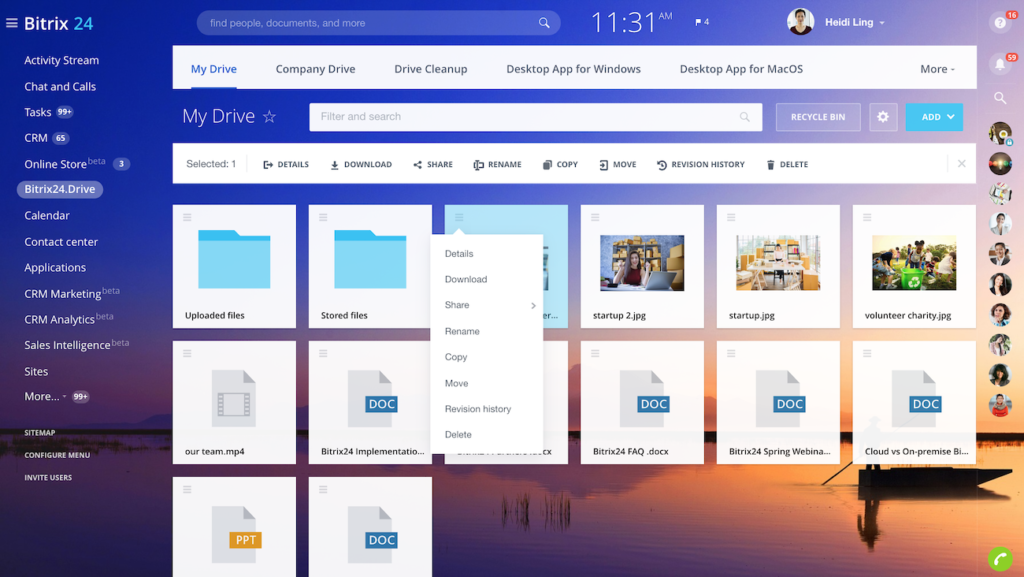 Tasks and Projects
Bitrix24 does a lot of the same things other project management tools do. But the unique factor is how many of these features are integrated into Bitrix24 project management. There are some project management tools that only focus on few features but Bitrix24 is one of the most complete package project management tools.
Gantt Charts
Gantt charts are a combination of multiple project management tools. Basically, they are a graphical representation of a particular project schedule and the tasks associated with it. From this graphical representation, it's easy to visualize where a team is in the production process, and whether they are lagging behind.
Bitrix24 Gantt utilizes dependencies like the relationships between tasks that dictate the order in which they must be completed to create a project schedule that effectively performs tasks.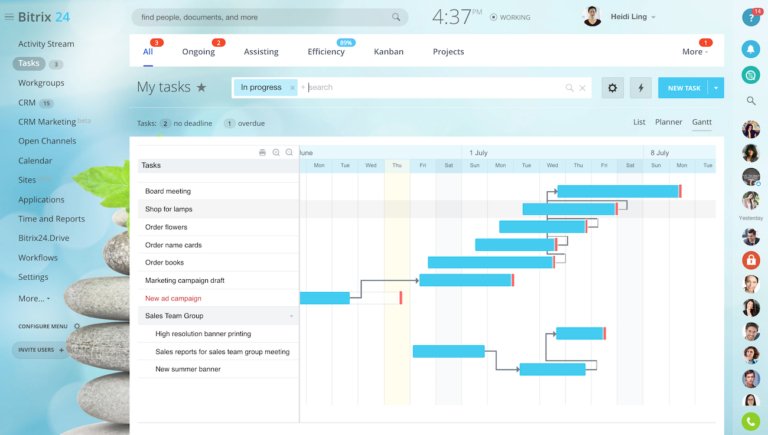 Kanban
Kanban is one of the other great features found commonly in project management tools. This is another way to visualize progress in the production process. In this method, you can simply use the drag and drop approach of moving tasks for completion. For example, when a task is created, there are a number of statuses that the task can be in before it is completed. But tasks can only be assigned but not undertaken, undertaken but not completed, completed but not reviewed, or both completed and reviewed.
The implementation of kanban is able to do things that traditional Kanban cannot. Bitrix24 utilizes task automation to set triggered events upon certain changes in our project. Let's take a look at how Kanban and task automation work in this tool.
Reporting
All the available task management tools in the market need a way to review information gathered over time. However, this is usually done via exporting data from tasks that have been completed or previously done. But this software is also the same and it also has task reporting that allows users to export data in either CSV or Excel format. You can always, of course, view reports from within the application itself.
Bitrix24 CRM
Customer relations management is one of the important factors of every business. Bitrix24 understands and integrated this, and they've invested so much into creating a quality CRM solution.
In fact, Bitrix24 is considered a quality CRM tool, with the only consistent downside being its complex user interface.
Bitrix24 describes its CRM tool as a "lead-to-deal and marketing automation platform. The aim of this CRM to provide a full-scale platform that can handle any issue that comes to your business.
Contacts
The best CRM tool always tries to organize clients and leads. Thus, in the same way, Bitrix24 also has a quality contact management system that allows you to create custom contacts with different fields. You can easily import, export, search contacts that are the primary element in trying to secure deals.
Bitrix24 includes both views with detailed contact descriptions and reports that aggregate all contact data. Moreover, individual contacts can also be linked with sales data to help sales teams to analyze reports like the value of deals won, deal conversion rate, the total amount of unpaid invoices, and more.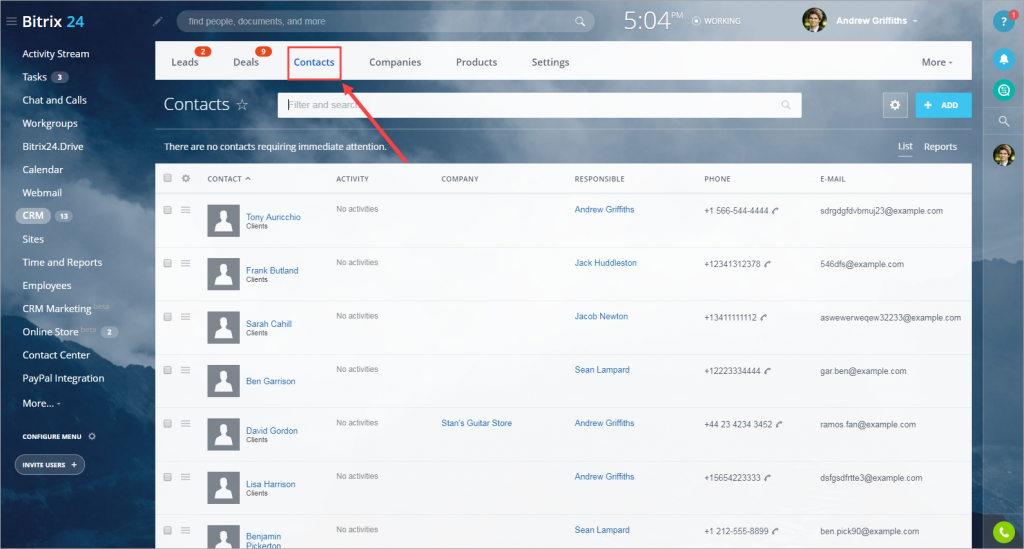 Deals
Deals are CRM objects that contain interaction with a client. The dashboard of deals makes it easy to always know where sales opportunities lie for your company. In addition, Users can immediately determine all deals at each stage of the sales process, from prospective sales to the final invoice.
Apart from this, Deals can be linked up with contacts so sales teams always know how to deal with each client. Moreover, the Data can also be gathered to generate reports that help users see and understand trends in their sales pipeline. Let's take a look at how Bitrix24 does deals.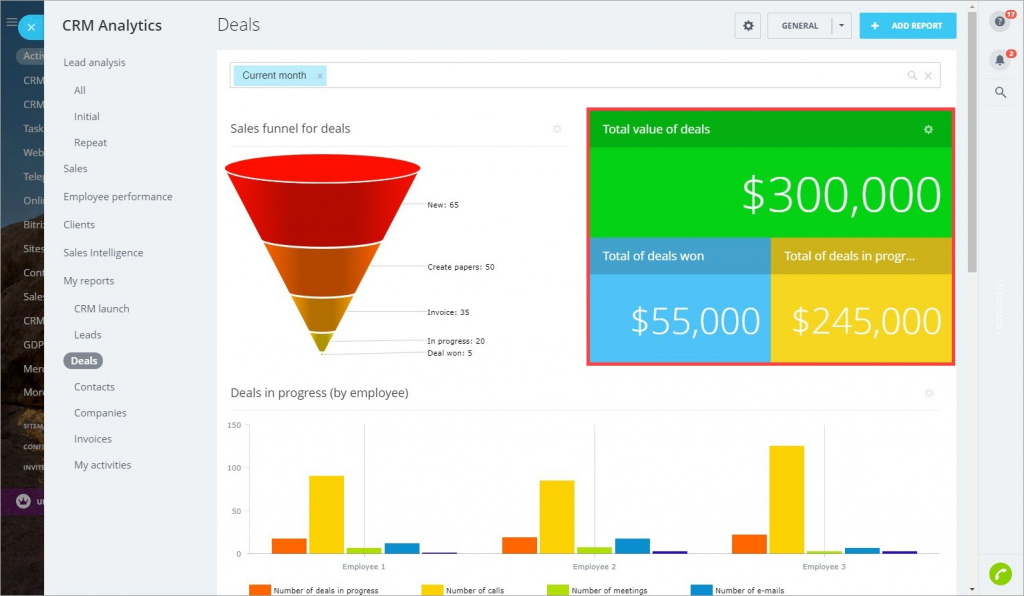 Telephony
Bitrix24 is a fantastic tool for telemarketing or other companies that make a high number of calls. Bitrix24 also allows member for free calling to any other employee within your organization, thus telephony lets users rent local phone numbers in more than 58 countries from just $4/month.
Large phone number lists can also be delegated to multiple individuals so that workload is properly distributed. Therefore, This ensures that calls can be audited or reviewed to improve performance over time.
Live Chat Support
When we say live chat support, we aren't referring to Bitrix24 answering your questions about their software. We are referring to integrating live chat into your website so that site visitors can quickly talk to an employee. Live chat is an important part of converting website visitors into users of your product, so Bitrix24 has made sure to have their own solution.
The best part about Bitrix24's live chat is that it is free. And we aren't talking about freemium, we are talking about free, unlimited chat sessions for up to 12 employees. This includes on-site chat, email, Facebook, Skype, and other third-party chat applications.
Here is a quick demo of how live chat could look on your Bitrix24 site.
Website Builder
The last and latest feature that Bitrix24 offers to your business is their website builder. It was Launched in 2017, Bitrix24 aims to create "beautiful sites and landing pages that help you to boost your sales.
On the other hand, there are plenty of website builders out there, so what unique in Bitrix24? Well, Bitrix24 not only provide a website builder, but also all of the other features that help your business all in one platform. The difference is that Bitrix24 offers more than just website building, all in one application.
Basically, Bitrix24 sites come with unlimited hosting bandwidth that lets you create as many pages as you want, the best thing is all for free. Apart from this, Bitrix24 also offers a number of website templates for almost all kind of industries. Hence, you can create an appropriate website, even with little technical expertise.
Have a look at how Bitrix24 can help you build a great site, for free!
Bitrix24 Pricing
Bitrix24's pricing is a little different than many software companies available.
Cloud hosting is divided into four different plans: free, CRM+, standard, and professional. Let's take a look at how each one stacks up.
Free
The free plan is good for up to 12 users. This plan is for startups. It comes with just 5GB of storage and limited features. This is plan is technically the best bang-for-your-buck considering you get all of its features for free.
CRM+
CRM+ is where you get interesting features. But the most strange thing is that there is less number of users available under this plan is actually less than in the free plan. Therefore, the CRM+ plan allows for only 6 users. But it includes some more exclusive features.
As it offers exclusive features so this plan focuses on small companies that want to sell more. In this plan, users get access to sales automation, recurring deals and invoices. moreover, All of the advanced CRM features are available in this plan, so this could really be worth the price increase.
Standard
Bitrix24's standard plan is one of the most popular plans offered. The company explains that this plan will be great for most companies looking for task automation and increased efficiency. This is because standard comes with a lot of features that CRM+ doesn't offer.
Standard increases file storage to 100GB, but it also adds a lot of new features. This plan also allows for up to 50 users,
Standard also sees added features such as:
➤ Better Process Automation

➢ Absence Charts

➤ Bulk Emails

➢ Custom Task Fields

➤ Custom Telephony Permissions
Professional
The Professional is the most complete package of bitrix24. However, It includes all features offered and doesn't have a maximum user limit. Therefore,  this plan is best for companies with large sizes that need cutting edge project management, internal communications, and sales automation tools.
Bitrix24 Professional plan is really unlimited. It not only offers unlimited users but also users also receive unlimited file storage. This is a great choice for extremely large companies, like telemarketing or social media firms.
FAQ
Is bitrix24 open source?
Yes definitely, you can customise features as per your business needs.
Is Bitrix24 secure?
For the company point of view, it offers the most secure cloud solution, and the data you have stored is only accessible to you and your team mates.
Does Bitrix24 offer a free version?
Yes, Bitrix24 has a 100% free version of the software with unlimited users which it does not offer in other plans. undoubtedly, the features are more limited than the paid plans, but if you are not running business at large scale, it may suit your needs. You can at least use it to try out the software and see if you should upgrade to a paid tier.
What are the key features of Bitrix24?
Bitrix24 offers detailed task management metrics and advanced customer relationship management.
Content Inditer | Fond of exploring my Innermost phrenic Conceptions to engender content that will evoke deep relatable emotions and ardency in others.