Not getting expected affiliate marketing results? Looking for the solution to boost your sale? Try using an affiliate marketing tracking software that will give you the best results in return for your marketing efforts!
Affiliate marketing is the trendiest way of earning money online in this digital era where affiliates promote the products or services online on different online platforms just to earn high commissions.
There are many bloggers, YouTubers, Instagram influencers, and Facebook pages that are switching to affiliate marketing to drive sales to a business and earn commissions.
If you are a brand or merchant and want to track, analyze, and optimize all your actions, this is the name of the game! Moreover, it will help you to avoid affiliate marketing mistakes. Thus, It's a win-win situation for both parties. Online buying is all about performing deep analysis and tracking all your campaigns and actions.
Therefore the tools such as tracking platforms are helpful to simplify testing, organize your campaigns, and analyze the actions you'll have to take.
List of the 10 Best Affiliate Marketing Tracking Software
In order to make affiliate marketing easy, here is a list of the best affiliate marketing tracking software programs out there.
10. Everflow.io
Everflow is one of the favorite affiliate tracking software that offers a friendly and neat user interface. Basically, it is built for marketers as it provides you with all-in-one platform features for managing your multiple affiliates, influencers, and strategic partnerships.
This tracking platform is built on the Google Cloud platform as it provides you with real-time access to all of your data for marketing decisions, comparisons, and deeper analysis.
The analytics reports generated by Everflow allow you to choose any metric, such as a campaign, check the breakdown of partners, breakdown the performance for the selected campaign, and partner by their placements, cities, country, etc.
All the provided data is crucial for making the informed decisions to grow your business effectively.
Key Features
➢ Live data in the form of graphs and reports

➤ Advanced notification system

➢ Advanced media buying tools
Plans and Pricing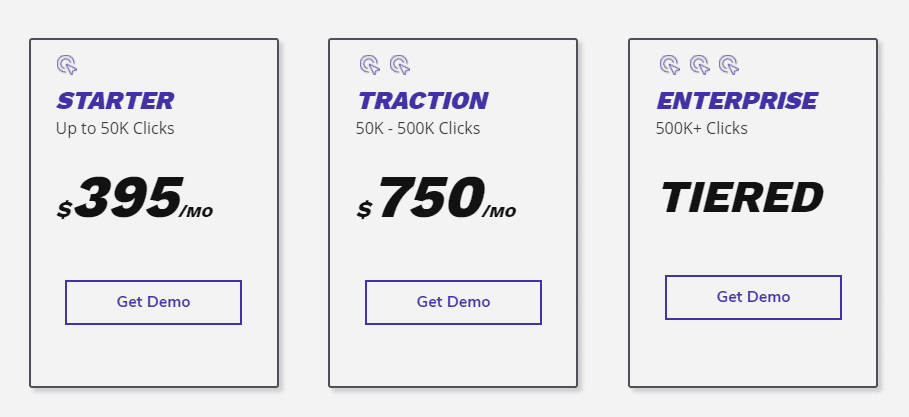 ---
9. Post Affiliate Pro
Post Affiliates Pro is one of the recognized affiliate marketing tracking software in the affiliate space. It is used by over 2,700 companies globally as it comes with numerous tracking methods like browser cookie tracking flash cookie tracking, IP address tracking, and many more features. Thus, Post Affiliate Pro is one of the accurate tracking software for affiliate marketing.
In addition, if we talk about the lowest-cost version of Post Affiliate Pro, you can easily run and track an unlimited number of campaigns for your online business that links with more than 170 CMS as well as payment gateways.
For the affiliate marketer, the commission is the asset for which they have to put a lot of marketing efforts. So the commission types offered by the platform include action commissions, recurring commissions, lifetime commissions, split commissions, performance rewards, and more.
Key Features
➢ Mass payments

➤ Multilingual support

➢ Customizable interface
Plans and Pricing
---
8. LinkTrust
LinkTrust claims to the most perfect affiliate tracking software, moreover, it has been in business since 2002. Undoubtedly it might be difficult to argue with that statement. The best thing about Linktrust is it offers a customizable interface through which you can track almost every kind of advertising online and offline such as cookies, pixels, server posts, host, CPA, CPC, Pay-per-call, mobile traffic.
In addition, LinkTrust empowers online advertisers, retailers and marketing agencies to accurately and easily manage and track performance marketing campaigns.
Key Features
➢ Mobile Tracking

➤ AutoPay Payment Automation

➢ LinkTrust Remote Traffic Agent
Plans and Pricing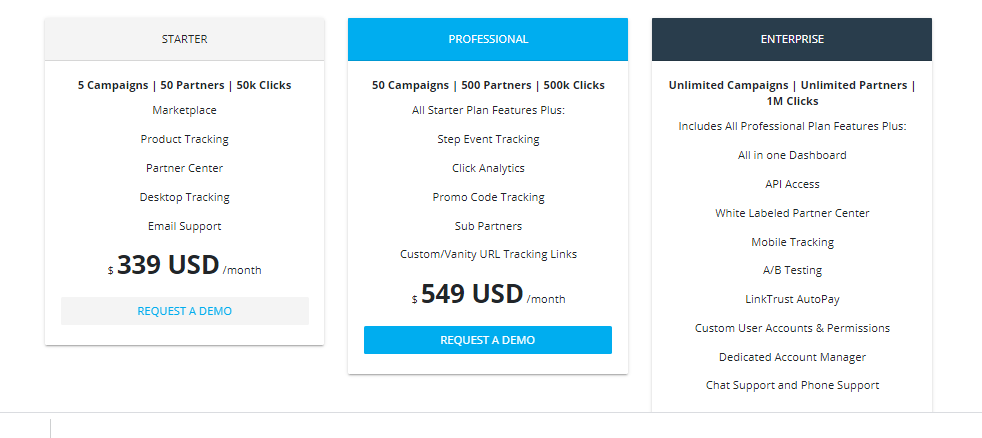 ---
7. AffTrack
AffTrack is being used by multifarious large affiliate networks since 2009 because this platform is one of the only enterprise affiliate marketing platforms that offers unlimited clicks.
Apart from the tracking and reporting features, this great affiliate marketing tracking software has the ability to connect through API integrations or use your portal for reporting.
When it comes to unique features in the tracking platform, Afftrack is on the top as It has ample features which include proxy and fraud detection, real-time analytics, brandable interfaces, postback and redirect Logs, geo, and device targeting, client-side and cookieless tracking, and more!
Key Features
➢ Quick support

➤ API access

➢ Offer targeting
Plans and Pricing
---
6. Hitpath
Hit Path is the fastest and user-friendly affiliate tracking programs available in the market. By using advanced technology, Hit Path offers a reliable and scalable multichannel affiliate tracking platform that affiliate marketers can customize as per their specific needs. Offering unique features is the key to attract the affiliates as it helps them to increase their revenue. thus hitpath offers free training, 24/7 support, real-time campaign tracking, affiliate management, the Cross pub campaign accelerator, accounting module, and a white-labeled interface.
The best thing about this hitpath is you can sign up for a free demo before getting into contact with a sales representative.
Key Features
➢ Real-time campaign tracking

➤ Pixel management

➢ Accounting module
Plans and Pricing : Custom Quote
---
5. Impact Radius
Impact Radius is established by the founder of Commission Junction and Savings.com. it is a fully transparent network and has been disrupting the industry since 2008. In this affiliate tracking platform, there are numerous flexible tracking methods through Pixel, FTP file upload, REST Web Services API, Data Post, and Mobile SDKs
Key Features
➢ 100% accurate tracking

➤ Tracking of promo codes

➢ Integration with Salesforce.com and CRM

➤ Ad hosting
Plans and Pricing – Custom quote
---
4. Click Inc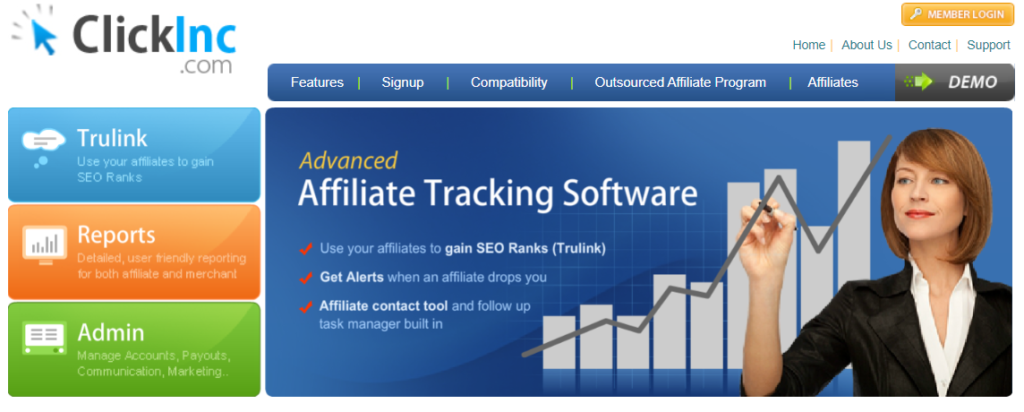 Click Inc. is the best choice for those who aren't familiar with HTML. Moreover, the Trulink format is a great thing if you want to improve your SEO. TruLink tracks everything from your affiliate's registered URL thus you don't need to be technically strong to link it to your sales page. The simple and easy to customize interface offered by click inc attract most of the affiliates along with the appealing features include detailed reports that provide traffic status, alerts, and graphs containing clicks, commissions, and sales.
Apart from this, it has some stellar management tools that allow you to create coupons, tier commissions, and follow-up with merchants.
Key Features
➢ Performance Affiliates Group

➤ Fraud Detection

➢ Create coupons and marketing banners
Plans and Pricing
---
3. HasOffers
HasOffers is founded by twin brothers in 2009; Lucas and Lee Brown. This white-labeled affiliate tracking software has become an industry most preferred choice just because of its innovative and featuring system i.e reliable, scalable, and flexible. In addition, hasoffer has some more standout features like unlimited amount of affiliates, two-way API, , fraud protection, dedicated solutions option, a mail room, and the ability to convert currencies.
Apart from tracking, you can use this software as an ad agency to advertise your e-commerce store.
Key Features
➢ Comprehensive API

➤ 99% tracking uptime

➢ Fraud protection

➤ Unlimited affiliates
Plans and Pricing
---
2. Voluum
Voluum is one of the most popular affiliate trackers in the online industry. Basically, it's a one-stop-shop for all your marketing activities. Moreover, It has multifarious features which makes it one of the most complete platforms in the market as it allows you to track different ad formats and traffic sources. It is hosting on the cloud thus it does not have a self-hosted platform service. With a simple interface and ton of exciting features, Voluum is proved to be one of the best bang-for-buck tools on this list
Key Features
➢ Automatic Campaign Optimization

➤ Push notification alerts

➢ Listicle tracking
Plans and Pricing
---
1. Cake
Are you looking for a complete affiliate marketing management tool? CAKE is a great affiliate package to track and optimize your affiliate networks. The great thing is it is Trusted by more than 500 advertisers, networks, and publishers across 50+ countries. Moreover, It offers a convenient dashboard through which you can view the overall performance of your networks, manage contacts, and review analyzing results. CAKE also leverages custom targeting parameters for real-time monetization of traffic such as location, device, browser, traffic caps, and redirects.
Key Features
➢ Fraud protection

➤ Multiple payout formats

➢ Pixel management

➤ Real-time metrics
Plans and Pricing – Custom Quote
---
Solving the Affiliate Attribution Headache
Every tool mentioned on this list brings something unique to the affiliate marketers. A good way to choose the best one is to try every one of them out for a week and observe the performance if it fits your needs perfectly.
Affiliate marketing is a great way of increasing your product sales or generating income,
thus a good affiliate marketing tracking software will help you do that more effectively!
Content Inditer | Fond of exploring my Innermost phrenic Conceptions to engender content that will evoke deep relatable emotions and ardency in others.