Every second 30,000+ searches are performed on Google and everyone wants to rank their keywords on Google's first page. And for that everyone is trying to use its tips and tricks of various types of keywords. According to the Google search engine algorithm, keywords are the most important factor to rank your page or website. For Example, we all have used images in blogs or websites because 97% of page one results on Google have at least one image. So it is proved that images play a very important role in searches. Once a successful SEO has been implemented in your online business, the next step that every website needs organic views.
Search engines play a very important role in generating views, so before using any keywords on your blog, first, search it properly. We cannot ignore the fact of SEO and its keywords.
What Are The Types Of keywords In SEO And SEM?
Every digital marketer should know different types of keywords in SEO and SEM for a successful result. The right and differing types of keywords drive the foremost traffic, qualified leads and conversions for your brand.
To understand which sorts of keywords are best for your website and business; you initially got to have a correct knowledge of keywords. Understand the deep knowledge of different types of keywords in SEO and SEM, Read this full blog
➠ Keywords By Length

➠ Targeting Keywords

➠ On-Site Keywords

➠ Google Ads Keywords
What Are The Types Of Keywords?
Every keyword has its own importance and audience. It is necessary to check which keyword or what type of viewers is taking more interest in your business. Target your audience according to your business and your customer's or client's requirements. First, target the audience locally and choose the local-based keywords and then globally. So here I am sharing deep information of keywords while designing your SEO.
Different Types Of Keywords According To Their Length
Short Tail Keywords (Head Keywords)
Short tail keywords are also called head keywords and they are very popular. The most common mistake that people did, they used the short-tail keywords in their content. Basically short tail keywords contain one or two words. For example – digital marketing is the short tail keywords and has a high search volume. It is difficult to rank the short tail keyword especially when your website is new on Google. Short tail keywords are the most searched keywords and it has a high volume of search traffic and difficult to beat.
Mid Tail Keywords
Mid tail keywords have two to three words and are best for those peoples who are looking for information but are not ready to follow through with the search results. Mid tail keywords are fall between short tail keywords and long tail keywords and have a medium volume of traffic with less competition.
Long Tail Keywords
Long-tail keywords are more specific and the longest search terms. Most of the bloggers used long-tail keywords to get the audience on their website and topic. Long-tail keywords have less competition and low search traffic which makes them easier to rank for. This type of keywords has higher conversion rates according to short-tail keywords and mid-tail keywords. If you use this type of keywords in digital marketing or in SEO, you will definitely get traffic.
Long Term Evergreen Keywords
Evergreen means that works forever which means your content does not become inappropriate according to time. This is called an evergreen contest. Apart from that keyword related to that content is known as long term evergreen keywords. In Content marketing, evergreen content is a good strategy that will rank forever on your website for a long time.
Short Term Fresh Keywords
A short term fresh keywords are very popular on the news or any other social media platforms. But they are famous for less time. Once the hype dies down, you will not get traffic. It's like you are writing content for social media with an expiration date. The thing that I like the most about this type of keywords can be used to gather an explosive amount of search conversions within a very short time.
Types Of Targeting Keywords
Customer Defining Keywords
Every digital marketer should know his targeted audience for a successful SEO. We all know that every business has its own customer types and a good knows knows its targeted keywords. Different types of keywords plays different role. Customer defining keywords define your customer's needs and requirements. It's like they are interest in your business and services. So use the keywords that target the right kind of audience. Only by understanding this can one build a business that answers the needs of the customers rather than trying to find a customer who may or may not need your services.
GEO Targeted Keywords
The name says everything. When you want to focus your audience locally, these keywords are best. Local based keywords are good for those peoples who are trying to find the results that are near them. There are many different types of keywords available for faster results but geo targeted keywords focus on local business and local contest. Many websites target their local audience first and then target the audience globally. We all searched for the things locally like "best digitally cool gift ideas in Amritsar", you will get all locally searched results on Google.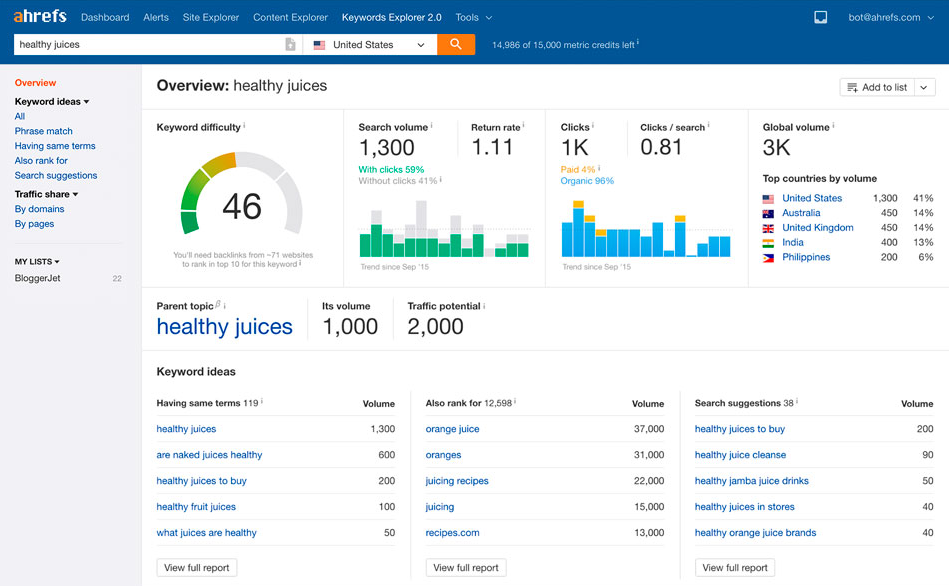 Competitor Keywords
This type of keywords used for beating the competitor companies and wants to come in the search listings of Google. There are many tools in digital marketing that ill help you to find the keywords of your competitor's sites. Some of the topmost famous tools are Ahref, SpyFu, SemRush, Moz, Uber Suggest, etc. with the help of these tools you will get all the ranked keywords from your competitor's site that drives traffic. This will helps you to understand your audience's interests and you can generate content according to your customers.
Product Keywords
Different types of keywords have their different uses and product keywords are one of them. These keywords are associated with specific products and brand offerings and may directly reference a company's products and services. Brands should have a keyword strategy for his or her all products and services in order that customers can easily find their products through their keyword research.
Market Segment Keywords
Market segment keywords are related with industry or brand. Users that search for information related to a particular topic come under a segment. Market segment keywords are related two different different segments of marketing or we can say marketing aspects.
Types Of On-Site Keywords
LSI Keywords
The full form of LSI is Latent Semantic Indexing. These are the keywords related to variations, synonyms or a primary keyword. Every webpage has one primary keyword and few more related keywords that provide additional context to the page, in which search engines can easily understand the content of any website at a deeper level to rank the page. Google algorithm is changed from time to time and it is necessary to build up your webpage according to Google algorithm because Google is still identifying the page according to its primary keywords and divided your page according to their categories.
Intent Targeted Keywords
Intent targeted keywords are those that are particularly designed for understanding the intent of the user who has searched for a query. It is the most important aspect of sponsored and paid ads that helps to generate more traffic towards the website. By doing the complete research of intent targeting keywords you can attract more targeted audience and more conversions and leads for your website. There are various types of search queries are informational, transactional and navigational. Well with these keywords you can generate as many leads from them as possible.
Types Of Keywords For Google Ads
There are four different types of keywords that are used in Google Ads. The purpose of these keywords is to create targeted ad campaigns.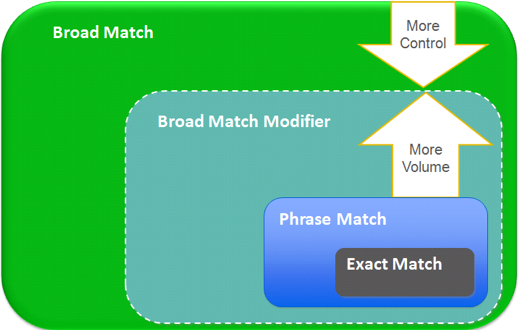 Broad Match Keywords
It allows a business to succeed in the widest possible audience through Google Ads search campaign. When you put your keywords under broad match category, you ad appears every time, when user search anything related to your phrase. It's like Google is displayed your ad every time when someone searched something regarding to your keyword.
Broad Match Modifier Keywords
Broad match keywords are those that allow the user the reach of a broad match but with terms and conditions. It means you will get restrictions around specific queries that will make the ad.
Phrase Match Keywords
A phrase match keywords look for exact matches that you target in a Google Ads search campaign. Google will show you only those keywords that match your keyword. Phrase match keywords offer different types of keywords that are related to your phrase such as misspellings, implied terms, synonyms, paragraphs and many more. But it is important to use the exact keyword so that searchers will get the results related to their keyword.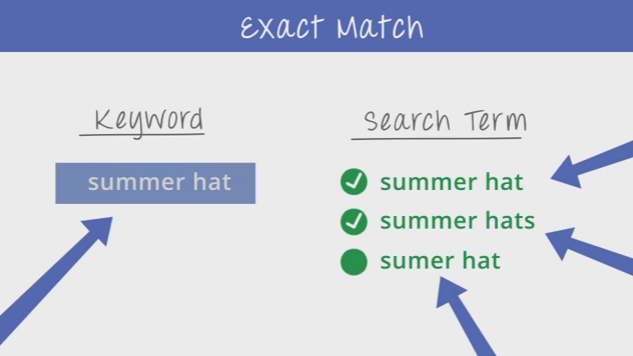 Exact Match Keywords
An exact match of a keyword is a specific keyword that used to only target advertisers whose ads will be open only when the user searches for an exact phrase. This means you are telling Google to only show your Ads to limited customers that searched the same exact keyword. Usually, it's a part of paid services such as Google AdSense. If you are running a Google Ads search campaign to increase the traffic on your website, then always use the exact match of keywords to get more clicks.
Negative Keywords
Negative keywords are also known as a negative match. They are variations of a broad match; exact match and phrase match keywords that you can stop including in your campaign by telling Google. Basically they are the keywords that Google Ad terms are set as negative keywords because they don't relate to your advertisement, target page content, or offer to the ad. They may be related to each other but cannot connect to the ad campaign.