One of the best search engine optimization software that you might be looking for. It's a subscription-based product designed to offer everything you need for effective SEO strategy and implementation. They cover almost all the SEO basics like Keyword research, link explorer, competition analysis and many more. It will also give you free tools like open site explorer and keyword explorer so feel free to use for a limited number of times.
In 2019 they added some new features like MozBar which gives you information like page authority and domain rank right on the search engine results page (SERP) in your browser. Moz Pro subscription starts at $99 month with the Free 30-Day Trial option.
Amazing Features
Rank Tracker
On Page Grader
Site Crawl
Link Explorer
Keyword Explorer
Fresh Web Explorer
Keyword Explorer
This is the most wonderful tool that you guys will definitely love. With this tool, you can figure out which keywords to focus on SEO. Here you can check keywords volume, average monthly volume, average difficulty, average organic CTR, average priority or its average score.
On Page Grade (On Page Optimization)
When you talked about on Page Optimization, it will tell you your website on Page SEO. This section gives you both information, the URL of your page and the keyword you are trying to rank for.  For Example, my target keyword is Moz Pro Reviews and the URL is www.amritsardigitalacademy.com/tools/moz-pro-reviews. When you click on the score you will get options to improve the on-page optimization. It also tells the site errors or issues on your website URL and helps you to how to fix them. This tool also gives you some keywords to add to your page and increase your position.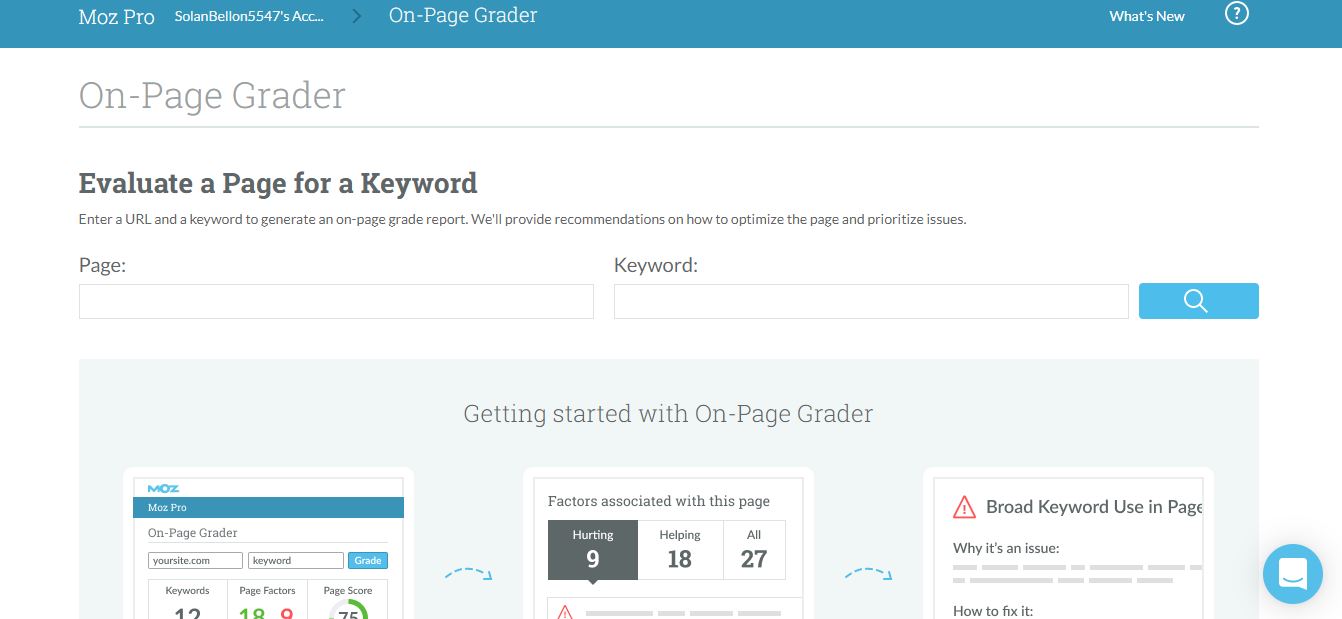 On-Demand Crawl or Site Crawl
For faster crawling, this tool is best. It will take only 15 minutes to crawl your website and when the crawling is complete, They sends you email also. All you have to do is just enter the URL on the crawl section and then press enter.
Open Site Explorer
Open site explorer is the full link profile analysis tool that helps you to understand the link building strategies. You can easily check your competitor's backlinks with this amazing tool.
What Open Site Explorer Shows?
All inbound and backlinks
Most reliable pages linking to you
Anchor text of links
Recently Shared Links
There are many ultimate features and tools on this section like compare links, Link intersect tool, Broken link checker, spam analysis, custom reports, Traffic from search, etc.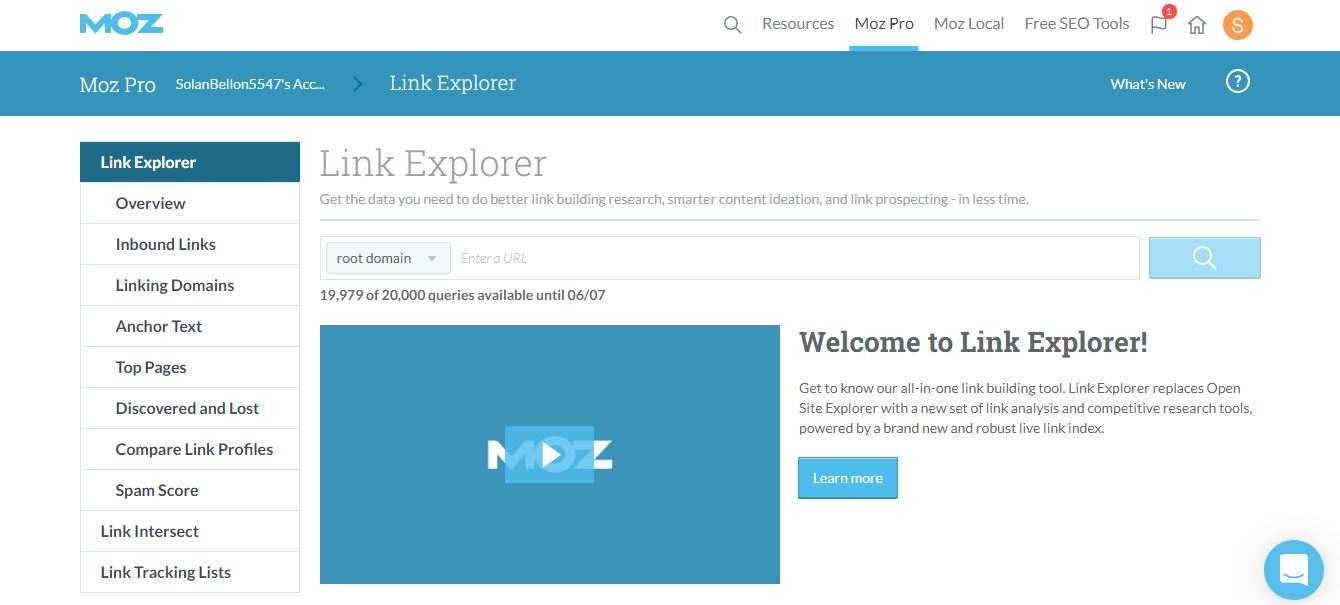 Compare Links
Here you can compare link metrics of two URL's in one time. This is the most amazing feature given by this software.
Link Intersect Tool
This tool demonstrates all websites that are connecting to various competitors however not with you. so it's a great chance to external link establishment.
Broken Link Checker
Now you can search all broken links of your competitor's website. This tool helps you to find all the broken links. What else you want for?
Spam Analysis
This tool gives you a spam examination score that counts what number of issues a page has. When you click on the spam score it will let you know which factor caused the red flags.
Custom Reports
Here you can build the most powerful and custom reports. Here you can customize your reports with many different filters and options. The report you will get within 4 hours.
Fresh Web Explorer
Moz looks out for any notices of your brands over the web while it crawls. It resembles Google Alerts or Buzz sumo however not actually. It will discover articles that notice certain expressions you are keen on examining. You can also reveal a random mention across the web of either your brand or a competitor. A supportive feature is the mention authority metric to see which makes reference to originate from top pages.
Moz Bar
When you download the extension it will show SEO metrics right in your browser. If you click on its icon it goes on DA Mode which means no top bar but it will still show the DA (Domain Authority) In the icon. If you click on the icon twice it will automatically turn off. They give you similar information about any page you visit.
Benefits of Moz
It enables sites to develop their natural traffic by tracking search engine rankings and recognize ways to improve. The better your website position is the more you will get free traffic.
From time to time Moz Pro proficiently tracks your search engine rankings for keywords to see whether you are rising or falling.
Part of SEO is essentially keeping your site organized. Moz Pro not only finds a technical issue but also encourages you how to fix them properly so that the search engines can easily recognize your site. They also give signals to Google that you have a genuine site that they can definitely send their users to.
No SEO tool can help you so much as they can. It encourages determining what important and key points to write content about. It demonstrates to you who to contact to get those significant backlinks which can build your ranking.
Following Are the Ways To Use Moz Pro
It is a SaaS software so you don't need to install. Just sign up for a Moz Pro subscription or started with 30 Day Free Trial. You can also use its free version of the keyword explorer and open site explorer SEO tools. You can use this keyword explorer twenty times only once in a month. If you want full access, you need an account. For better performance download its extension. This free Chrome extension toolbar is stunning and gives you so many benefits.
Things Users Like the Most
They offer some amazing free tools and educational materials. They cover everything regarding to SEO like keyword tracking with category tags, site crawls, competitive tracking, keyword research, and website recommendations. The best thing about this software is anyone can easily use this software and the platform is wildly reasonable as compared to other SEO solutions.
Easy To Use
The Reports and Analytics that they produce are comprehensive and reachable.
Moz Plans Price
Currently they presenting 4 different packages standard, medium, large and Premium. The range starts from $99 Month to $599 month. The standard plan does not have white label reports or keyword lists.