Email Marketing Softwares are the tools that are provided on the web for email marketing. Some of the tools are free of cost and some are paid tools. Depending upon the requirement of services, decided budget for plan and required output from the software, you can choose for the best tool. From this article, you will come to know about various free and paid email marketing tools.
What Is Email Marketing??
Email Marketing is a strategy of sending commercial messages to a group of people through emails. This practice is done to keep in touch with your existing customers and to reach out to your new customers.
Broadly, It can be said that any email that is sent with the motive increasing sales, advertisement and brand awareness is known as email marketing. It is a very cost-effective way to reach your customers and encourage them to buy products and services.
Various Kinds Of Emails For Various Activities-
Email can play an important role to keep connected with your existing audience and it may also help in acquiring new links or clients for your business. It can be categorized into various types-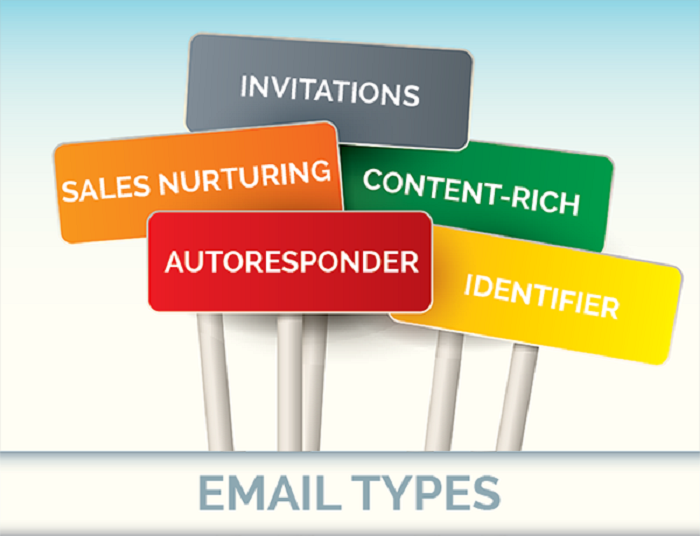 Welcome Emails

to the newly registered customers in your business.
Emails on the launch of

Special

Offers or

Launch Of New

Product to the existing customers.
Newsletter to the customer who has subscribed to your website.
Special Invitation

Events

Email to your customers.

Re-

Engagement Emails to convince your customer to make a purchase of product and service when the customer hasn't ordered anything for a while.
Advantages of Email Marketing-
Economical– It is a very economical way for advertising business as no advertising fees, printing costs are required for email marketing.
Easily Shareable To A Large Number Of Audience– Emails can be easily copied and easily shareable to large numbers of the audience in one go.
Attractive Designs– You can send text, image and other attachments along with your email message that makes your email catchy and attractive.
Automation and Reusability– Once you have designed a template it can reuse again and again which automatically makes it time-saving. Automation refers to the triggering of email on a particular activity by the customer. For Example- Welcome Email to a newly registered customer, etc.
Track Your Success– You can track the success of your email marketing with the help of some tools like Analytics. It will help you to track your email campaign and plan your future policies accordingly.
Say No to Paper Work- Whole email marketing procedure is based on software and soft copies are shared and transfer so it is a quite environment-friendly method for marketing.
Brief highlighted information delivered through email with the help of email marketing. The highlights like the price of products, discount offers, sales offer are immediately noticed from your email.
Disadvantages of Email Marketing-
Heavy Email– The size is a very important factor in email marketing, if your email has more files or images that are heavy in size and are taking a long time to load then it can be frustrating for a customer.
Unprofessional Work- If you don't write an email professional it leaves a bad impact on the customer. Design and functionality need to be balanced as per the different preferences of the customer. For Example- Some people wish to receive text only emails.
Irritating For Customers- Sometimes, It becomes irritating and frustrating for a customer to receive promotional emails again and again.
Spamming- Before sending any email, it must be ensured that email must be sent to the right customer to whom that information is relevant and useful otherwise the user will delete that email. Email must be according to the privacy and data protection rules and targeted towards the people who want to receive that email.
Tip– It is suggested that not to use Spamming keywords or characters in heading or content.
How To Plan Your Email For Perfect Email Marketing??
The emails that are convincing for a customer will be the part of success for your email campaign. A success email is planned and designed well that makes a customer click on the links provided. You can plan your email writing skills by keeping in mind just a few easy steps-
Top-Notch Email Heading–
Try to make your email header catchy and attractive. If possible then make it the logo of your website and company. It will give a clear picture of your firm to the customer but remember your main motive is to convince the customer to read the message of your content. The link of the home page on your logo is advisable.
Content Of The Message-
The email should have a clear idea and it should be precise and to the point in order to give a clear picture of the motive of the email to the customer.
If you have multiple offers and deals to promote and then it is preferred to write one email for one particular deal. Text in your email should not be over-stuffed with unnecessary keywords. It becomes irritating for a customer when the content does not deliver the right message.
The Layout Of Your Email-
Layout must be used in such a way that it becomes easy for a reader to understand the message and at the same time convincing as well to click on the provided links and take the services from your website or business.
Images –
Images make the emails catch so it is advisable to use images along with text in an email. The images must be according to your deal and content of the email. Ensure the hyperlinks and alt text of your images as it plays an important role in ISP (Internet Service Provider) acceptance. Optimize the size of the images according to the mobile and computer devices.
Email Footer–
The company's address, email address and name must be mentioned in the email footer to make it more professional and legal. It makes easy for a customer as well to contact you. You should also include the unsubscribe link at the footer of your email so that whoever wants to stop this service can easily do so.
Email Marketing Services-
Email marketing is considered the best way to keep in touch with your audience and email marketing services help you to build, maintain and keep a sneak peek over your existing customers and building a new market.
These are the tools provided on the web free of cost on free to make email marketing easy for a business. You can opt for any tool as per your convenience and requirement. Have a look at top-most free and top-most paid Email Marketing Tools.
Free E-mail Marketing Software-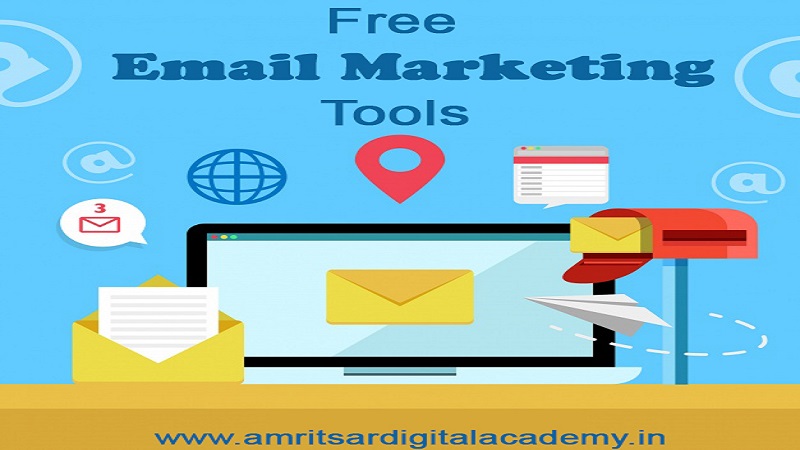 SendInBlue-First Click In Mind
SendInBlue makes email marketing more effective for small businesses with low-budget planning. It is a leading free tool for email marketing having other services as well. It has been in service from the year 2012 and has millions of happy customers.
Key Features Of SendInBlue-
You can design your email and make it catchy as per your will.
You can add contact or text by using advanced email personalization features.
What Is Included In The Free Plan?
The free plans of SendInBlue offer include an unlimited number of contacts and 300 emails daily. It can also be calculated as; you can send 9000 emails in total by paying zero amounts as per the free plan. That's Huge.
Paid Plans
It also offers some affordable generous paid plans as per the requirement of the business. The paid plan starts from ₹ 1535 till the Premium plan of ₹ 3960 and it's different for annual payment. Every plan has unique features or some of the add-on features as compared to the previous plan.
---
MailChimp
MailChimp is one of the leading email marketing tools offering many services in their free plan. It has forever free marketing plans. It provides users to design their emails and has extensive templates that are mobile-responsive.
What Is Included In The Free Plan?
The free plan is suitable for newly started businesses and it offers an abundance of services in its free plans. The free plan gives you 10,000 emails a month. Over 2,000 contacts can be added. Additional features include Email Support, ad-free emails.
Paid Plans-
When it comes to getting free plans then it has some affordable plans starting from $9 monthly only. Its premium plan having numerous features cost $299 monthly. Better suitable for big companies.
---
Benchmark-Power of Email Marketing
Benchmark Email Marketing Software lets you send beautiful responsive email campaigns. You can use it quick and easy templates.
Key Features-
It has an easy and quick drag and drops policy to set images and text boxes to sit at the right place.
You can edit images right here on the Benchmark email editor and can see your editing live on the screen.
It has easy and customized templates for every occasion and festival.
Customized Colour Scheme.
What Is Included In The Free Plan?
It offers a free 30-day trial for its customers to get to know about the features of the benchmark. You can send up to 250 emails in its free trial.
Paid Plan-
For paid plans, it has a plan according to the subscriber of your business. Plans starting from 600 Subscribers cost ₹ 840 per month until a massive number of subscribers.
---
Clever Reach
Clever reach is free email marketing software. It has more than 2 lakh happy customers in 150 countries. It has made email marketing quick and easier. Some of its unique features make it distinct from other email marketing software.
Key Features-
It has a number of responsive designs that means the design of your newsletter will be device friendly.
An extensive variety of features.
Automatically deletes or filters the invalid and incorrect addresses.
What Is Included In The Free Plan?
Upto 250 subscribers are allowed and 1000 emails are free monthly. Get access to the lite plan of no cost with some features.
Paid Plans-
It has paid plans starting from affordable prices and included extra features at every plan.
---
Sender
Sender is our next free and easiest marketing tool. It is the package of advanced email marketing features and good customer supported services. It has responsive email templates that come up really good on mobile and system screens. On-time analyze the effect of email marketing with analytics tool and improve or plan accordingly.
What Is Included In The Free Plan?
It offers a forever free plan in which upto 2500 subscribers can send upto 15000 emails per month. You can cancel this plan anytime.
Paid Plans-
Its paid plans start from $10 and can go upto a higher extent according to the need of your business and emails you want to send per month.
Read About More Free Email Marketing Software
---
Paid Email Marketing Software
GetResponse
GetResponse is a full email marketing software platform offering numerous services. It has beautiful responsive designs, landing pages and coms with A/B testing. It is extremely easy to use and design email campaigns.
Key Features
24*7 Support with emails, chat and for your convenience. It has videos, how-to guides, webinars etc.
Pricing
It has very genuine pricing plans as per the provided services. 4 types of plans
Basic starting from $15 monthly
Plus– $49 monthly
Professional– $99 monthly
Enterprise– $1199 monthly
---
ConvertKit
ConvertKit's platform is meant for professional bloggers and authors. It is an extremely powerful tool. ConvertKit tea is always available to support you and many amounts of material are available on-site to help you.
Pricing
It offers a free-day trial of 2 weeks that is 14 days. After that, the pricing starts from $29 for upto 1000 subscribers.
---
Constant Contact
Constant Contact is an extremely easy tool and the fastest growing email marketing tool. With the use of Constant Contact, it becomes really easy to manage your email subscribers list. It is serving from 1995 has approximately 7 lakh, happy customers.
Key features
It provides 24*7 support services by the means of email, live chat and a vast library of tutorials.
60 Day free trial service to get to know the suitability of the software as per your business.
Pricing
The pricing of constant contact starts from ₹ 323 per month which is very genuine and as the prices increase the services by Constant Contact increases at the same pace. It is one of the best tools for small businesses.
---
Mailify
Mailify is the package of new features. It is serving in more than 10,000 companies and near about 90n different services. Along with email marketing, it offers various other services including SMS Marketing, Transactional Emails, and Automated Campaigns, etc. It is a very easy tool to use.
Key Features
Create your email design i.e. customized logos and images.
It has inbuilt responsive templates for email as well.
Reliable email marketing structure for successful email marketing campaigns.
Highly supportive and professional customer service.
Pricing
Free trial of upto 500 email subscriber s and 10 SMS Offered. The pricing plans of Mailify are a bit costly starting from $59.
---
AWeber
It is one of the best tools for small businesses to use email marketing. It has 100's of features to use.
Key Features
Over 700 responsive email templates.
Automatically creates a newsletter.
A/B Testing Feature is available.
Supportive customer care service.
Live tracking of your email campaign performance with the use analytics id available.
Create a professional newsletter with ease.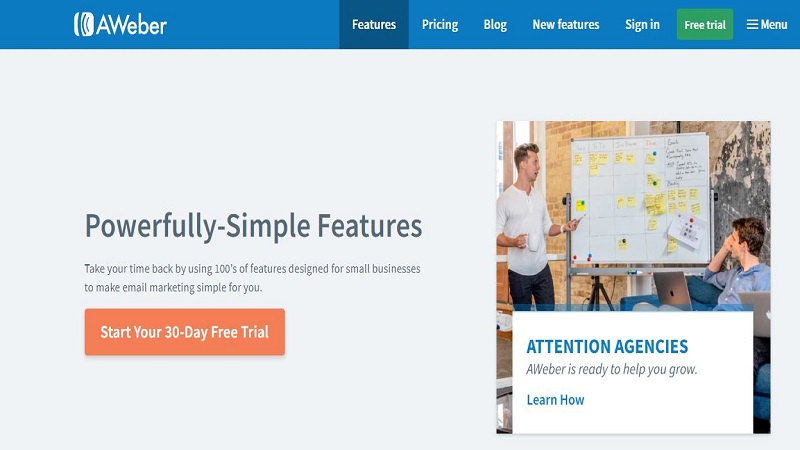 Pricing
Free Trial of 30 days is offered by AWeber and after that, you can access every feature at very genuine prices starting from just $19 per month. You can choose any one plan as per your needs.
Read About More Paid Email Marketing Tools
---
On What Basis Best Email Marketing Service Will Be Chosen??
Pricing Plans-
The pricing plan must be chosen on the basis of features and budget of the company. The following points must be taken into consideration – Is the pricing plan is good enough as per the features? Is it affordable? Relevant comparisons must be done with the other email marketing tools to get the best price. All these factors can help you to find the best plan for yourself?
Availability–
It is important to consider this factor as while sending email times a crucial factor and you have to take care of it. While choosing your best software check for its availability for 24 hours via mobile phones or computer devices or by chat.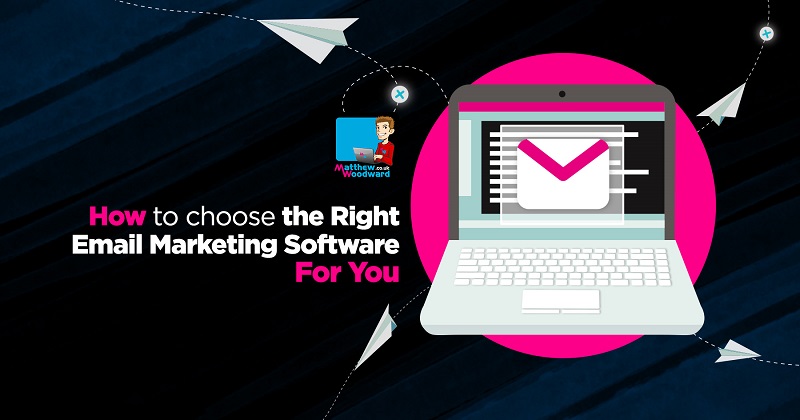 Check for the trial–
Before setting up an account or choosing a plan in certain software just check for its trial period if available. It is considered a good practice to be sure before investing time and money in any software for email marketing.
User- friendly Campaign Setting–
Any best email marketing software has user-friendly interfaces and builds an attractive newsletter. It also notifies about spam words. Spam words are the reason to put any email into the junk of your customer's email inbox. It also helps you to make a catchy newsletter with attractive designs and templates.
Writing is expressing your mind through words. Being a content-writer I always try to script the best of my knowledge about the topic in the form of blogs, articles, and content.