You might have an outstanding business idea, but your all efforts go into vain if you try to appeal to every customer. Lack of understanding, whether it adds value to their lifestyle or not. Before launching a full-stream business to the global market an entrepreneur must have a clear idea of the type of product or service. Also, the problem of which customer base is getting resolved by using your business products or services.
Remember a very thin slice of the population is your target audience. If your products directly get presented in front of them, then BOOM! You have a bang on marketing strategy. Finding that target market referred to as niche market, the gathering of people who collectively says- Yes, this product is made for us.
If you want your brand to stand out in such a highly competitive market then first you need to solve the problem of the customers. Your product or service must mention the USP of your brand. Another thing you can do is hunt the best niche market examples and directly appeal to your business target audience.
Niche Market Examples 2022
You have a product/service, but just understanding the customer demographics for which it is perfectly suitable is of no means to stand out among your competitors. As stated above, you need to connect at a deeper level with your audience to actually resolve their problem. Once you have cracked it, the sales will automatically go up and the business will get into profit. Here we have presented the list of untapped niche market examples to get started with-
1. Pet
As per the reports of Global Market Insights, the pet industry has surpassed the mark up to USD 232 Billion in 2020. The hectic schedule of pet parents is fuelling the pet care market. Also, the growing awareness and convenience of pet grooming services have made this market very popular these days.
However, the COVID-19 crisis put the investments in this sector on hold for a short period of time, but the long-lasting growth of this sector remains undamaged due to stability in the demand of the services.
Having pet care services such as pet grooming, professional shampooing, brushing, pet bathing, or personalized individual attention to pets in your niche or you have a full-fledge eCommerce outlet of pet care products, you have plenty of opportunities to scale.
Case Study- Pawsindia Shark Tank India
A very interesting start-up "Pawsindia" specifically focuses on providing pet care through the eCommerce portal www.pawsindia.com. Check out now, how they brought up innovation and creativity in their products that helped them to shine among countless pet care product start-ups across the world.
2. Customised & Detachable Fashion Industry
The fashion industry is a highly competitive industry around the globe which means that if you want to ace this extensive niche market, you have to revolutionize it with your creativity. With the introduction of customized and detachable fashion, this industry has given a new angle. Also, it narrowed down the fashion niche market a bit.
Personalization is a new "must-have" in recent years and when it comes to fashion who don't like this concept- every apparel is designed just for them. According to a study by Epsilon and GBH, 80% of US online shoppers prefer to make a purchase if retailers are offering personalization.
The customizable and detachable fashion industry can make millions of dollars business. This niche market example is one of the untapped to its fullest potential yet, only a few of the startups are working well on it. So, if you have adequate sources that give a fresh angle to your clothing business by adding these trendy concepts in it.
Case Study- Customised & Detachable Fashion Brands In India
On analyzing the fashion industry of customized and detachable fashion we came across these few startups from Shark Tank India.
The given deal is of brand "Farda" being run by two aspiring young entrepreneurs. The key point or USP of the brand is that they deal in a customized fashion. Customized fashion is a "new common" these days but the quality of the clothing and creativity in your designs can make it worth noticeable in the market. For what they got amazing deals from Sharks in Shark Tank India 2022.
The Quirky Naari Brand
The another very interesting brand with a cool and fresh angle in the fashion industry is "Heat Up My Sleeves". With a key point of making detachable sleeves and aim of scaling in future with detachable collars or other accessories that brand ace the deal from Shark Vineeta Singh.
3. Health & Fitness
Launching fitness products or the best fitness app will not help you to make a million-dollar business. A business becomes successful when you actually target your niche market. For this, you need to drill deep about what your product actually solves and whom it is most useful.
According to the study of Global Wellness Institute on health and fitness industry, it has a business valuation of $4.5 trillion which is also predicted to grow by $1299 trillion by 2024. This concludes that you as a business have a scope to generate high revenue by stepping in this industry.
Fitness itself has a broader niche market examples but adding a fresh and trendy angle to the health and fitness industry like fitness with Ayurveda, health and fitness products while pregnancy, online fitness apps targeting working professionals, and more can help in narrowing down the niche market to a bit extent.
4. Gaming
Gaming is a new trending niche market dominated by the youth population of the world. This niche market is untapped to some extent, by narrowing it down one can get high potential business ideas. Say you can target the sub-niches of gaming sectors such as women gamers, metaverse, teenage gamers, mobile gamers, console gamers and so much more if you explore.
According to the latest stats of Tech Jury on Gaming Industry Worth,
The global gaming market is set to reach $256.97 billion by 2025.
More than 2.5 billion people worldwide play games.
In 2020, the console gaming market experienced its slowest growth rate since 2015.
Players spent $4.5 billion on immersive games until 2020.
Sony Interactive Entertainment's estimated value is $13.4 billion.
eSports enjoy an audience of around 456 million people.
High-fidelity mobile games are on the rise.
In my opinion, these numbers are mind-blowing. Entrepreneurs having a keen interest in the gaming industry can easily generate business ideas in this niche market.
5. Smart Devices
Smart devices are electronic devices specifically designed to perform some operations with the sole aim of making human life easy. Various smart functions such as health monitoring, home safety and security, entertainment, wearable devices, and more are done with the use of smart devices. This market has a great score if you have any sub-niche to work on such as wearable smart devices, smart devices for mobile phones, home automation smart devices, health monitoring smart devices, and more. Now let's have a look at numbers-
On the basis of a report by Mordor Intelligence –
"Smart homes market was valued at USD 79.13 billion in 2020, and it is expected to reach USD 313.95 billion by 2026 and register a CAGR of 25.3% over the forecast period (2021 – 2026)".
"The Wearable Technology Market was valued at USD 27.91 billion in 2020 and is expected to reach USD 74.03 billion by 2026 and work at a CAGR of 17.65% over the forecast period (2021 – 2026)."
Smart devices are being opted for by many new and established entrepreneurs but there is still some gap in this industry. So, tech geeks is the right time to brainstorm some ideas in this sector!
6. Travellers
COVID-19 pandemic has put the travel industry on a halt. But the essentials and business aspects of this industry remain the same and even brighter in near future. Travelers are switching to more sustainable options of travel goodies. You can also find your niche market examples on the basis of their staying duration like many travelers have been shifting to long-term stays. This has given a new niche market direct to many entrepreneurs. With some cool and fresh ideas spiced up with some innovation, one can establish a high revenue-generating business.
7. Targeting Locals
Targeting on the basis of a local marketing approach can help a brand to become a "well-established brand". Almost every big brand opt for this approach for targeting the local consumers. It is a little bit difficult to establish a local presence when you have an online store but we have some good suggestions for a start-
Adding a state wise or city wise categorization of the products
Target local language slogans or slangs on your commodities
If you have specific target geo location then domain extension can help such as .in for Indian customer targeting.
Example- Website Targeting Offers on the basis of City
Like in this coupon website in India named Dealsshutter, the users are provided offers on the basis of the city. Form which city they belong they can have exclusive discount offers just tailored for them.
8. Innovation in Food Products
There is no doubt in the statement that- the food industry is a GOLDMINE in terms of yielding profits from your business. There are countless food startups that are grown to a popular well-established brand across the globe. But following the crowd blindly will let you extract nothing from your business. Adding a fresh and innovative idea to your food business can help in both, first is narrowing down of niche market where there is high competition and second entrepreneurs get innumerable opportunities to take their business in profit as the customer base is highly potential for your business.
Case Study
We are introducing great niche market examples broadcasted on Shark tank India that are serving some common food products but with a twist.
Frequently Asked Questions on Niche Market
What is a Niche Market?
Niche market is a segment/portion of the population having same interest, needs & preferences that make them different from the rest of the market segment. A niche market is defined on the basis of several parameters. Some of the most common ones are listed below-
Pricing of the product and service
Demographics such as age, gender, age, income level, qualification
On the basis of product quality- premium, handmade, economical
Geographical Area (residents of which country, city, or state)
A brand should dig deeper into customer analysis and niche markets. After the well-informed analysis is made all the business strategies can be planned around the customer preferences in your niche right from logo designing, website designing, product pricing, packaging till the final product or service delivery to the customer.
Let's just get the clarity of the concept with an example-
Think of a broader market first, say Clothing & fashion industry. The niche can be segmented to clothing for men, clothing for women & toddlers. Now this niche segment can be narrowed down to clothing for toddlers only or clothing for women only. Each narrowed segment can also be slightly narrow with the business USP such as toddlers set and suits, newborn essentials only, kids accessories, and so on.
So, if you closely observe that the more you have clarity of your niche market the more it is easy to plan marketing strategies for business, and ultimately it drives sales to a higher extent.
What are the benefits of Niche Marketing?
Niche Marketing helps in keeping a leg up on your competition. It leads to narrowing down your marketing efforts to highly potential customers who can actually drive sales. Listed below are some worth noting benefits of Niche Marketing-
Once you find an untapped niche market examples, you can drive maximum sales until the niche becomes common among entrepreneurs. The consumers will be less but highly relevant to your business. So, the main benefit of choosing an untapped niche market is Less Competition.
Business can build stronger customer relations by interacting with them at personal level which ultimately leads to build brand loyalty.
Less marketing and advertising cost as the efforts are marketing are narrowed down to potentially relevant customer base.
You have specialized knowledge and expertise in the field as you are attracting the customers meeting their specific needs.
How to find a Niche Market in 2022?
There is no doubt, that both new and renowned entrepreneurs have been looking for untapped niche markets having high revenue-generating potential. Continuous efforts are being made by countless entrepreneurs to find that gap between larger market segments and small projects working on similar products and fill that gap with their innovation.
However, there is no rule of thumb strategy to find a perfect Niche market for a new business but still, we suggest you refer to the above-given list of niche market examples listing the untapped niche markets of 2022.
Else, introduce your product/service by highlighting the Unique Selling Point of the product that makes it a different crowded market of similar products. A deeper analysis of customer requirements in correspondence to the product/service that you are going to present is required for channelizing your marketing efforts in the right direction.
▶️ Begin with Google Search
The best way to find a niche market for your product is, to begin with, an online search. We highly recommend starting with Google search for more accurate decisions. This will let you make an informed decision on what other competitors are selling to a certain set of audiences. Let's use the term "sneakers" in a google search.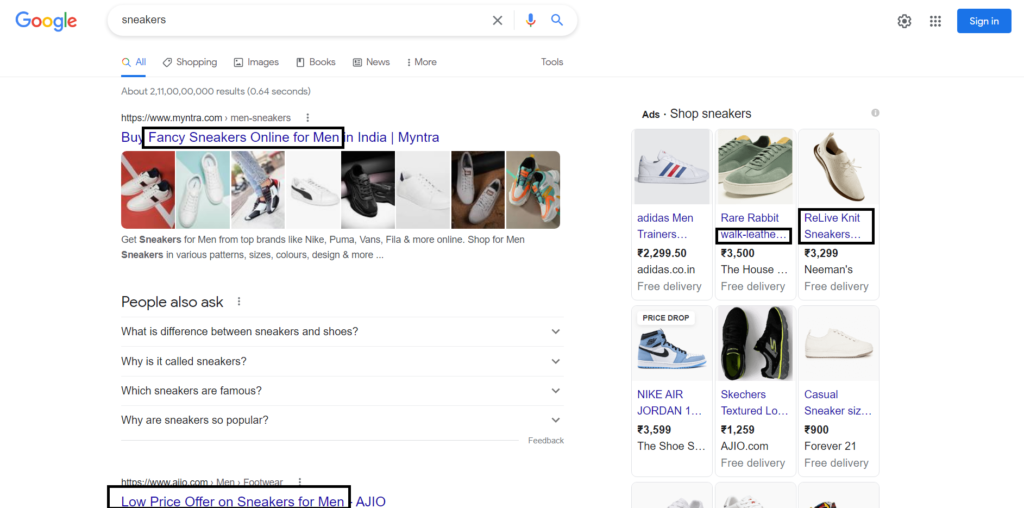 This is the result that we just extracted from the results is the latest trends on the basis of ad or organic search results such as "Fancy Sneakers", "Leather Sneakers", "Knit Sneakers" and more ideas as your scroll down the results. Also, the meta title Low Price Offer on Sneakers for Men defines affordability of the sneakers also matters. Even though you have numerous competitors in the same niche you can win the race by adding just an extra angle to your production or marketing strategy. Google search can help in finding those angles too.
▶️ An Organized Plan
A distinguished business is one that is deep-rooted with an organized plan. An entrepreneur must have clarity from where the business will get started and how they are going to scale in near future, a kind of mind map you can say. A mind map is a diagrammatic representation of organizing your business ideas and how the business has segregated the niche market. Users can refer to online tools or software for mind map building.
▶️ Extract Niche from Google Auto Complete Feature
Before your search query gets finished you must have observed that Google gives you some kind of suggestions as you keep on typing. These are generated through the Google auto-complete feature and mostly searched queries related to the term. This can help you to dig deeper with the more narrowed niche or the customer trends related to your broader niche.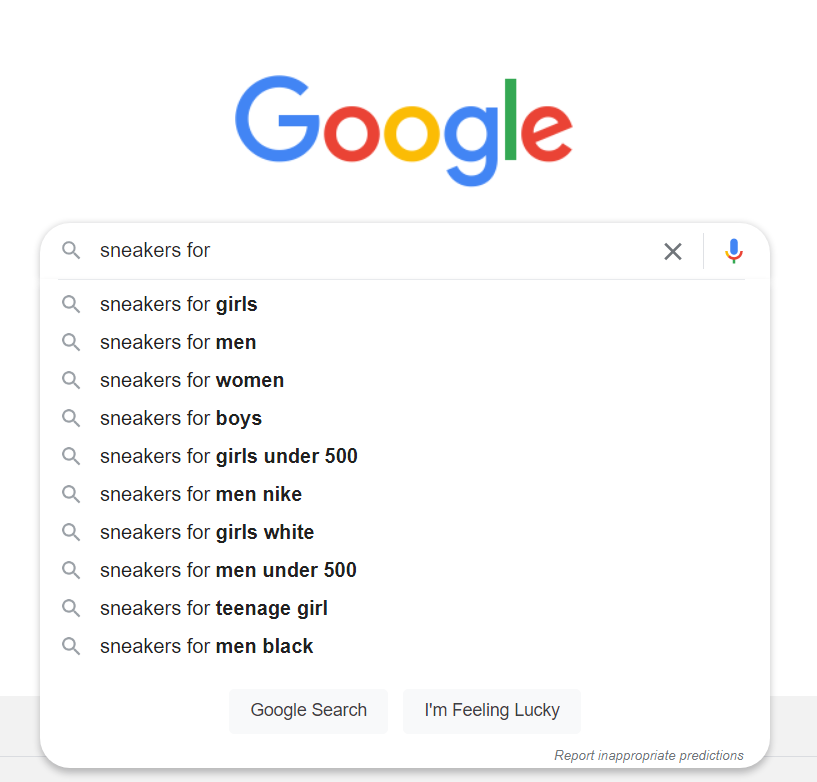 ▶️ Use Online Tools to generate ideas
With Google autocomplete you get limited to some suggestions. For more ideas in search of Niche market examples, entrepreneurs can better utilize online tools such as answer the public. Here are the results-
For the one keyword "Sneakers", the tool generated 56 niche market ideas for you in milliseconds. This is huge!
Let me tell you that the web is flooded with such amazing tools for idea creation and narrowing down the niche market steeper and steeper.
▶️ Keyword Research Tool
Keyword research can benefit you in ways first it can help in finding niche markets and second you will get high-volume keywords for your business, now it's all about your marketing efforts. There are numerous tools available on the web for keyword research. Even Google has its own tool Google Keyword Planner that is available to all free of cost, user just has to sign in for a Google Ads Account.
By using various filters such as location, volume, difficulty level of the keyword and more can help you to pick completely relevant and valuable keywords. Using a variety of search terms related to your broader niche help can you to drill down deeper into sub-niche ideas.
Here are the results for your search query "Sneakers" in Google Keywords Planner for the United States location.
▶️ Hunt Ideas from Social Media
Know your customer base through social media platforms such as relevant Facebook groups or Instagram hashtags. Explore social media platforms more and more to understand the customer shopping trends, the hashtags used to reach the potential customers by your competitors and other valuable stuff.
By making specific hashtag strategies, businesses can target absolute right customers. Choosing more specific and less competitive hashtags leads to high chances of attracting customers. Also, focus on your customer repeated demand and opt for it in Niche Marketing Strategies.
Like for the search term "Sneakers", we got some relevant hashtags that have posts in millions, however, there are likely to have fewer chances for your post to be seen where millions of people are fighting for this hashtag so we recommend starting with the keyword having 1 Million approximate posts like in given example sneakers for sale is approximate million posts but the customer base attracted by this keyword is in the mood of shopping sneakers at the sale price. This keyword is worth competing for.
Writing is expressing your mind through words. Being a content-writer I always try to script the best of my knowledge about the topic in the form of blogs, articles, and content.