For a company or any blogger, writing an article is the most common way to express and explain your thoughts on something. It is practically not possible to write all the articles on your own. So as a result to that, people use multiple tools that can create articles for them. The article rewriter tools help you to get a new piece of writing without making any effort. It spins your previous content and generates fresh content and that too, free of plagiarism. Free article rewriting tools have high demand among people as it shortens up your work and save your time. Though we have multiple platforms to do this, still we have made a list of a few of the article rewriter tools. It will provide quick and accurate results which will not change the essence of your sentence.
Best Article Rewriter Tools
1. CleverSpinner
It is the first content spinner tool that we are discussing. Clever spinner uses artificial intelligence to provide a similar meaning to the line that you want to convey through your content. It does not change the speech and automatically chooses the words that fit best there. You need not check each line manually which reduces your manpower.
Features of CleverSpinner
It claims to provide 100% readable content to their audience
All the content created by this application is passed by Copyscape to check the plagiarism.
This tool provides 100% plagiarism free content.
It contains a huge library of synonyms and only uses those which is perfect in the context of paragraph
This tool is one of the most speedy content spinner tool as well
2. SpinnerChief
Spinner Chief spins your content in no time and claims to be the quickest article rewriter tool we have. It is a reliable tool that provides good and meaningful sentences, unlike a few tools which add just synonyms, no matter if it is making some sense or not. Spinner chief is a paid tool with minimal premium fees.
Features of SpinnerChief
Provides content which is close to human quality
The system is a cloud based technology
It supports nearly 20 languages so you can use it even when your content is not in English
It can recreate any types of paragraph, sentences or lines by spinning it.
It has a free version too if you want to it give it a try
3. SmallSeoTool
This tool consists of many other useful tools which will not cost a penny while used. Though it has a paid version too, you can access those tools in the free version as well. Small SEO Tool has an article rewriter, word counter, plagiarism checker, spell checker, and many more. It is one of the most popular content spinning tools online as it analyzes the content properly and then gives you the results. It can take time while working but the wait is worth the results. It is the best article rewriting tool we have in service.
Features of SmallSeoTool
It consumes more time than few of the other tools
It has multiple other facilities for its users
This tool contains a free version, that too works properly
The AI system of this tool is amazing and it understands your content first.
It has a design studio, where you can create posters or images too.
4. The Best Spinner
The Best Spinner is the easiest tool to access which gives you an additional feature to convert recorded speech to text. It is a useful tool for those who want to save time. Article rewriter tools save the money of hiring a man force for the work and it allows you to make your content SEO friendly. The goal to use these tools is to increase the ranking of the site or page.
Features of The Best Spinner
This tool is worth a try as it spins your content properly
It provides human like results
Supports all types of devices and browsers
Check the plagiarism automatically
Provides satisfactory outcomes by analyzing the context of content
5. Chimp Rewriter
It is a paraphrasing tool that allows you to get desired results in a span of a few seconds. This content rewriter is a paid tool that gives you the fastest translation speed as well. It allows working in multiple languages which adds on a good feature. Chimp Rewriter has been preferred by so many people nowadays due to the good quality spun content.
Features of Chimp Rewriter
You can get free trial for 14 days to check this tool
It boosts up the speed of content spinning
Quick in providing results
Accesses to multiple language spinning
The glossary is updated after
6. Article Forge
This tool has the expertise of providing high-quality content even after spinning. In fact, you can spin your content multiple times and still get the unique content because it understands the nature of the article. That is a requirement of a high-performing article rewriter tool. Article forge provides a free trial for 5 days and then you have to pay to avail of its services.
Features of Article Forge
If you do don't like the services, then you can get your money back in 30 days
In this article, you have the option to enter your keyword and then boom, you have your article.
Provides fresh articles in your services
Powered by artificial intelligence with updated technology
It has the feature to automatically add titles, images and videos, if you allow it to do so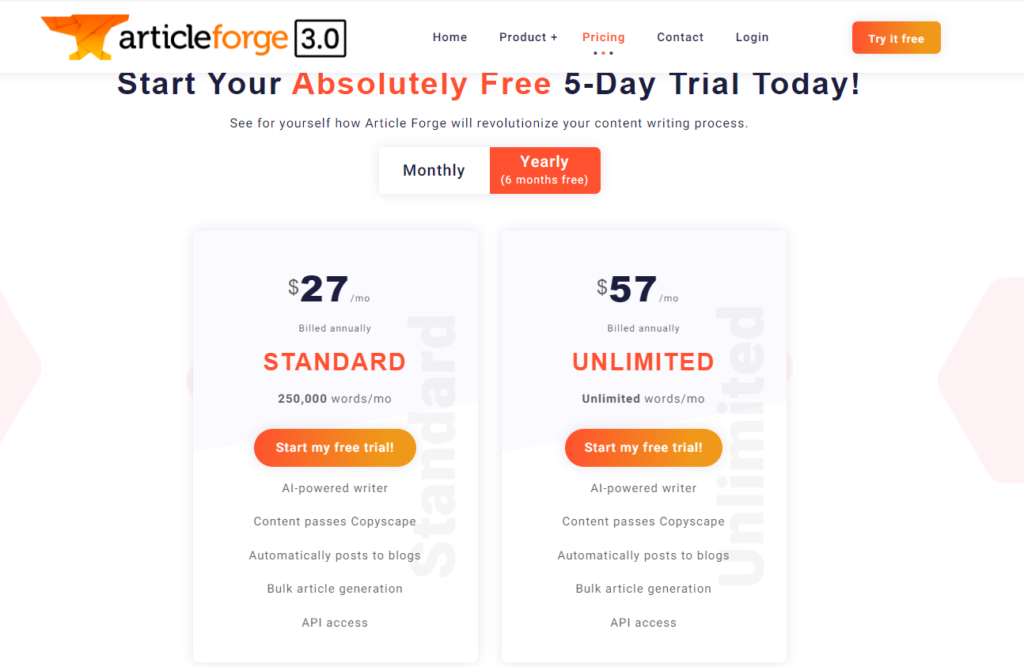 7. SEO Content Machine
Seo content machine is a tool that rewrites your article into SEO-focused content so that you can fulfill your goal of getting an article spinning. This amazing content creation tool is speedy while working. It generates articles for link building, blogs to attract more income, and many more. Seo Content Machine is a paid tool that offers a free trial to its users too.
Features of SEO Content Machine
It supports multiple languages which have proven to be helpful to many people.
This tool smoothly runs on all platforms like Window, MAC etc.
Provides auto insert feature to add images, video, sub-heading, questions etc. to make your article look interesting
Generates the keyword focused article to let you insert links for your company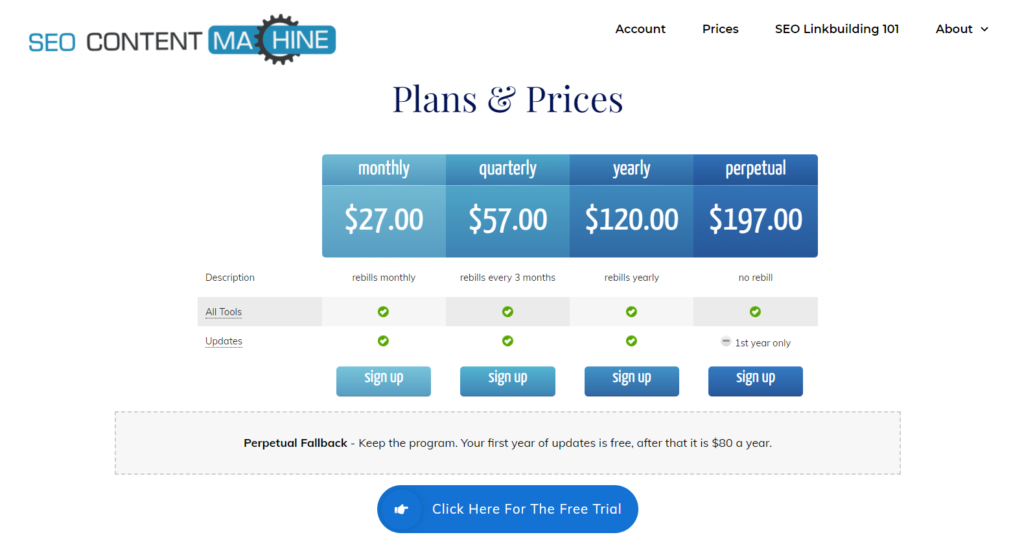 8. Article Builder
Article builder is hereby again a content creation tool and of course, one of the best article rewriter tools. It decreases your workload by spinning your article multiple times with similar thoughts that you wanted to present by that content. It has a database of so many high-quality photographs which you can use in your content to make it look presentable.
Features of Article Builder
Provides the 30 days money back guarantee
You can spin the article limitlessly
Uniqueness and Readability is there key features
It provides Google- friendly articles, so that you can fulfill your targets of building links.
9. Rytr
Rytr is an artificial intelligence-based platform where you can spin your content in just a few minutes with utmost perfection. You need to add the context to your article and Rytr will write the content for you. It saves up your money for hiring a writer because this tool can create original content for blogs, ads, emails, social posts, etc. It is the best spinbot alternative too.
Features of Rytr
It provides results in the span of few minutes
Quite useful when you are handling multiple projects
Always add updated content in your writing piece
It has a free plan and that too involves various features
It is helpful in Cross Channel Marketing
Its paid plan allows you to generate unlimited characters and offers many other features too
10. PepperType
PepperType is a virtual content assistant that offers the facility as per our requirements. It has the facilities like content generation for a blog, product description, SEO-focused content, Tweet ideas, video description, question answers sections, and product reviews. This one is an extremely beneficial tool for people who need content in various contexts.
Features on PepperType
It is a great help for the content creators
PepperType generates informative quora answers within minutes
You can also generates product descriptions for your Amazon, flipkart products
It helps you in creating product reviews which will boost up the sales of your brand
Working is very smooth and efficient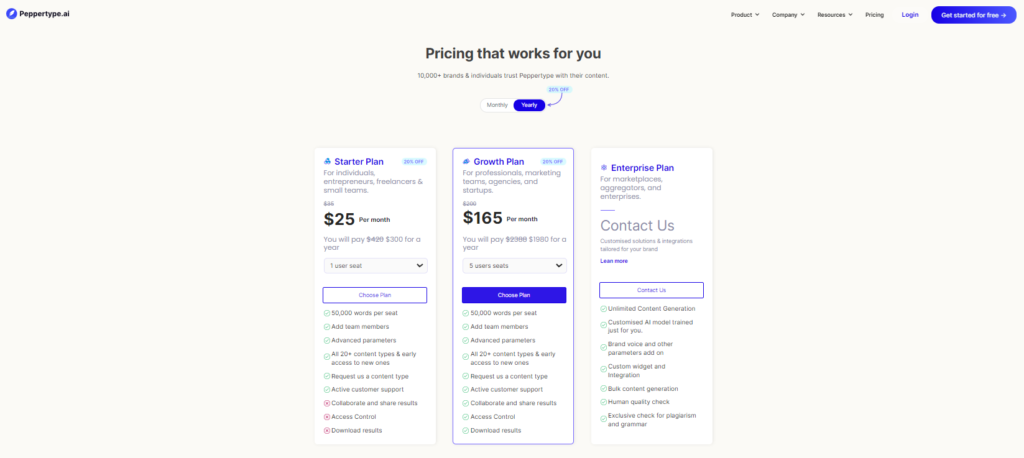 Our Recommendation
Each of the above-mentioned tools is great and we have shortlisted the best among all the tools available in the market. This list contains both paid and free tools to help to make a better decision. Article rewriter tools save your expenditure of hiring a person to spin or to generate articles. We recommend you to try Small Seo Tool if you are new in business because it doesn't cost you anything and still you can take help from multiple features. This is the only tool that has innumerable features and these features not only provide content but many other features too.
Conclusion
Article rewriter tools are the best way to increase your profits and the ranking of your website and brand by link building. Few of these tools are free of cost, few provide free trials and few plans are paid. You can select as per your convenience and take the advantage of these tools. This article covers the top 10 article rewriter tools including their features. If you still want another suggestion then you can try spinbot, which provides free services. Spinbot download is quite easy and preferred by many companies for their blog section. Try these tools and simplify your work now.
List Your Software
Do you have any other excellent Article Rewriter Tool? Send us your pitch for its listing at info@amritsardigitalacademy.in
We'll analyze your tool, and will introduce another fantastic content creation tool with our audience. Feel free to share your reviews on this article and these tools too.
Content Inditer | Fond of exploring my Innermost phrenic Conceptions to engender content that will evoke deep relatable emotions and ardency in others.