What is SpyFu tool?
SpyFu is a competitor intelligence spying tool. As its name itself justifies its functions of keeping track of your competitors by detailed analysis. This amazing tool helps you to keep a sneak peek on your competitors with detailed keyword research for which they are ranking and PPC research of your competitors. This ultimately gives you strong insights into feeding your own strategy by filling up the gaps of improvement.
In this detailed guide on SpyFu review, we will study each minute feature of the software and also give our readers a genuine review of the software by comparing it with all other SpyFu alternatives.
Let's quickly dive into SpyFu Review!!
SpyFu Features
SpyFu Competitor Analysis-Domain Overview
Starting SpyFu review with Domain Overview feature, its toolset enables you to drill into competitor analysis by checking out their domain keyword's strengths and weaknesses.
Just enter your competitor domain in the search bar located at the top of the screen.
In this article, I am going to take https://amritsardigitalacademy.in/ as a reference, but you are strongly suggested to take a competitor's website for detailed and valuable analysis.
Hit Search Icon and there you go with the detailed insights of your competitor domain backed up with dozens of metrics with valuable content.
SpyFu offers enough of data that helps in feeding your SEO & PPC strategy to higher extent. Also, this insight is somewhat helpful in identifying the new industry trends.
What SpyFu domain overview includes?
▶️ Domain Overview
Number of keywords competitor domain currently ranking for on Google- (SEO & Sponsored Programs)
---
▶️ Top Competitors
Competition of your Competitor

---
▶️ Shared Keywords
Common keywords between alternative domains and unique keywords of your domain
---
▶️ Top Keywords
List of organic keywords for which your competitor is ranking for
---
▶️ Top Pages
Pages of your competitor website getting maximum organic SEO clicks
---
▶️ Inbound Links
Domains from where a competitor is getting backlinks

---
▶️ Google Ads Advisor
Displays the Google Ads keywords competitor is ranking for.
---
SpyFu SEO Research
Spyfu review on SEO research gives a detailed insights of organic keywords for which your competitor is ranking for. As we all know that SpyFu is tracking the performance of all keywords from last 15 years that enables you to keep track on how your competitor's domain has been ranking for particular keyword and how other domains rank for the same keyword.
What you can track with SpyFu SEO Analysis?
▶️ SEO Overview
Get details on organic keywords of your competitor website, estimated organic SEO Clicks, Page 1 keywords result and more. Basically, SEO overview provides you details about the SEO state of the website.
▶️ Top organic competitors
Displays the organic competitors of the entered website so that you can refer to these sites as well
▶️ Shared Organic Keywords
The organic keywords you and other sites are ranking for.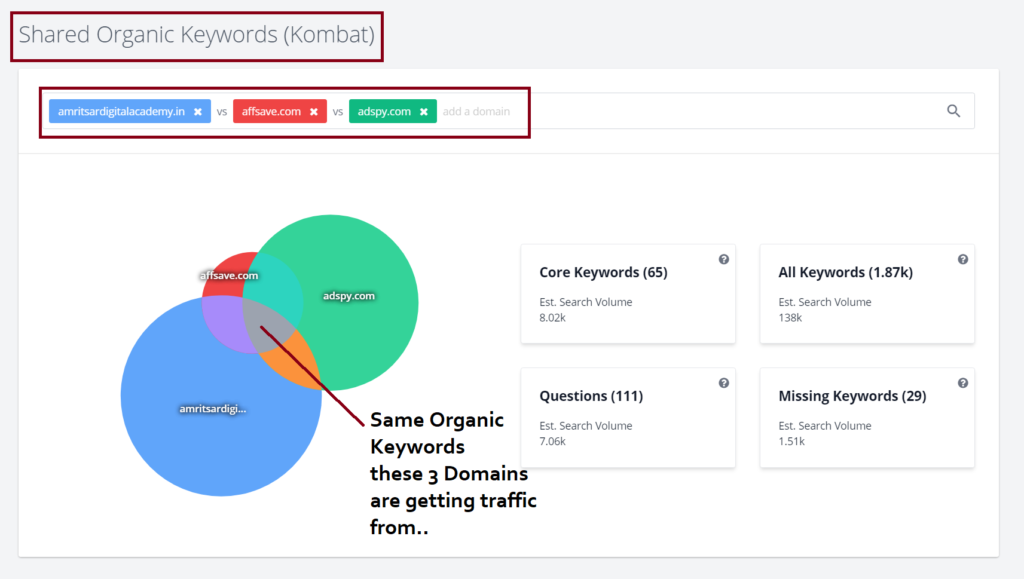 ▶️ Keywords
Keywords from which your competitor is getting organic traffic. Get set go, these are the keywords for which you have to work. This analysis is done on 4 basis-
Most Valuable Keywords
Newly Ranked Keywords
Keyword Click Gains
Keywords Click Losses
Page One Keywords
Almost there Keywords
Keywords that Just Made the First Page
Keywords that Just Fell Off the First Page
▶️ Inbound Links
The website from which your competitor is getting organic link clicks.

▶️ Top Pages
Reflects top pages of your competitor's website getting maximum organic clicks.
▶️ Organic Keyword Ranking History
Reflects the keyword ranking history over time.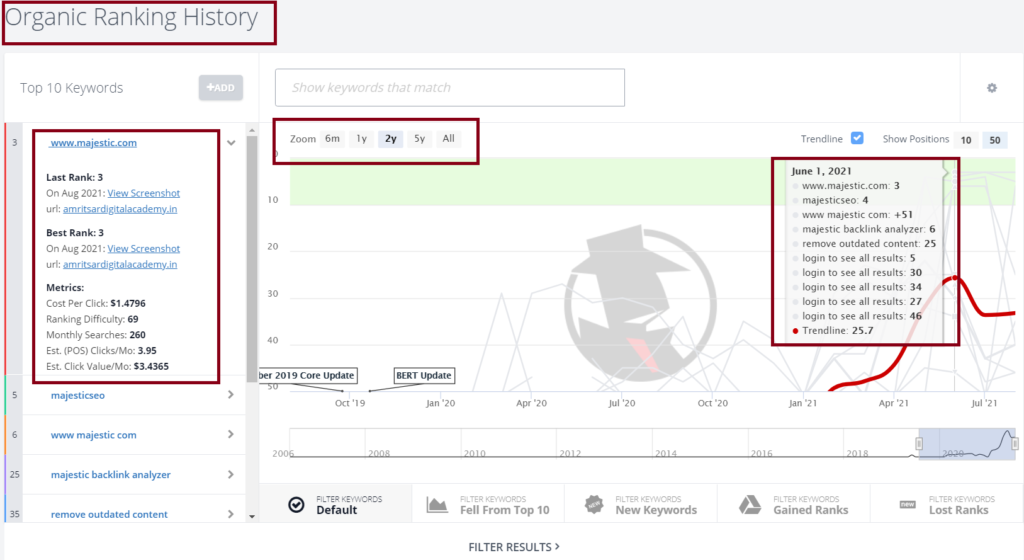 ---
SpyFu Keyword Research
SpyFu offers a powerful keyword research tool. Its detailed metrices helped it to stand out in the crowd of keyword research tools on web. The key fact that they are tracking keywords from the last 15 years is a huge bonus for all the SEOs out there.
Lets take an instance,
If a competitor website is ranking for 10,000 keywords, then SpyFu displays the number of estimated clicks those website keywords receive each month. This also applies a monetary value to those SEO keywords that estimate how will site can earn through same clicks on paid search. It also signifies the benefits of Search engine optimization to company's leaders.
Let's check out various offered metrics-
Keyword Overview
In keyword overview, get the idea of related keywords, questions, keywords for which you can also rank for, keywords for ad and more in one glance.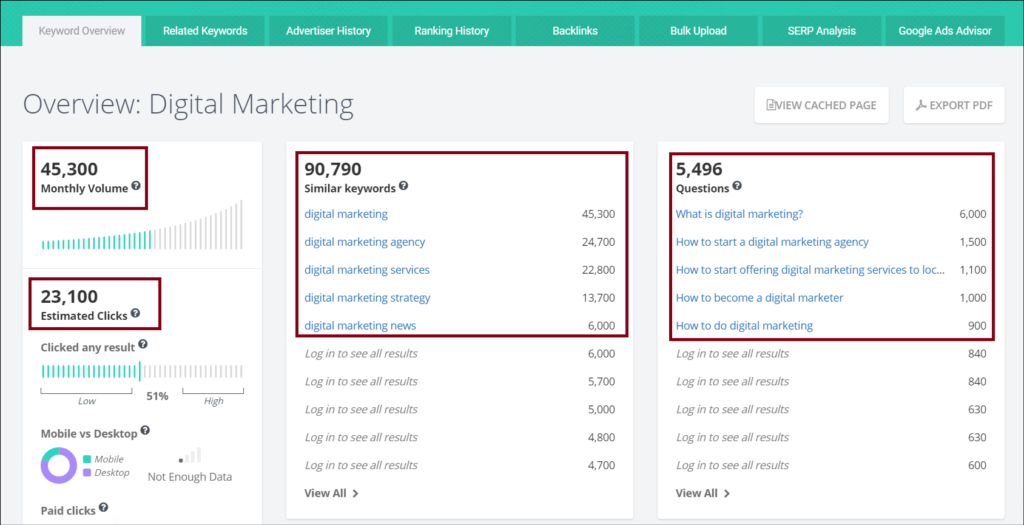 Related Keywords
If you want to check the related keywords or we can say that LSI keywords (Latent Semantic Indexing Keywords) in detail then go on related keywords tab. For full results switch to SpyFu paid plan.
Most Successful Advertisers and Their Best Ads
Under this category you will be shown with the best advertisers shown on the web for this keyword, which is "Digital Marketing" in this case.
Organic Ranking History – Digital Marketing
Ranking history of top 10 results on this keyword are shown in the ranking History tab.
Backlinks
The number of backlinks that can help in easy ranking of your website on this keyword in top search engine result pages(SERP).
SERP Analysis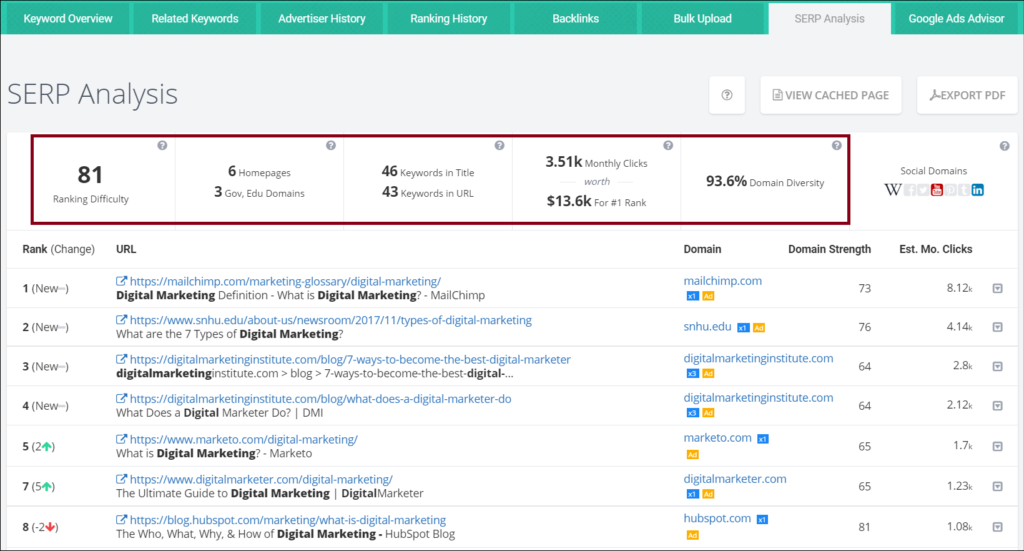 Google Ads Advisor
This analysis shows which keywords to bid for or which keywords one need to set in negative match. These recommendations can help in making more effective campaign.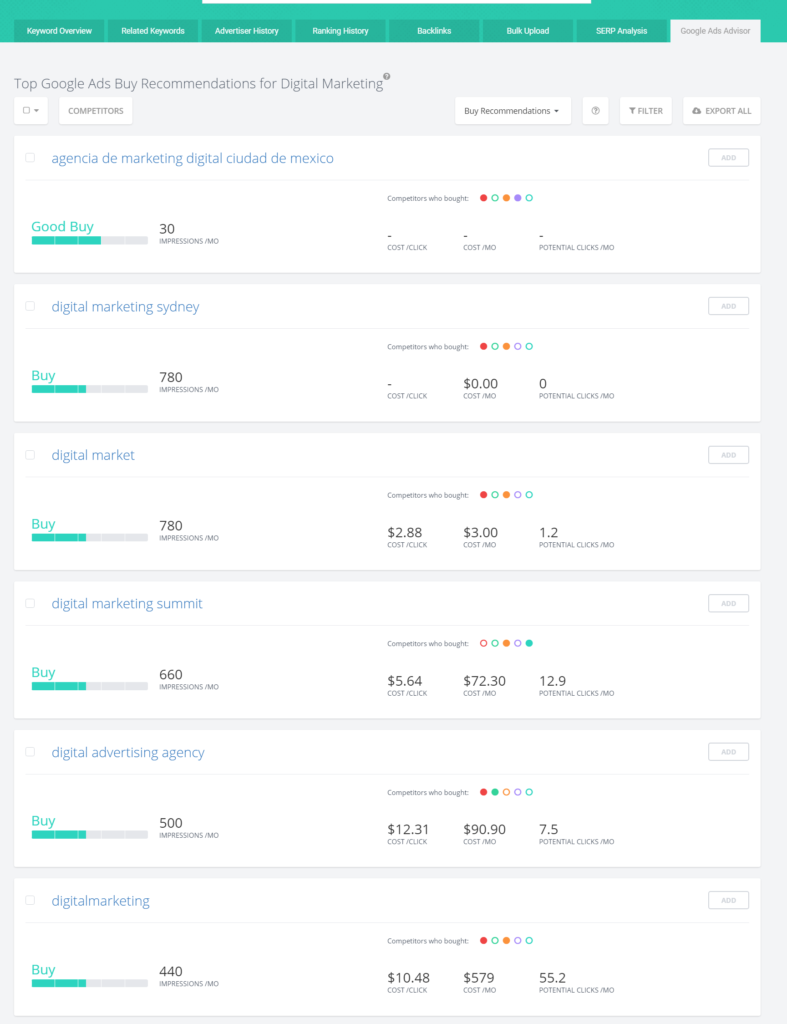 ---
Stuck Somewhere? – Immediately Contact SpyFu Support
Don't panic if you feel like stuck or you might be looking for an answer to your query. SpyFu offers essential support features through SpyFu live chat support from 6 AM to 5 PM Monday to Friday via chat or email. Probably you will get response for your query within 24 hours with absolute valuable solution to your query.
Apart from this, if your face any issue in working of the tool then you must visit to SpyFu official website- www.spyfu.com. The site is stuffed with detailed tutorials of Spyfu software working, in-depth blog guides and various other resources offering detailed knowledge about Spyfu features, updates in the software, new features introduced and more.
All About SpyFu Pricing Plan
Answer to your next really valuable question that- How many dollars I have to spend in order to avail SpyFu competitor analysis services?
Basic Plan
The lowest and basic SpyFu plan starts from $39/Month in which offers
Unlimited access to search data
Unlimited Data exports
Countless Domain Overview exports
250 sales leads & domain contacts.
5k weekly tracked keyword rankings.
10k top lists results
If you subscribe to a basic plan on annual basis then this plan will cost you $33/month. Quite affordable!! Also, this discount for the annual plan is not just for the Basic plan but for the other following plans of SpyFu as well.
Professional Plan
Advanced Plan for professional use provides add on features of SpyFu to the users-
Unlimited search results
Limitless Data exports
Unlimited domain overview
500 sales leads & domain contacts
15k weekly tracked keyword rankings
50k top lists results
10k API rows returned
Custom branded reporting.
SpyFu Professional Plan starts from $79/Month & if you sign up for the Annual Plan then it costs $58/Month.
Team Plan
If you have an in-house team of professionals who want to access the functionality of SpyFu then sign up for its Team Plan that offers features such as
Unlimited search results – see all the data
Unlimited data exports. All you can eat.
Unlimited domain overview PDF's
2000 sales leads & domain contacts
40k weekly tracked keyword rankings
75k top lists results
10k API rows returned
Custom branded reporting.
5 user logins
SpyFu Team Plan starts from $299/Month & if you sign up for the Annual Plan then it costs $199/Month.
Not sure yet? Start with a SpyFu Free Trial
You can also begin the usage of the software with SpyFu free trial. But you will limit access to SpyFu features in SpyFy free trial. Benefits-
No Credit Card required
No Coupon Code required to get this free access
Unlimited searched allowed in Free Trial
Can test the functionality of the software
No Risk Trial
---
Top SpyFu Alternatives
SpyFu is undeniably one of the best competitor analysis tool but as we all know that web is crowded with more such tools. This SpyFu review will guide you through the comparison of each tool with other competitor tools on the web on different basis. Here we enlist top SpyFu Alternative and compare them on basis of 4 factors-
Competitor analysis
Keyword research
Ease of use and accessibility
Pricing plans
SpyFu VS SEMrush
Competitor Analysis
SpyFu drawback is that it misses the features of brand monitoring and social media tracking features while doing competitor analysis which is present in SEMrush. Also, with my hands-on experience on both tools, I also came to the conclusion that SEMrush competitor analysis reports are more accurate than of SpyFu.
Keyword Research
SEMrush offers top notch and unbeatable keyword research tool including LSI keyword for research for in-depth analysis of the competitors. On the other hand, SpyFu keyword research tool offers you a basic level of research. So another point goes to SEMrush.
Ease of use Accessibility
Both the tools have gone through serval designs over the years maintaining the same color scheme in the past few years and having both strengths and weaknesses on the basis of the interactive user interface. Personally speaking, I find SEMrush interface really impressive and easy to use.
Pricing Plan
The pricing plan of SpyFu starts at $33 if taken annually, also you can sign up for its forever free plan, on the other hand, the pricing plan of SEMrush starts from $99. So, in terms of pricing if you have initiated a startup and don't want to invest in the beginning state get started with SpyFu.
SpyFu VS Moz
Competitor Analysis
In terms of competitor analysis, SpyFu performs really well as compared to MOZ. SpyFu's competitor analysis reports are quite readable and reliable.
Keyword Research
Keyword Research- From the comparison of the same keyword- "Digital Marketing" in both the tools. We came to a conclusion that both the tools give detailed insights of keyword research apart from the keyword list that top advertisers on your target keyword buy which is present in SpyFu.
Ease of Use & Accessibility
SpyFu and Moz both provide easy to use interactive user interface with graphically presented metrics. Personally, I would suggest SpyFu competitor research presentation is quite easy to understand as compared to Moz premium metrics. So in terms of usability SpyFu is the winner.
Pricing Plan
Moz premium plan starts from $99 and on the other hand as mentioned above the SpyFu paid plan starts from $33 with the availability of a forever free plan as well. So, there is a huge cost difference between both the tools, also the functionality. Choosing SpyFu for startup and single entrepreneurs my suggestion is to use SpyFu.
SpyFu VS Ahref
Competitor Analysis
Ahref absolutely smashes all other tools with its extremely detailed and accurate competitor analysis. Talking about SpyFu, it has limited features in terms of competitor analysis, however, one can also rely on its reports.
Keyword Research
SpyFu limits in terms of keyword research metrics, however, Ahrefs gives detailed keyword research. Here's the comparison.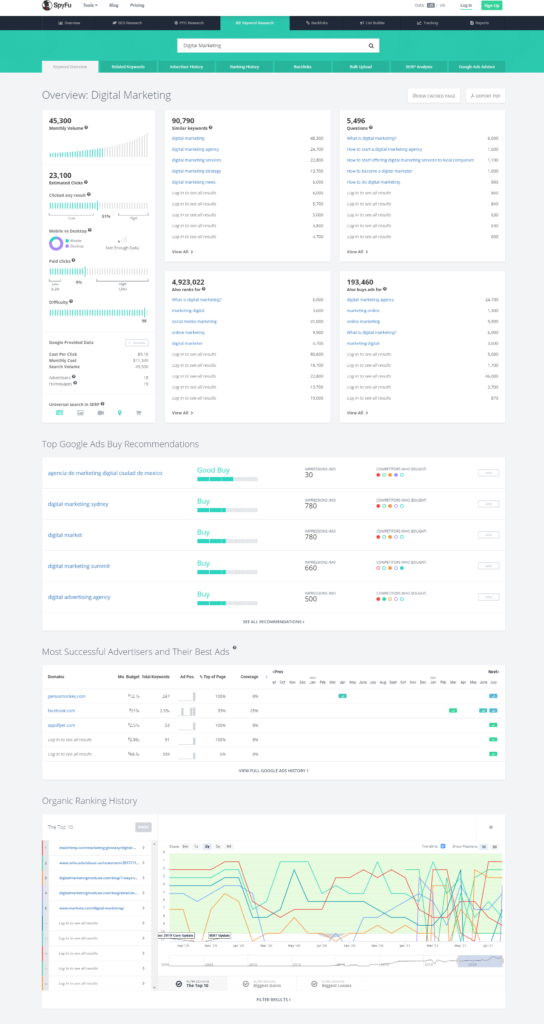 Ease of Use
Ahref is a quite detailed SEO tool so detailed is its functioning. On the other hand, SpyFu is a simple and straight tool with an easy-to-use interface. So for a more defined and specific approach, Ahref is preferable.
Pricing Plan
Ahref tool paid plan starts from $99 and on the other hand as mentioned above the SpyFu paid plan starts from $33 with the availability of Forever FREE Plan as well. So, there is a huge cost difference between both the tools, also the functionality. For large enterprises, the Ahref tool is more preferable to those.
Table of comparison of all SpyFu Alternatives
Wrapping it up with SpyFu Review
As per my genuine SpyFu Review, it is indeed one of the best tools in terms of bringing value to business marketing, sales, and pricing. Its affordable package makes it even more competitive and preferable in the world of competitor analysis tools.
For a beginner and intermediate SEO analyst, this tool is quite sorted and offers valuable insights about competitor websites in terms of competitor website keyword analysis, backlink analysis, google ads keywords, domain overview, a competitor of competitors, and more. SEOs can rely on these metrics and strategize business marketing and advertising policy accordingly.
Sign up for to SpyFu forever Free plan for testing its features at the beginning. This also increases the level of reliability of the software. With its detailed reports, extensive features set, excellent support, and more, it remains the best pick as a competitor excellence tool.
Writing is expressing your mind through words. Being a content-writer I always try to script the best of my knowledge about the topic in the form of blogs, articles, and content.