What is CRM Software?
CRM stands for Customer Relation Management software and is responsible for handling the interactions between a business and customers. CRM is also responsible to store customer data, track customer interactions and give real-time analytics and reports.
CRMs have different features which allow you to track customer responses via various methods such as: Contact forms, Search Engines, Phone calls, Emails, Social media.CRMs enable certain automation of marketers repetitive tasks, displays alerts, and warnings and also set reminders for a meeting or other events. CRM software is merged with marketing automation, it allows sales and marketing teams with a number of tools to handle all the sales and marketing funnels ranging from lead qualification to deal closure.
What is the importance and need of CRM software?
CRM software is required when the business customer base is expanding at an exponential rate and you need software to improve your customer relationships and manage your sales. The right CRM software according to your business can skyrocket your sales like nothing else. A properly implemented CRM will store and manage your customer and prospect data which will further benefit you to win more customers by increasing your sales team's ability to close deals.
Which CRM is best for your business?
There are three main types of CRM software available:
Operational CRMs– is widely used in businesses related to sales, marketing and customer service. For instance, Call centers and data aggregation centers. It has also been found that 90% of organizations with more than 11 employees use this form of CRM. It assists you store customer details, offers as well as leads in a combined database and increases efficiency using automation allowing businesses to make the most out of limited resources.
Analytical CRMs– is basically used for managing customer relations with a company.Analytical CRM handles back-office operations with a great ease and allows organisations to take data-supplemented decisions by processing consumer behaviour and forecasting purchase intention.It gathers and evaluates data such as data collected from sales, marketing or payment methods.
Collaborative CRMs– also known as CCRM improves the quality of customer service which further increases sales of the company.It enables you to create communication among different organisations in the field of customer service.It unites the whole organisation to attain a common aim, optimising customer service to increase satisfaction.
List Of 10 Best CRM Software in 2022
1.) Zoho
Zoho CRM is an online sales CRM software that manages your sale, marketing, and support in one CRM platform and is widely used by small businesses to large enterprises. It is also rated a The Best CRM System of 2020
Pricing
Standard-800 INR
Professional-1400 INR
Enterprise-2400 INR
Ultimate-2600 INR
Main Features-
Easy UI
Pain-free migration
3rd Party Integration
Omnichannel communication
Automation
Reports, Insights and Analytics
Affordable pricing
---
2.) Hubspot
Hubspot CRM is designed to make sales and marketing teams work together and allows you to track leads, customers, and evangelists
Pricing
| | | | |
| --- | --- | --- | --- |
| Package | Marketing Hub | Sales Hub | Service Hub |
| Free | $0 | $0 | $0 |
| Starter | $35/pm | $35/pm | $35/pm |
| Professional | $560/pm | $280/pm | $280/pm |
| Enterprise | $3200/pm | $1200/pm | $1200/pm |
Main Features
Customizable deals dashboard
Gmail and outlook integration
Automated emails and workflow
Reporting and marketing in one place
In-Depth details in contacts
Built-in service requests
Easy UI
---
3.) Salesforce
Salesforce is an American cloud-based software company that provides customer relationship management service and also provides a complementary suite of enterprise applications.
Pricing
Essentials- $25
Professional- $75
Enterprise- $150
Unlimited- $300
Main Features–
Contact Management.
Customer Engagement Tools
Workflow creation
Task Management
Opportunity Tracking
Collaboration Tools
Analytics
---
4.) Pipedrive
Pipedrive, legally Pipedrive is a global cloud-based company that helps you prioritize deals, track performances and predict revenue with several integrated add-ons.
Pricing
Essential- $15/pm
Advanced- $29/pm
Professional- $59/pm
Enterprise- $99/pm
Main features
Custom column and filters
Email Templates
Activities Overview
Scheduler
Smart Contact data
Customisable Reports
Workflow automation
---
5.) Cratio
Creatio is a leading low-code platform for process management and CRM. It is cloud-based software that combines both CRM(Customer Relation Management) and BPM(Business Process Management).
Pricing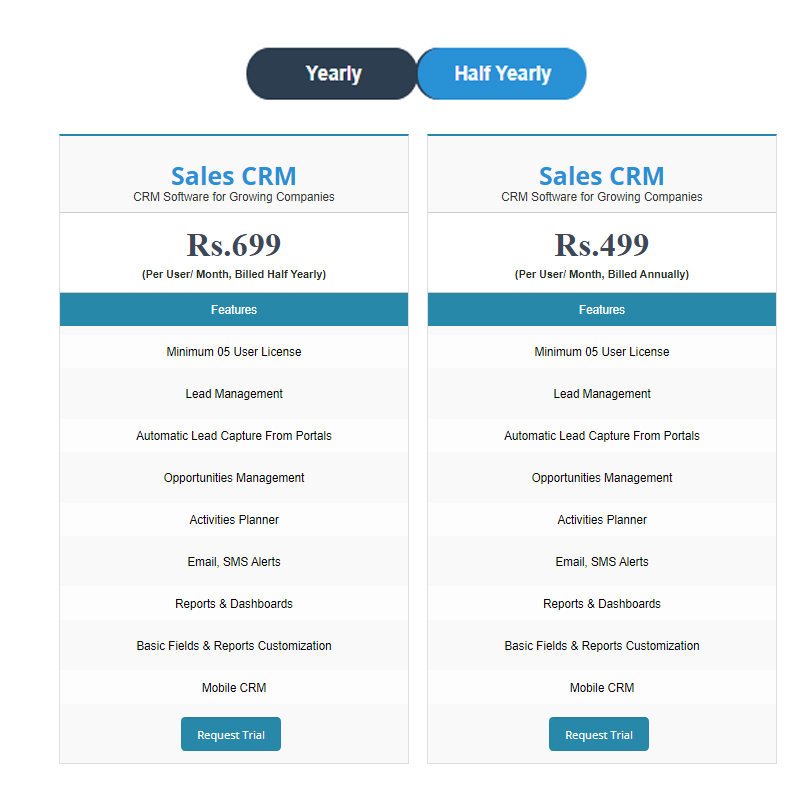 Features
Salesforce Automation
Marketing Automation
Customer Service and Support
Extended CRM
Product Technology
---
6.) Freshsales
Freshsales (formerly Freshwork CRM) is CRM tool with a key difference- it's an all-in-one package combining sales and marketing capabilities, chat, and an in-built phone.
Pricing
Free- 0 INR
Growth- 999 INR
Pro- 2799 INR
Enterprise- 4999 INR
Features
Contact Lifestyle Stages
Custom Fields
Custom Sales Actvities
Multi-currency and Multi-Language
Custom Modules
---
7.) Zendesk
Zendesk CRM is an intuitive yet powerful sales CRM, designed with customer relationships in mind. It's cloud-based CRM platform makes accessing information easy for one's entire team.
Pricing
Plans for All
Suite Team- $49
Growth- $79
Suite Professional- $99
Plans for Enterprise
Suite Enterprise- $150
Additional enterprise-ready plans from $215 per agent/month
Features
Email tracking and automation
Activity reporting
Sales dashboard and reporting
Mobile CRM
Automatic dialer with text capability
Call analytics.
Contact management.
8.) Dynamics 365
Microsoft Dynamics 365 is a CRM software that is highly customizable and flexible according to the level of your business. You can either use a stand-alone application if your business requirement is low or you can use multiple CRM tools that will help your organization as powerful integrated solution
Pricing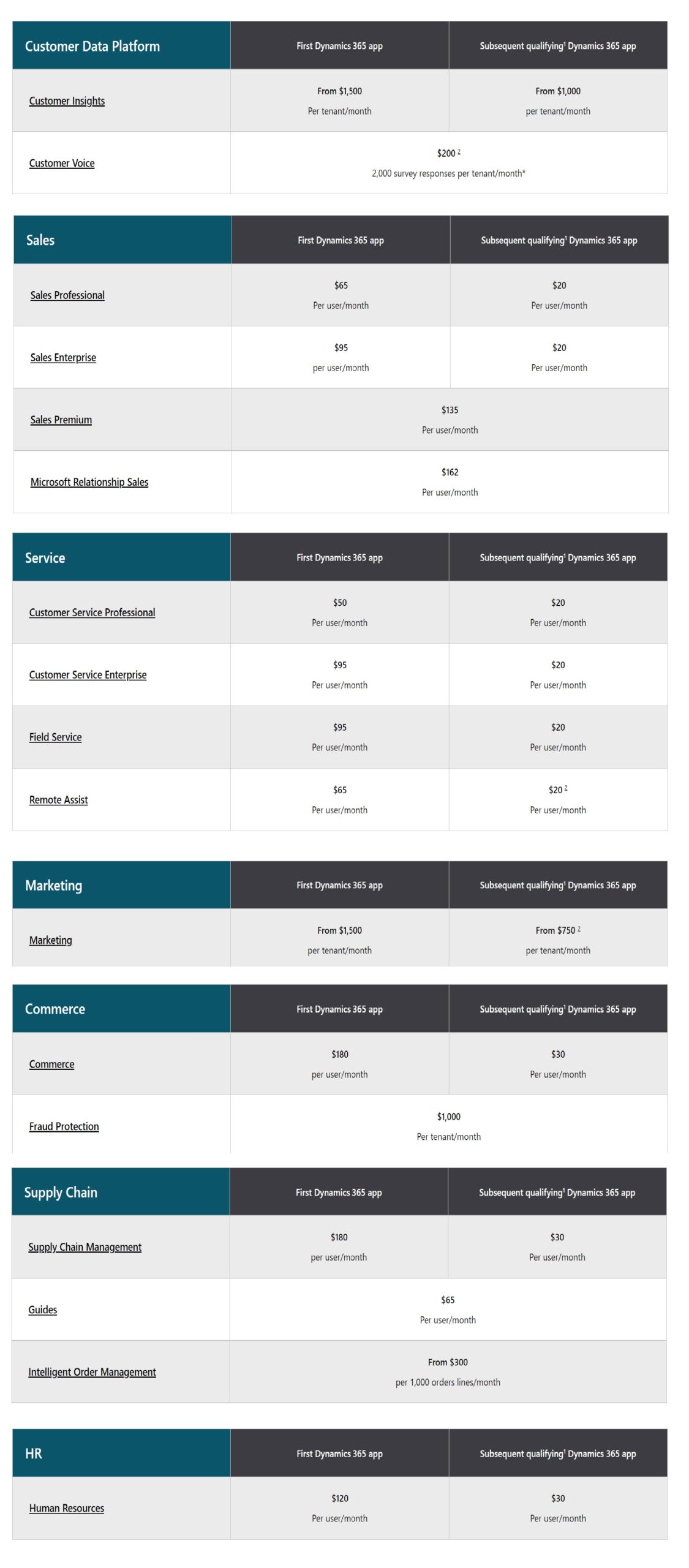 Features
Sales Insight
Mobility
Connected to Linkedln Sales Navigator
Email Integration with Outlook 365
Customer Service Dashboard
Activity log and connections to CRM
Smart Search
---
9.) SAP
SAP CRM is the main part of SAP Business Suite and it is used both to address an organization's short-term goals as well as helps in decreasing cost and increasing decision-making ability by defining future strategies. Moreover, it can help in long-term goals.
Pricing
You get a free trial for 30 days and then you can get a quote according to the business requirements. Book a demo now & get a quote as per your business requirements.
Features
Single Customer View
Budget Planning
Audience Identification
Multichannel Campaigns
Real Time Insights
Experience Management
Sales Automation
---
10.) NetHunt CRM
NetHunt CRM isNetHunt CRM is a cloud-based customer relationship management tool that integrates with Gmail and enables businesses to manage interactions and records directly from the inbox. It generates leads via email, chat messages, and social media.
Pricing
| | | | |
| --- | --- | --- | --- |
| Plan | Basic | Business | Advanced |
| Annually | $24 | $48 | $96 |
| Monthly | $30 | $60 | $120 |
You can also request a quote for organizations that need enterprise-level control, features, and support (both monthly and annually).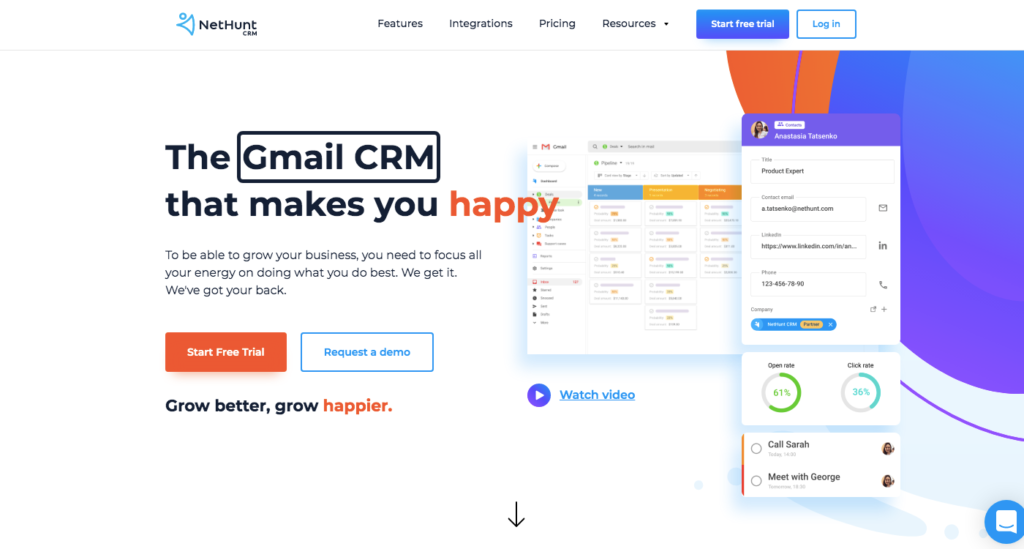 Features
Bulk email campaigning
Email open tracking
Follow-ups
Reporting
Permission Management
Client Management
360 degree view of interactions
---
Conclusion
We have put the best CRM software of 2022 in a simple list but it is all up to you to choose which one will benefit your organization the most depending on the features that you might require or some features that you will not need until now.
Want to get listed?
Do you want to list your CRM software in our list? Send us your pitch for its listing, after analysis, we are all ready to introduce another fantastic CRM Software to our audience. Drive a plethora of Digital Marketers all around the world from this amazing platform.
Content Inditer | Fond of exploring my Innermost phrenic Conceptions to engender content that will evoke deep relatable emotions and ardency in others.