Looking for the best SEO WordPress plugins?
If we talk about the best WordPress plugins, there are two most popular and powerful plugins!
⇨ Yoast SEO

⇨ All in One SEO
In this blog, we will differentiate Yoast SEO and All in One SEO Pack to know which one is the best WordPress SEO plugin.
How Does SEO WordPress Plugins Really Work For Your Site?
SEO plugins do not perform any complex tasks for you. Basically, it helps you in making the content technically sound. That means, relying completely on the SEO plugins for better search engine ranking is the biggest misconception.
Thus, you need to develop the best content by yourself.
In crux, WordPress is the perfect CMS where the SEO plugins come into action.
Before I compare Yoast SEO and All in One SEO Pack, let's take a step back:
What Does SEO WordPress Plugins do?
Yoast and All in One SEO both are the same as they make complicated tasks simple.
Both SEO plugins have the capability of:
⇨ Creating XML Sitemaps
⇨ Editing robots.txt Files
⇨ Writing Meta Descriptions
⇨ Updating SEO Titles
⇨ Aiding with Social Integrations
In both the SEO plugins, you'll have to create the content yourself. These plugins will ensure that the content you have created is technically sound.
---
Yoast SEO
Undoubtedly, the Yoast SEO plugin is the best and most downloaded WordPress Plugin until now. It was developed in 2008. Millions & trillions of people have used this plugin all over the world. This SEO WordPress plugin helps you come in top search results in the search engines.
Yoast SEO plugin does everything in its power to please both website visitors and search engine spiders. A dedicated team of developers, testers, architects and SEO experts work tirelessly to improve the plugin with every release.
WordPress Plugins Are For:
⇨ Business Owner
⇨ Professional Blogger
⇨ A Content Creator
⇨ A Developer
⇨ An SEO Expert
It helps you keep your website in perfect shape.
Core Features of Yoast SEO Plugin:
⇨ The SEO analysis
⇨ Readability Analysis
⇨ Snippet preview for Desktop and Mobile
⇨ Full control over website's breadcrumbs
⇨ Canonical URL to avoid duplicate content
Premium Features (paid) – Yoast SEO Plugin:
⇨ Social previews
⇨ Insights tool for focused keyword/keyphrase
⇨ Blog post optimization for synonyms and related keyphrases
⇨ Automatic internal linking suggestions
The Pros Of Yoast SEO
⇨ An Accessible and User-Friendly Tool
Yoast SEO is the most preferred plugin as you can easily access it and also works best when using it properly. It can also help you in a plethora of ways to optimize your website for search engines.
⇨ Works As SEO Proofreader
We usually make mistakes like writing wrong keywords or misspell any focus keyword in the blog. Here, Yoast SEO works well by doing proofreading of the contents. It identifies errors in our blogs. so, proofreading is the major concern in writing.
⇨ Helps You Fixing Your Flaws
Yoast SEO highlights the content flaws such as readability score, passive constructions, grammatical errors, long sentences and many more. So, here you can learn from Yoast suggestions and enhance your skills with this Yoast SEO plugin.
⇨ Prevent Your RSS Feed From Content Scrapers
The scraping websites copy original contents from various websites using RSS (Really Simple Syndication) feed. Consequently, search engines start ranking the duplicate published content higher than the source website i.e. your website. Hence, Yoast SEO is very useful as it prevents by embedding a link to your content on the RSS feed.
⇨ The Right Keywords
Yoast suggests about SEO means the number of keywords in your text. This tool indicates one or more keywords that are analyzed on how frequently they viewed in the copy.
The Cons Of Yoast SEO
⇨ Not Good At Understanding Intent
It will not understand the intent of your content. So, It can mislead if you've written you copy with some variations on the same keywords but only getting scored on word-for-word matches on your focus keywords.
⇨ The Plugins Can Waste Your Time By Searching
You might spend much of your time on eliminating a "stop word" that might not even count on the final scores by the search engines' algorithms.
---
All In One SEO – WordPress Plugin
All in One SEO WordPress Plugin was launched in 2007 with an idea of helping people to rank better in search engines.
This SEO plugin comes with a similar intention to edit SEO settings on each post and page. You can easily edit the title, description as shown in the fig below. The only major difference you notice is, there is no SEO scoring unlike in Yoast.

All In One SEO Pack Features:
⇨ XML Sitemap support
⇨ Image XML Sitemap
⇨ Google AMP support
⇨ Advanced Canonical URLs
⇨ Automatic notification to Search Engines when changes made
⇨ Automatic title optimization
Premium [Paid] Features:
⇨ Advanced Support for WooCommerce
⇨ Advanced Google Analytics tracking
⇨ SEO for Custom Taxonomies, Tags, and many more…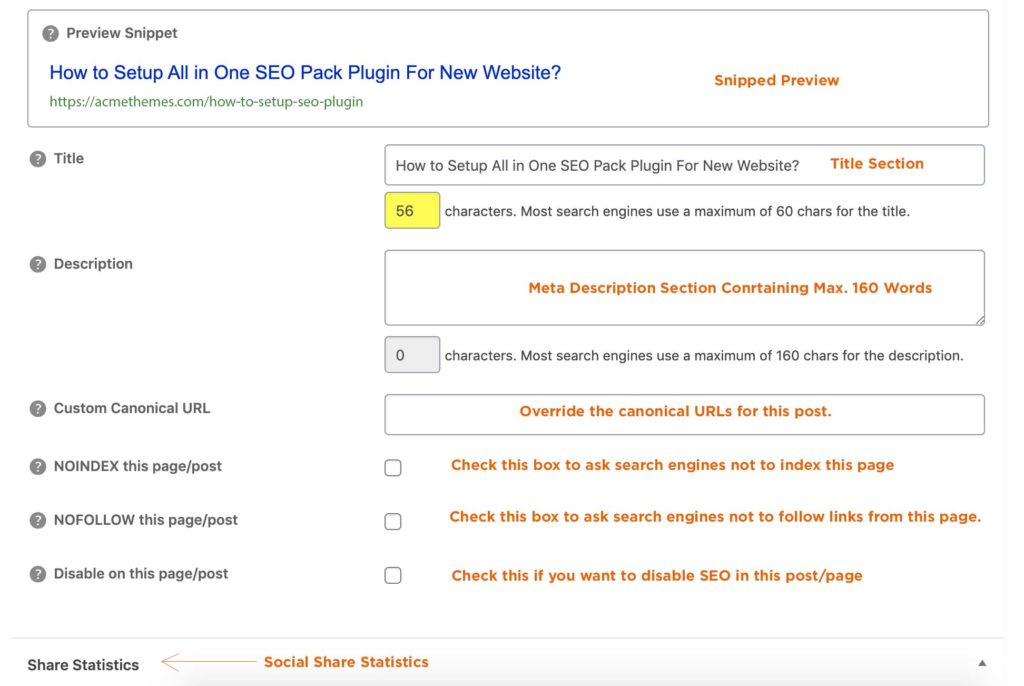 Pros of All In One SEO
⇨ Simple To Use
This plugin is really simple to configure and use. it produces the best results and generates a lot of traffic to your site.
⇨ Up To Date
This all in one SEO pack is always up to date so you don't need to worry about it! However, when you get the pro pack subscription, it will offer you automatic updates.
⇨ Formatting
It formats each page and post on your WordPress site.
Cons of All In One SEO
⇨ Schema.Org Tags
Some of the users often complain that schema.org tags do not appear on their websites.
⇨ Site Map Issues
It has observed that site map problems are making things messier. That needs to be fixed. 
⇨ SEO Plugins
The SEO plugins are too long which is time-consuming for many of the users.
---
Common Features In Both WordPress Plugins – Yoast SEO & All In One SEO
Both of the plugins developed with the same objective that makes SEO easy for WordPress websites.
There are some features of WordPress Plugins are:
⇨ Creating and editing XML Sitemaps & Robot.txt files for a website
⇨ Meta Descriptions and Titles
⇨ Social media integration
⇨ Available in Multiple Languages
⇨ Avoiding duplicate content with canonical URL
⇨ Schema.org Markup and many more …
---
SEO WordPress Plugins Stat 2020 – Yoast SEO and All In One SEO Pack
| | | |
| --- | --- | --- |
| Features | Yoast SEO | All in One SEO Pack |
| Users | 5+ M | 2+M |
| Ratings | 4.9 Stars (26,857 total ratings) | 4.5 Stars (467 total ratings) |
| Started | 2008 | 2007 |
| Price | $89 for single-site including one-year free update and support | Varies for Individual, Business, and Agency |
| Created By | Joost de Valk | Michael Torbert and Steve Mortiboy |
| Available Languages | 41 Languages | 53 Languages |
| Video Tutorial | Dedicated Video Tutorial | No Dedicated Video Tutorial |
WordPress Plugins Stat 2020
The Verdict
So, at last, we have compared all the features and functionalities of two popular SEO WordPress plugins. At this point, you become familiar with both plugins and understand that plugins won't create awesome content.
When it comes to choosing a better SEO plugin, it's really too hard to pick a single out of both excellent options.
We personally, use Yoast SEO as it is easy and its features are much better. In addition, it reveals the score for SEO and Readability of content which is quite good for determining the right usage of keyword and language readability.
The best thing about Yoast Plugin, it has lots of video tutorials on Yoast set up for the ease of users. Whereas, All in One SEO plugin lagging behind in video making.
As a result, Yoast is the best choice for a newbie as it makes easy to use.
This makes Yoast a #1 SEO Plugin and stands out in the WordPress Community Crowd.
Content Inditer | Fond of exploring my Innermost phrenic Conceptions to engender content that will evoke deep relatable emotions and ardency in others.