In the world of internet marketing only that website can be successful that is noticed somewhere on search engine pages. It is also the ultimate purpose of any site to crack the rank one on Google. For this many tools have been introduced on the web that can strengthen the SEO of your website. Screaming Frog is one of them.
But we all get confused about which tool to use and what should be features should be considered while choosing it tool. Here in this article, we are going to introduce you to an excellent tool Screaming Frog that can help you to get fruitful results in the end. Here is a complete guide on its unique features, working, and Screaming frog review.
Table Of Content
Screaming Frog : Unique Name With Uncomparable Features
Screaming frog may sound you very unique. One will get glad to know that it is really very interesting indeed. It is a package of a bundle of powerful features.
Screaming Frog is an all-in-one platform for the mind-blowing technical SEO of a website. It is an ultimate platform that is trusted by thousands of SEO agencies for their websites. Screaming frog is UK based agency founded in 2010. Its sole motive is to grow online businesses and it is continuously working in search marketing agencies for the last 10 years. Screaming frog is a blend of so many amazing tools like SEO Spider Tool, Agency Services, and Log File Analyser.
3 Reasons For Why To Choose Screaming Frog For Your Business.
Experience
With the complete 10 years of experience in the field of search engine marketing services makes them super powerful and what the to choose.  Screaming frog team has also worked with industries of all sizes and various types.
Communication
Successful implementation and integration of ideas by communication with your team as the belief in long-term relationships.
Powerful Tools
Screaming frog incorporates some very strong and powerful tools that will surely show some fruitful results to the business at the end.
Fascinating Services Provided By Screaming Frog
As it was mentioned earlier screaming frog provides radius search marketing services that hold experts and professionals in each field of expertise. It covers all the important technical onsite services from SEO perspective. These services are-
Search Engine Marketing
Search Engine Marketing service of screaming frog exceeds the business approach to the global boundaries. Team of screaming frog professionals work on two main aspects of search engine marketing that are Search Engine Optimization and pay-per-click advertising, other areas include content marketing strategy social media strategy, and reporting. It works on all those activities data-centric towards showing your website in search engine results.
Search Engine Optimization
Another aspect of marketing that can make your website remarkably successful. Your business appearance in search engine like google matters a lot so show. The experts of screaming frog understand the algorithmic approach of google and try to improve essay of your website automatically increasing its visibility.
How screaming frog helps?
1➤ Helps in planning the SEO objectives and strategy by collaborating with your team.

2➤ Powerful keyword research screaming frog helps in strengthening the ultimate SEO policy of your website.

3➤ Complete technical SEO audit is handled by SEO spider tool screaming frog.

4➤ On site SEO and link building are also taken into consideration by screaming frog experts.
Pay Per Click (PPC) Management Service
Very useful and important service for accelerating traffic towards your website. Screaming frog team of professionals works on this area it is much more than trust handling Google Adwords of a company. It works on empowering the PPC strategy of your campaigns and helps in getting maximized results with it. It also helps in doing professional long tail keyword research. Screaming frog also lets one to tell that which keyword is beneficial for targeting under which keyword can help you to grab more towards your business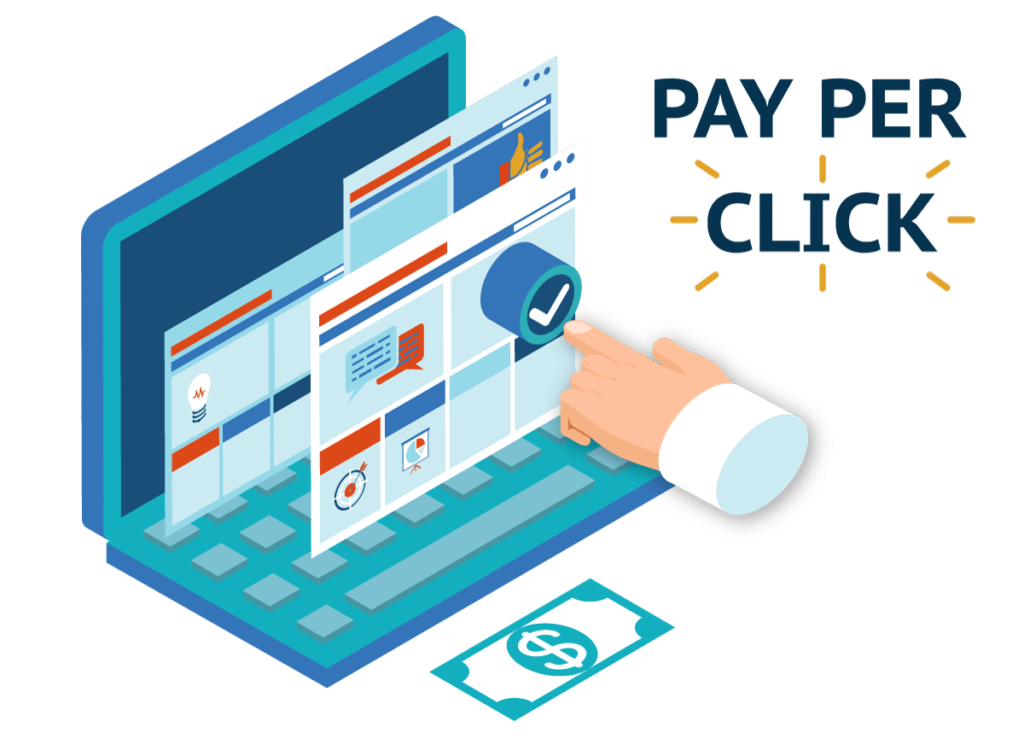 Social Media Marketing Service
You do not send me your with the term social media but only some of us are familiar with the policy to incorporate social media into business. It can also prove to be a real key of success for your business or company.
How Screaming Frog Can Help In Building A Strong Strategy?
This service is specially designed by the screaming frog to understand business objectives by keeping complete control over the social media platforms of the online business. Security of social media profiles is also handled by screaming frog experts. It also helps in improving the social media appearance by utilizing sponsor traffic like Facebook ads YouTube ads LinkedIn ads Instagram ads and more.
Content Marketing Services
Content refers to the writing that reflects the agenda of your website content marketing services we mean the creation of remarkable content forgetting relevant and targeted audience towards your brand.
Screaming Frog Can Help In :-
(i) Building and effective and influencing content marketing strategy

(ii) Providing a clear picture of results on the basis of the audience that you want to target

(iii) Ideas and suggestions that can help to work on your content.
Link Building
Building quality links that contribute to your performance refers to link building. It is yet another important factor of search engine optimization. Screaming frog helps in planning and effective link building objectives coma identifying the targeting audience, making appealing content, attractive graphics by expert graphic designers, creating of trending pieces of content for more audience
Conversion Rate Optimization
If you are interested in the business of sales or promotion of a brand then conversion is your ultimate motive. Thus, conversion refers to getting results from the potential audience. Conversion rate optimization is a process of improving that results by implementing some effective strategies.
The experts team of screaming frog works on all the technical aspects that can help in improving the conversion rate-
(a) User experience

(b) Conversion funnel analysis that includes acquisition behavior and then conversion

(c) Experiments and testing for getting a clear picture

(d) Analysis of the final reports
Analytics Consultancy Services
The analysis is the measurement of the leakages and plus points of a business on the basis of past results. It becomes a good basis for making future decisions by working on all the loopholes. Screaming frog on the basis of the measurement model calculates the performance of a business. It also understands the behavior of the user over your website providing a clear picture of which sector needs to be focused on now. All these reports can also somehow helps in detecting the future trends and how a website is capable of blending into it.
---
Screaming Frog SEO Spider Tool
SEO spider tool is ruling the industry of website crawling. It is trusted by thousands of urgency for SEO audit that allows wanting to crawl website URL along with technical and onsite SEO of your website.
Working Of SEO Spider Tool-
What Makes Seo Spider Tool Almighty?
1. It collects all the onsite SEO data that can help you to make some strong decisions

2. Detailed analysis of page titles and meta descriptions of a web page

3. Immediately detect duplicate content and suggest for a change

4. Instantly find all the broken links and server errors

5. XML sitemaps are quickly generated screaming frog SEO spider tool with advanced configuration and changes

6. Wider insights can be taken by integrating other apps with your website like google analytics google search console page speed insights and so on

7. Better analysis and understanding of site architecture can be taken bye diagram and tree graphs that evaluates internal linking and URL structure of website.
Beginners Guide- Step By Step Guide Of How To Use The SEO Spider Tool?
SEO spider tool starter guide will cover up the concept of installation crawling and understanding the reports for making the best use of the tool.
Installation-
Download the SEO spider tool according to the operating system, not your system is having. You can download it free version or purchase a license for buying its paid version. The free version restricts you to the limit of 500 URLs only but paid license offers unlimited link analysis.
On purchasing a license you will get your own unique username and license key that can help you to use its paid version and call unlimited URLs.

Crawling of URL
There are two available options for crawling URLs-
Spider Mode – Crawls Complete Website At Once.
Now click on the start button at the top right corner of the screen and the URL will begin to crawl. All real time updates will be provided to the use at one stop. Stop and start the crawling anytime.

List Mode-Crawls Only The List Of URLs That You Have Uploaded
For uploading list click on the mode button. Select list option from the drop-down menu and paste or upload URLs.

View Crawled Data
The crawled data will get displayed in different tabs available on the top of the screen. Each tab has its own purpose.
Internal tab shows the data discovered in the crawled website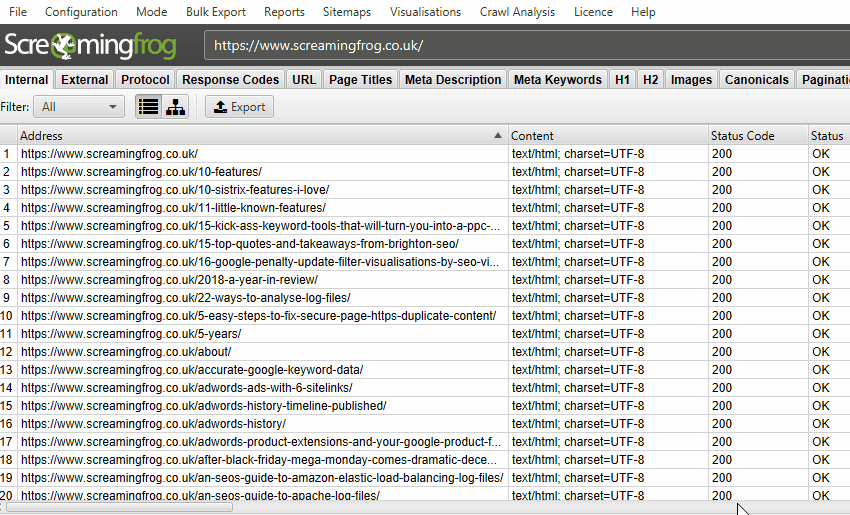 Response codes tab will show the web pages with error like 404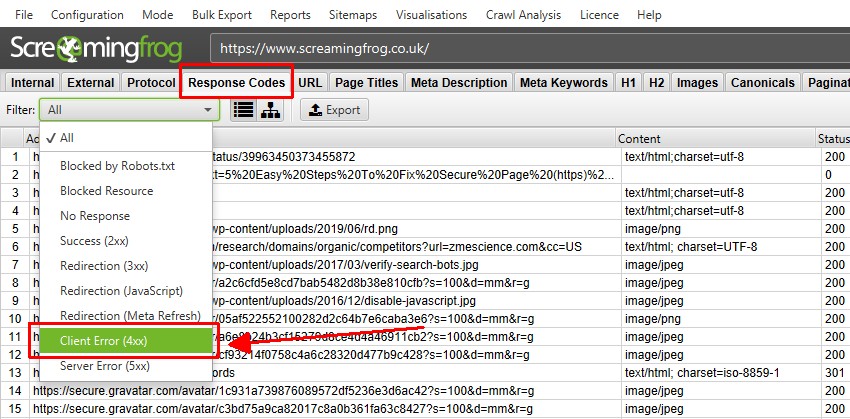 Each tab has its own purpose and reviews the detailed information about the website such as inlinks, outlinks, images, resources and more.
How To View Errors And Issues In Web Pages?
Click on Overview Tab and on the right side of the window the Crawled data summary will get displayed in the form of list.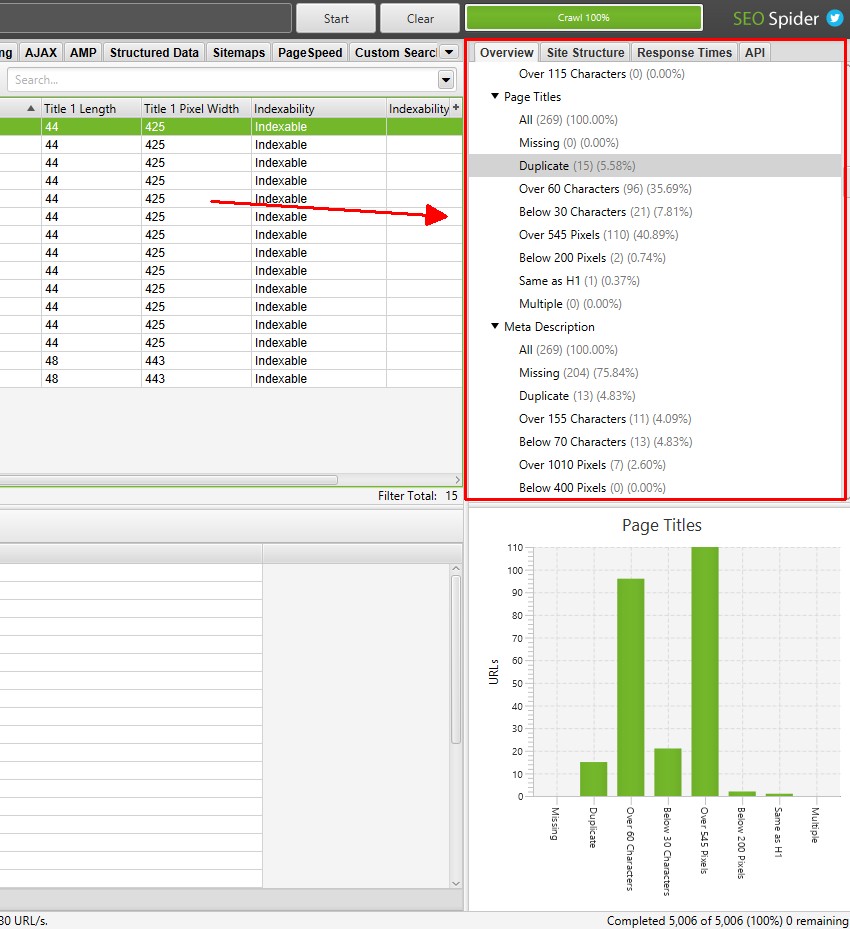 On scrolling through each item in the list it will let you know the suggestions to resolve the specific issues. It is however a great tool that helps to make more effective and correct decisions related to SEO.
Export Data In To Spreadsheets
From Top Window– Click on the export button lying at the top left corner of the window.

From Lower Window– Right click on the URL which you want to export then click on the export option from the drop-down menu.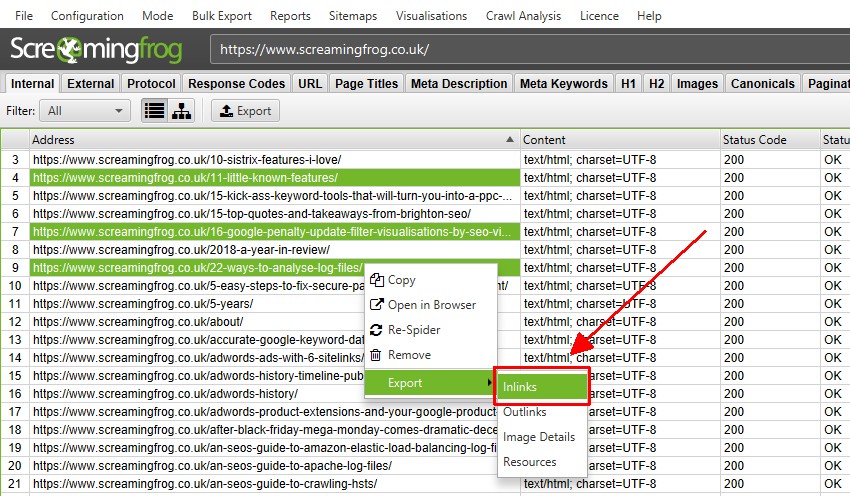 Save And Open Crawling Data
After buying a licence you can start, stop, save and open the crawls. By default the data will be stored in memory you can change it as well as for the need.

---
Steps To Audit AMP Using Screaming Frog SEO Spider Tool
The audit of accelerated mobile pages is very quick and accurate by this tool. The validation and analysis of AMP URL is available in free version as well as in paid version but the difference is of URL limit witches up to 500 URL in free version and unlimited in the paid version.
Crawling The Site To Audit AMP
Under Configuration Spider Crawl. Enable Crawl and Store.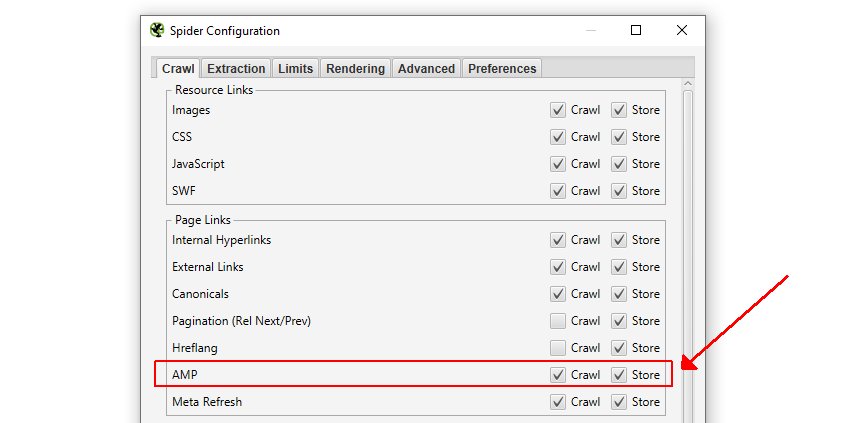 Enter URL that you want to crawl and click on Start button.

All the URLs will be shown in AMP tab. A total of 17 filters are provided for the wider analysis of the site.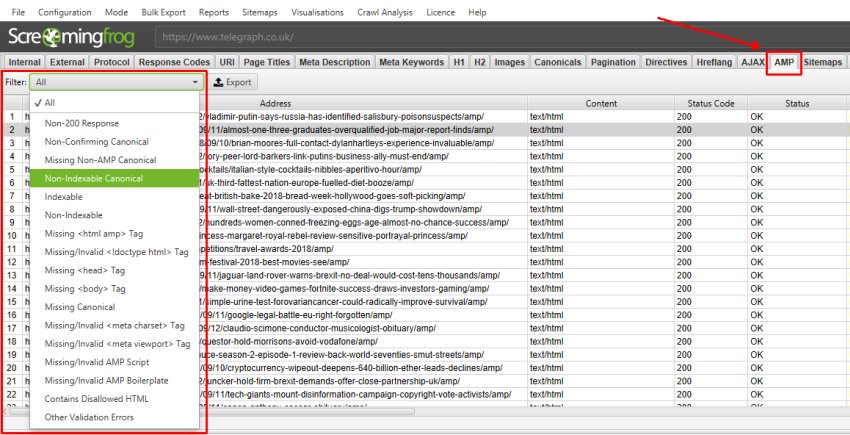 Click Control Analysis -> Start. When it becomes 100% the complete data will be available for the user.

All the filters will get populated for the user this filters are named as-
Non 200 Response

Non Confirming Canonical

Missing Non-AMP Canonical

Non Indexable Canonical

Indexable

Non Indexable

Missing HTML AMP Tag

Missing Invalid Doctype HTML Tag

Missing Head Tag

Missing Body Tag

Missing Canonical

Missing/ Invalid Meta Charset Tag

Missing/ Invalid Meta Viewport Tag

Missing/ Invalid AMP Script

Missing/ Invalid AMP Boilerplate

Contains Disallowed HTML

Other Validation Errors
Some of these filters will be activated before 100% progress of crawl analysis. Some will work after complete scroll analysis. Each filter has its unique function and works on providing of clear and wider picture of the the AMP analysis of the website.
Inlinks Tab
In case of any unexpected error like 404 not found all non responsive pages then simply click on the URL. Look for the Inlinks tab. It will show the complete address of the page having error.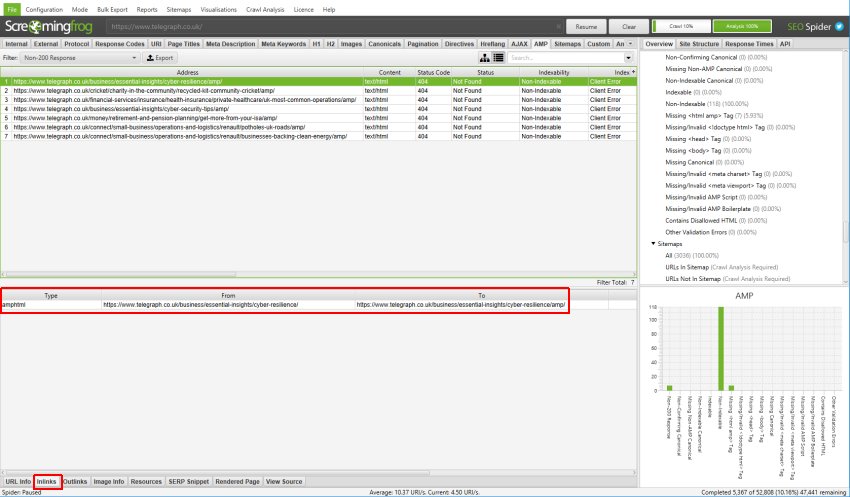 ---
How To Check Out Broken Links?
SEO spider tool is considered as very effective tool for finding broken links like 404 not found error or any other in your website. Here's a tutorial for how to do that?
Enter or copy your Website URL that you want to crawl and click on Start button.
Navigate through the list and look for all 404 broken links.
Now click on the Response Codes Tab and use the filter client error 4xx to check for broken links.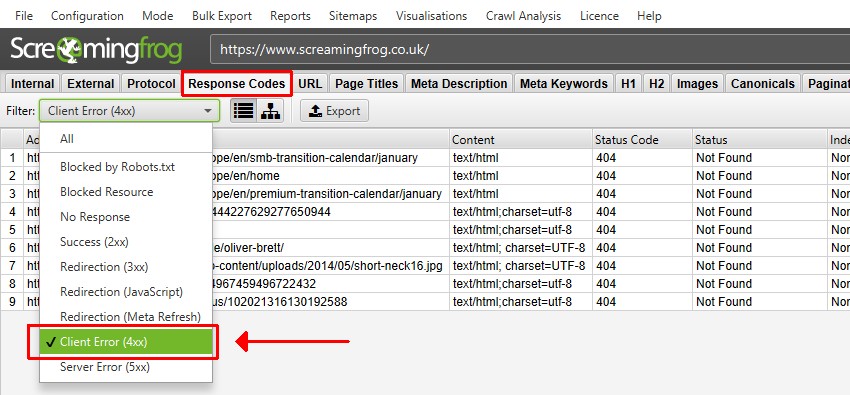 Look for the source of broken links by the use of Inlinks Tab situated at the lower window pane.

---
Steps To Audit XML sitemaps
It is important for a website to keep its XML sitemaps updated that helps search engines to crawl and index to URL of website.
Crawl Website To Audit XML sitemaps
Select Configuration Spider Crawl-> XML sitemaps and deliver the destination of XML sitemap.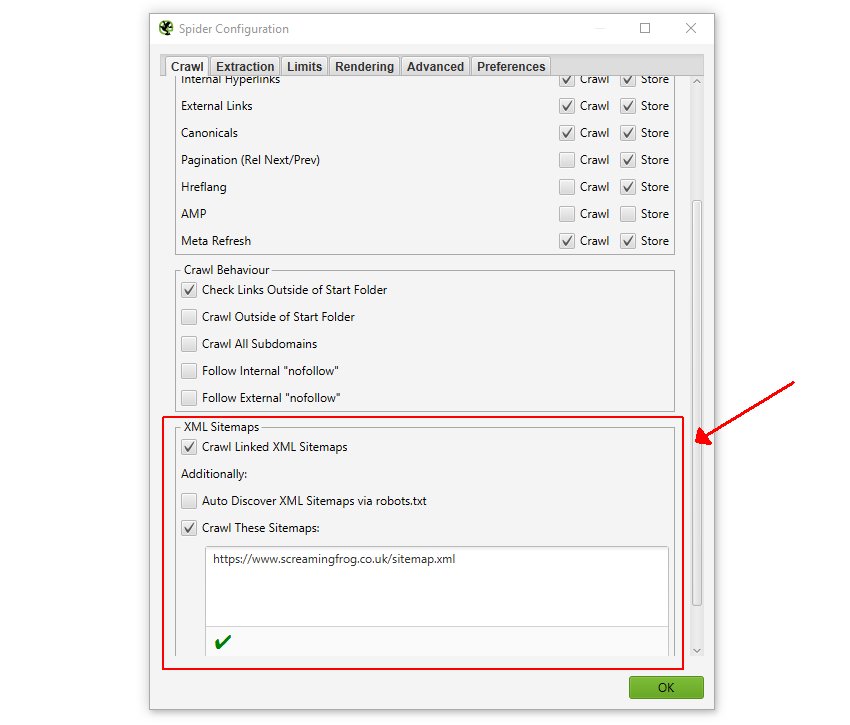 Enter the URL click on Start button for crawling.

Click on the Sitemaps Tab situated on the top of the window. It has a total of 7 filters to make your experience better. After Crawl Analysis you can use those filters.

Click on Crawl Analysis to use side my filters.

These filters are–
URL in sitemap
URL not in sitemap
Orphan URL
Non indexable URLs in sitemap
URL in multiple sitemaps
XML sitemap with over 50k URL
XML sitemap with over 50 MB
You can also check the XML sitemap sources by clicking on in tab at the bottom of lower windowpane.
Upload And Audit XML-Sitemap Separately
Click on Mode button situated at the the top level menu and choose list option from the drop-down list.

Click on Upload file and choose Download XML sitemaps to crawl all the number of XML sitemaps in one go.

Now with the help of sitemaps that you can do the same things as while crawling a website to audit XML sitemaps.
---
Pricing Of SEO Spider Tool
Screaming frog SEO spider tool is both free and paid tool. The difference is of some marvelous features in paid version is there.
Screaming frog SEO spider tool free version a loss crawling of up to 500 URL for free.
It's paid version has all the features of free version along with unlimited crawling of web pages plus a lot of additional features. It costs upto £149 per year.
Total price depends upon the number of licences one have purchased.
Screaming Frog Log File Analyser
The screaming frog SEO log file Analyser lets you to upload log files and verify and analyse search boat data. It is a very powerful use that can instantly analysed process millions of lines of a log file.it lets you know that how actually e search engine boats behave after visiting your website.It also allows you to make beneficial decisions for long term.
How To Use Log File Analyser?
Must Know Features Of Log File Analyser
1➡️ Identify that which URL search both are able to crawl and id.me is the required frequency of each URL to be crawled

2➡️ Notify all the broken links errors that search engine bots has encounter while crawling your website

3➡️ Optimize your crawl budget by identifying the useless and need to be improved links

4 ➡️ Discovers large and time taking pages that creates performance issues

5➡️ Identify all the on crawled pages instantly that has not been crawled by Googlebot.
Working Of Log File Analyser
Installation
Screaming frog Log File Analyser can be downloaded easily by clicking on the download button and then running the installer. The specifications required for getting screaming frog Log File Analyser is PC e with Mac or Linux machine and 1GB of free RAM.
Starting A New Project With Log File Analyser
If you are using it's free version then you can only work with a single project. But in its paid version unlimited project auditing facility is provided.
Click on new button and then select project. Now select the name and time zone of the project.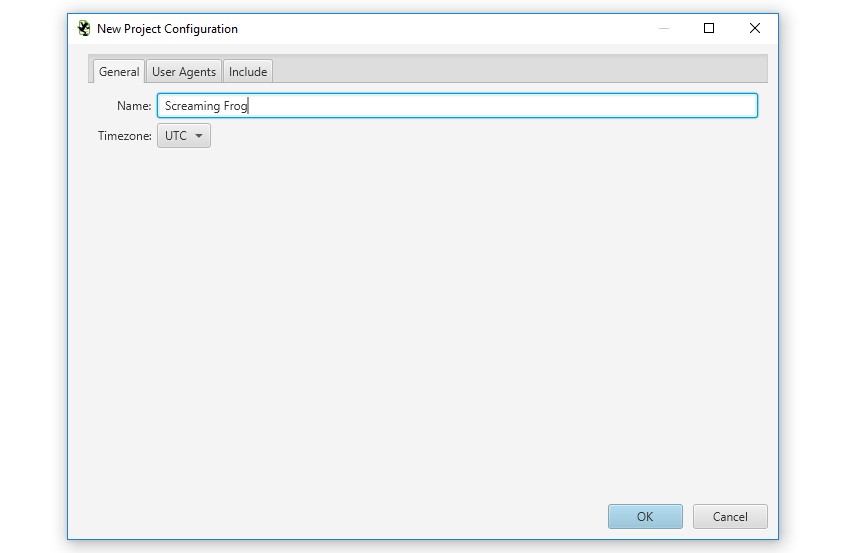 Select all the user agents that you are interested in analysing for improving performance and reducing time required for search boats to store and compile data.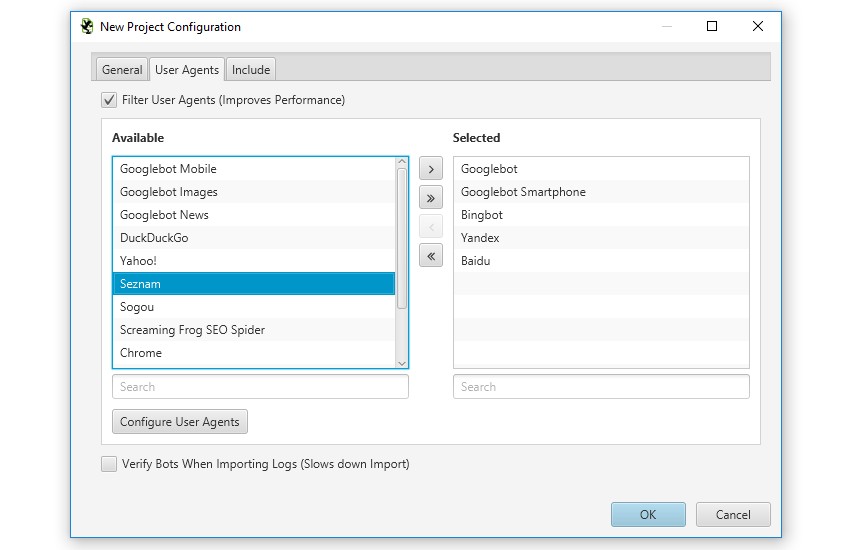 By default following search board user agents get selected-
Googlebot
Bingbot
Googlebot Mobile
Googlebot Smartphone
Yandex
Baidu
Importing Log Files
Screaming frog log file analyser is capable of important log files in variety of formats like WC3, Apache, HA proxy, JSON. You can import single or multiple log files at a time.
To import log files you can use-
Import-> Log File Button -> Import Log File

Importing URL Data
You can import different records and information will be coordinated up naturally against URLs. You can't import directly import from a sitemap, yet you can transfer the sitemap URLs into a CSV/Excel and into the 'Imported URL Data' tab.

Deleting Imported URL Data
One can easily delete imported URL data from a project by clicking on
Project-> Clear URL data from the menu options.
Once the data is deleted it cannot be recovered until you import the data again.
Exporting Data To New Machine
Screaming frog Log File Analyser doesn't provide any rigid way of exporting and importing projects. However if one want to move its log files to A New Machine then and the simplest way is to create a new project And re-import the log files. Or you can copy your existing projects instead you will have to copy project folder. You can locate it through Configuration-> Workspace.
---
Pricing Of Log File Analyser
By getting a brief description of all the free features of log file analyser one can come to this. That in how much price it is offering it services
Well, good news for online businesses that it offers much of its feature in its free plan with little restrictions. You can easily download it for your website.
If the demand of the online business is more than and it has also an advance paid version with full of its features. The cost of the paid plan is £ 99 per year.
Screaming Frog Review
The growth and success of online business requires an export approach. Screaming frog can prove to be that export as it has acquired all the services and deliver them to the level of its expertise. Many of the top industries rely on screaming frog that it also gives a sign of trust towards this tool even you can also experience it by signing in to its free version first it actually works on providing fruitful results to online business. All in all our screaming frog review is -RECOMMENDED.
Writing is expressing your mind through words. Being a content-writer I always try to script the best of my knowledge about the topic in the form of blogs, articles, and content.