Isn't it tiring to write long passages of blogs or articles for any websites? Well, spending hours writing excellent articles for SEO leaves one drained of energy. Don't you think there should be something that can help you get that job done for you? INDEED. Most people would love this since they can still make some time for other tasks too. Many different technologies have come into play since times have changed. There are so many AI content generator tools in the market which can be the best fit.
An AI article writer is a tool designed with complex machine learning codings. It recognises patterns and creates content automatically.
The user can make a long blog in a couple of minutes by just typing a few words. Undoubtedly, AI-powered technology is benefitting top brands by creating quality content. In addition, it produces unique plans and makes the writing task much quicker. And, it allows you to target the message rather than the formatting of the content.
Hence, you can enjoy the benefits when you are preparing content for a blog or article. Furthermore, the user can easily build informative and engaging social media posts.
AI writers are trending to develop topics about research information, and create engaging content for you. They usually help writers to prepare more content for small business owners even if they can't hire a professional content writer.
Look at some benefits of using AI Content Generator

Cost-Effective
The most significant reason for using AI writing software is that it is budget-friendly. Choosing AI paraphrasing tool will restrict you in using money on high-cost content writing services.
In addition, if you are unwilling to spend extra cost then it can be out-of-budget to hire a professional content writer for writing high-quality content frequently. Moreover, a monthly membership with one of the best AI content writers can be intensely beneficial for you. The platform mainly creates superior content at an economical cost and brings high returns..
Time-Saving
Another possible reason for using the AI content writer tool is that it is time-saving for business owners. Therefore, using AI writing tools can simplify your writing tasks and make you focus on other important tasks.
For instance, it takes usually a week to write lengthy blogs by a human content writer whereas an AI writing software can get them written in just a few hours. Also, it is a good idea to use free AI Writing Assistants to perform various tasks like grammar checking, keyword inclusion, tone, structure and final editing and pre-format submission.
Quality
A user has a privilege to publish more innovative and eye-catching blogs using AI writing software by experimenting with unique writing modes.
He just needs to send a statement to command the software about the writing style and the points he wants to emphasise. The tool prepares a creative content for readers who loves reading unique, engaging, and catchy materials. Using AI writer free for creating distinct types of content will also attract your readers to check your posts more as your posts will not be similar to anything they have seen ever.
Enhanced SEO
The rise of AI has embarked on a uniquely defined phase in SEO world. Nowadays, most search engines like google use AI as a primary factor to rank web content. It ensures you that if you get well-versed with AI and its working and how it impacts SEO, you can enhance your SEO ranking. Nevertheless, it is not effortless to write SEO based content. A blogger needs to ensure that the AI written content must be easy to understand and rank by google for specific keywords. Moreover, most AI writing assistant can't assist you in building a search-engine–optimised content. Therefore, you must be wise enough to choose your tool. AI writing software, such as write sonic , is a well-known application for producing on-page SEO content.
Solve writer's block
One of the prominent hardships faced by writer is creative block. Additionally, it can reduce your growth and cause you unwanted delays in submitting your post.
At times, you might face writer's block issue, hence, AI writer may help you to tackle the problem. These platforms are better at generating human-like blogs. Furthermore, they can guide you in developing interesting and catchy content ideas and angles. What you need to do is to input information about your needs about writing style, tone and style, and the AI text generator will do the rest of the job.
Everything that you need to know about WriteSonic
WriteSonic is an AI article writer that is very helpful for most digital agencies, online marketers, and e-commerce platforms.
A person only needs to choose a blog content template. Then, enter a short relevant description and wait for the content to be built.Once created, the writer or editor can have a look at it and make some necessary changes before publishing finally.
The tool itself provides benefits like grammar correction, readability, and sentence rephrasing too. Furthermore, the tool is also helpful in fulfilling other needs such as landing pages, google or social media ads, product descriptions, email copy, press releases, and company bios.
The AI software writes articles in more than twenty languages. It uses both AIDA (Attention, Interest, Desire, Action) and PAS (Problem, Agitate, and Solution) strategies to improve conversions, and leads.WriteSonic comes with five pricing plans. You must be wise enough before opting for a paid plan. Make sure you experience a demo first by signing up for the free trial. People can decide whether the software is a good fit for their organisational blogging requirements.
Getting Started: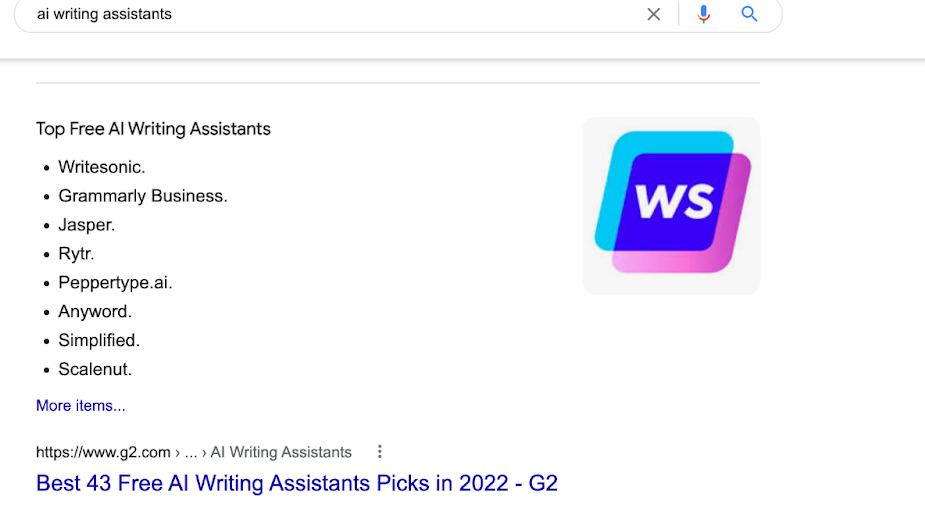 ---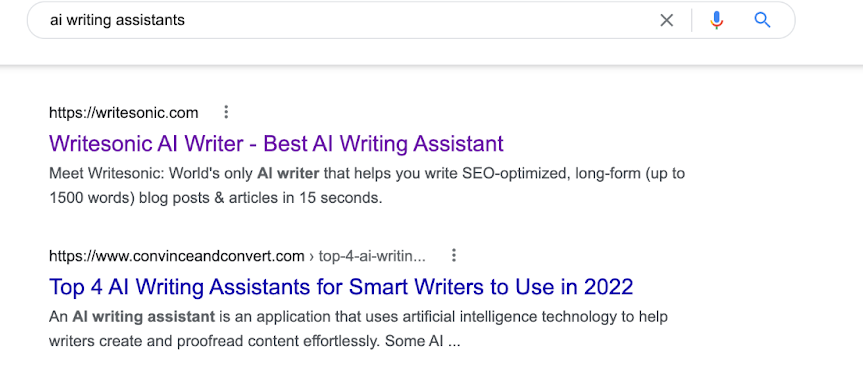 ---
Once you come to the home page then the user needs to click on the blue button 'Start Writing for free'. After that, you will reach another page that looks similar to the one below:
You can see the two options of processing further with either Google or Microsoft. But choosing to fill up the details manually is a far better option.
Fill in the following
Full name
Email address
A strong password
Repeat The password
Lastly, you can click on the Sign-Up button.
The user will receive an email confirmation link which he needs to tap to confirm the email address that he has used in the form.
Next, you will see the image below
Now, just tap the confirmation link in the email that you get.
Lastly, you will have to confirm your mobile number too. Also, you have to respond to a few questions. Hence, at last, you will be able to use this AI content generator tool easily.
The above image tells that if you are already a registered user of WriteSonic, you may directly sign in.
Comparison Table
Differences between the three best AI writing Assistants
FEATURES
RYTR
WRITESONIC
JASPER
Star Rating
648 reviews / 4.5 stars
1405 reviews / 5.0 stars
774 reviews / 5.0 stars
Market Segments
Small-Business (95.3% of review
Small-Business (93.8% of review
Small-Business (96.5% of review
Pricing
Rytr Premium$29/month
Rytr Saver$9.00Per Month





FREE TRIAL
Starter$13.05 Per Month
Professional$44.50 Per Month

Business$202.05 Per Month

FREE TRIAL
Starter (20000 words)$29.00 Per Month
Boss Mode(50000 Words )$59.00 Per Month
BusinessContact Us Per Year

FREE TRIAL
Grammar Check
8.7Responses: 146
8.8Responses: 454
8.4Responses: 247
Sentence Formatting
9.0Responses: 177
8.8Responses: 488
8.8Responses: 281
Plagiarism Check
8.4Responses: 131
8.8Responses: 381
8.6Responses: 202
Idea Recommendation
9.0Responses: 176

9.2Responses: 499

9.0Responses: 282
Content Generation
9.3Responses: 189
9.2Responses: 515
9.0Responses: 301
Reviewers' Industry
Marketing and Advertising: 27.8%
Information Technology and Services: 6.1%
Writing and Editing: 5.9%
Health, Wellness and Fitness: 4.3%

Internet: 3.8%

Other: 52.1%
Marketing and Advertising: 24.0%
Information Technology and Services: 6.2%
Writing and Editing:5.7%
Health, Wellness and Fitness: 3.9%

Computer Software: 3.4%
Other: 56.8%
Marketing and Advertising: 35.6%
Writing and Editing: 6.8%
Health, Wellness and Fitness: 3.5%

Computer Software: 3.2%

Professional Training & Coaching: 3.1%
Other: 7.9%
REVIEWS ON Three AI writing Assistants:
RYTR WRITESONIC JASPER
FAQs

What are the setbacks of using AI content generator?
An AI content writer comes with limitations too. For example, it generates irrational content at times. Therefore, human involvement is a must to ensure that the software generates relevant content.
Can an AI content generator creates SEO blog posts?
Tools like WriteSonic has the ability to write some effective SEO articles which will rank on top searches. Remember, you need to be wise enough while choosing an AI tool because most tools do not have all the functions.
Who should use an AI content generator?
The software is beneficial to scale up and take your content writing to the other level. Also, AI Content Writer is very budget-friendly and can give great results with an economical investment. Besides, you can get an AI writer for your business even if you are just getting started. Furthermore, there is no need for high expertise to use an AI writer. For instance, if you wish to use an AI writer for informative content creation for your business, there are countless AI content writers free for beginners.
Conclusion:
In last, think of both pros and cons of using an AI text generator before opting for it. The tools provide a lot of benefits and help reduce the workload for humans. AI is not only for blog or content creation currently. The tool is also progressing in the major areas of online and offline marketing. Make sure that you choose a free trial over buying any plan straightforwardly. Besides, learning to use an AI content generator should be your priority. Hopefully, the article helps you guide through everything.
hello everyone. My name is vanshika khanna. I am a content writer by profession and loves to do social media marketing as well. My aim is to become a successful digital marketer by reinforcing and honing my skills.