Are you looking for something that increases traffic for your website or affiliate campaigns? Do you want to grow your business and services? Well don't worry in this blog I will talk about the MegaPush, an ad company that lets you send ads with push notifications.
What Are Push Notifications?
Push notifications are those messages that you get on your phone from various apps, websites, desktop, computers that you subscribed to. For example: if you visit a site frequently and always want to stay updated with its latest stuff then the site owner asked you to subscribe and get a notification when the new things are posted. The most common push notifications are those that you received from the WhatsApp, Facebook Messenger, Viber and many more.
Ultimate Features Of MegaPush
There are many ultimate features that are provided by MegaPush and this is the only reason why it is different from other ad networks.
Instant Ads Identification
Push notifications are easily visible to eyes and can be identified immediately. Suppose you are searching for some stuff or working on browser push notifications will attract your attention. When you start using megaPush you can push your ad notification and increase traffic on your website.
Wide Outreach
With MegaPush it is possible to target mass network through push notifications. It is the best advertising medium to attract the audience to any products and services.
Easy To Use
It's an amazing platform for advertisers to promote their business products and services to a worldwide at pocket-friendly prices. When you start using MegaPush, you will get a lot of filters where you can select the country, browser, audience to promote their product and services according to your needs and requirements.
Referral Scheme To Earn Extra
Another exciting feature is given by MegaPush is refer and earn. When you are starting publishing advertisements on your site, you can earn more and more by using the referral scheme of MegaPush. In this scheme, users can get 3% extra commission from every referral.
24*7 Service & Support
One of the best features provided by MegaPush. If you are facing any kind of problem by using this software you can easily contact the highly qualified and interactive support system. Both advertisers and publishers can use this amazing feature which is given by MegaPush.
Advanced Dashboard
MegaPush advertising system provides amazing service and anyone can use this very easily. MegaPush designed their dashboard very simple and so that everyone can easily understand but advanced in order to make sure that newbie can easily use and work with the network.
Why You Should Choose MegaPush?
When it comes to choosing the right and best ad network, many people get confused, it's just because there are numerous advertising networks available on the internet. One of the most trending 2019 advertising networks is MegaPush. There are so many reasons why MegaPush is the best and most lovable advertising network for everyone.
They offer users to make pop up messages suitable for both mobile and PC format.
With this amazing software, you don't have to wait too much to start your advertising campaign.
The network accepts every kind of creative submissions without any issues.
MegaPush allows their users to create as many campaigns as they want and the filters while creating campaigns is the main reason for its popularity.
Push notifications in the form of pop-up ads are directly sent to the joined visitors according to their time zone.
Megapu.sh pays on the basis of Pay per click (PPC)
What You Can Advertise With MegaPush?
You can easily get traffic from all over the world.
At least you can get 20 million clicks per day
Megapu.sh gives you full trackers. You don't need to use third-party trackers.
Easily set your target settings according to your choice and requirements.
The Minimum price started from $0.001 per click.
They work on CPC bidding model
24*7 service support available
Simple user interface
Benefits Of MegaPush
These days push notifications are very helpful and MegaPush has really good ones. Not only it gives you traffic from all over the world but also allows you to set the details like OS, Country, Browser and many more option available. With MegaPush you can publish your brand and put yourself on the map.
What You Will Promote Via MegaPush?
There are numerous things that you can promote via MegaPush ad network. It is good for affiliate advertisement. Bloggers and webmasters used MegaPush ad network to bring superb traffic.
Dating
Gambling
Products
Binary Options
Sweepstakes
Services
Bookmarkers
Websites
Daily Free Cases
News
How You Can Generate Campaign With MegaPush?
It's very easy to create a campaign with MegaPush. First, you have to click on the new campaign option which is available on the left side of the screen. Just add the campaign name, a targeted URL for your link, title, and a message which would appear in the push notification. You can also add smiley in your title and in the message.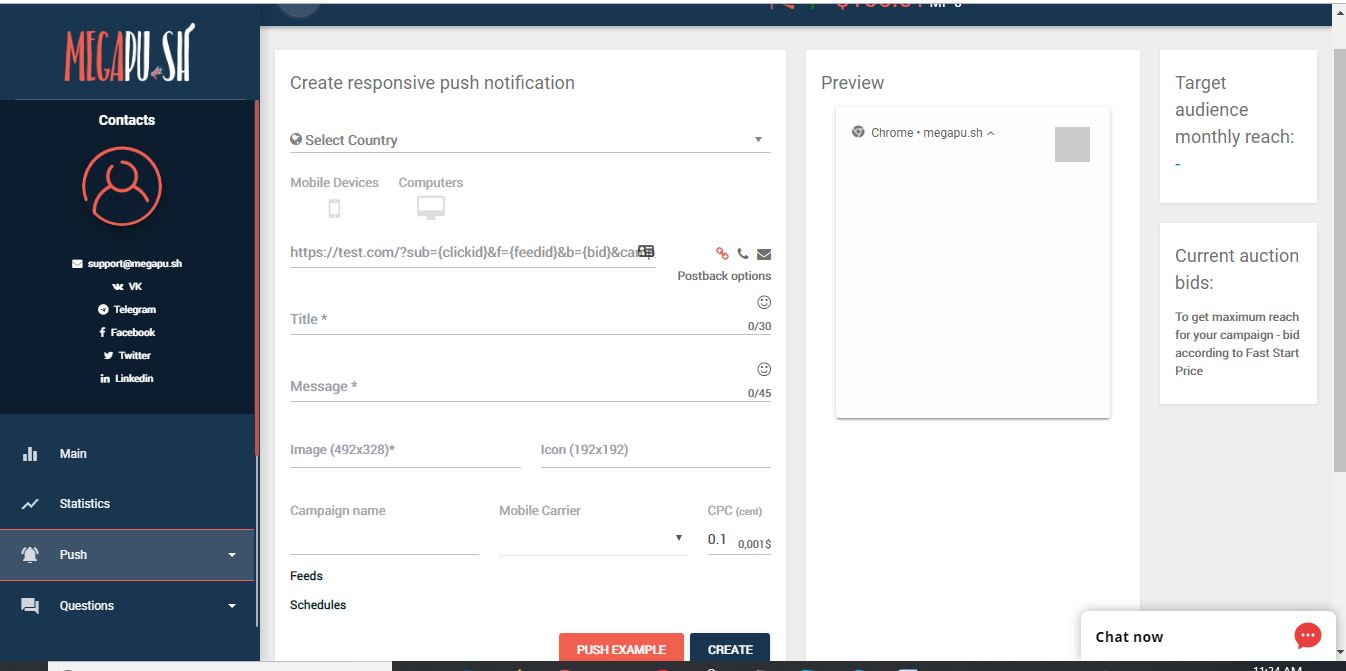 Link
Add a targeted URL for your link. You can also use tracking tokens.
Title
This is the most important thing from the push notification. Your title must be under 30 characters, so make it count.
Message
When you start writing your message just keep one thing in mind you are limited to 45 characters only. Your message should be clear so that your targeted audience will easily understand about your offer and website. One more thing you can also use emojis.
Image
This is the main image for your campaign so upload the image with good size and dimensions i.e 492*328. You can use any image be it PNG or JPEG.
Icon
When you add icons on the image it looks good. Most of the people used icons because it attracts the audience and grabs the user's attention. The sizes for image icons are 192*192.
Select Country
Select the country you want to advertise in.
CPC
CPC means (Cost Per Click) that you will pay depending on the country that you have choose according to your choice. The price starts from $0.001 which is really amazing and ends with according to the country price. Simply keep one thing in your mind sometimes they have a strange method for showing their CPC, if you see 1 it actually means 1 cent or $0.01. Are you still getting confused? Don't worries read this carefully? For example: 2.3 is $0.023, 0.4 is $ 0.004, 3.2 is $0.032.
ISP
In this option, you can target a specific ISP (Internet Service Providers) for your mobile campaigns. You can also leave it empty if you don't want to.
Device
Here you can select the platform like a mobile, desktop where you want traffic from to advertise your campaign. Here the CPC will change depending on the device you select for your campaign advertisement.
Operating System
Choose the operating system Windows, Mac OS or Android. It's not important that you have to always choose the operating system you can leave it default.
Start & Stop Time
Here you can schedule the campaigns according to your need.
IP Range
Another additional option is given by MegaPush. Here you can target a select group of IP's or you can leave it empty. That's all your campaign is ready.
MegaPush Payment Methods
For adding funds to your megapush accounts multiple options are available like e-payments, wire transfer, PayPal, direct transfer, etc.
InterKassa Service
You can add payment directly through multiple payment options, money is added instantly into the account. A very nominal fee is charged for transactions.
Wire Transfer
Now Direct transfer to account by filling a form in the appropriate section and receive an invoice on account e-mail address. It takes 7 working days to reflect payment into account.
Bitcoin
Direct transfer of funds with an automatic refill. It takes time in processing the payments into account after the transfer.
E-payments/Webmoney
You can transfer funds directly from web accounts, wallets or e-payments, etc. and can be refilled manually. It takes up to 6 hours to process the transfer request.
Paypal
You can transfer directly with PayPal account and auto-refill the account. A fee of 4% charged based on the top-up amount which will be deducted from your payment. New PayPal account takes 7 days for verification.
Conclusion
Push notifications advertising increasing day by day especially in the advertising industry and has many advantages over the traditional ad formats. This is the most effective way of generating targeted audience among affiliate marketers and it is the money making too if the right offer is promoted to the targeted audience. MegaPush notification ad network is one of the best push notification advertising with low CPC from all over the globe with advanced targeted options.