The most difficult task is to find the best eCommerce platform for your store. Building a successful online business starts with the best free ecommerce platform and it gives the long term effect on your venture going forward. It's like you are picking a good car in your budget that comes with high features. Before we start, let's read about what exactly an e-commerce platform is and how it works for your business? Have you heard about website builders? With the help of online website builders, they create your website as well as your online stores. You are running your business with drag and drop functions. No need of any coding skills or a degree in web development to create a website for online business. So here I am sharing the top best free ecommerce platform available with its price, features, advantages, and disadvantages.
The e-commerce platform is like software that helps you to create online stores and gives you full access to manage your site including products and day to day operations.
Shopify
One of the most popular and best free ecommerce platform i.e shopify which is founded in 2006 by Tobias Lutke, Daniel Weinand, and Scott lake. According to Shopify, it's very easy to manage the functionality and layout of their online store. Simply organize your products, customize the store according to your choice, and you can track and respond to your orders anytime anywhere. It has the capacity to be feature-heavy out of the box; it does not mean that it takes a lot of time for loading. Their plans are based on monthly so choose the one that suits your requirement. Just sign up and the whole Shopify feature under in your hands. When you start using Shopify you will get tons of templates and designs for online stores.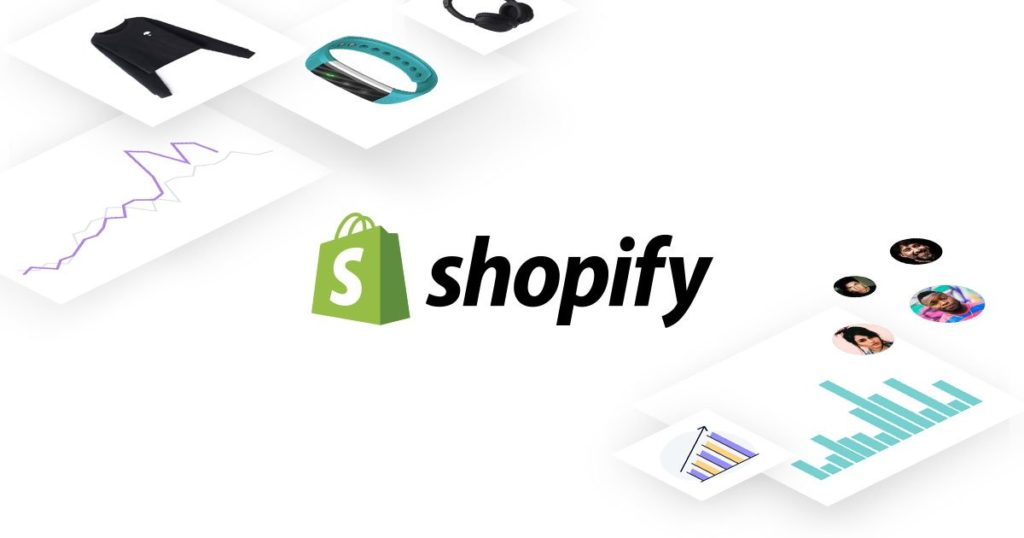 The specialty of Shopify is that its live chat feature allows you to direct conversation with your customers. Shopify comes with unlimited hosting for their stores, and you can easily check visitors. There are four types of Shopify plans such as Shopify lite, Basic Shopify, Shopify, and Advanced Shopify.
Highlights Of Shopify
Fast speed and load times
Custom domain name
Beautiful designs and templates
Advantages
No need to maintain your server and costs because Shopify is fully hosted and have multichannel capabilities.
They have a wide variety of apps and integrations
Very affordable as compared to other enterprise solutions
Disadvantages
The promotion capabilities are limited
No B2B capabilities are available at out of the box
Product variants are limited
Bigcartel
Bigcartel was launched in 2005 and gives you a platform to build your e-commerce platform and run and manage all in one place. The platform is small as compared to other online e-commerce platforms and it is good for retail stores and craft stores. No matter if you are a jewelry maker, designer, woodworker or painter, bigcartel is the perfect choice for you. So if you have any kind of talent or have creativity, it's time to show your uniqueness by selling your customized products online. For startups, it's the best free ecommerce platform and builds everything all on your own without any worries. It offers basic features that are easy to understand for everyone.
Its plan is free but the problem is that it limits you to 5 products in total and some features are not available in the free trial. Bigcartel offers beautiful designs and minimal. Each design is different from others and is modern and looks good in both desktop and mobile devices. Payment options are available on both PayPal and stripe.
Features Of Bigcartel
Other Marketing Tools
User friendly
Free for small, basic stores
Advantages Of Bigcartel
Easy to use
Forever free plan
Affordable
Amazing Templates
Themes are very attractive
Disadvantages
Don't have advanced capabilities
Payment options are limited
Not so much flexible
3d Cart
3d cart is one of the best free ecommerce platform founded in 1997. It has some powerful features that no other e-commerce platform provides you. Not only had this they also give you full access to every e-commerce feature that you might need. Basically 3d cart is a hosted solution that means you don't have to install any kind of software to remove the server related issues. Just manage your stores and products and construct your website according to your choice. 3d cart works very fast and has unlimited styles and colors to design your website. You can also customize the template as per your needs. All the store's pages are very clear and your customers will easily understand and gives a positive impact on your conversion and sales.
If we talk about its plans, yeah it's a little bit expensive but you will never disappoint with its features. The cheapest plan starts from $19 monthly but your visitors will be limited.
Highlights Of 3d cart
Unlimited Storage for products
Various payment options available
Phone support feature is also available
Advantages
Multi-Channel Capabilities
Strong marketing capabilities
Advanced features
Ability to send physical and digital products
Disadvantages
This e-commerce platform is not for basic users
Limited free themes
Lacking some features
Squarespace
Squarespace is another website builder platform that comes with drags and drop options. It was founded in 2003 and has some outstanding and attractive templates and designs. It's quite simple and great for the demand e-commerce business. With Squarespace, you can easily build any website and have some modern templates that you can customize any time. It has some dozens of eCommerce benefits that you will definitely love. Like Wix, it is also a hosted tool which means it handles all the technical heavy related to hosting, domain handling, and servers and so on. Don't forget to try its multiple designs that work at the same time. Their designs are divided into many categories so that you can easily find out the design that looks perfect for your website.
Squarespace has two types of plan, one is basic and the other one is advanced which means the plan starts from $26 month.
Squarespace Highlights
Great Analytics
Ravishing templates
Affordable
Advantages
Fully hosted
Ravishing designs
Amazing marketing features
No transaction fees
Disadvantages
POS feature is not available
Multi-channel selling is limited
No Phone support
Bigcommerce
Bigcommerce was started in 2009 with the aim of providing you to support your business not only your stores. This all in one best free ecommerce platform gives you everything you need to sell online and offers a large number of tools and features like unlimited product variants, promotions, coupons, and discounts. Another surprising feature is flexible shipping options that allow live calculation. They also offer support via phone, email and instant chat. It's time to design your website with a variety of templates and run faster as much as you want. Bigcommerce offers content management features such as blog posts, pages, etc. there are three main plans for bigcommerce i.e standard, plus, enterprise and the starting plan price is $29 month. You can also try its free trial which is available for just 15 days.
Features Of Bigcommerce
Excellent marketing options
24*7 service available
Amazing management tools
Advantages
Accept multiple payment methods
Stop worrying about server and maintenance because Bigcommerce is fully hosted
Amazing Features
Disadvantages
Some designs are not very flexible
No native POS feature is available
Themes can get pricey
Designs capabilities are not user friendly
Wix
Wix is one of the best platforms out there and is known as a drag and drop website builder. Like Shopify, it's very easy and quick to set up. You don't need any coding skills; just drag your content anywhere on your website with the help of its user-friendly editor. With Wix editor manage your site structure, add graphics, align them, everything on your fingertips. Hosting or any other kind of technical lifting is taken care of by Wix. Apart from this, Wix delivers powerful functionality and is best for both users and business owners who want to do everything on their own.
Wix offers good templates for online stores and also gives you the option to provide stock images. Good news to all the businessman, try Wix free trial and check out its tool. Whenever your free plan is finished, just upgrade to a premium plan that starts from $18 month.
Features Of Wix
Various templates are available
HTML5 editor
Drag and drop option
Advantages
Easy to use and is fully hosted
Free plan
Accept multiple payment methods without any commission
Disadvantages
No native POS features
Designs options are overwhelming
No B2B capabilities out of the box
Volusion
This is another cloud-based hosting solution to build an online store and it comes with a complete package that you required for every website. It is started in 1999 and the popularity of volusion is increasing day by day. Within a short period of time, it beats the many popular e-commerce platforms and now his main competitors are Bigcommerce and Shopify. Volusion is best for those who have just started their business and don't want a huge monthly bill.
In short, volusion gives you everything that you need for your website. So start selling your products online and get the best results. The platform is easy to use and easy to set up, just add your products and change your design. Volusion also offers some advanced features. If you are facing any kind of issues regarding to volusion, you can directly contact his customer care number and they will guide you each and everything about your issues. Let's talk about its plants which are divided into four categories i.e mini, plus, pro, premium. The mini-plan starts from $15 a month. First, use its free trial and then buy the package.
Highlights Of Volusion
Customer support
Natural interface
Tons of templates
Advantages
Customize anything you want
24*7 support
Good looking templates
Easy to use website builder
Disadvantages
The free structure is complicated
Forced SSL
Premium templates can be pricey
Weebly
When it comes to starting your online business, the first thing strike to our mind is Weebly. One of the largest and fastest-growing website builders founded in 2006. If you are a new user and have a plan to run your business, then Weebly is the perfect choice for you. Here you can buy and sell and manage everything related to your website. With drag and drop editing tools, you can customize your templates and there are many themes available and the dashboard is simple to use. Weebly has three plans and it starts from $38 month.

Advantages
Powerful email tools
Easy to use
Mobile app
Simple dashboard that anyone can easily understand
Free designs
Disadvantages
Very basic dashboard
Charges transaction fee
Sucks with SEO
Conclusion
Finding the best free ecommerce platform is the most difficult task and it takes a lot of time to analyze. But nowhere is the good news to all of you, picking the right solution can enable you to scale your business, increase sales, and improves operation so it is very necessary to understand the proper knowledge of e-commerce platforms. I hope with this blog you will get full information about e-commerce solutions.