It is no secret that every company and website wants a higher rank on SERP (search engine result page), and Google algorithms will not let you succeed until you make accurate and outstanding keyword research for your content. All the automated content creation tools and content by artificial intelligence will go in vain if it doesn't include those relevant words which Google is looking for. You need to provide the main keyword to use AI too and to find this main keyword; detailed and well-planned research is required. A KEYWORD is a word, at which you want your website to rank on SERP. One such keyword research tool is Keywordtool.io which has been ranked as one of the top keyword research tools.
Keywordtool.io is the optimal choice for the most favourable keyword research right now because an exact keyword is vital for content performance. This tool automatically provides similar words to your reference word for your SEO and PPC campaigns. It performs on Google, Bing, Instagram, Twitter, YouTube, Amazon, eBay and Play Store. In short, you can avail the keywords of all the high-performing platforms online. You can enter your word and select the platform; it will create a list of all the similar keywords. We will review this tool and explain it in detail, and also, the pricing and alternatives of keywordtool.io
FAQ of Keywordtool.io
How Keywords are useful on YouTube?
You can search relevant keywords and create videos on those topics and also, you can use those words while adding descriptions of YouTube videos. It allows you to add a maximum of 3 hashtags and video tags of 500 characters.
2. Does this tool have limited searches?
This tool is not bound to a number of searches; you can search for as many words as you want. You can copy and export those words to your use.
3. Does this tool support category of Amazon?
Yes, of course. Keywordtool.io support the categories of Amazon and provide keywords for Amazon descriptions and online business.
4. Is the keyword research for Amazon costs anything?
Yes, Keywordtool.io is not a free keyword research tool. It costs money, which means you need to buy a premium pack to get the most effective Amazon keywords.
5. Keyword tool supports other eBay websites or not?
These tools support all the eBay websites in the world. You can find keywords for any of the websites of eBay, including eBay books too.
6. How is it beneficial for the Play Store?
This tool also works as an App Store Optimization Tool. ASO tools have high need while developing an app for android or IOS devices.
7. How does it extract keywords for Instagram?
Whenever we type something on Instagram, we come across the words in the suggestion. This tool picks up those suggestions to provide keywords to its users.
8. Can I check the keyword volume for Twitter keywords?
Yes, not only keyword volume, this tool will provide you with hashtags too. Then you can select the words which you wanted
About Keywordtool.io
This is one of the top keyword planner tools that provide excellent results in the span of a few minutes. The free version of this tool has limited features like you can get the results of the words but it won't show you the volume. It has a paid version where you can find endless keywords, with the volume also. It is suitable not only for Google but for YouTube, Bing, Twitter, Instagram, play store, eBay and Amazon too. You can change the preferred country to get the results accordingly. It is suitable for content marketing companies and SEO experts and also helps you to find the perfect word for your Google ad.
This tool has 3 options and we will discuss that too-
Keyword Explorer– This tool is one of the top keyword tools which extracts out the best keywords for their users. It is the ideal choice for the people who want to organize a ppc campaign, need good results on social media, looking for aso tool, needs outstanding results on youtube home too.
Search Volume– Track of search volume is a feature which is not given in the free version. The knowledge about search volume is important for Google ad campaign. While organizing those ads, you need to find a keyword whose search volume is high but still makes easy for your website to rank. It is a big task I must say, but this tool has made it easier.
Analyze Your Competitor– This tool also allows you to check out the website of your competitor. You can sneak into which keywords they are ranking on and how well their website is performing. There are many other tools which will give you similar information or have similar feature. I am not really fond of this feature though, but whosoever wants a track, can come here for that. This too, is included in paid version only.
Features of keywordtool.io
Keyword tool allows you to find out the best word for different platforms
You can add the filters like language, location and Google country domain.
Allows you to find out the keywords of some other website too
This will tell you about the search volume and competition of a specific word
Provides reliable results to the clients
Offers 30 days money back guarantee
Pricing of keywordtool.io
It has a free version and a paid version too. In its free version, you cannot check the volume of the words or competition but you can access it for keywords. It provides limited keywords but the paid version is commendable. Also, this tool DOES NOT HAVE FREE TRIAL but it has 30 DAYS MONEY BACK guarantee which means, if you do not like the services then you can ask for a full refund.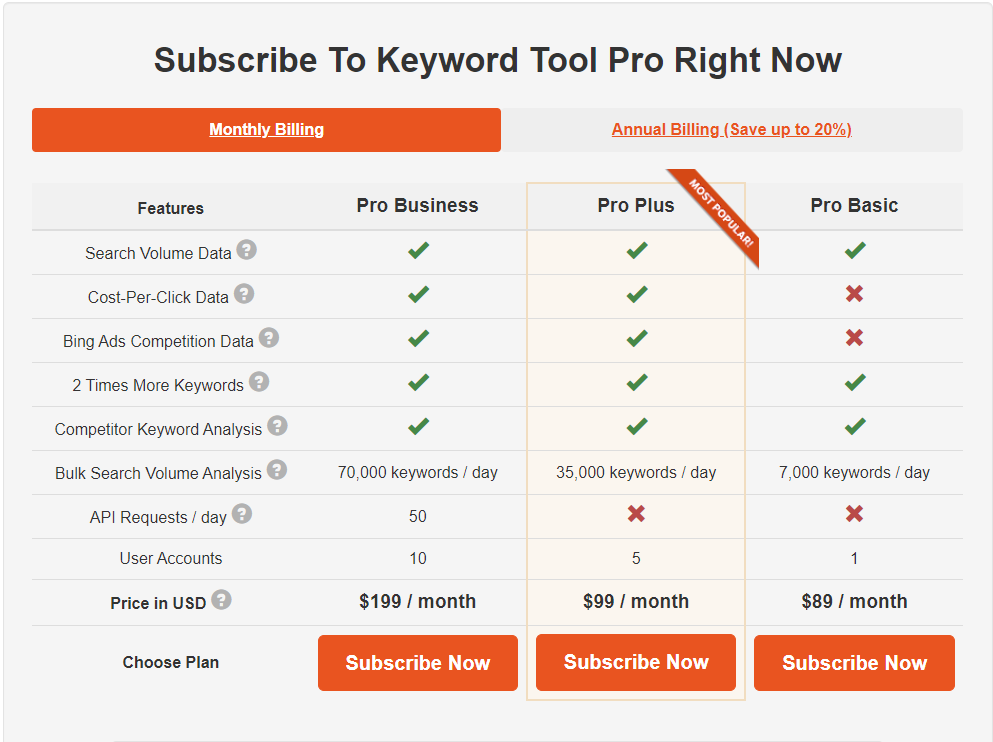 The paid version allows you to check for as many words as you want including the competition and volume of that word. You can also add negative keywords to get exact results. Negative keywords are the words that you do not want to include. The results will be restricted to the main word for which you have conducted the search.
Pricing of keyword tool io is divided into 2 parts including 3 plans each. The first part is monthly plans and the second part is annual plans. If you purchase an annual plan then you have to pay less as compared to a monthly plan.
The three plans which differ on the basis of features are-
Pro Basic
Pro Plus
Pro Business
Note- Prices of all of these plans will differ according to the monthly billing or annual billing.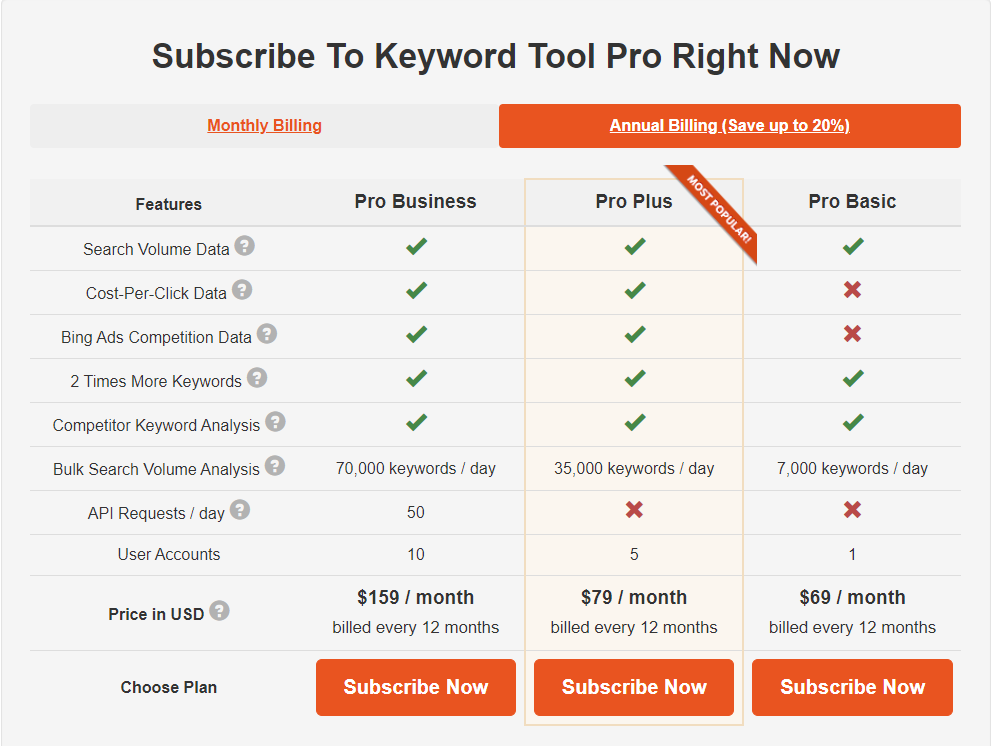 Our recommendation– We recommend you buy an annual pack if you have such projects and is going to feel the need in the upcoming months. There is a huge difference in both of these pricing. You will witness a big change in the amount so try buying the Pro Plus Annual Pack according to your need.
To know more about the keyword tool, take a look at this video below-
Alternatives of Keywordtool.io
Keywordtool.io is an outstanding tool but if you do not think that this tool is enough for you or you want to explore other options, then we have alternatives for you too. None of these tools is a free keyword research tool for SEO.
✔ Google keyword planner– This online keyword research tool has the same task as the keyword tool and also, works in a quite similar way. It is a very popular tool because it was made by Google itself. Many people prefer this tool just because Google has made it. Earlier, the google keyword planner tool was used to hide the search volume of words to increase competition but now it shows the search volume and competition too. Both of these tools are good, you can choose any of them.
✔ SEMrush– SEMrush is one of the most popular keyword research tools used by many top brands to beat the competition in the market with their keywords. You can create and track your PPC campaigns here because it has access to more than 20 billion keywords in 130 countries. This data makes it stand out in the crowd and it is the first choice for the people working in the social media management and marketing industry.
✔ AHREF– Up next keyword research tool is AHREF, which is doing an amazing job with keyword research and website analysis. Frankly, I believe it is a great tool but I won't categorize it in the best. It has the keyword research option, site explorer option, keyword extraction feature and many more. You can try this tool and stick with it if you like to.
Conclusion
To conclude this article, I would say that I liked this tool and I am looking forward to using it in my upcoming projects. As far as my recommendation is concerned, I will recommend keywordtoo.io to my readers. Not to forget here, that everyone has their own requirements and also, every tool has its own drawbacks. I cannot assure you that what you are looking for is definitely here. But yes, it covers most of the required features which makes it a marvellous tool. I have explained its features, requirements and pricing plans. I have also mentioned the other tools with almost similar features, do not forget to give it a try or read our other articles for their detailed description.
List your tool here
Do you have any other excellent Keyword Planner Tool? Send us your pitch for its listing at info@amritsardigitalacademy.in
We'll analyze that, and will introduce another fantastic tool with our audience. Feel free to share your reviews on this article and this tool too. We are looking forward to it.
Content Inditer | Fond of exploring my Innermost phrenic Conceptions to engender content that will evoke deep relatable emotions and ardency in others.