When we think of social media, we automatically connect it to freedom- freedom of posting, freedom of speaking, and freedom of making new friends. But whenever we post our photo or a video, we expect to get tons of likes, views and comments. I'm pretty much sure that you have noticed the difference between engagements of each post. Have you ever wondered that is there any solid reason behind it? Well, Instagram has a strong algorithm and strategy to show your post to the audience. We have cracked the strategy to some extent and have made a list of the best time to post on Instagram.
Though each social media platform has its type of audience, and the strategy varies too. But here we are going to tell you about the best time to post on Instagram in India and globally too. Every successful business has made plans and schedules for posting- the time of the day or the type of content- everything is systematic. No matter how brilliant your content is or how much effort have you put in while creating splendid posts; it will all go in vain if it hasn't reached your audience. That is why the timely posting is the key to success on social media.
Before proceeding with the article, we would like to answer all the frequent and common questions that occur in your mind. Read the content to get the answers to your questions, and comment on the unique questions.
FAQ
How do I increase the engagement on Instagram?
To increase engagement on Instagram, you can make schedules of posting. You can select particular days and fixed hours to post. Also, you can check the trends, for instance- Tuesday Interactive Post
Start using relevant and trendy hashtags on your posts. Hashtags generate impressive engagement as people on Instagram follows hashtags too.
Study your insights properly, insights of the post have so much to explain. It can guide you on what to post and what not to post.
Conduct good research before posting and try to generate new ideas.
What is the best day to post on Instagram?
There is hardly anything like the best day but there is the best time of each day to post on social media. But still, Tuesday is considered the most engaging day of the week. On Friday too, I have observed good engagement with my followers. You should defiantly check out the insights of your account.
Why can't we post anytime?
The audience is active at some particular time. To increase the rate of social media engagement and likes, your posts have to reach your audience. For that, you have to post on time. Scheduled posting is more relevant for business pages. Timely posting affects your engagement directly
What is the worst day to post on Instagram?
The worst days are Saturdays and Sundays. Though there is the best time to post on Instagram on Saturday and Sunday, overall, people tend to stay offline most of the time on weekends.
Should we have same strategy for all the social media platforms?
I believe that each platform has different types of audiences. It is not practical to use the same strategy for different audiences. All the social media handles require unique methods and scheduling. You can observe the insights on each application and create your database. Check the best time to post on Twitter before tweeting or the best time to post on TikTok.
Worst and Best Time to post on Instagram Globally
Based on data and observations made by scholars, here is a list of the global best times to post on Instagram and worst times to post on Instagram.
The time you should post on
Monday: 1 AM, 3 AM- 6 AM, 7 PM
Tuesday: 3 AM, 5 AM- 6 AM, 10 PM
Wednesday: 3 AM- 6 AM
Thursday: 2 AM, 4 AM- 6AM
Friday: 2 AM- 6 AM
Saturday: 1 AM, 3 AM, 6 AM, 11 PM
Sunday: 2 AM, 6 AM- 7AM, 10 PM
The time you shouldn't post on
Monday: 10 AM, 1 PM- 2 PM
Tuesday: 1 PM, 5 PM
Wednesday: 10 AM, 4 PM
Thursday: 8 PM, 11 PM
Friday: 9 AM, 8 PM
Saturday: 4 PM, 7 PM
Sunday: 10 AM, 2 PM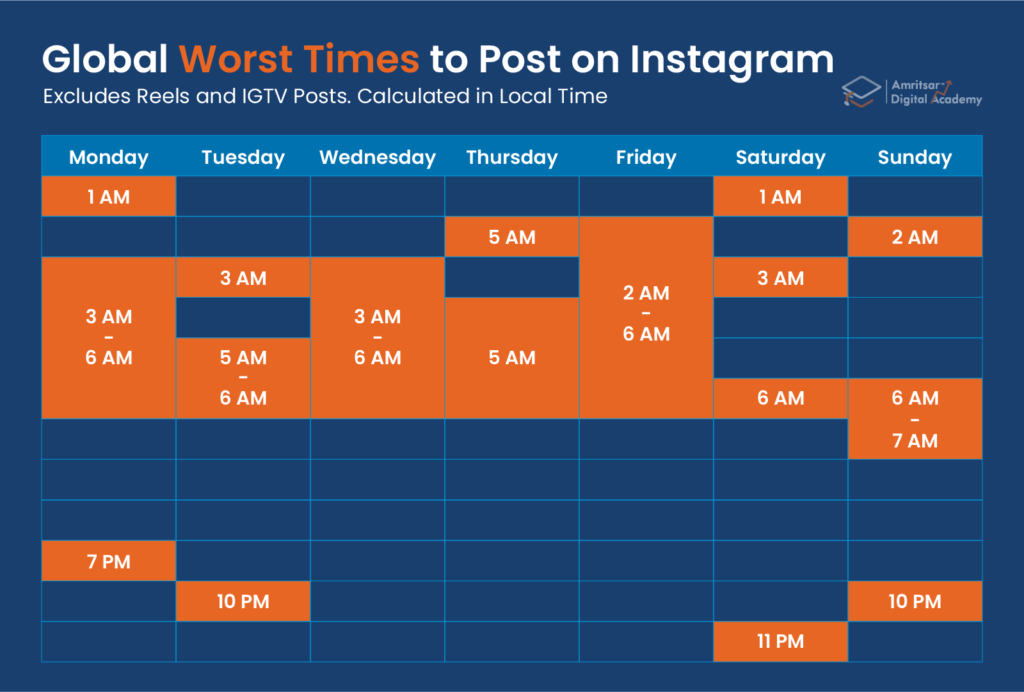 So here you might have got the basic idea of timing at which you should post or do not post. As you have observed, this was the global timing of the post. We have made one more list for you that will tell you about the best time in each country. We are trying hard to give you all the information that we can.
The best time to post on Instagram by Location
US and Canada (Western): 12 AM-6 AM
US and Canada (Central): 6AM-8AM
US and Canada (Eastern): 4 AM-9 AM
South America: 4 AM
UK: 4 AM-6 AM
Europe (Western): 6-8 PM
Europe (Eastern): 5 AM-7 AM
Africa: 6 AM
South Asia and the Middle East: 3 AM
East Asia and Southeast Asia: 11 PM-4 AM
Australasia (Australia and New Zealand): 11 PM – 2 AM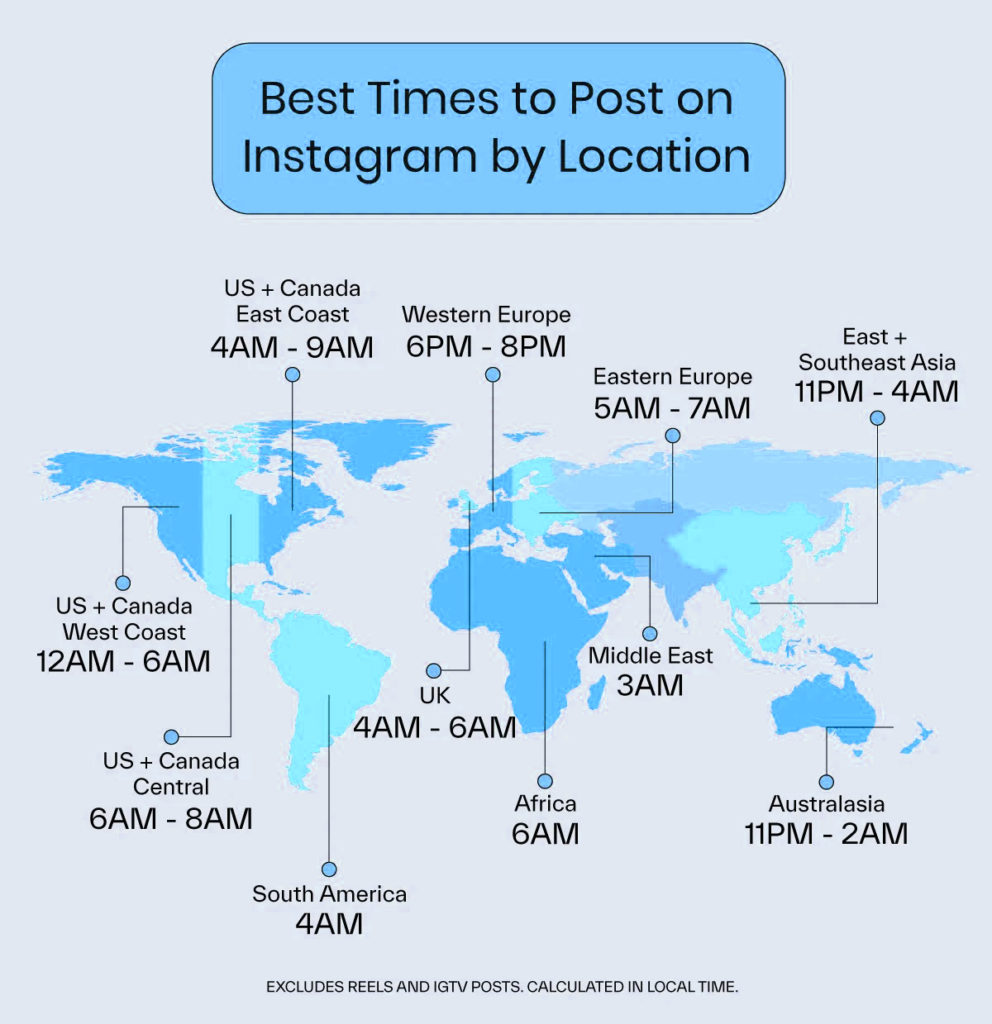 The Best time to post on Instagram in India
Instagram is popular for its knotty algorithm, while you'll be busy understanding the know-how of the intricate system, Instagram will come up with new features to trick your mind again. By observing thousands of posts of different creators and trying the new features, we have made a list of the best times to post on Instagram and the best and worst days to post on.
It is requisite to follow these schedules or algorithms to grow your business on Instagram. Your Instagram page will face high conversion rates and good engagement rates if you follow the rules. Instagram will not highlight your post if you are posting at odd times or not using trending hashtags. Instagram is less of social media platform and more of an online business platform. With extremely high competition, you have to put in your best efforts to look unique.
Though, Instagram itself helps you to grow on its app. You can check engagement interactive posts. These posts will help you to boost engagement. This platform has a feature of turning on the post notification, where your users will get a notification whenever you post. Isn't that helpful?
In addition to this, our report is not only limited to posting images or videos, we are going to explain the best time to post reels on Instagram and IGTVs too. Use this data on your Instagram page or profile to remarkable outcomes.
Best Time to Post on Instagram on Monday
The most productive time to post on Instagram on Monday is marked from 11 A.M. to 1 P.M. But the normal/ average engagement rate stays for nearly 12 hours starting from 8 A.M. to 8 P.M. Monday is usually a busy day for people at work.
Best Time to Post on Instagram on Tuesday
Tuesday is considered the best day to post on Instagram, more engagement rates have been observed on this day. The active hours commence at 11 A.M. till 3 P.M. The engagement rate keeps decreasing after 3.
Best Time to Post on Instagram on Wednesday
After Tuesday, the good engagement can be seen on Wednesday between 11 A.M. to 1 P.M. and again at 5 P.M. to 6 P.M. Wednesday is the middle day in the week, with an average amount of engagement observed from 8 A.M. to 9 P.M.
Best Time to Post on Instagram on Thursday
The most preferable time to post on Thursday starts at 7 A.M., achieving good engagement rates for only 1 hour, 11 A.M. to 12 P.M. and start it decreasing after that.
Best Time to Post on Instagram on Friday
The next best day to post on Instagram is Friday and the peak time is somewhat similar to Monday & Wednesday, which is between 11 A.M. to 1 P.M. and again at 6 P.M.
Best Time to Post on Instagram on Saturday
Saturday is not an important day to post on Instagram because people prefer to take a rest or do something different than routine on weekends. A limited level of Instagram audience engagement is observed from 10 A.M. to 1 P.M.
Best Time to Post on Instagram on Sunday
Sunday hour to post is between 9 A.M. to 3 P.M. However, the engagement rate is still low because of the weekend. Most of the businesses avoid posting on Sunday.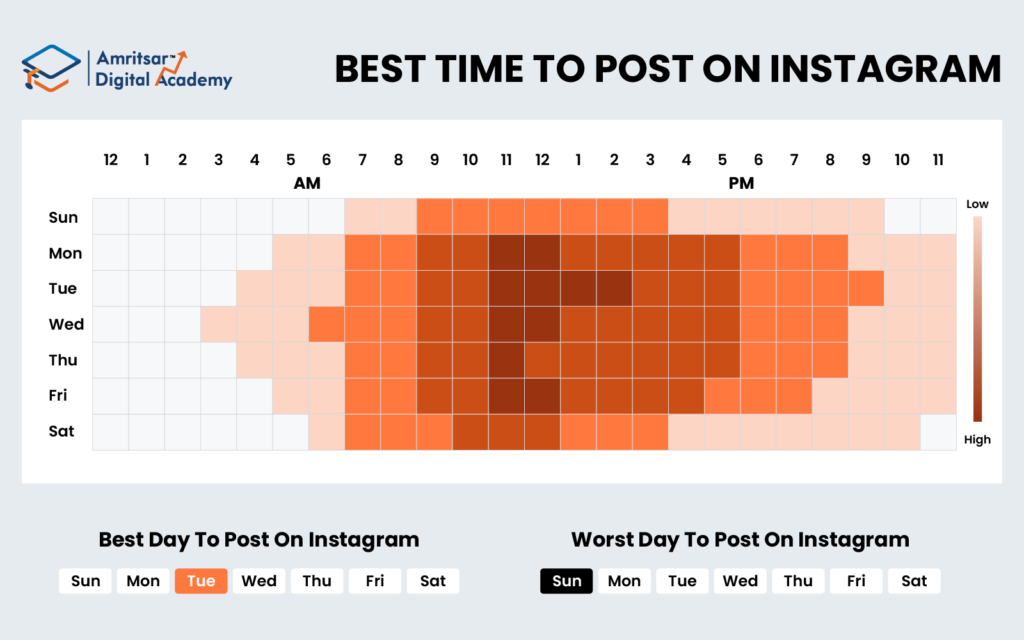 Best Time to Post Reels on Instagram
Apart from posting on time and using relevant hashtags, Instagram reels are the dominant way to mark your presence on this social media platform. Everybody is aware of this small icon on the screen where you can enjoy videos of a maximum of 30 seconds with funky filters and sounds with interesting features. You can show to do something, or you can share tips, or you can make lip sync video, perform a dance or do anything you like. This is how TikTok got popular, tiktokers used to check the best time to post on TikTok. Anyway, your reels can get thousands of views and likes even if you don't have that many followers.
Nowadays, reels are the core reason for getting more engagement to your page. The average of four to seven reels in a week brings good insights. You have to stay dedicated because mostly few of your reels will do wonders. Usually, the best time to post a reel on Instagram is similar to the best time to post a photo or video because your audience is active then. While posting reels, you can post 15-30 minutes before actual time and always search for the best time to post a reel on Instagram.
Tips to remember while posting reels
Instagram Algorithm is too complicated to create hacks, it's better to just understand it and work accordingly. Here are a few tips through which you can create exceptional videos and make them viral.
Avoid adding content in video
Adding content in the video will not let your reels perform. Instagram doesn't appreciate much content, you can add a few words but that should cover the whole screen.
Add 'Read Caption'
We come across a few videos which tell us to read captions and we start reading while the video runs in the background. This is a technique to increase views on the video. Instagram records how many times our video has been played, no matter if you have played it twice or thrice.
Avoid reposting from other apps
This is the newest point of the Instagram algorithm, that it does not prefer the videos that have logos of other apps. This is done to promote Instagram reels and creators.
Create Small Videos
People use social media to relax their minds. They avoid watching long videos here; Youtube is available for that. Try making short and interactive videos to gain followers, likes and shares
DIYs are popular
People like to make things on their own; it boosts their creativity and utilizes their time. Try making DIY or reviews, it performs well on social media sites.
Use Popular Filters and Music
Search for popular music and popular filters to increase your reach. Instagram is all about the trends; it will show up your trendy music videos to others more frequently than uncommon music videos.
Best Times to Post IGTV on Instagram
In Instagram's IGTV, one can add long duration videos to their account. IGTV stands for InstaGramTeleVision. You can give a detailed description of anything or make a video on any topic
The supreme time to post on IGTV is on Wednesday at 8 P.M. The next best time prevail throughout the week, especially from Monday to Thursday from 8 P.M. to 10 P.M. as users' wind-up their work and are on the hunt for some mind relaxing and entertaining video on social media.
Content Inditer | Fond of exploring my Innermost phrenic Conceptions to engender content that will evoke deep relatable emotions and ardency in others.