Why are hashtags helpful?
The title of this article might have explained what I am going to write on. So let me come straight to the point without creating suspense or any mystery. We are well-acquainted with this word called 'Hashtag' and many of us might have used it on social media as well. It is used like # this, but using trending hashtags changes the game. While using a hashtag, you have to keep in mind that you cannot add space between the symbol and word like- #socialmedia #instagram
History of hashtags
Here is a brief history of the birth of hashtags. It was first introduced in 1988 at the Internet Relay Chat, this term was used to classify images, messages and videos etc. The sign of the hashtag made the work easy to find related and similar content. In 2007, this symbol got popular on social media platforms called Twitter when Chris Messina introduced it for the first time. After that, In 2009 Twitter officially adopted the use of this symbol by automatically hyperlinking the terms prefixed with the '#' sign. Twitter started spotlighting the symbol on its homepage under the term 'trending topics'. It started linking with social media and the rest is history.
Importance of Trending hashtags
With the emerging trend of hashtags on social media platforms, it has become an important marketing tool for upcoming and new businesses. Finding out the best hashtag for your online business or your post is as important as searching for new ideas and content. You should keep in mind trending hashtags on Twitter, trending hashtags for reels etc. while posting.
1. Improves Visibility
Using the most appropriate hashtag highlights your post when somebody is looking for similar content. They can check out your idea and concept through social media tags.
2. Enhance Post Reach
If you are using popular social media tags, then the social media platform will show your post to interested people. Hence, it will enhance your post reach.
3. Creates Brand Awareness
You can create your own hashtag and make it viral. It will boost up the sales of your business and enhance your brand name. I have also explained in this article that how you can create/ find the best hashtag for your business.
4. Participate in Social Issue
Now, this is the newest way to use hashtags. You can participate in any social cause, support any social issue and be a part of the issue and even oppose the issue on social media (by sitting at home). You can show your support by using a similar hashtag used by other supporters.
5. Connect People Globally
The basic role of social media is connecting people and hashtags are the cherry on the cake for that. Due to the wide reach of social media apps, you can connect with appropriate audiences across the world.
Points to keep in mind while using Trending Hashtags
Hashtags start with '#' but you cannot use space, symbol or punctuation in between.
Make sure your social media account is not private. Otherwise, the hashtagged content you write won't be seen by any non-followers and hashtag will be of no use.
Don't add too many words together. The best hashtags tend to be relatively short and easy to remember. Long hashtags will be difficult to read.
Use the worthy hashtags. If it is hard, then it won't be possibly used by other social media users.
Limit the number of hashtags you use. More isn't always better. It actually looks spam or fake. Use relevant and limited hashtags.
Casestudy on Instagram Hashtags
This is a case study of the Instagram account of Amritsar Digital Academy. Our Amritsar based Digital Marketing Academy have many students learning about digital marketing. The institute has got most of its admissions from social media platforms. We have been using trending, local and business-oriented hashtags based on our research. These are a few posts and their insight, it will explain the relevance of using specific hashtags.
Using Trending Post for Promotion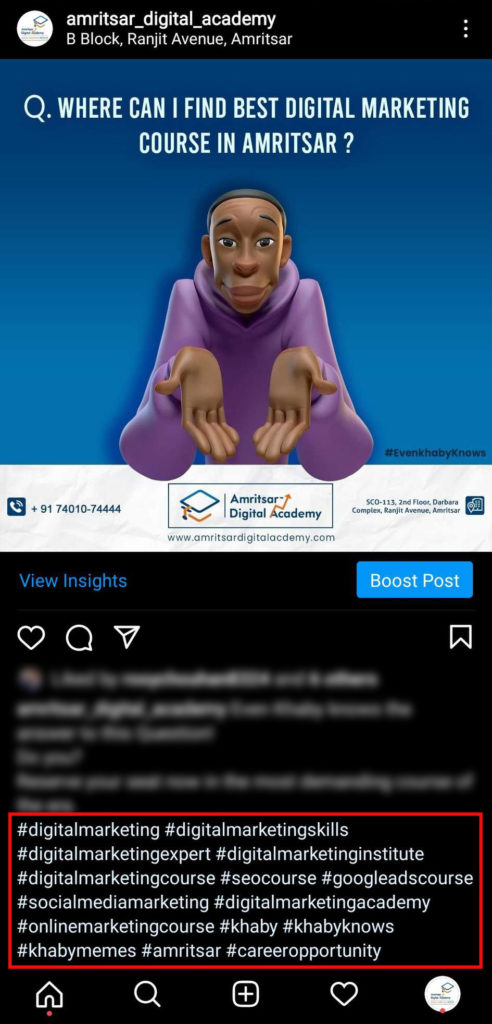 You can witness that we have used a trending meme to advertise our institution, where we have used the related hashtags, trending hashtags and business-oriented hashtags. On the right side, you can check out the insights of this post. More than 150 people have come across our post through hashtags.
Hashtags to promote our Services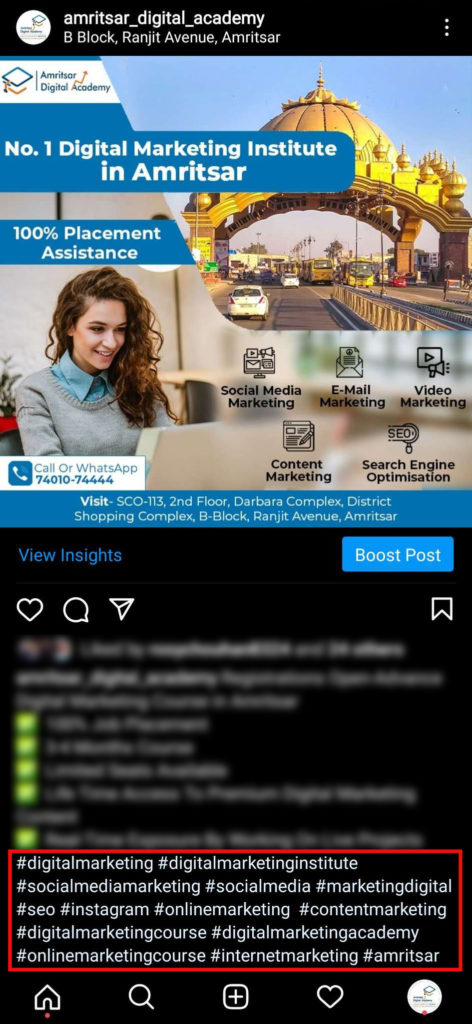 Here, we are advertising the services to our Instagram audience. you can see the hashtags on the left and reach from hashtags on the right. Hashtags are making a huge difference in our post impressions. You can get more than this if you are using suitable words and tags.
Hashtags on Greetings on Festival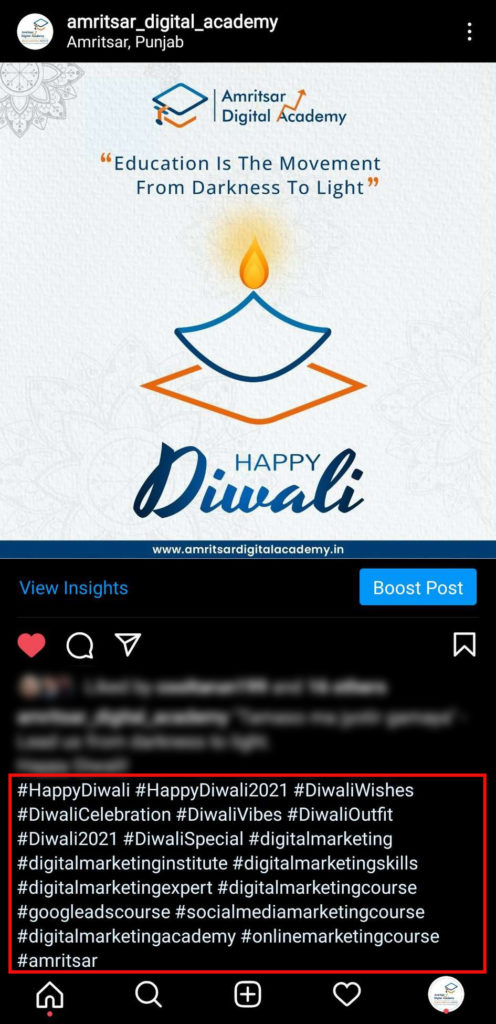 This is an example of another post. This creative was uploaded on the occasion of the festival Diwali and more than 150 people have seen this on their screens through hashtags. This is the result of conducting research before posting or adding anything. You can check the related hashtags like #happydiwali and many more.
Conducted the Contest to Increase Engagment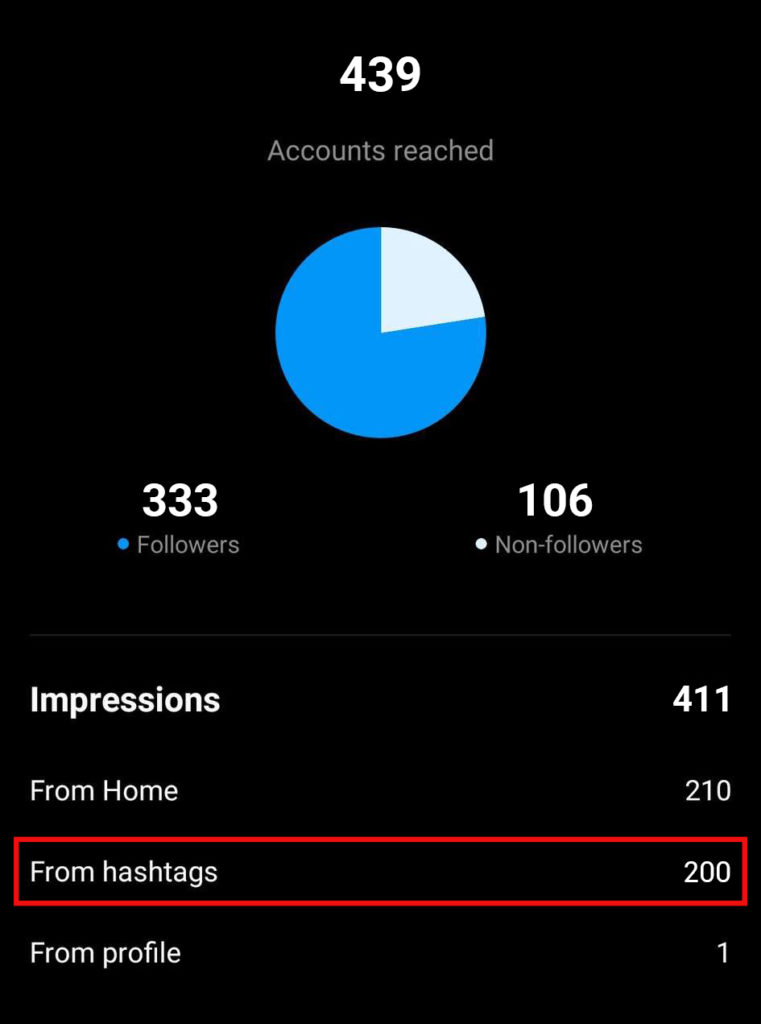 We conduct contests to engage with our audience and we've got pretty good results. We can see on your screen that this post was seen by more than 400 people and out of that 200 people checked from hashtags. Our skilled team searched for good and popular contest related hashtags and our research has paid us well because It was a successful contest.
Exclusive Offer on the occassion of Diwali
We tried to engage with our audience by providing offers on special days, just like here, we provided 10% off on the course on the occasion of Diwali. We have got more than 250 impressions, our academy is working hard to get over the top results. We've tried to be transparent with our audience.
Hashtags that changed the world
We've already discussed the importance of hashtags, but do you know that hashtags not only create awareness for your brand, it also help in changing the world. This is the list of a few hashtags that gained attention and brought awareness among people globally.
#BlackLivesMatter
#MeToo
#BringBackOurGirls
#FarmersProtest
How to find the Trending Hashtags?
There is no doubt that hashtags have been playing an important role in all the viral content on social media, but you cannot use any random hashtag, you come across. Your hashtags for social media marketing should be relevant and specific. It should explain your content and post. Moreover, You can use trending hashtags to increase your reach. If you are selling cosmetics online and you are using the hashtags of footwear, you will not only disappoint your audience, you'll create a negative impact on your brand. Consumers never like to purchase from a brand that they don't trust. So, it is highly recommended to use only relevant and trending hashtags.
Here is the step to step guide to find the best hashtag for your niche, so you can do wonders in your business. This section is more relevant for business owners.
Step 1- Do Some Research
Start conducting the research about the relevant words, popular words related to your business. Check your competitor's post and observe what the influencers are posting. Influencer hashtags are very helpful.
Step 2- Take Professional Help
As this trend is emerging, many professionals have developed applications and software which conducts the research and suggests you the best words that suit your niche. You can create a list of hashtags from the apps. Furthermore, most of this software has the features to categorize the hashtags according to the social media platform like- Instagram hashtags for dogs, Top Tiktok hashtags, Best hashtags for TikTok and many more. It shows which word is more performing on which platform.
Step 3- Check Trending Hashtags Option
Do not forget to add trending hashtags, your tag list should contain a mixture of all- trending hashtags, relevant hashtags, new hashtags, local hashtags. This will help you to target more audiences. These platforms also use your location and display your post to the nearest people. That is the reason behind using local hashtags. You can check the trending hashtags on Twitter even without doing research.
Step 4 – Related Hashtags
You can find the social media tags from the platform itself. Just take a look at the related hashtags, which will tell you about what else your audience is searching for.
Step 5 – Don't Over-Write
Nobody wants to read paragraphs and paragraphs on social media. I won't say that no one will read if it is interesting, I'm saying that you should avoid over-writing. Your description should be brief and relevant, and so your hashtags. The limit of hashtags is 30, but you are not bound to use all 30 social media tags. You can use 12-15 tags to speed up your reach. Sometimes, social media applications consider your post as spam if you overuse the hashtags.
Step 6- Long Tags or Small Tags
While learning about the SEO you might read about Long Tail Keyword, those keywords perform really good in the content but this is not a similar case here. It is recommended to use small and simple hashtags which are convenient for reading and easy to find. You can keep the first letter capital while shifting to the next word without giving space. It improves the readability, like #AmritsarDigitalAcademy
Step 7- Insights
The post analytics/ insights have the most relevant information for you. You can check if your hashtags are useful or not. Hashtags are one of the top marketing tools on social media. Insights will show you that how many people have seen your post through hashtags. You can improve or change your posting strategy with that information.
Best Hashtags on Top Social Media Platforms
Here is the list of basic and most popular social media hashtags 2021, used by millions of people on social media. Checkout, the Top hashtags of Instagram, Facebook and Twitter.
| | | |
| --- | --- | --- |
| INSTAGRAM | FACEBOOK | TWITTER |
| #love | #facebook | #mondaymotivation |
| #instagood | #instagram | #transformationtuesday |
| #fashion | #youtube | #wisdomwednesday |
| #beautiful | #twitter | #throwbackthursday |
| #photooftheday | #tiktok | #feelgoodfriday |
| #art | #love | #shoutoutsaturday |
| #photography | #instagood | #sundayfunday |
| #happy | #follow | #smallbizchat |
| #picoftheday | #like | #blogelevated |
| #cute | #socialmedia | #christmas |
Note- Twitter hashtags changes every day. Twitter updates the list of top hashtags daily. These are a few of the most common ones.
Content Inditer | Fond of exploring my Innermost phrenic Conceptions to engender content that will evoke deep relatable emotions and ardency in others.