Hopper HQ claims to be the No.1 social media planning and scheduling platform but is it really true? How it functions, creates, plans, and schedules posts across different social media platforms such as Instagram, LinkedIn, Facebook & Twitter. There are so many factors that a business has to consider while choosing a social media marketing management platform. Today, in this Hopper HQ Review, we will cover up all the informational concepts related to the Hopper HQ software and also introduce you all to its worth-knowing features. Make sure to read the complete article in order to make an informed decision on choosing it as your social media scheduler tool.
About Hopper HQ
Hopper HQ is a social media post scheduling and management platform. Create and plan social media posts across multiple social media platforms such as Instagram, Facebook, LinkedIn & Twitter. Social Media Team management features are also intact within the tool.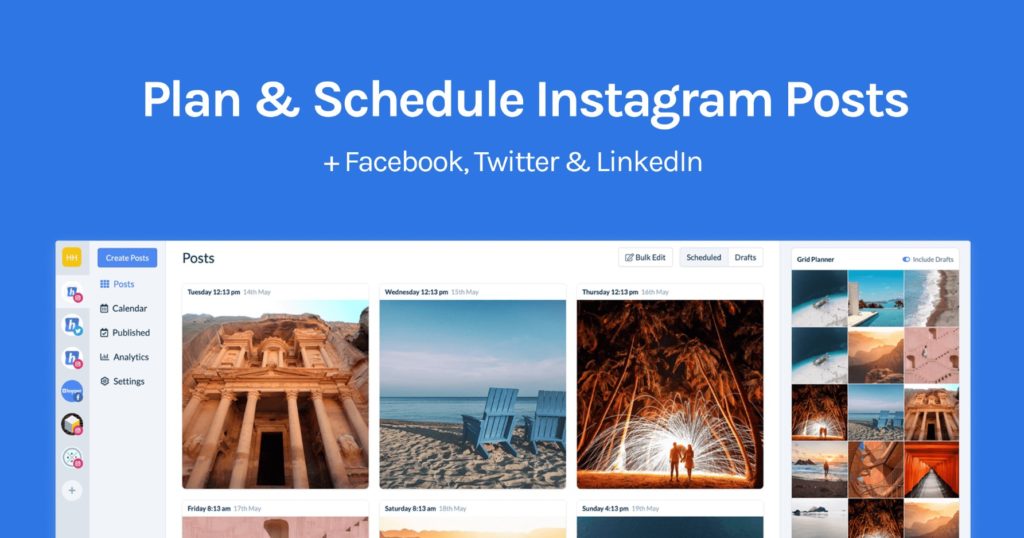 | | |
| --- | --- |
| Social Media Scheduling Tool | Hopper HQ |
| Located In | United Kingdom |
| Founded In | 2015 |
| Website | https://www.hopperhq.com/ |
| Customer Support Via | Live Online Training, Webinars, Documentation, Videos |
| Free Trial | 14 Days |
Salient Key Features of Hopper HQ
▶️ Fully Automated Posting
Auto post images & videos. No 'reminders' or push notifications
Auto post, no phone or post reminders
Repost & reschedule old post
▶️ Calendar & Grid Planner
Plan up to 50 social media posts at once with Hopper HQ bulk plan feature.
Create & plan beautiful Instagram grid
Drag & drop posts into place
▶️ Multiple Accounts
Manage multiple social media platforms such as Instagram, Facebook, Twitter & LinkedIn. Create post for one and schedule for all at once.
Manage all your accounts in one place
▶️ Teams
Add complete social media team on the board with no extra cost.
Collaborate with colleagues and clients
Assign user permissions per account
▶️ Analytics
Target posts on the basis of most active times & locations of the place.
Discover your best performing content
Track your follower's growth
▶️ iOS app
Hopper HQ has iOS based post scheduler app to make social media post scheduling convenient.
▶️ Captions & First Comment
Auto post your first comment
Discover relevant #hashtags & how often they're used
@ mentions
Tag accounts & Locations
Full emoji support
▶️ Full Image Editing
Get the perfect image dimensions with pre-set crop sizes
Filters
Text Overlay
Frames
Colour adjustment
How to get started with Hopper HQ?
First and foremost, the thing that a user asks for is the ease of use. So, we will quickly move to the concept of how to use the Hopper HQ Instagram scheduling app. Is it the best and easy to use?
Go to the official website of Hopper HQ from the given URL- https://www.hopperhq.com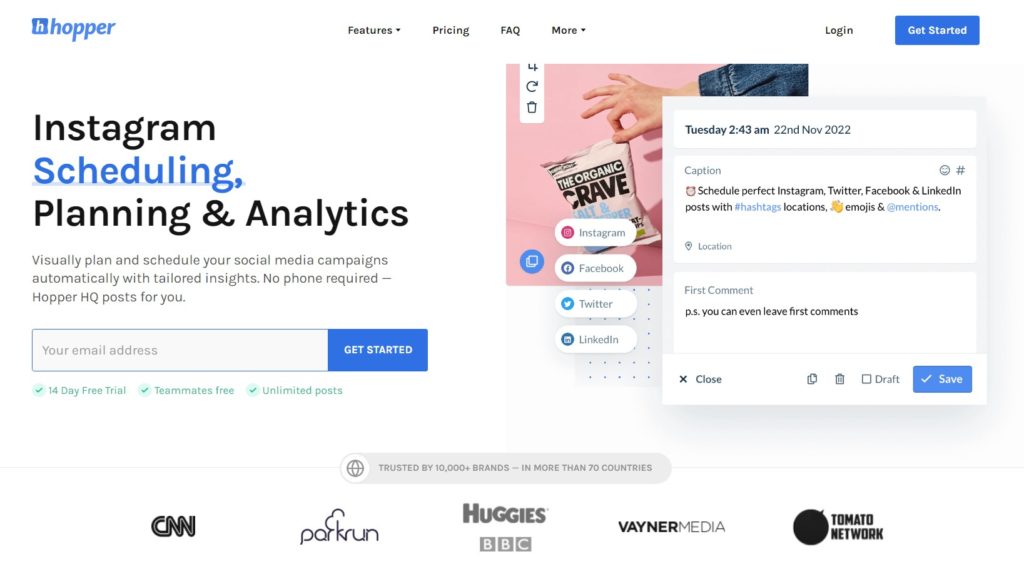 Now quickly start for the free trial with name, email and password.
You will be asked to connect your Instagram, Facebook and Twitter account with Hopper.
After that user will be asked to enable analytics to check the performance of your social posts and enable auto posting features for hassle free social posting in few clicks.
Now its additional features come to action.
Just schedule your complete social media plan at the most active hours of engagement on the basis of geographical location.  Now, you are all free to do something more productive and channel your efforts in searching for more effective marketing strategies. The best thing is that there is no need to download the app or no post reminders and notifications are pinged to the user. We can simply name it social media posting automation.
User can visually check that how Instagram grid will look like after posting content. If you don't like it then drag and drop the posts as the way you like.
Some features for the beautification of the posts and ensuring high engagement are-
Photo Editing
First comment scheduling at the time of posting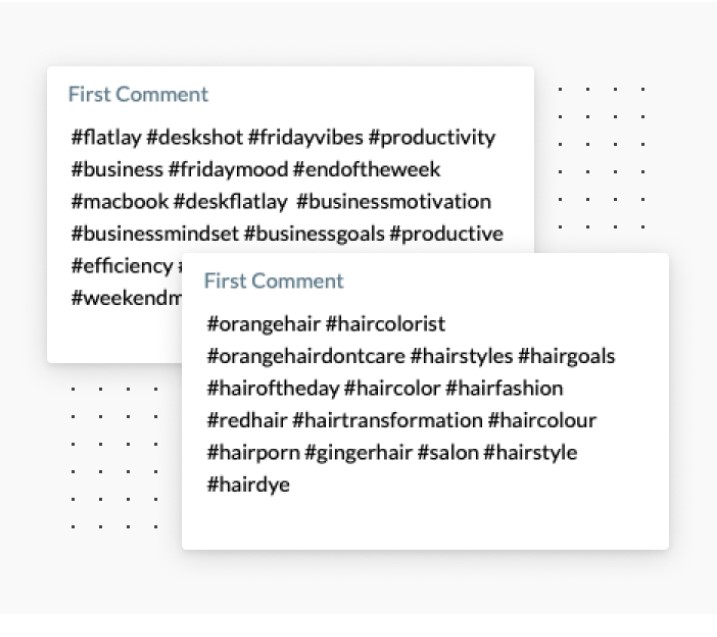 Post scheduling on the best time to post on Instagram
Search Trending Hashtags for posting
Schedule up to 50 images at once
Unlike other scheduling tools, user can tag other users in caption and geo tagging is also available in Hopper HQ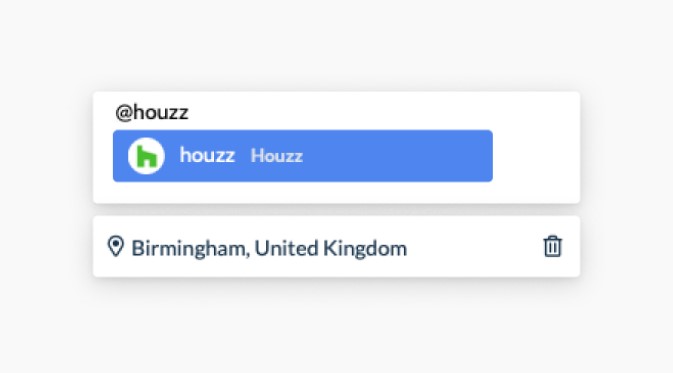 Keep check of social media analytics. Get insights for best performing and non-performing content.
Hopper HQ Review- Pros
Social media post scheduling on the basis of time leads to get highest engagement on every platform as you schedule post on the most active hours of social media engagement. The active hours differ on the basis of geographical location.
Hopper HQ is extremely easy to use for beginners and intermediate users.
Social Media Ads management is easy and efficient with Hopper HQ. The interested ones can also opt for social media paid advertising training.
Excellent customer support
Hopper HQ Review- Cons
Facebook syncing feature is very annoying.
It gets disconnected constantly which is bit irritating for a user. There is no mean of scheduling post if you want to check your posts every day.
No story post scheduling
This tool is bit expensive for a user with 10-15 posts a month.
Hopper HQ Pricing
Hopper HQ pricing depends upon the account bundles a business needs. Let's say you want to manage one account of each supported platform i.e., 1 Instagram account, 1 Facebook, 1 Twitter, and 1 LinkedIn then you can go for its monthly pack which is $19. If you will take it on annual basis then it will be billed as $16 per month. Users can also go for its 14 days free trial. Limited features can be accessed in this free trial.
Here is the pricing table-
| | | |
| --- | --- | --- |
| Account Bundles | Billed Annually | Billed Monthly |
| 1X Facebook, Twitter, Instagram, LinkedIn | $16/Month | $19/Month |
| 2X Facebook, Twitter, Instagram, LinkedIn | $32/Month | $38/Month |
| 3X Facebook, Twitter, Instagram, LinkedIn | $48/Month | $57/Month |
| 4X Facebook, Twitter, Instagram, LinkedIn | $65/Month | $76/Month |
| … | .. | … |
Like this, the pricing up to n number of bundles.
Frequently Asked Questions
▶️ Why is social media post scheduling important?
Scheduling social media posts prior helps, you to add a variety of content types, beautify the wall the way you want, make it easier for you to fill up the upcoming greetings, events, and festival posts, and most importantly save your time. A user can rest of the time for thinking more effective social media strategies of a business.
▶️ Hopper HQ is best for whom?
Hopper HQ is best suited for social media managers working in any brand and agency and for small business owners with sound knowledge of social media platforms. This tool is best for those who want to save time and fetch high social media engagement for their business.
▶️ Do Hopper HQ offer bulk discount?
Yes, it does. If you pick more than 5 bundles to operate with the use of Hopper HQ then the bulk discount is offered.
▶️ In what currency do Hopper HQ bill in?
Hopper HQ bills in US Dollars ($).
▶️ How do I contact Hopper HQ Customer Support?
If you have any kind of question, suggestion, or just want to get in touch with the team via chat, Hopper HQ customer support is always there to help you. You can contact the team directly via live chat, email, or check a solution for your query through the FAQ section.
▶️ Is there any free trial for using Hopper HQ?
Yes, Hopper HQ offers 14 days FREE trial to all its users. You can cancel the trial anytime before it gets expire for not getting charged.
Summary
This was all about Hopper HQ review. Hopper HQ has a simple and clear interface for all to use. Apart from having some disadvantages, you can still fetch the most out of it.
What it claims is what it gives which means users will be able to create and plan social media post schedules with perfection.  It is a semi-autonomous social media agency.
Pitch Your Tool
If you have any application which you wish to share with us or want our reviews on that, then share it with us. Click on the link below to pitch your app. We will study it and analyze it and will surely share it with our readers. Comment down your views on this application below.
Also Read- Best Social Proof Marketing Software
Writing is expressing your mind through words. Being a content-writer I always try to script the best of my knowledge about the topic in the form of blogs, articles, and content.