Digital Marketing is emerging as one of the flourishing realms of online business. Moreover, it is quite evident to witness it blooming in the years ahead. Therefore, the lift in job opportunities is an absolute by-product of this industry. So, here we are to give you a deep insight into the frequently asked digital marketing interview questions. Rather we also look forward to enlightening you with appropriate answers to help you crack the interviews and land you into a pool of decent digital marketing jobs.
This Article showcases:
The list of Digital Marketing Interview questions coupled with their answers, to help you crack the interview efficiently.
Commonly asked Interview Questions for freshers.
Anticipated Questions were shot at the interviewees, applying for the managerial or executive post.
Theoretical Questions
The list below runs through the questions relating to the fundamentals of Digital Marketing. They are generally shot to assess the candidate's rudimentary knowledge of the field.
Q1.What do you understand by the term 'Digital Marketing'?
Ans. Digital Marketing is all about promoting a brand digitally. It is the process of reaching out to the masses across the globe and engaging them through digital platforms.
The need for digital marketing came into consideration when traditional marketing could not take audience engagement and interaction into its heed. However, as we all know that marketing a product or service requires mutual communication to make it a success. Consequently, traditional marketing was missing out on this aspect, so Digital Marketing took the lead here.
Moreover, this marketing practice is not only restricted to sales, but also to various other aspects of a business. For instance, Market Research, exploring new talents, lead generation, brand building, customer acquisition, and many more are its strengths.
Digital Marketing is a compound of different channels like search engines, content platforms, brand websites, social media, etc. Further, it also employs various methodologies like Search Engine Optimization (SEO), Search Engine Monetization (SEM), link building, Affiliate marketing and so on.
Q2. In how many aspects are Digital Marketing divided?
Ans. This segment is devoted to the most frequently asked technical interview question for freshers.
Further, this term is bifurcated into 2 divisions: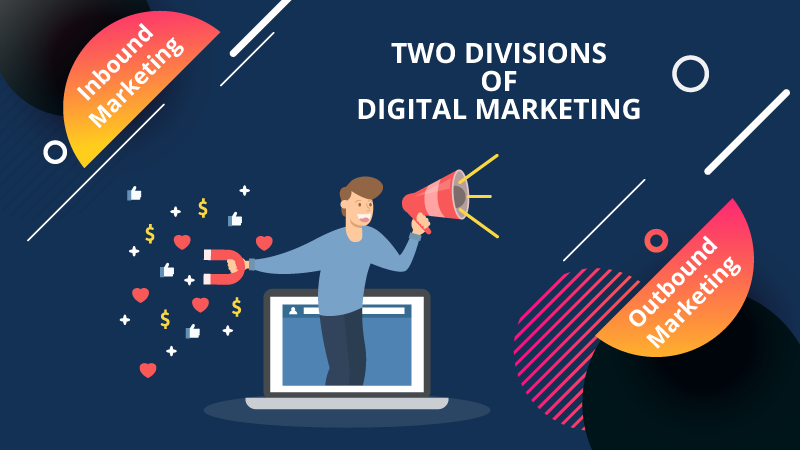 Inbound Marketing connotes to the process of considering social media, webinars, newsletters, e-books, and an increase in the percentage of clicks on the links (PPC). Since this scheme intends to make the customer register the company and its products.
Outbound Marketing is an aspect of Digital Marketing where the merchant aims to reach out to the customers through email, ads, calls and most important- digital platforms.
Q3. How would you define SEO? Is it an important aspect of Digital Marketing?
Ans. SEO stands for Search Engine Optimization, which is an inevitable strategy to rank a website in major search engines. It targets to attract traffic to the website and ranking it through organic search engine results (SERP).
It is a way to make your consumer's search a little more relaxing, by helping him land on the relevant page, as required by him. Therefore, the crucial role of keywords is to help a website rank better in SEO if it is wisely sorted and placed in the content.
Note- This would be helpful to you while answering SEO interview questions.
Q4. Outline On-Page and Off-Page optimization?
Ans. On-Page optimization refers to the direct control of the content and structure of the website. On the contrary, off-page optimization works towards tracing the user to the target website through external links.
Q5. Explain the diversity in SEO practices?
Ans. The two facets of SEO practices are:
White hat SEO alludes to the working of placing a site higher in ranking in the SERP but in compliance with the Google's guidelines. It includes HTML optimization, publishing qualitative content and redeveloping of the website.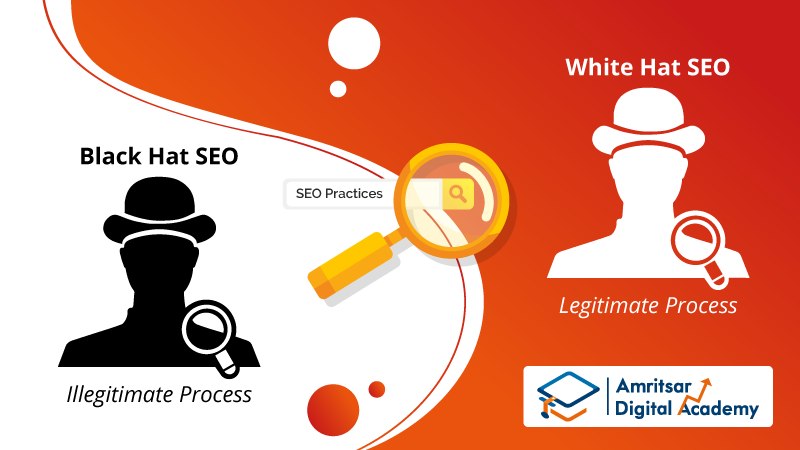 Black hat SEO, on the other hand, strives for ranking a website in SERP but in noncompliance with the Google's algorithms. They intend to work ranking via loopholes of the Google algorithm. It includes cloaking, hidden text, keyword stuffing, spam links and so on which only misleads the users.
Q6. Why are people inclining towards online marketing rather than offline marketing?
Ans. There are a bunch of reasons for a strong hike in online marketing. But to list a few, the first reason is its wider gauge. It helps one to reach out massively without any geographical considerations. Besides this, it has a huge lead generation calibre. However, the rise in the number of people active on digital platforms rather than newspapers, radio or TV makes it more preferable
Q7. Define keyword streaming?
Ans. Keyword Streaming is a medium to inspect the relevant keywords and make a wise choice pertaining to the target of the website. It aims for organic traffic and leads through keywords.
Q8. Which are the specific areas to optimize your keywords?
Ans. Place your keyword intelligently to rank your page higher. The important areas for its placement are:
Title of the Website
URL of the Website
Meta Tag
Headings and Sub-heads
Web Page Content
Q9. List the features of a bad link?
Ans. The list runs down to:
Irrelevant links for the site
Poor Traffic links and Pagerank
Links generated through link exchange
Utilizing common anchor text for the links
Spam Links
Paid Links
Q10. How to get a natural backlink to your site?
Ans. If you are a recent website, then the chances of backing your site through natural links are almost negligible. Yet there is a way, to catch them. You can write guest posts for relevant but renowned websites to attract natural links.
Q11. What is the need for competitive analysis?
Ans. Competitive analysis plays a crucial role when chalking out the plan for Digital Marketing. It is the process of examining and estimating the strategies employed by the competitors to catch hold of their weaknesses and strengths in comparison to your product or service. Consequently, you can plot your USP (Unique Selling Proposition) to attract your target audience.
Q12. How important is Google Ads in Digital Marketing?
Ans. If you are looking for digital marketing success and want to crack the interview questions, you ought to be acquainted with Google Ads. It is the most commonly asked question. It is counted upon as the only successful PPC ad system worldwide. Since it works on Pay Per Click standard, it allows a business to create and display their ads on Google
Q13. Tell me something about Google Ads Remarketing?
Ans. Google Ads Remarketing is a strategic move to target the audience who once visited their site but did not make any purchase.
This technique of remarketing hits the right people with the right ads.
Q14. List the different domains of Digital Marketing?
Ans. The list is as follows:
Search Engine Optimization (SEO)
Search Engine Marketing (SEM)
E-Commerce Marketing
E-mail Marketing
Social Media Marketing
Q15. Name the various channels to promote a business digitally?
Ans. The different channels are:
Email Marketing
Social Media
Search Marketing
Display Marketing
Affiliate Marketing
Online PR
Video Ads
Social Networking
Q16. Brief about the responsive websites?
Ans. It refers to an adaptable website, which converts its layout according to the viewport size and orientation of the device. However, the content remains the same except for the layout of the site lending an optimal experience to the viewer.
Q17. What are the efficient ways of raising the traffic on your website?
Ans. SEO and primary linking work wonders in scaling up traffic since it also creates brand recognition. However, even more, the important factor to be addressed is User Retention. It further leads to increased conversion rates, making people visit the site repetitively.
Q18. Mention some top digital marketing tools?
Ans. Listed below are some famous tools for digital marketing:
Google Analytics
Rank Watch
Keyword Discovery
Alexa Ranking
Stumble Upon
Moz
Crazy Egg Heatmaps
Favicon Generator
Digital Point Keyword Tracker
XML Sitemap Generator
Submit Express Link Popularity
Q19. Differentiate between Direct Marketing and Digital Marketing?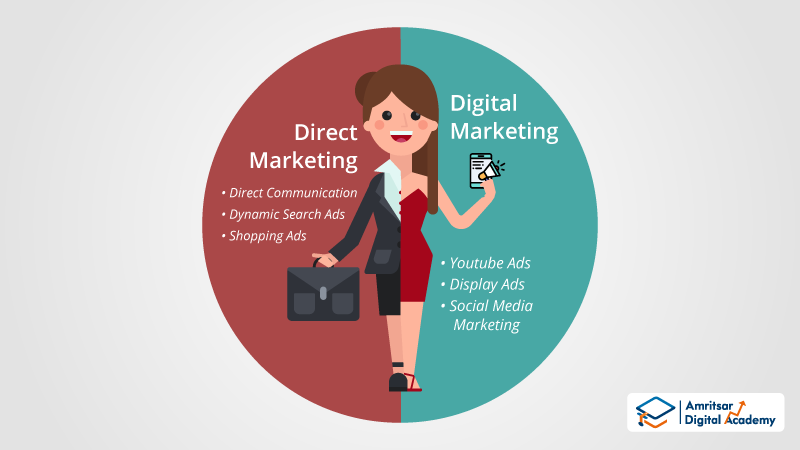 Ans. Digital Marketing employs the method of advertising a brand through YouTube Ads, display ads, custom ads and remarketing, to reach its audience.
Whereas direct marketing is all about advertising the brand through direct communication with the target audience, dynamic search ads, shopping ads and many more.
Q20. Elaborate on the limitations of Online Marketing?
Ans. The limitations of Online Marketing are as follows:
The customer looking for the product online is unable to analyze the quality of the product since it is intangible.
The persistent issue is the non-conformity of the authentication of the product/services.
Majorly the products delivered are distinct from what the potential buyers placed the order for.
Q21. How important are certifications in this industry?
Ans. Getting certified from any reputed institute of digital marketing makes you authorized as a professional in this realm. It acts as a trump card to get placed with highly professional organizations.
PERSONALISED DIGITAL MARKETING INTERVIEW QUESTIONS
Q22. What drive you into Digital Marketing?
Ans. Get prepped up with interview questions and answers for freshers and experienced with your answers being true.
You got to answer this question, by backing the sincere reason for it. Is it the reputation of the industry or the handsome pay packages that made you choose this as your career?
Through this question, the interviewer analyses your worth and commitment towards your work. Do reveal your enthusiasm to make the employer realize your dedication towards this sector.
Q23. Did your qualifications help you in Digital Marketing?
Ans. This is the most commonly asked question when appearing for an interview for digital marketing jobs. By this question, the employer seeks the answer, where you should mention how your college education benefited you in this profession.
Q24. Can you recall any major challenge confronted by you while pursuing your career in Digital Marketing?
Ans. Answering this question with utmost sincerity is the key to breakthrough. How efficient you are at facing challenges, making them work successfully or even you fail, what did you learn and how did you implement it later. Bang On! And this is what the interviewer is looking for.
Q25. Which is the most preferred area in this field of work?
Ans. Mention your favorite areas to operate in. This might lead your prospective employer to assign to you the relevant task. Therefore, answer wisely with not only mentioning the easy-going tasks but also some challenging ones.
SOCIAL MEDIA MARKETING INTERVIEW QUESTIONS
Q26. What makes content on social media successful?
This is one of the frequently asked social media marketing questions because social media strategy is successful only when its content is good enough. It is very important for the social media marketer to create flawless and actionable headlines that make social media marketing content successful. Apart from that, relevancy and shareability make the content successful.
Q27. How do you use social media to get customer reviews?
A good social media executive should work in close proximity with the Customer Support Team to ensure that the support provided to the customers is appropriate and helpful and related to the brand. So, a professional finds a social media platform to showcase both their strategic as well as soft skills.
CONCLUSION:
This Question Bank enveloping the frequently asked Digital Marketing Interview Questions intends to place you with an organization when you are facing their interview panel.
If you are looking forward to investing in these skills, then enroll for our exclusive Digital Marketing Course.
Writing is expressing your mind through words. Being a content-writer I always try to script the best of my knowledge about the topic in the form of blogs, articles, and content.