Let's say that you want to build a strong brand-consumer relationship and you want to make an unforgettable impact on the minds of people. How would you know that you have built that bond? Or what is the procedure to create that relationship?
In this article, I am going to answer all the queries you have in your mind. Firstly, if people are advocating for your company or you are getting fame with word of mouth, then you can believe that you have achieved what you aspired for. Secondly, you need content marketing, to make an impression but you don't need over the top content or words. Confused?
Let me simplify this for you. Content is available in different styles on different platforms. It is the first thing that people encounter when they hear about your brand. Now that directly means that your content should be appealing, informative and easy to understand. According to a recent study, using heavy words in your content makes your content unreliable. People tend to doubt your website if they do not understand your point.
As I said earlier, content is available in different styles on different platforms. So, you need to understand the types of content and types of audiences to serve them accordingly. The brands have to try multiple strategies to cater for the content that their audience wants from them. Let's understand the types of content marketing here.
1. Blogs/ Articles
I am starting with one of the most popular types of content marketing. The blog section of any website drives more than 50% of traffic and converts a few of the readers into potential customers. If done in an accurate way, then blogs and articles can take your website to the first page of Goggle search results, which means more visibility and an increase in organic traffic.
Let's take the example of one of our Blogs- Keywordtool.io Review– Features, Pricing and Alternatives. This blog contains reviews of one of the top keyword research tools. It is ranking on the first page of Google search results. The company is getting traffic of 45.5% from this blog only.
But do not post irrelevant content on the blog page of your website; it can work in the opposite way as well. Your blogs should be related to your business niche, they should informative and relatable. Try adding as many keywords as possible and do not forget to optimize according to a search engine or we should say SEO-friendly content is highly recommended.
---
2. Video Scripts
Creating videos has become the easiest way to reach people. People spend around 1-2 hours of their day watching videos on various platforms, especially YouTube. It is the best way to boost knowledge for non-readers. A study has suggested that people prefer to watch videos when they want to know about a product or service.
But those videos need to have a pre-planned script to perform well. The script should be informative, precise, engaging and creative. Look at this video below. It contains basic information about the procedure of how Amritsar digital academy works. This video, about the digital marketing course, has more than 1800 views and there is a reason.
The video is informative and the content is original. In this video, a person is describing the course in a planned manner. The script was written before shooting which shows the thought behind it. Video scripts should be planned in such a manner that it conveys your message with zero complications.
Generally, explainer videos and how-to videos are very popular, if we talk about videos for business. Don't make videos on random stuff, select a niche and stay connected to that. If you are picking up topics and explaining them then eventually your videos will perform.
---
3. Email Marketing
Emails have a good reach because it the most professional way to reach out to businesses and customers. Whether it is a collaboration or business deal, any offer or new discounts, emails never fail to mark the presence. It is one of the crucial types of content marketing.
For an effective email marketing campaign, you need to create impressive subjects, which can increase the opening rates of the emails. Around 200 billion emails are sent and received from both ends. The email must contain the objective and value of your company, which contributes to the overall result of an effective email marketing campaign.
Advertising through email is a whole new concept where you'll find the keyword and target audience and then they will get an email regarding your company. It boosts brand awareness and targets the rightful audience. Emails have a record of transforming readers into clients. Look at the email advertisement campaign started by our company.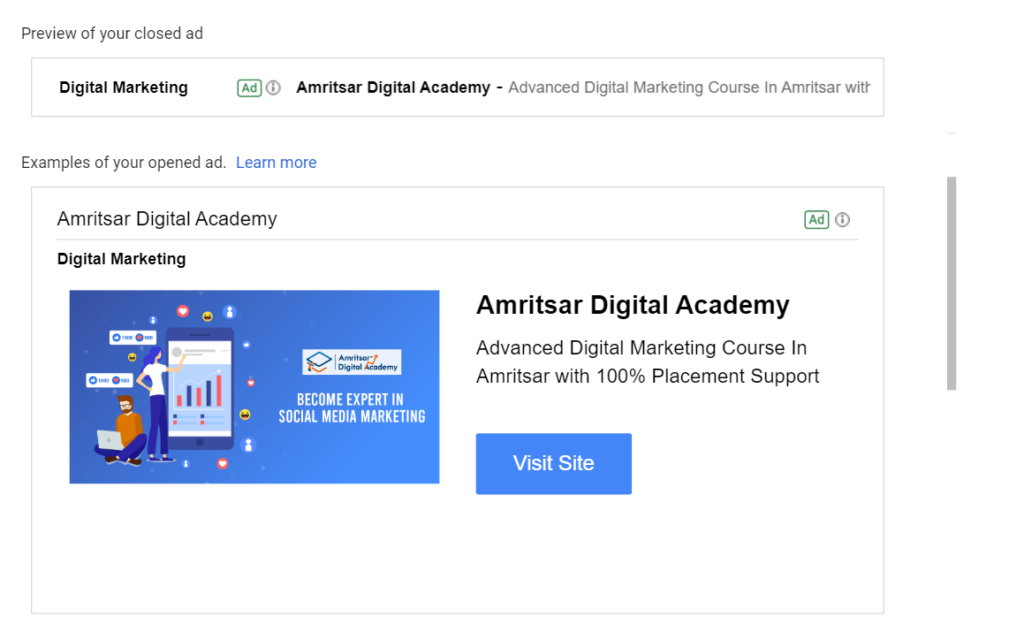 This email was built to target the people who were looking for a digital marketing course. It was the accurate way to target people because emails have a sense of reliability, which helped us to get new students. Here are the images of how our ad used to look in the mails.
---
4. Infographics
Infographics are the trendiest type of content marketing because simple words may seem boring to a few people. So infographics add animated images that can hold the eyes of readers on the screen. There is nothing to inform about what infographics are. Just look at the infographic below, which has the information on how businesses should get prepared for the third wave of Covid-19.
Words are used economically and the colours and designs relate to the content. Moreover, it is eye-catching and compels readers to understand what is inside it.
The infographics would seek attention and will make you read the content in them. The content for infographics should relate to one another and should be as precise as possible. Visuals are the advisable way to represent complex ideas.
Infographics can be used as social media posts, can be uploaded in a blog or you can place it anywhere on the website. Besides, the infographic should relate to the topic. The print format of infographics is quite popular too.
---
5. E-books or Online Brochure
A brochure is a familiar word, companies and institutes design this to promote their brand in a possible manner. It contains all the information in detail and is considered quite important for a brand image. Whereas, ebooks too, contains information in detail, regarding a particular topic and are usually written by an expert.
Both of these had a great impact on the print format but now companies have taken these online too. You can download the ebooks and brochures in the form of a PDF. Look at this brochure of our company below, it will give an insight into what an online brochure does.
Our brochure contains all the courses and their subtopics as well as the reputed certificates which we provide. Along with this, it includes pictures of students of different batches and their success stories. You can download the brochure here to know in detail.
---
6. Testimonials and Reviews
When you provide exceptional services, clients tend to share their reviews and reviews and testimonial works as the business booster. Reviews have to have those particular words which are important for your business.
Let's take an example; here is the review video of one of the students of Amritsar digital academy who is telling about her experience and what she has learnt so far. Videos like these provide the spotlight to your brand name and get you more clients.
These types of content marketing are reliable as well as an affordable way to promote your brand. Give the voice to your clients which add to the content of your brand. You are required not to provide scripts and add designs or graphics to those reviews. That won't look authentic, so, to give it a natural touch it is important to post it as it is.
---
7. Social Media Posts
There isn't any part that is not touched by content. Here comes the up next type of content marketing, that is, social media posts. Social media has millions of people active at one time. It has the potential to make your content go viral, which is again, beneficial for you and your brand.
Content can be fun too, so social media is a place where you can experiment with different words, informal manner, trending memes and many more. Sharing your ideas, vision or mission is a website thingy, so keep social media where you connect with the audience. It should be approachable, clear and engaging.
Look at these social media posts below-
It is the Instagram post of ADA where we are explaining our offers, organizing contests and adding memes. People love to get served on their favourite platform at their preferable time. If the style fits in your business strategy and helps you to reach your target audience, then you should definitely try that out.
---
Conclusion
Content marketing has the potential to drive traffic to your brand, but it needs to be done in the right way. To follow the accurate path, I have mentioned a few of the best types of content marketing. But it is not an end here; content marketing also includes podcasts, case studies, influencer marketing etc. All the types require a strategy ad format to work on. Check out our strategy and find yours because all business types are unique from one another. Share your reviews and comment down on the best and most effective type of content marketing.
Content Inditer | Fond of exploring my Innermost phrenic Conceptions to engender content that will evoke deep relatable emotions and ardency in others.