Let's face the truth; in spite of having a super-strong SEO strategy, it's very difficult to cope with the SEO trends and maintain a Rank 1 position on Google. Google is progressively tweaking its new updates the day after tomorrow. In that case, we suggest digital marketers use SEO audit tools. These audit tools will pinpoint minute issues of the website. Now an SEO expert has to pluck out the compromising pages and find solutions for the same. I have handpicked 11 such best tools and elaborated their unique features. It will help you to make an informed decision about the best SEO audit tool for your website.
1. SEMrush SEO Audit
SEMrush is among the most preferable SEO audit tools across the globe. Alone, it fulfills all the requirements of digital marketing experts with access to 40+ intellectual tools such as keyword research tool, site explorer, rank tracking, paid ad research, site audit, social media monitoring, and more.
Elaborating the SEO audit feature in SEMrush, it crawls through all the webpages and flag up some serious issues disrupting the website ranking such as internal linking, meta tags, AMP implementation, JavaScript and CSS, HTTPS security protocols, SEO content, website crawl, and page loading speeds.
The Complete Guide To How To Employ Semrush To Analyze Your Competitors' Strategies
SEMrush SEO Audit Features
Points over 130 technical and SEO errors after website audit.
Runs thematic reports.
Sorts out pages & audit results using advanced filters.
SEO errors are categorized on three bases of severity: Errors, Warnings, and Notices.
Compares crawls to analyse the results of different SEO audits.
Integrates with your Google Analytics.
Provides actionable resolution insights.
Displays SEO audit results via intuitive graphs.
SEMrush pricing
SEMrush SEO audit is free for 100 web page crawl. But if your web pages are more than 100 the you have to sign up for a premium package $99.95 per month for 100,000 monthly page crawls.
---
2. Ahref SEO Audit
Ahref is all in one SEO suite for making a comprehensive technical SEO audit. One Ahref audit tool subscription is a valuable asset for a company. The results are easy to understand and aggregated in full-color chart reports. It is a cloud-based tool which means it offers all the computing resources for the execution of audits and other services.
Features
SEO audit by Ahref crawls the desktop and mobile versions of your site.
Displays real-time crawl log.
Renders JavaScript-generated content on any web page.
Schedules site crawl on daily, weekly, and monthly.
Covers 100+ pre-configured SEO issues – including; incoming and outgoing links, hreflang, pagination, duplicates, and resources.
Allows custom filters based on multiple parameters.
Provides actionable recommendations on how to fix the SEO issues.
Pricing
Ahref is a paid tool for SEO Audit. Its subscription plan starts from $99 per month. However, you can have access to its full features in a 7-day trial plan that costs just $7.
Ahrefs Vs Semrush – Which SEO Tool You Should Choose In 2020?
---
3. GTmetrix
GTmetrix is a website performance tracking and reporting tool that lists the technical issues of the website. These issues need to be resolved at the earliest as it might impact your website speed and user experience. Along with this the solutions for each error are listed with it. It lists all the factors due to which your website ranking is getting disrupted such as page loading time errors, javascript errors, HTML and CSS code errors, image minifying errors and more.
GTmetrix features
Real-time video reel view is used to display your page load time.
Evaluates the page performance on 20 different mobile devices.
GTmetrix displays performance metrics via four graphs – Web Vitals, Page Timings, Page Size & Request Counts, and Performance/Structure scores.
It also focuses on user experience metrics.
Provides performance milestones like Largest Contentful Paint, Total Blocking Time, and Cumulative Layout Shift.
Assesses web page with Google Lighthouse.
Examines your page performance from 44 servers in 22 different locations around the globe.
Pricing
GTmetrix is free up to 3 URLs but with limited access to its features and reports of SEO audits of a website. You can also sign up for its paid plan starting at just $10 per month (if billed annually). Other paid plans go as Starter plan $21.25 & then Growth plan for $42.50 per month. It has separate plans for business needs which start at $63.75 annually.
---
4. Seoptimer
SEOptimer is a free & best SEO audit and reporting tool. It reviews the innumerable factors on which search engines rely for website ranking. The SEO audit identifies, evaluates the problem and describes solutions for the same that bring back the performance of the website. Get professional white labeled PDF reports in one go. Just enter the URL of your website, sit back and wait for the results.
SEOptimer Features
Clear and professional reports with a prioritized list of actionable solutions
Beautiful, White Label PDF Reports
You can download reports in several languages such as French, Spanish, German more are being added.
Get an embeddable audit tool that exactly matches your website colors and font styles.
Save the cost of hiring SEO agencies at work with this handy DIY Site SEO audit tool that not just detects the problem but also provides required solutions to it.
Along with SEO Audit Tool, SEOptimer provides several additional free SEO Tools that give you the power to improve your site yourself such as Meta Tag Generator, Keyword Generator, Robots.txt Generator, and XML Sitemap Generator and more.
Pricing
For getting access to complete SEOptimer features, go for its premium plan that starts from $19/ monthly and goes up to $59. However, you can catch 25% extra discount if you sign up for an annual plan.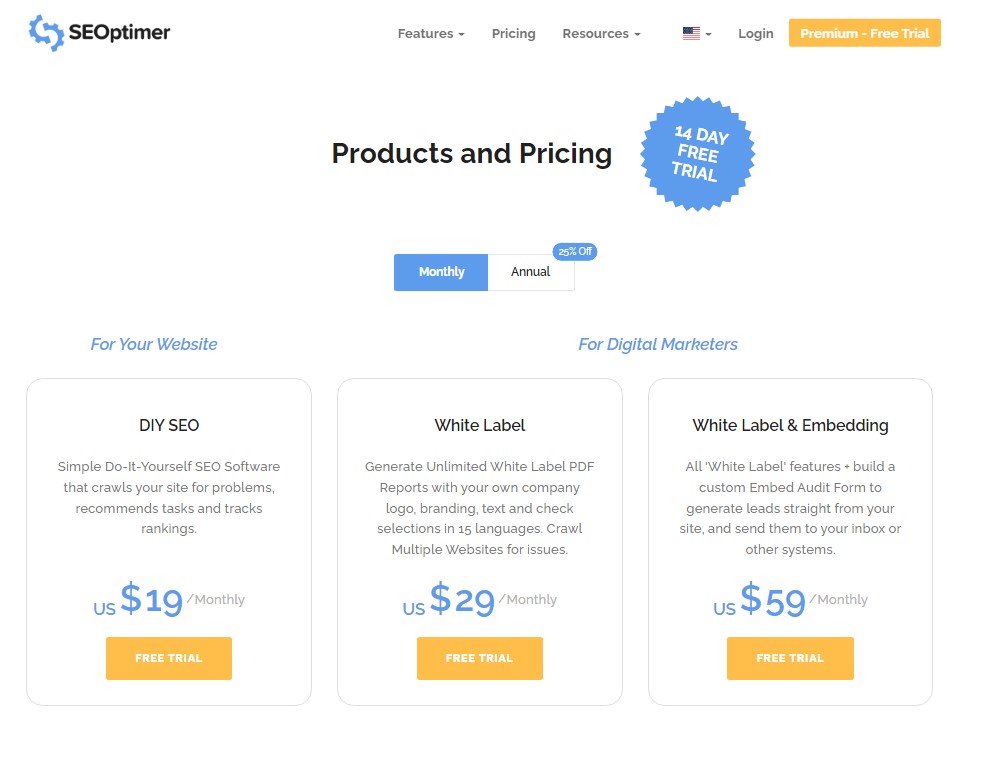 ---
5. Google Search Console
Get access to search engine performance metrics directly from Google Search Console data. Users can track the insights of 16 months old data and identify the SEO issues occurring in the very long term. The dashboard is very easy to use and understand that in just one glance you can go through the site indexation and accessibility issues. This is not all, Google Search Console also provides detailed information on structured data, HTML, Accelerated Mobile Pages, broken links, and content quality.
Google Search Console features
Monitors, tests, and tracks AMP pages of the site.
Get detailed crawl stats from Googlebot.
Highlights site indexation errors i.e. 404 or 500 errors.
Keyword performance can also be tracked with Google Search Console.
Tracking of ranking keywords and how many impressions and clicks a webpage is getting for a particular keyword.
Get information on all the pages that have been indexed by Google.
Generates customized audit reports.
Allow email alerts by Google to get notified about the site issue immediately.
Review your index coverage.
Provides info on queries that bring traffic to your site.
Covers user experience issues.
Google Search Console Pricing
Google Search Console is completely free of cost to all users.
---
6. Screaming Frog
Screaming frog is full-fledge installable software for auditing the site data, and identifying and analyzing SEO problems. The data extracted from a Screaming frog is valuable for both digital marketers and website owners to fix the compromising pages of the website.
Complete Guide To Screaming Frog- An Unbeatable Tool For SEO
Screaming Frog Features
Screaming Frog evaluates internal linking and URL structure.
Integrates with Google Analytics, Google Search Console, and PageSpeed Insights APIs.
Reveals URLs blocked by robots.txt, meta robots, and X-Robots-Tag directives.
Identifies duplicated content and elements of the website.
Discovers temporary and permanent redirects, as well as redirect chains and loops.
Set up XML Sitemaps & Image XML Sitemaps.
Extracts data from any page HTML via CSS Path, XPath, and regex.
Assesses page titles and meta descriptions.
Finds broken links (404s) and server errors.
Screaming Frog Pricing
The Screaming Frog can only crawl 500 URLs while you can crawl unlimited web pages at the paid plan of £149.00 per year.
7. SpyFu
Up next is SpyFu, it is also one of the leading SEO audit tools. Along with this, it offers multiple digital marketing tools- keyword research, backlink tracking, competitor research, PPC research, rank tracking and more. It lists multiple tools or ensuring a successful SEO campaign. This SEO audit tool highlights the bad keywords and flaws in your website identified through competition research.
SpyFu Review- Features, Pricing & SpyFu Alternatives Comparison
SpyFu Features
Searches errors through Google updates.
Eliminate duplicates and junk links.
List potential ways to get rankings.
Compares your content with your competitors.
Check for the keywords that your competitors are ranking for but you don't.
Highlights the bad keywords that you don't need.
Tracks your domain's SEO performance history over the last 15 years.
SpyFu Pricing
SpyFu provides three premium plans starting from $33 per month & $299 per month.
Summary
As of now, you are aware of the best SEO audit tool available on the web. So, what are you waiting for? Quickly run an SEO audit scan with the best SEO audit tool as per your business needs. Resolve all the technical errors in the compromising pages and capture the rank 1 position of Google.
Writing is expressing your mind through words. Being a content-writer I always try to script the best of my knowledge about the topic in the form of blogs, articles, and content.