Are you fond of playing puzzle games? Or do you get easily irritated trying to arrange the billions and millions of very little pieces together? By using the GoDaddy website builder to create a custom site is similar to piecing together a puzzle. Most of the people wouldn't be able to know where to start, so they immediately try to find someone else to do it for them. But the main story is if you get the right web hosting solution, then I think anyone can create a site.
What Is GoDaddy Website Builder?
GoDaddy is the best platform for total beginners or those who want to create a website as early as possible. It is the fastest platform or builder to build a website in the west. GoDaddy website builder is such a user-friendly as it is very easy to use because it uses Artificial intelligence to create your website. It's amazing as when you enter the type of site you want to create, it automatically creates an example website for you that saves your times and efforts. You will get a simple, fastest site live in a few minutes.
1. Decide your Type of Site
The first thing you need to decide which type of website you want to create and at this point, you don't need to have a domain. If you want to sell something online, you'll need to create an online store. If you won't allow payment transactions through your website, then you need to select the website builder option.
Don't take stress, if you change your mind, you can always add an online store to your website later.
---
2. Let's Start your Free Trial on GoDaddy Website Builder
GoDaddy provides a one-month free trial to their new users which are undoubtedly worth making. You can deeply go through these steps and find your site ready with the free trial.
You can easily learn how to use GoDaddy without spending anything! It's quite easy to start your free trial – just click on the Start for Free button on GoDaddy website builder and create an account. It's free and you don't need to enter any credit or debit card information to sign up.
The only thing that you need is an email and password and here you go!
This free trial is very genuine and gives you sufficient time to make sure that it's the best builder for you. Once the trial ends, you only pay for this service when you loved using GoDaddy! There is no pressure to sign up.
---
3. GoDaddy Website Builder Pricing and Plans
There are multifarious price plans in the GoDaddy website builder. Once your trial ends, it gives four price plans to choose from, ranging from $10 to $25 per month.
Basic plan – it's the very cheapest plan as it gives you all the usual needs like limited social sharing options and SSL security.
Standard plan– For SEO tools you'll need the $15 per month.
Premium plan – To get bookings and for receiving payments for services or important appointments you'll go for $20 per month.
Ecommerce plan –   it is the most expensive plan at $25 per month and this comes with different sales tools such as shipping, inventory management, and discounts.
---
4. Select Your Industry and Give the Title to Your Website
After signing up for your account, website builder GoDaddy will redirect you on this page to encourage you to get started. This is the very initial step to create your free website.
All you have to do is to enter the industry category in which your website comes under and the give the name to your website. As you do it, GoDaddy will automatically create a sample page based on the basic information you have provided.
I wanted a site under the industry "Health care", titled "DONOTWELL.COM" It instantly gave me this simple, classy theme covered every requirement that we had given it so far
---
5. Now Start Editing Your Site: Pick Your Favourite Theme
So now you have got your basic template and you can start editing it so that it becomes more unique than other sites and can also in-line with your brand. The first thing is to pick your theme. Your theme changes the base design and overall layout of your site, so it is mandatory to choose the one you liked the most! Very interesting about GoDaddy is it lets you go back and change your theme at any time according to your need even after your site has gone live!
---
6. Customize Your Design: Add Your Own Images and Text
Images: you can change the format and fit your images accordingly by clicking the small blue Update button, which is in the bottom right-hand corner of the picture you want to change.
Text: This is a simple step. As we all know Content is king in the digital era so, Click on the text which is already there and you will be able to add, highlight, delete the text.

---
7. You Can Add New Sections
Once you start creating your website, you will also notice that your website already has four sections that included Header, About Us, Contact Us and Footer. One of the best ways to create your free website unique is by adding new sections with these interesting handy tools. Moreover, you can add photograph galleries, articles, blogs, videos, menus, and many more features. One can add up to 20 sections on each page.
---
8. You Can Add New Pages
GoDaddy website builder is the only platform that allows you to add up to 50 pages while creating your free website or create it simple with only a single page. For adding pages, just go to your home menu and select Pages.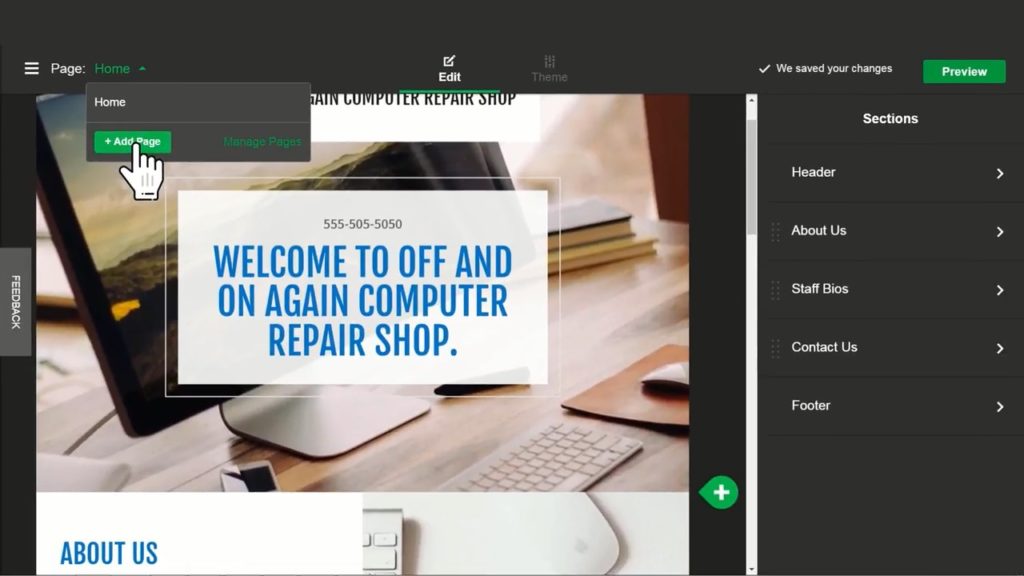 ---
9. Get Advanced Features
Add a Logo to Your Header
Just click on the header label for opening your header settings where you can add your logo. Simply just click the Logo button and upload the image that you want to choose, resize it, and then click the done button to save your changes.
Add Social Media to Your Site
Stay connected by social media sites with your website. You can add some buttons linking to your various social media pages and making it easier for the masses to find and follow you. just add a new section, select "Social" and now You can link to your social accounts.
---
10. Connect a Custom Domain
So the last thing to do is that prior you publish your site is to connect with your domain name. You can buy a new domain from GoDaddy.
---
11. Preview and Publish Your Site
Finally, your website is ready to publish and share your site with the modern digital world. To prevent any errors on your website, you should always preview your website as you created and check before hitting the big green button. If you are really happy by viewing your website then go ahead and click on that Publish button.
Kudos – Your Site is online and everyone can see it!
How to Build a Website on GoDaddy: Summary
This blog will help you to create a free website. Though it may seem like multifarious steps you can create a free website at amazing speed. So, thanks to the GoDaddy website builder. it is the platform Perfect for beginners who just want a simple site. GoDaddy is a user-friendly website builder.
The website builder journey will never really ends as you'll constantly be customizing and managing your site. Apart from this, you can keep track of your website's positive results from your GoDaddy dashboard as well as from Google Analytics.
If you need a quick reminder of how to create your free website on GoDaddy, these are some steps below:
1. Decide your type of site
2. Let's start your free trial
3. Price Plans To Choose From
4. Select Your Industry and Give the Title to Your Website
5. Now Start Editing Your Site: Pick Your Favourite Theme
6. Customize Your Design: Add Your Images and text
7. You can add New Sections
8. You can add New Pages
9. Get advanced features
10. Connect a Custom Domain
11. Preview and Publish Your Site
Want To More About GoDaddy Website Builder?
Want to Develop an Online Store?
If you're building a store from scratch, then you will need to follow different steps. But our guide will help you to use GoDaddy Website builder for the basics of creating your free site.
Can I Sell Products in the Future?
yes, but you will need to upgrade plan to the eCommerce plan when you want to start earning from your website.
Can I Edit My Site From My Mobile?
Yes, but you will need to upgrade plan to the eCommerce plan when you want to start earning from your website
Can I Edit My Site From My Mobile?
Yes, you can customize your website from any device such as a laptop, phone, or tablet. 
Can I find Hosting for My Website Prior I can Publish?
GoDaddy provides hosting for your website. Just all you need to do is sign up, build, and publish your web site. You don't need to think about finding the hosting plan or hosting providers. GoDaddy website builder has covered all the requirements.
Content Inditer | Fond of exploring my Innermost phrenic Conceptions to engender content that will evoke deep relatable emotions and ardency in others.