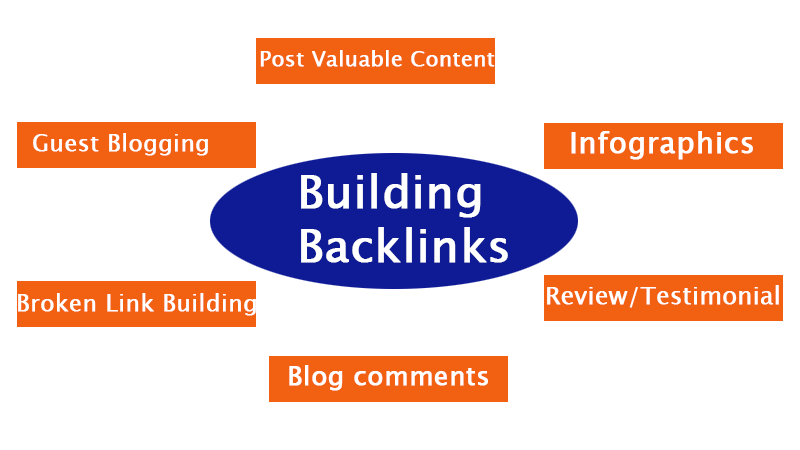 If you are reading this article then you must know how crucial the backlinks are for a website. Right? If you are exploring to know the best ways for building backlinks of high-quality, then you will surely get your answer after carefully reading this article.
I have written on this topic to aware the people who think that all type of links is equal. But that's not true. Only the quality backlinks help in SEO of a website because Google is very clever and you have no idea what it is going to do next with your website or blog.
Google remains to change his algorithms and for a safe side, it is important that you must create such strong backlinks that won't affect your website SEO.
So all you need is start making a strategy for backlinks and follow the below-written points that I have covered in this post.
Publish valuable content
Just writing a post and submit it on any article submission will not help you get a quality backlink. It is important that you must write what users want to read. Do not write just for a backlink, write to provide valuable information. Then it will make users come to your website and Google will rank your content. Keep in mind:
Google works on the interest of users.
To make content attractive, add as must headings as you can and explain everything using examples. Submit your content on websites with good domain authority. For example, you can publish your post on Medium, Tumblr and other such websites. Another way is to answer user's questions on Quora to provide them with the required results.
An image speaks more than words. So must add compelling images. Pictures always increase the value of content. It removes the dullness of the article and creates interest to read the article. Moreover, create such a featured image that users get compelled to open the article.
Infographics for Building Backlinks
Infographics are visual and provide content that users want to read. They are easy to understand and collect the required information. That is why users love infographics. It helps in getting traffic to the website and thus increasing the quality of the backlink.
So, research about the data and create a statistical infographic. To create infographics, there are a number of websites where you can create infographics. These sites are free as well as cost a price for creating useful infographics.
Then submit it to good infographic submission sites. Mashable is one such website where you can submit infographics to get a high-quality backlink.
Guest Blogging
An effective way to increase your reach and get exposure to a new audience is guest blogging. Looking similar to article submission, guest blogging helps in building high-quality backlinks at high domain authority sites. The guest bloggers do not accept duplicate content, that's why Google trust the backlinks by guest blogging.
This way you will get new visitors. If you link your social media pages then it leads to an increase in your social media followers.
Broken link building
A perfect way to get backlinks is to find the broken links and re-build the links if possible. It will help to remove the broken links and therefore improve SEO.
So, contact the website owner to remove or re-build your backlink or get the help of the webmaster to remove the broken backlinks. So it will provide you back with a quality link.
Write a review for other websites
It might hear weird but writing reviews and testimonial for other websites helps you in improving your website SEO. This is an easy method for building backlinks.
Find out the products that you use. Write a review about the product discussing its features. There you will get an option to spot your website.
Thus it feels like you are helping that website and you will get a backlink from the homepage of a good website.
Comment on blog posts
Commenting on other blog posts is another easy way to building backlinks. Find the blog posts that might answer something related to your business service. Then tactfully include your link in a way of commenting on the post.
Comment in a way that the author likes it (you can praise what he writes). Moreover, add commentary to provide your views on the post, thus, it does not feel like you are doing this for personal sake.
Check out the backlinks of your competitors
It is important that you what your competitors are doing. Find out their online marketing strategies. Look for their strategies for building backlinks, content creation as well as check for their social media behavior. Check out the activities they are doing.
Try guest posting on the same website where they have building backlinks. There are many SEO tools to check the backlinks of other websites including Ahref, SEM Rush, Moz and others.
Conclusion
Building backlinks is an effective way to rank your website. So without thinking of Google's next update, create high-quality backlinks so as to make your reputation of a useful website.
Follow these points to increase your website domain authority and PR!
Writing is expressing your mind through words. Being a content-writer I always try to script the best of my knowledge about the topic in the form of blogs, articles, and content.