Choosing the right keyword can make the difference between high conversion rates for your website and simply high to no traffic at all. Long tail keywords and short tail keywords will work for you once used properly. There are two types of keywords in SEO, Short tail keywords or long-tail keywords. Short tail keywords basically have one to three words in a keyword phrase like Digital Marketing.
In long-tail keywords, it has three or more words. Short tail keywords give your website more hits and long-tail keywords giving you a quality hit then a large number of a hit. For example, if you type Digital Marketing on Google you will see 250,000,000 search results and you may not get traffic because of a high number of competitor websites trying to compete for the same keyword. If you search Digital Marketing Course you will see 14,000,000 results. Long Tail Keywords give you specific and targeted results, this is the only reason why long-tail keywords give a higher conversion rate. 
Here Are Some Methods To Find Long Tail Keywords
Keyword Search In Google
This is one of the simplest methods to find long-tail keywords. Enter a keyword you want to search in Google and you will see search volumes. Google will automatically suggest you the variations in keywords when you dropping down for the particular keywords. Check the traffic on that keyword and select the relevant keyword according to your needs.
Tip: There are many tools available to find out a long tail keyword like Google keyword planner, Moz, SEMrush, Ahrefs, uber suggest and many other tools are available.
Google Related Searches
Another strategy to find long-tail keywords is through Google related searches. All you have to do is just search your keyword in Google and scroll down the page to see the searches on that keyword. The keywords are given at the end of the page containing long-tail keywords. And it can be a very useful technique to find out Long-tail keywords to target.
Search Term Performance Reports
The search term performance report contains all the searched keywords and leads to conversions and it is one of the best places to start searching for Long Tail Keywords. This report gives you a full list of potential keywords that people might have searched for.
Search Query Reports
The Search Query Report is a list of search terms that your site appeared for with the help of Broad, Broad Modifier and Phrase Match Type phrases. You can use this report to identify Long Tail Keywords that lead to most of the clicks and conversions. The results you will see are directly come from the users and are additionally related to your campaigns. You can get to look inquiry report for at campaign, Ad group and even at a keyword level.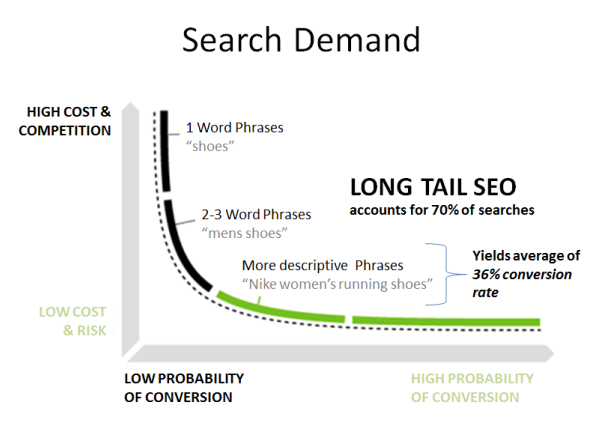 Competitor Analysis
It's true your competitor website also using Long tail keywords which gives your job a little easier. Sounds weird? Well take the advantage of your competitor and check out all the keywords that your competitor has targeted and then use them, into your long-tail keywords strategy. Your competitors having the first page in the search bar, it is obvious that they are doing something different or right. Observe them and analyze the long-tail keywords that they are using. It's quite difficult to outrank those competitors by just identifying their keywords and adding them to your campaign. Don't worries you can still increase your rank and maybe you get a good chance of increasing conversions as well.
Keyword Tool
There are many or free or paid tools that are available on the web such as SEMrush, KWFinder, Tool Feast, Ubersuggest, etc. These tools will help you to find Long tail keywords. So buy a tool according to your budget and experience.
Internal Site Search
The previously mentioned sources were outside in nature. Now let us concentrate on the internal source for identifying Long Tail Keywords. Remember that your own site is a reasonable place to discover Long Tail Keywords. Since, your site is about your product, services, and business, so it gives you a more detailed depiction of your items and services that can be used as quality search queries. View the information of the search box of your site to get clear data of what the users are really searching for in your site. Long Tail Keywords might be difficult to distinguish yet on the off chance that you figure out how to find those that work for you, you might possibly have a positive impact on your campaigns. Don't underestimate the power of Long Tail Keywords by the amount of traffic it creates.