Tracking hundreds of marketing campaigns is a tough job. But PeerClick tracker has made it easy for the affiliates.
When you are doing affiliate marketing, it is important that you must convert through your affiliate link to earn huge through promotions. So you must keep track on the traffic, visit, clicks and the conversions through your affiliate link. Here is when you need software such as PeerClick.
It is a platform for tracking marketing campaigns. Undoubtedly, it is the most recommended tracking software due to its efficient features and price. With its easy to use interface, you can access and manage campaigns very easily.
Marking the difference in performance marketing
PeerClick is a convenient place to analyze your marketing campaigns. So analyze the performance and conversions using PeerClick tracker software. It works on providing reports of the campaigns and setup using A/B testing. To do successful performance marketing, it is necessary to use affiliate tracking software.
The software works in a manner that makes you:
"Apply less cost and generate maximum revenue".
A successful online business needs a proper strategy by applying less cost to generate huge profits. And PeerClick helps you reach your goals.
Advanced features of PeerClick tracker software
PeerClick helps you accomplish a lot of your goals and has some more advanced features too. So check out what PeerClick tracker brings for you:
SAAS technology
It is a tracking tool with SAAS technology that helps you monitor your traffic sources and increase revenue. The software is available on the cloud, so you can access it anywhere and anytime. Use the mobile app or browse its website, just login into the platform and have access to your account. It can be used on mobile, laptop and desktops. It also offers a free trial for 7 days. So the new users can check their functionality without paying in advance.
Easy Setup
It has an interface that is very easy to use and setup. You will get a lot of templates where you can set up your campaign. You will get some predefined offers and affiliate network template so you don't need to waste your time and just start tracking your performance marketing with no time.
Outstanding infrastructure
PeerClick has such an infrastructure that makes your data remain safe always. It has the updating anti-fraud solutions that help your data to remain secure even in case the server is down. They have 6 data centers all around the world. So in case if one of those data centers is down, your data will be secure and redirect to the other one.
PeerClick is the place where you will not lose your money on the bot traffic. It filtered the fake traffic and you just bid on the genuine users that will convert. Thus, you don't need to worry about losing money as you will earn more than you spend.
Effective integrations
PeerClick has some outstanding integration that makes it work effectively. Setting up campaigns and traffic sources takes only a few minutes whereas it takes hours if you do it at some other software.
For optimization of campaigns, you have a lot of sources at this one platform. So just do that suits you. They have native ad exchanges integrations that help you increase user reach without wasting much time.
Automated Optimization
One of a great feature of Peerclick tracker involves constant optimization without your effort. For affiliate marketers, it is necessary to check the campaigns constantly to manage everything. But with this software, you don't need to work all the time as it has an auto-optimization feature. It adjusts the bid automatically and disables the things that don't perform well such as traffic sources or other.
Steps to use PeerClick
Setup campaigns, affiliate networks, landers, offers and traffic sources are very simple. Follow the following written steps:
Create the affiliate network
For creating an affiliate network, click to the Aff. Network button. There you will see load from templates. Click on the button to select a predefined network or you can also create an affiliate network on your own. Then click on create an affiliate network on the bottom right.
For creating more such affiliate networks, just repeat the same steps.
In Peerclick, all the traffic sources are put once and you can choose from the predefined traffic sources. It makes you put very less effort in setting the traffic. Just click on the source you want and within 2 minutes, your traffic source with be set up. If you don't want the template source, then you can create it yourself by just providing the data that is asked. Then click on save for saving your defined traffic source.
Next, you will create an offer. So log in to the website whose affiliate network you have created and then go to offers button on the header.
Find the offer you need by its ID or name and click on it. Then click on the creative button and copy the link. Go to offers tab. Click on new and enter the asking parameters such as name, offer URL (that you have copied), tags, etc. That's it! Click on 'create an offer'.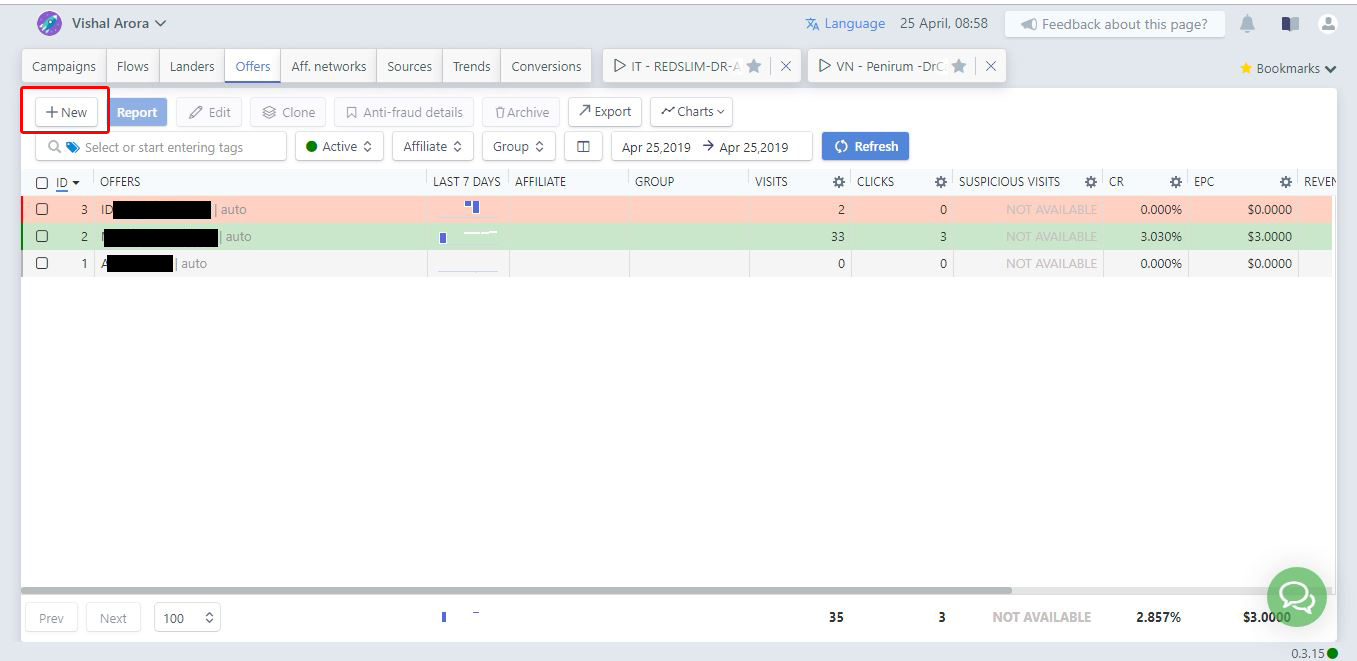 The process of creating a landing page in Peerclick Tracker is similar to that of creating the other above written. Click on landers tab. Then click NEW and specify the parameters in the form such as landing name, URL, tags and other. Click on create a landing. (Creating landing page is optional for the campaign).
Generate the postback URL
On adding the affiliate network, copy the postback URL from its configuration. Then go to Aff. Network tab and click 'testing and tracking' button. Paste the postback URL and click on save.
Most importantly, a campaign is created for tracking your performance marketing. In Peerclick, it is very easy to create a campaign. Follow the steps written below:
Click on the Campaign tab and go to the new button.
Enter the name of the campaign and select your country. (You can leave it global).
Add the group or select the previous one for your campaign.
Select the traffic source that you have creating before.
Set the cost value per click. You can update it any time, so select any one for creating a campaign.
Choose the offers from the dropdown.
Click on the landing tab to select the landing page if any. You can also choose a direct link for it.
Click on save to save the campaign.
You are all set!
Now just copy the URL of the campaign and launch your campaigns for different ads and audiences to earn the profit.
---
Hang on! Do you want to try Peerclick for free?
Use exclusive coupon 'ADAFREE' to get the opportunity for 30-days free trial of Peerclick. Click below to get a free trail now.

---
Pricing of PeerClick
It includes four plans based on cost and features.
Starter Plan

Basic+ Plan

Advanced Plan

Exclusive Plan

Price: $35/month

Key features of this plan:

GEO DNS
1 custom domain
Pro functional
6-month data history

Price: $70/month

Key features of this plan:

Pro support
12-month data history
5 custom domains
3 SSL
Anti-fraud kit

Price: $175/month

Key features of this plan:

All features of the basic plan
6 SSL
Real routing
Premium support
18-month data history

Price: $455/month

Key features of this plan:

All features of the advanced plan
9 SSL
5 additional users
20 custom domains
Writing is expressing your mind through words. Being a content-writer I always try to script the best of my knowledge about the topic in the form of blogs, articles, and content.