Started back in 2011, this SEO tool majorly focused on backlink analysis. But over a period of time, it is not only restricted to backlink intelligence but has also introduced SEO audits, content marketing analysis, and link prospecting.
To make things go easier, we have laid down this ultimate guide on how to use the tool to help you make the best out of it.

Who can use Ahref?
With the information available and its functionality, the Ahref is best employed by the people who use it frequently like:
In-house digital marketing teams

SEO agencies/digital marketing agencies

Content marketing teams
Moreover, people who are into analyzing the domains with a casual interest, many other low budget tools are available for them too.
How much does Ahref Cost
Ahref offers four paid plans. The major differences between the plans are the volume of campaigns that you run, the number of keywords that you track and the reports that can be generated. The 4 plans are as follows:
Monthly Pricing
($/month)
*Annual Pricing
($/year)

Lite

$99

$990




(or around $82/month)

Standard

$179

$1790




(or around $149/month)

Advanced

$399

$3990




(or around $332/month)

Agency

$999

$9990




(or around $832/month)
*Annual plans are billed on lump sum per year.
Why Ahref is better?
There are quite a number of positive reviews on Ahref. But the most common review is its intuitive user interface. It is believed that the data generated from the site is accurate and helpful for SEO analysis. Apart from that, Ahref users also enjoy using it for backlink audits, competitor analysis and even for searching and tracking keywords.
When should Ahref be used?
As discussed above, Ahref was majorly used as a backlink analysis tool at the beginning. But with the efforts of the team of experts, this tool is now also being used for acquiring other analyzing data. So now you can use Ahref for the following tasks:
To analyze the backlink

To review the ranking positions of the keywords

Keyword research and content analysis.
USES OF AHREF
This guide is ought to showcase the functionality of Ahref.
How to check for Metrics?
Once you have logged in successfully, you will discover a dashboard. Here you can set up the ongoing projects, whereby Ahrefs set of metrics displays any changes made in the specified domains. Here you can check for the data under the heads, mentioned below:
URL Rating

Domain Rating

Backlinks

Referring domains

Organic Keywords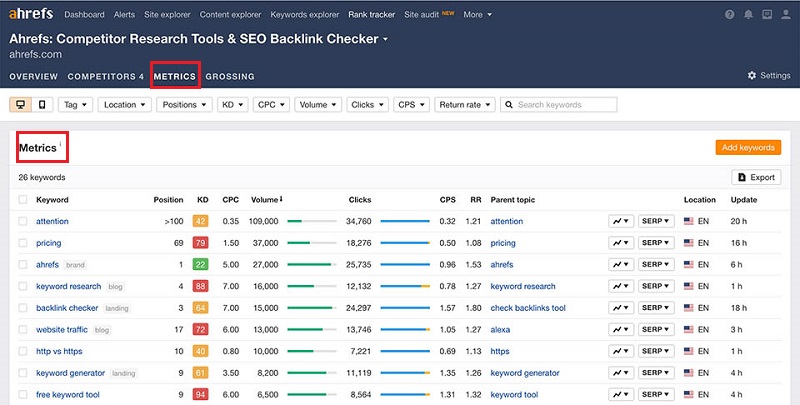 How to check the performance of the keywords?
Under this tab, you can review the ranking performance of the keywords. Now, you are good to view the keyword movements and changes in the ranking groups. Both click through and Ahref will generate a keyword specific report. Here you also have the option of setting the updates to weekly or daily option.
Set Content Alerts
Content Alerts can be spotted under the section 'Content Explorer'. This part of the dashboard enables you to view any alerts that you have set up for a subject and also allows you to set up more.
What are Disavow Links?
Here you are supposed to upload your pre-existing disavow file and add it as you will be navigating the Site Explorer tool. Also, determine the domains that you are planning to add to your disavow file.
How to use Email notifications?
One of the most effective and useful interfaces that enables you to develop email notifications for the following:
New/Lost Backlinks

Positions Tracker

What's in Ahref's toolkit?
Now that you have explored much about the Ahref's dashboard, you are now all set to surf through the various tools comprised by Ahref.
Ahref's Site Explorer
All you have to do is, just enter the domain name in the Site Explorer bar and get the result for all the related backlinks.
Although the result you will get, will be quite intricate to understand. Therefore we will simplify for you to understand the results.
Global ranking tells about your headlines. While the rest as the name suggests are Domain and URL rating, number of backlinks and referring domains.
As with most dignified backlink checkers, you find a summary of backlinks and referring domains, the number of pages crawled, referring IP addresses and the volume of educational and governmental links.
The Ahref Rank graph allows drawing a comparison between the domains and functioning accordingly.
The comparison tool enables you to compare six domains at a time, with each domain being plotted on the graph and further generating a view of performance with at least 4 different time frames.
Here you can also put Explore Ahrefs Top to action, which displays the top one million domains by Ahref's rank in their index.
However the Referring Pages data visualization effectively uses that massive index by plotting new and lost link quantities at page and domain level.
Site Explorer then extends the top-level analysis of the domain by drawing a Top Content widget that underlines your top ten most popular content pieces by referring domains and highlights total shares on the following portals:
Facebook

Google+

Twitter

LinkedIn

Pinterest
How to find Traffic Value using Site Explorer?
Organic traffic value means the corresponding monthly cost of traffic from all keywords that are ranked by the target website/URL, if paid via PPC instead of ranking organically. To discover the Traffic value all you have to do is follow the steps below:
Go to Site Explorer

Select Overview

Click on Organic Search Tab

Then Visit Traffic value history chart
This chart will display the history of your target website's or URL's traffic value through graphical representation. You can choose between the time periods of:
All time

One year

Last 30 days
You can also pick specific countries from the 'All Countries' option in the drop-down list.
LINK INTERSECT TOOL
With the help of the Link Intersect tool, you can plug in up to 10 sites and Ahref will restore all the domains that are linking all the submitted sites.
You can repeat this process for a number of your competitors to discover where you will be getting some exposure. As with many of the reports, it is exportable.
BATCH ANALYSIS TOOL
The Quick Batch Analysis is one of the essential tools of Ahref, where you can identify both, different competitors and linking opportunities.

All you have to do is just drop down the URLs' list from the box and Ahref will generate the following metrics for you to analyze:
Number of Backlinks

Number of referring domains

Social Metrics

Ahrefs URL and domain level score
You can also draw an in-depth analysis of these reports. But it is advisable, to put URL Profiler's free simple SERP Scraper to use so as to scrape the SERPs for the primary keyword and then dropping the URLs into the Batch Analysis tool to get hold of the clearer views on the pages and domains ranking for the keyword. As mentioned above the results generated will lend you a clear view of who is your online competitors and what are the linking opportunities.
How to have a Crawl Report?
If you have already created a Dashboard for your site, then you are good to access the Crawl Report that offers you an analysis of your domain that lends itself neatly to SEO.
The reports generated will be quite helpful as a part of the suite of reports as they do not need a domain that can be set up as a dashboard property.
The Crawl Report allows you to review SEO elements within the Ahref interface. In case you are aware of Screaming Frog and its SEO capabilities, then the Ahref functions will appear to be more limited. However, it gives you a great overview of some of the key SEO elements to optimize.
By using the Extract function you can grab all the following:
Response Codes

Duplicate content

Thin Content(not more than 50 words)

Title tags

Meta descriptions

Meta Keywords – it is helpful if you are observing a competitor's site for keywords ideas.

H1 and H2 tags – duplicates, missing, lengthy and multiple

URLs – non ASCII, where underscores are used, canonical, dynamic and lengthy URLs

Internal and external links
By employing this for your site or competitors'sites, you can evaluate your site's content, internal duplicate content levels, and metadata optimization.
How to compare domains?
To get started with Domain Comparison tool, just select Site Explorer from the main navigation menu and then enter the two domains in that tool.
Now click Compare to add up to 5 domains that you want to compare.

Although the data generated by Ahref is the same as other backlink analysis tools, but its huge index data makes it different and worthwhile from others. It is quite unusual that the Domain Comparison tool does not have an export function.
Ahref's Content Explorer
Ahref's Content Explorer tool simplifies the taxing job of researching the content, by merely entering the topics and the keywords.
Ahrefs allows you to search for the content pieces in the following ways:
Everywhere – this implies that your entered query will be searched throughout within the title as well as the on-page content.
In title – this type will allow you to search through the different pieces of similar headlines.
In content – this feature can be used to find the content pieces using the keywords or topic.
Moreover, you can also filter the results based on a data range, language and you can also include or exclude the specific domains. In case you are looking for even highly specific search results, then you can use advanced search functions. This helps you refine your search better.
Another great feature to try is the Trends feature, specially designed to get results for the seasonal topic. In this feature the Ahref further fragments the data by indexing it, related to your query by amount followed by the month (default period of 24 months). However, this can be screened through the already set date filters or the customized date picker.
The added function is that you can observe the date intervals (day or month)- the number of pieces amongst the total that have tripped the popularity scores, especially 'Medium' or 'High' score is applied when other documents are found in the time intervals.
Once you have fixed upon your query, you can set an alert system by clicking on the option 'Yes' from the 'Create Alert' button. However, you can also manage your alerts by pausing, editing or deleting from the 'Content Alerts' dashboard.
Explore positions with Ahref
Ahref Positions Explorer offers a domain's organic and paid keyword strengths.
Once you have submitted a domain, a comprehensive, top-level view of the domain's organic and paid keyword presence is returned. There are some similarities between Semrush and Ahref.
The statistical summary of the organic and paid keywords are clickable and disclose a heavy amount of detail.
When you are done with clicking through, you will receive an exportable table of useful data, consisting of:
Keyword

Ranking position

Search Volume (Ahrefs data so worth cross-referencing)

Ranking URL

Estimated traffic
Above that, you can also sort for the results through position groupings, search volume, and phrase length. This further makes this tool very useful for both keyword research and competitor analysis.
How to use Ahref Keyword Explorer?
Ahref's keyword research tool i.e. the Keyword Explorer acts as a tool to discover keywords, providing their estimated research volume for both the US and the UK that is exportable by CSV.
It generates the results that resonate the trends and also highlights the most commonly used terms that are relevant to the keywords you are looking for.
CONCLUSION
Started as a backlink analysis tool, Ahref has advanced with time by adapting to immensely useful tools. It is irrefutable that Ahref has strived hard to build such amazing toolkit, which is must-have for every digital marketer. It will be an injustice to Ahref if the massive strength of its tools is not considered.
Writing is expressing your mind through words. Being a content-writer I always try to script the best of my knowledge about the topic in the form of blogs, articles, and content.