To upgrade your business and its reach, you may have decided to develop a mobile app for it. Creating an app seems overwhelming until you look into its analytics and other procedures. App analytics tool help you in understanding how well your app has been performing in the market.
What is App Analytics Tool?
These are the tools that explain the number of visitors coming to the app and the number of downloads happening to the app. It provides the data on session lengths, retention and conversion rates and other key metrics that represent user behaviour and app performance.
Why should you use App Analytics Tool?
Once you develop an app, you need to optimise it by using ASO tools and then you will need to know the performance and people's behaviour toward your app. You need to know what features are helpful to the audience and what changes are required.
There is no doubt that reviews and ratings can do that too. But these tools provide better insights and add more details like customer behaviour and other metrics. Understanding those points is vital because providing a good user interface and customer satisfaction is very important for smooth business growth.
These tools help you in modifying your app and making improvements according to people. It tells you that which section requires changes. If you have any doubts or you feel that you app is not doing up to the mark, you will get all the answers here. You can look into the amount of traffic your app is getting and what type of audience is getting attracted to it.
You will get to know-
✓ The most popular features of your app
✓ The persona of your users
✓ Data of conversion rates, retention and churn rates
✓ Which services have increased engagement rates?
✓ Which marketing strategy was the most effective?
Mobile App Analytics Tool
UXCam
Deliver the perfect app experience
It is the ideal choice for companies to examine and monitor user behaviour. It provides features like Session Replay, Offline Recordings, Screen Analytics, Crash Recording, Funnel Analytics and 3rd Party Integration. Screen recording shows you what a person does when they came to your app. UXCam provides some powerful experience analytics on app usage. We have been observing a noticeable difference between our assumptions on usage and reality. The session information on crashes, funnel analytics and heat maps has helped with improving the overall UX. The customer support and success team has also been very helpful in set and configuration.
Features of UXCam
It analysis user behaviour and their reaction to your app
It records the screen of what a user did when they came across the app
This tool supports both android's playstore and IOS's app store
The dashboard is user friendly. You can easily understand the difference and you will find each option that is required for you to know about your user.
Pros and Cons of UXCam
Pros
Easy to use tool
Metrics are really beneficial
Provides accurate data
Adds real-time data
The screen recording video feature is amazing
Video quality is top-notch
Spot the issues immediately
Segmentation on devices, OS versions, processors etc
Supporting Android and IOS
Cons
Users have complained about customer service
Free Version is not up to the mark
Pricing isn't transparent
Time- consuming
Adding filters can be tricky
Works a bit slowly
UXCam- App Analytics Tool Pricing
The company claims that its tool is suitable for both small start-up companies and companies on Fortune 500 list. Their tool will provide crystal clear tracks and reports to you.
There are 3 plans offered by UXCam and all the plans have a 14-day free trial without any requirement of credit card or prior payment. That means you can access the premium pack and highest pack for 14 days for free and if you like the metrics and reports then you can purchase them.
The next thing which you need to know is that the first plan is absolutely free. Use UXCam and learn about your audiences' behaviour without spending any penny. Furthermore, there are 2 plans but the pricing has not been revealed by the company. They will share it only on your request and pricing is quite flexible too.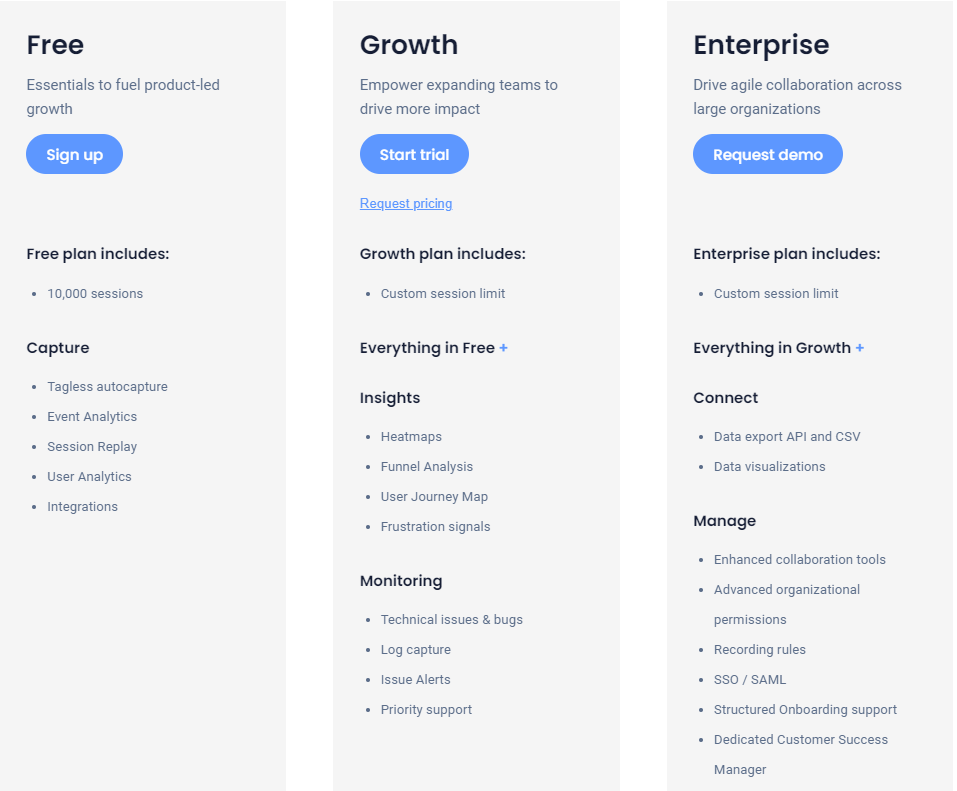 You will get the below-mentioned features under each pack.
Try UXCam for free-
Features of Trial Pack
The trial lasts 14 days and offers the following:
Access to all Enterprise features
100k sessions per month with gestures
1M custom events per month
The trial begins once the UXCam SDK is installed.
Complete your app marketing course and promote your mobile application.
Rating of UXCam
4.8/5
FAQ of UXCam
Q. What is the procedure for Counting Sessions?
A session begins with the start of a user session in your app and ends after your app has entered the background. The session includes all screen views and events.
Q. Does the usage of UXCam can affect the app?
A. The SDK uses between 50k and 500kb of bandwidth per minute of video depending on your content and adds no perceivable overhead to your app performance. That means it does not affect your app.
Q. Does the Start-up company have any additional benefit from this tool?
A. Yes, for a very early stage startup, they offer a Startup Scholarship to help young companies understand how users interact with their app.
Q. What is the working procedure of UXCam?
A. UXCam helps companies to understand user problems of their mobile app and let the company make an informed decision. In the competitive digital market, data-driven decision making decides over a company's success or failure.
To apply for a scholarship –
Recommendation
We recommend this tool to all people but we would like to suggest you use the free version first. That will help you in understanding the working procedure and you won't even waste your money.
Conclusion
Developing a mobile app to accelerate your business doesn't decrease your work. In fact, it allows you to witness more issues that are required to work on. To explain the issues, you have an app analytics tool that not only tells about the number of downloads or app reviews, it explains overall user behaviour toward your mobile application. The tracking tool shows the metrics and issues faced by people. UXCam is also doing the same thing. Here are the reviews of the tool based on the people who have used it. The best part of UXCam is that it records the screen to show what the customers did after coming to the app. This tool is a much-needed thing for this highly competitive world.
Also Read- Earn more with Business App
Content Inditer | Fond of exploring my Innermost phrenic Conceptions to engender content that will evoke deep relatable emotions and ardency in others.