Ever thought that someday you will be able to see your office slang printed on coffee mugs or make customized goods out of it. Here is my Printify review to introduce one of the leading and reliable Print on Demand platforms.
Print-On-Demand services had made a number of dreams come true. Be it you are a graphic designer, dreamer or an artist, you must have a secret desire of designing your own goods. Before POD services the designers and artists were not able to pursue their dreams due to a lack of investment. But with the introduction of POD(Print-On-Demand) technology you can generate sales with solid profit margins and no risk of keeping inventory.
What is Printify?
Printify is one of the leading Print On Demand providers that are currently overpowering other POD platforms with its astounding features. A user can create and sell custom goods on their own without keeping stock of a single piece.
Printify has integrations with top E-commerce platforms that provide easy access to your customers in order to purchase goods.
From chosen print providers a user can get product quality. So just need to focus on creating and selling. Manufacturing is on Us!!
Print On Demand is basically defined as any business in which the goods are only manufactured or should I say printed, only when an order is placed. This not only strictures waste but also allows the availability of something unique or smaller printings to the customer.
Print on demand market is rapidly setting up its root in the market with it easy and accessible reach to both designers and consumers.
Before the point of market saturation in Print-on-demand services arrives, it is a chance to seize the market with your marvelous design that itself is one of its kind.
What is the procedure to start selling with Printify?
Printify was established with the agenda of making merchandise available to everyone. It has a huge connection of over 250,000+ stores, 90 print providers, and a catalog of 300 custom products.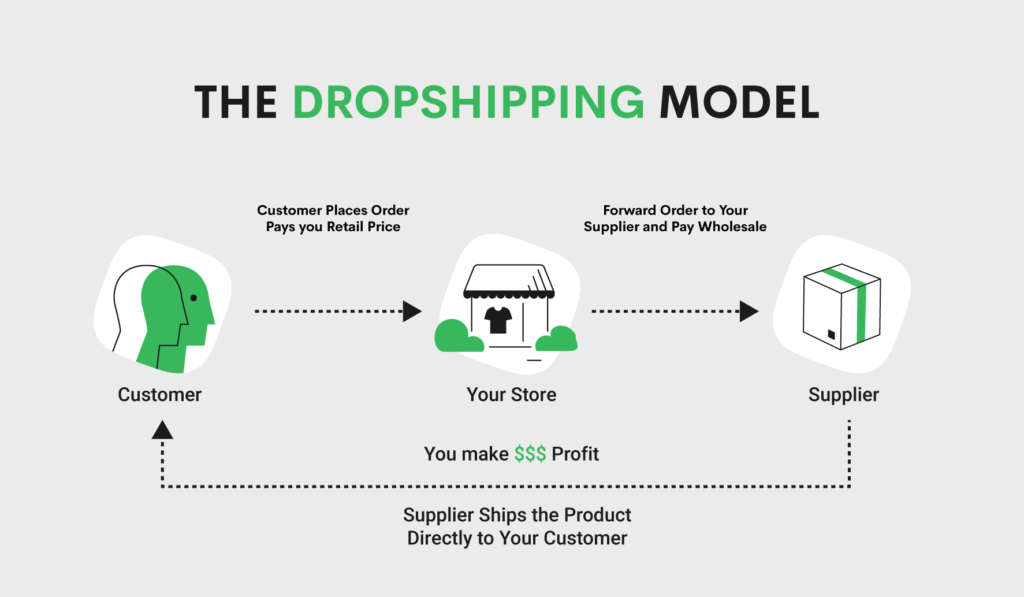 Here is the step by step procedure to get you hands-on with Printify-
Step 1- Create Printify Account
Open the official Printify website- https://printify.com/
Locate "Start Selling" button on screen. Click on it.
The control will be shifted to a form asking for some personal details for proceeding further.
Now add a store name(Congratulations! For your first startup) and get started with you first product design.
Step 2- Choose Raw Product from Printify Catalogue
Now select the product that you want to sell with the custom design printed on it. Printify offers 300 plus Raw Items catalog to choose from which means 300 plus blank canvases to showcase your art upon.
This is huge!!
Step 3- It's time to design Masterpiece
Create your own design for the item chosen by you to sell. In-built design ideas, logos will be given to you, just "drop" the design and edit it.
If you want to start from scratch, Printify facilitates design tools for any uploads.
Step 4- Pick up your printing partner
Once you are done with the design, it's time to pick up the provider for your product. Printify has a list of high-quality printing suppliers. In order to ensure yourself with the quality aspect, you can request some samples from the suppliers. Also, you can consider the providers that go best with your design, budget and are free from any kind of restrictions regarding customizations and color. Printify offers integrations with the best eCommerce platform Etsy, Shopify, and WooCommerce for quick product placement.
Step 5- Get, Set, Go with Selling
Hit the "Publish" button and get ready for your first sale. Once you receive an order, it's up to Printify to handle order fulfillment, manufacturing requests, billing, and shipping. The practical steps of selling and making money are out of Printify's immediate control but their provided packages help in driving direct attention to marketing and content development much easier.
Printify Products
Printify has a catalog of 300+ raw products to choose from for selling you designs. A few of them are listed below-
▶️T-shirts
One of the most common and highly in-demand products is T-shirts. Printify has a lot of options of the t-shirt to showcase your designs- short sleeve, long sleeve, sleeveless, tank top, V-neck, scoop neck, crewneck, trim fit, and loose fit.
▶️Clothing
Due to the demand and popularity of the T-Shirt, it is listed in a separate category. The clothing category includes polo shirts, hoodies, jackets, dresses, skirts, and swimsuits. Even accessories are also available for customizations such as hats, socks, and leggings are also available.
▶️Shoes
Printify has something for shoe lovers as well!! Designing your own flip flops, sneakers, high heels, high tops, and Doc Martin boots and selling them worldwide. Isn't it awesome!!
▶️Accessories
Not wearable fashion accessories such as tote bags, shopping bags, backpacks, and phone cases are also available to showcase your designing skills.
▶️Jewellery
Since Printify has more than 300 raw items in its catalog then how jewellery can be resisted from designing. Represent your finest art with a unique design on pieces of jewellery such as necklaces, bracelets, rings, and earrings.
▶️Home Décor Items
Home décor items are also entitled to designing such as home décor entails cushions, shower curtains, towels, bath mats, blankets, coffee mugs, and a wide range of wall art.
▶️Stationary
For all those writers out there, one can customize the design of notebooks, cards, writing paper, and stickers.
Apart from these spectacular offerings, Printify has a wide range of materials, sizes, cuts, and colors, with products, sorted on the basis of gender (male/female) and age (adult/kids).
Also, don't forget to use Mockup Generator which helps to customize each product, allowing you to experiment with design placement, write product information, and to adjust pricing.
Printify Providers
Printify has enlisted 90 print suppliers each providing impressive information about their products. This information provides valuable data on-
Color
Sizes
Minimum Prices
Production Time
Areas where design can be printed
Location of the supplier that will justify time for delivery, pricing and time for production.
Printify suppliers are actually who print the design on stuff. Most of the suppliers reside in UK, US and China so make sure to request some samples before publishing the production for actual sale for direct customers. After choosing a perfect printing designer for your design. You are all set to make your creation live with the help of the Printify mockup generator.
Printify Shipping
Printify handles the entire process from printing to shipping. The list of shipping rates for each country is listed by the provider. On the basis of certain parameters such as weight-based, flat rate, and express shipping based on your provider and destination.
The shipping rates range from 5-10 days and for international locations estimated for 10-30 days. It provides a shipping calculator with the help of which the correct shipping rate is charged every time, applying to products in the shopping cart.
Printify E-commerce Integrations
This POD platform can be integrated with incredibly popular E-Commerce platforms. For people who prefer to use WooCommerce, there is a Printify WordPress Plugin and if people prefer Shopify, there is a Printify Shopify App. Etsy can also be linked with Printify. Just with few clicks on the Printify dashboard, you can integrate your Printify with these platforms.
After clicking on Publish button for your design, it will automatically get uploaded to your online store. Also, Printify expanded eCommerce store offerings, you can integrate with eBay and Wix Stores, with PrestaShop and BigCommerce in Beta testing.
Supported Printify Integrations
eBay
WooCommerce
Shopify
Etsy
Wix
Prestahop
BigCommerce
Printify Pricing
You might be thinking Printify sounds great but there must be some hidden charges or commission?
Well, the answer is "No". You only pay for the product that sells and the remaining money is completely yours. So, your profit completely depends upon your sale price minus the cost of printing and shipping charges.
For an instance, if you sell your custom design T-shirt for $30, you paid $12 for its production and shipping cost. Enjoy straight 18 USD in your pocket-BOOM!!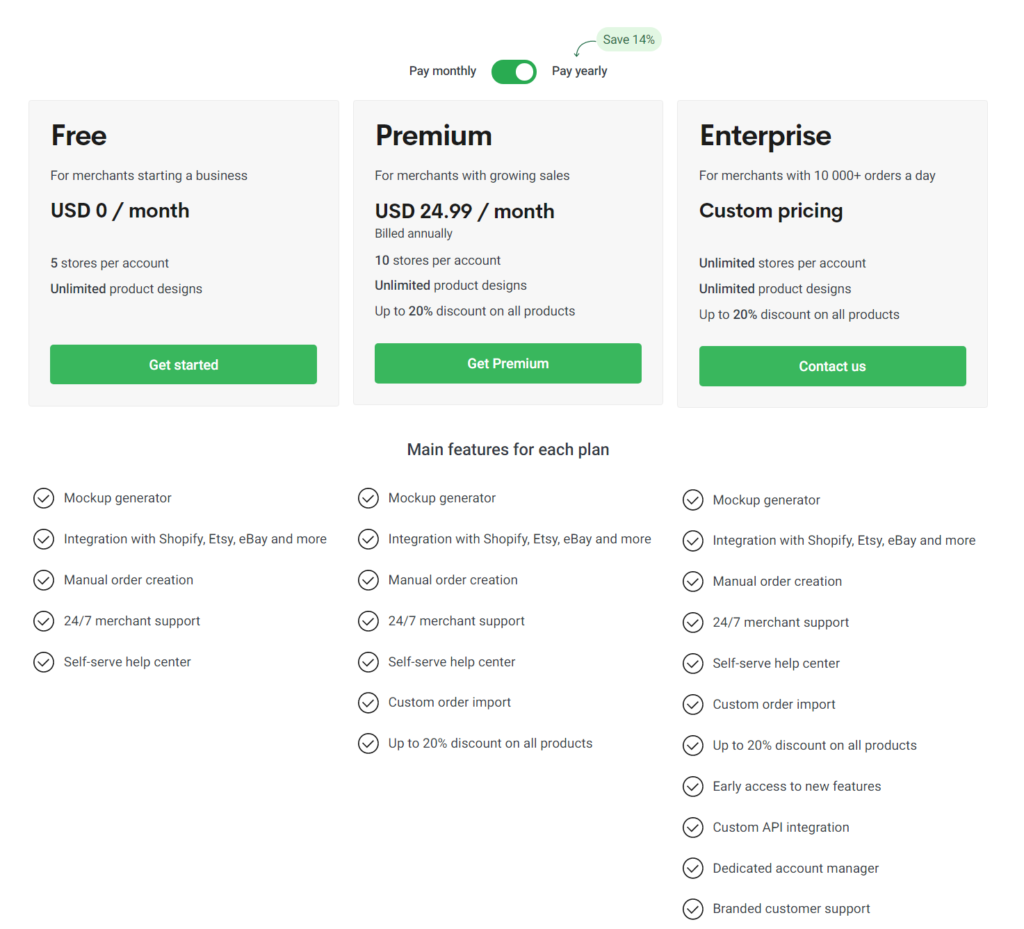 However, if we talk about the Printify pricing plan, it offers three different "plans", each having features and benefits.
▶️ Free Plan
The first and most basic plan is Printify Free Plan. This basic plan provides five stores, unlimited products, the mockup generator, integration platforms, manual order creation, 24/7 merchant support, and a self-serve help center, just in case you need immediate assistance.
▶️ Printify Premium Plan: $29 Per Month
The second plan is Printify Premium Plan that costs you $29.00 per month.
In this plan, you gain access to ten stores, custom order import and up to 20% discount on all products. If your sales are increasing, and you need more support, this 20% discount definitely helps in lowering the bulk products cost. Printify will also give you a one-time joining bonus to use.
▶️ Enterprise Plan: Custom Pricing
The third plan is the Printify Enterprise plan for merchants having ten thousand or more orders in a day.
Custom pricing is offered under this plan, along with access to unlimited stores per account and unlimited product designs. Users will receive early access to new Printify features, custom API integration, dedicated account manager, and branded customer support. This plan is best for renowned merchants having a diversified portfolio of goods.
Previously, Printify allowed integration with Etsy, Shopify, and WooCommerce but now they are offering eBay and BigCommerce. Printify is definitely the best platform for on-demand printing.
Third Party Suppliers
Printify uses a huge network of third-party suppliers. This approach has both positive and negative sides. The biggest advantage of this business approach is that Printify can use companies that deliver high-quality goods at minimal prices.
There are so many competitive POD platforms like Printful that offer consistent quality as all production takes in-house. However, this is a costly deal for small companies that expects solid profit margins.
The argument for quality over price is a slippery slope, as it leads to the demand for custom production, and leaving the POD universe, which has the potential to become extremely expensive, and far riskier.
Printify Review- The Final Verdict
Printify is a great platform for small businesses that seek high-profit margins with lots of features and almost at zero cost. A business must have an online platform presence other than that there is no additional course until or unless you upgrade to the Printify premium plan.
Since Printify completes all of its orders with the help of third parties so businesses expecting the same and consistent quality to all of their customers isn't possible in that case. Choosing a platform with in-house manufacturing is the right choice for you.
However, if you want your business and customer to crack a great deal on printed goods then choosing Printify makes sense. It provides a business with sound profit margins and customers with great printed products at affordable prices.
Your business might not be located in a cost-effective geographical location to Printify, so ensure to check these aspects as well before choosing Printify.
At last, just make sure about the pricing plan of the POD platform, terms and features of the platform, and integrations. That's all for now, keep investing your valuable time in building a strong brand image with the use of the POD platform and spreading inspiration among the masses! You can also get benefit from best digital marketing institute in amritsar , to learn how to market your business.
Writing is expressing your mind through words. Being a content-writer I always try to script the best of my knowledge about the topic in the form of blogs, articles, and content.