Advertising is a much broader concept than it seems. Traditional ways of advertising has a limited reach so people started switching to modern ways. Now modern ways have multiple types and to understand those, we are going to explain what is programmatic advertising platforms?
Programmatic advertising is about buying the space for an advertisement. Ads have a great reach and potential to accelerate your business. But no matter how outstanding your brand is or how good your ad is. It will all go in vain if it is not targeting the right audience. This computerized way of promoting your brand is a whole new concept. Let's dive deep into this and know more.
What is programmatic advertising?
Programmatic advertising means selling and purchasing the space of an ad on any website. It is a much deeper topic. There are two parties involved in this type of ad.
The party who wants to put an ad- the advertisers
The party who provides space on the website for ad – the publisher
This automated system makes deals with the renting party after observing the interest of the audience. It takes a few seconds to proceed further with the ad because the entire task is managed in a computerized method. Programmatic media buying system analyses traffic and online people's behaviour in the most accurate way possible, to come up with impressive and correct impressions. It eases the work of cross channel marketing.
What is a Demand-Side Platform?
There are always two parties involved in the deal. The first one takes the services and another, which is giving the services. The party which uses the service is known as advertisers, which uses the Demand-side platform.
What is a Supply-Side Platform?
The party which provides services or provides space on their website for advertisers is known as publishers, which uses a supply-side platform.
How Does Programmatic Advertising Platforms works?
There is a process by which the user sees the programmatic display advertising. Here are the steps which are followed before making a deal-
The visitor came to a website
The website owner will share the ad impressions to find the brand – this part is supply side platform
The bidding starts on the platform to find a deal- this is demand side platform
The brand with highest bid will win it
Now the advertisement will be available on the website's space
The visitor will get an ad related to interest
The visitor will click (maybe not) on ad to redirect on advertiser's page
If everything moves perfectly, then visitor will turn into potential customer of the advertiser
This is how this whole procedure works and advertisers get the clients. The publishers sell space and advertisers purchase it and these platforms help them to do it automatically. Programmatic advertising platforms have the feature of doing real-time bidding and updating.
4 Benefits of Programmatic Advertising Platforms
1. Widens Your Reach
The platform analyses and compares all the impressions and finds out the best space for your ad which can reach more people. It reads their behaviour to come to the results.
2. Provides Real-Time Data
These platforms provide updated data to both publishers and advertisers. The data it provides is related to the ad placement and activity.
3. Target the Right Audience
The programmatic ads have the goal to target the potential audience based on their interest and related searches. So, it chooses those sites which can get quality conversions to advertisers. Then, it again leads to improving your business.
4. Provides Accuracy
These tools are automated and quick and provide real-time responses. It is a boon to publishers and advertisers. It gives accurate insights into how the audience is responding what should be the most accurate approach.
Best Programmatic Advertising Platforms
SmartyAds
SmartyAds is a platform that is much reliable for both parties. The advertisers can get space for putting ads, videos, banners or anything. The app developers can use it for in-app advertisements. It allows all the possible formats for the videos and shows accurate results.
It contains a Demand-side platform, supply-side platform, data management platform and ad management. It has a feature of White label ads, where advertisers can build their product on top of it. It enables publishers to monetize the space and provides real-time insights for ads.
This tool finds the results suitable for all mobiles, TV, Tabs and Desktops. The in-built features contain accurate analytics, ad creation tools and potential audience targeting capabilities with ad placement features and campaign management features.
For publishers, it provides best-suited revenue opportunities and searches for the perfect advertiser that fits the requirements. Advertisers can get native ads too. It is not required that your ad should be open to all across the globe or within the country. You can target a smaller audience. Here is a tutorial of this platform.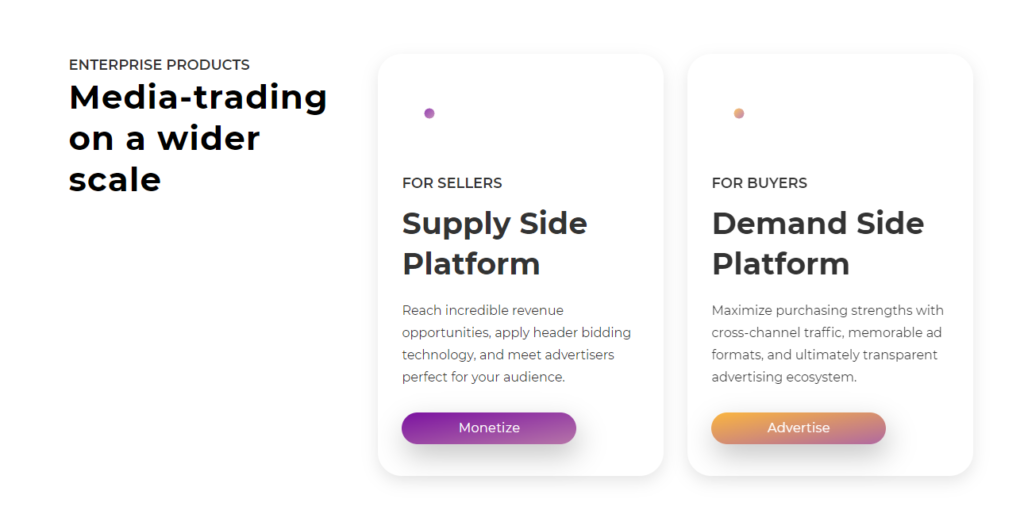 TubeMogul
TubeMogul is a part of the adobe advertising cloud which allows different brands to create their advertising campaign in a span of a few seconds. It was the premium feature that allows companies to use real-time bidding to get the most useful deal.
Advertisers and publishers can plan and buy video ads for all kinds of devices through TubeMogul. The brands can import their deal directly to this programmatic advertising platform. This tool is effective and has some features which make it different from other and traditional programmatic media buying software.
TubeMogul came up with Non-Human Traffic Credit Program in February 2016; this program provides compensation to advertisers for fraudulent traffic. It was a great initiative that promotes organic traffic and genuine results.
Simpli.fi
Simpli.fi is an industry-leading accounting, media buying and programmatic platform for all advertisers, brands and publishers. It is suitable for a seamless workforce and reduces errors. It has an automated demand-side platform that serves results to all campaigns, no matter how big or small a campaign you are conducting.
It allows project management tracking; you can forecast expenses and generate revenue out of it. This tool has transparent pricing and delivers information over every impression and audience insight.
Advertisers can generate audiences on different bases like demographics, interests, etc. It also targets the audience which has similar or look-a-like searches to reach more potential customers. It has automated media buying for both traditional and modern media types both.
Simpli.fi is new in the industry but still holds the potential to serve various clients and performs tasks flawlessly.
MediaMath
MediaMath focuses on targeting the right audience by providing real-time and accurate insights. The demand-side platform coordinates perfectly to find the budget-friendly and potential audience. It has a fully automated system and provides a smart user experience that gets drives performance for both parties.
The demand-side platform provides the places which are accessible on all devices. It bids the deal and finds the best among all to increase your reach in the people. It minimizes your expense and maximizes your ROI, which is the basic need of every advertiser.
This platform is more suited to DSP as all the features work in that favour. It delivers a consistent user experience on all the channels to the audience by observing their choices and searches. By using brain optimization and brain insights of this software, the advertiser can optimize the ad campaign. And also, a company or agency can run as big a campaign as they want.
PubMatic
Unlike MediaMath, Pubmatic is suitable for both DSP and SSP. Advertisers and publishers can take the help of this tool to target rightful deals. It analyses the fraudulent ad and refunds the paid amount if any fake activity is seen or observed by the system.
With the feature of Real-time bidding, the publishers get the most suitable deal which can pay them according to requirement. The websites and apps provide blank spaces to these tools and tools like PubMatic finds reliable advertisers whose audiences match your website.
The real-time analytics are provided by this software which is beneficial to both advertisers and publishers. The technology-driven tool analyses the creative and video provided by advertisers and manage it in such a way that the publisher's site doesn't get spoiled. This programmatic advertising platform is vigilant towards both parties.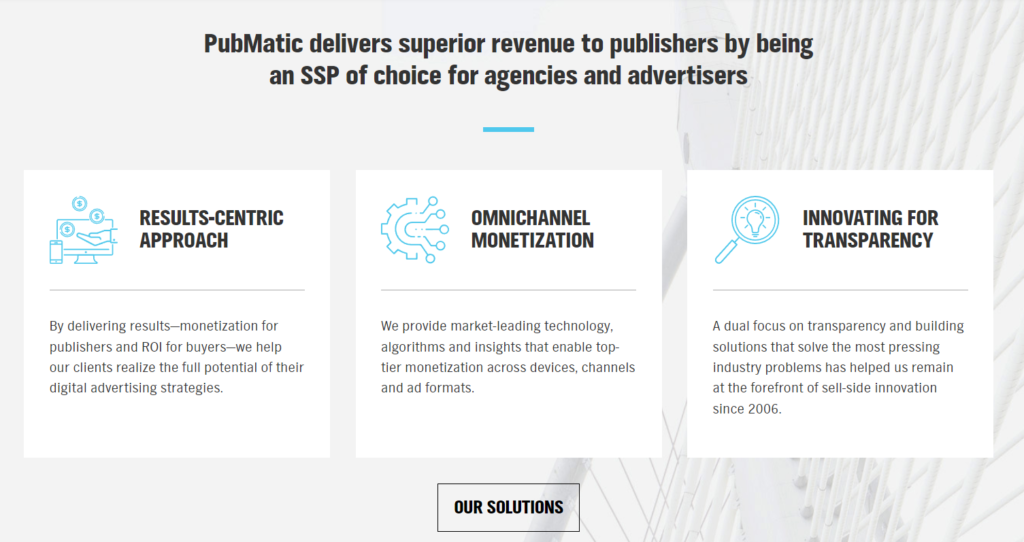 Conclusion
Everyone needs to advertise their brand in order to make their brand popular. But only a few people have the capability to find the best place to target the rightful audience. The programmatic advertising platform comes up with the best-suited space for advertisers and provides ads to the publishers having space on websites or apps. This process is the best practice to find a suitable marketplace and increase brand awareness. These platforms not only provide the perfect place for advertisers but provide perfect companies to publishers as well. Few of the good programmatic advertising platforms refund the money if any fraudsters company made a deal. So these tools are reliable and safe to use. Read this article and share your reviews in our comment section below.
List Your Tool
If you have a tool similar to this, which helps advertisers and publishers, then share it with us. We will analyze it and will add it to our article for our readers. Send your pitch by clicking on the button below or you can mail us at info@amritsardigitalacademy.in
Content Inditer | Fond of exploring my Innermost phrenic Conceptions to engender content that will evoke deep relatable emotions and ardency in others.