Social marketing has become vital for every kind of business. And this marketing process on social media platforms has become easy now. All thanks to the marketing tools for social media.
Now, what would a social marketer wants more, when there are best marketing tools for scheduling social media posts are available. So, you don't need to waste time on posting social media posts daily when you can schedule them very easily.
Knowing the right tools will help you make a strong social strategy and thus helps you save time and effort too.
All the social media marketing tools are not equal and for the highest engagement of the audience, you must know about the best social media tools.
Without social marketing, a business cannot do anything in the online field. After collaborating and working with all the tools, we have got some best of them. So here you go with the top 10 social media marketing tools to strategize and schedule posts.
Hootsuite is the tool that comes first from the list of best social marketing tools. This tool helps you schedule and upload many posts a time. Add all of your social media platforms (up to 3 platforms in free version) such as Facebook, Instagram, and Twitter, etc. and set your posts according to the calendar.
Not only scheduling the posts but the software also lets you set reminders so that you would not forget to post. You can schedule up to 30 posts in advance with Hootsuite free version. Moreover, in the free plan, you can also check the analytics for tracking the performance and followers.
For the paid version, there are different plans in which you can pay for up to 35 social profiles along with unlimited posting.
For a beginner, the buffer is a great tool to automate your social media posts. Here, it is easy to learn the posts automation and go out with the appropriately scheduled posts.
It has a very easy to use interface for adding the posts with titles and images and setting their time. It also shows the analytics of the posts along with the behavior of the followers.
However, the free plan has some limitations of posting in the buffer but you can schedule unlimited posts with its paid plans. Moreover, it has launched a new feature called "reply" where it supports comments of Facebook, Instagram, and Twitter.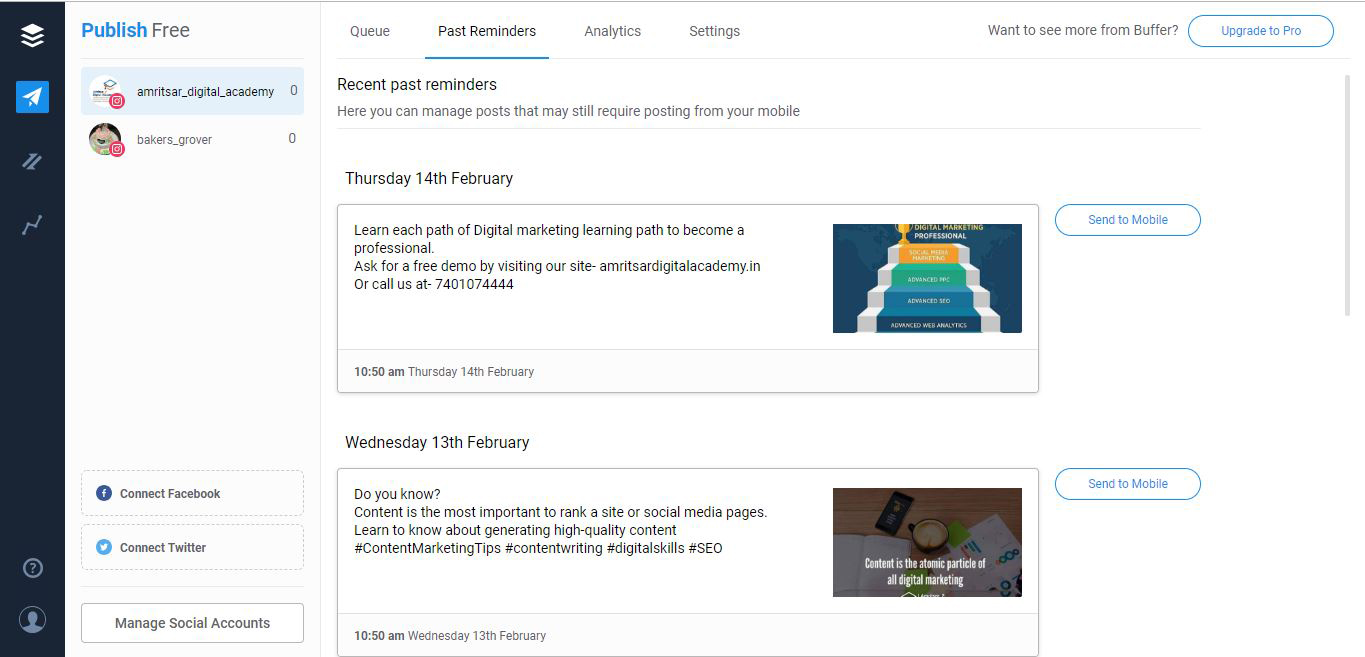 Sprout Social is a tool that meets the requirements of small business and provides the features of analyzing the performance of social platforms. Like other tools of the list, it helps in scheduling and monitoring the social media posts. However, it does not have an auto-post feature, though it helps in customization of posts and also helps in finding the perfect keywords by its keyword search feature.
From easy to use interface and checking the stats of each post to have a social inbox, the tool is an overall pack for handling social media platforms.
Apart from scheduling the posts, the platform offers teamwork among the marketing members. That means, by providing the user permissions, the marketing team of management and writers can contribute to the work of social marketing.
The effective social media marketing tools include lithium which is also a tool for scheduling and auto-publish the social posts. The tool helps the customers to engage in social conversions about your brand, thus you can monitor the performance of your brand through their conversation.
You can respond to the queries of your social accounts and provide information to the customers through this tool. Moreover, it helps in managing the social media content of your posts too.
You can increase your social engagement of not only the social accounts but also the website and mobile apps with this tool.
Later is an official Instagram partner that works as its marketing tool. The platform helps in auto posting the Instagram posts for single photos. Moreover, it is the only tool among all social media marketing tools that allow you to get real-time notification of the post or auto-publishing the post.
For those, who work more on visual content, can use its drag and drop feature for Instagram posts that help to preview posts visualization. The other feature of this tool includes analyzing the statistics of posts, the creation of hashtags, and optimizing the posts.
Everypost helps you in making every post of your social platforms more effective. It helps in curating content of all social media platforms. It lets you customize the posts that are to be scheduled.
This marketing tool also includes the feature of collaboration with the marketing team. So manage your workflow from anywhere through this effective tool.
Moreover, this platform is not for scheduling posts of a particular social media site, in fact, you can publish the content on various platforms such as Facebook, LinkedIn, Twitter and more.
Almost all the social media marketing tools work in a similar manner for scheduling the posts. But this tool has an extra feature i.e. with works with the collaboration of WordPress blogs to publish the content on the blog and simultaneously sharing that on your social media platforms.
Moreover, it also has an extra feature of the content report that shows the stats of engagements and total shares with the posts. Its ReQueue bucket feature helps in automatically recycle the best messages and schedule them. Therefore, this tool works great and provides all the features that a social media content creator wants.
Social marketing is incomplete without twit your content on Twitter. To simply focus on Twitter management, this tool has a lot of options. You can add multiple accounts of Twitter and schedule the queue of your tweets.
It is completely a free upgrade where you can go through the live tweets, check notifications, and do other activities. So why not to try the tool when it is providing everything free?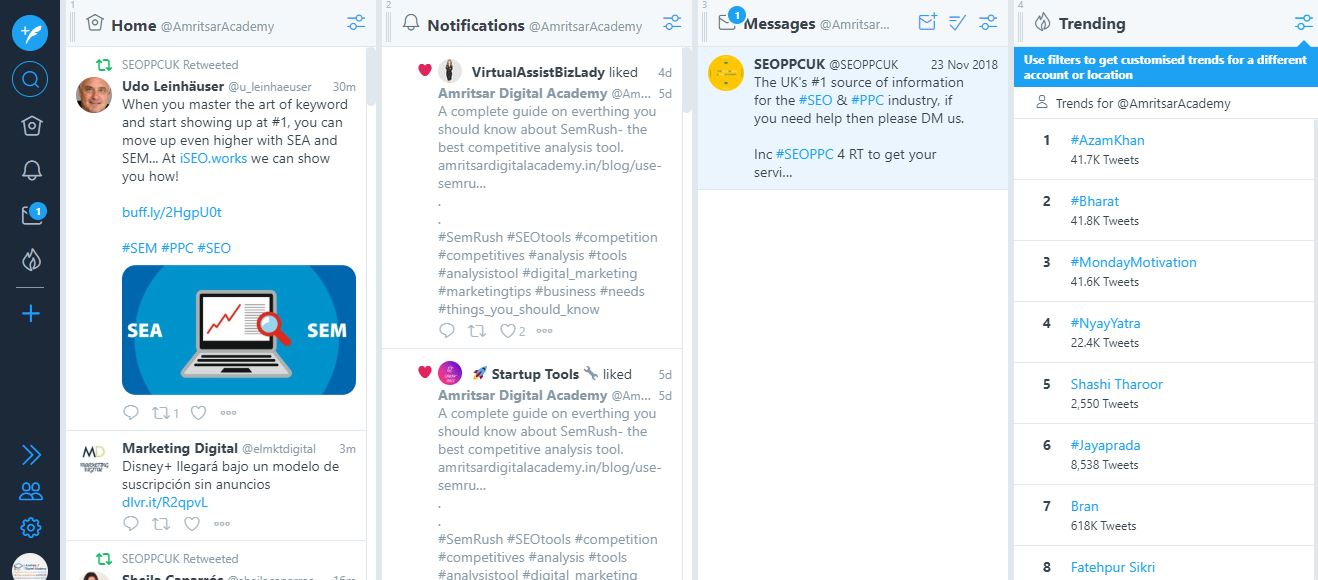 SocialOomph offers plenty of features that are a way different from other social marketing tools. Along with the automation of social posts, it also lets to auto-post the tasks on a blog. To improve performance and get the best results, most of the marketers prefer to use this tool.
Unlike other SMM tools, you can use keyword search for identification of twitter accounts and can also shorten URLs of your tweets.
Not only on Twitter but this tool has a wide range of features for other social media platforms too. But surely, its free plan has some limitations and you can use all the features with its cheap paid plans.
Sked social is another among social media marketing tools for Instagram scheduling. Like Later, this platform also lets you schedule Instagram posts and use drag and drop preview to visualize the posts.
You have been familiar with this tool with the name of Schedugram. But the name is no longer available due to its rebranding.
Moreover, the tool helps in remembering the hashtags, captions, and photos for their reuse.
Hey, I'm an SEO analyst, Social media marketer, content writer, and a blogger. I become a writer by profession and get influenced by passion.