What is LSI?
Latent semantic indexing (LSI) is a strategy used by search engines to analyze the related words (LSI Keywords) that people use for a given topic.
What are the LSI keywords?
LSI words are words or phrases related to the target topic that Google's algorithm uses to understand the content on a webpage.
What is Google's Algorithm? – Hummingbird and Semantic Search
In August of 2013, Google announced the Hummingbird Algorithm, also refers as a semantic algorithm. This algorithm enhances the ability of Google to deeply understand the synonyms context of the webpage. Basically, it is the concept of improving search results by focusing on user intent.
Why Do Google Use LSI Keywords?
To enhances its ability to better understand the synonyms context of a particular webpage. So, Google uses LSI to know searcher intent.
Example Of LSI Keywords:
I searched for hair straighter in Google. It gives me suggestions but these autocomplete suggestions are not LSI words. These are the queries that people searched for more.
LSI google suggestions for "hair straightener" topic are:
⇒ Wavy hair

⇨ Hair straightener brush

⇒ Fizzy hair

⇨ Cream

⇒ Flat irons

⇨ Damaged hair

⇒ Bouncing curls

⇨ Hair tools
What Is The Difference Between LSI Keywords and Long-Tail Keywords?
| LSI Keywords | Long-Tail Keywords |
| --- | --- |
| 1. These keywords are not the target keyword in the content. | 1. These keywords consist of more words with lower volume derived from a seed keyword. |
| 2. LSI is keywords that must be in the blog to let the search engines know that your article is about the long-tail keyword that you are trying to focus on. | 2. Long-tail keywords lead to better conversion rates which make them easier to rank for. |
| 3. These keywords help in improving the article ranking | 3. While writing content, you need to focus on a single long-tail keyword. |
| 4. Example of LSI: If the seed keyword is Osteoarthritis, then LSI keywords are Joint, Pain, Lower back, Knees & Treatment. | 4. Examples of long-tail keywords: If Seed keywords are Osteoarthritis, then LONG Tail Keywords are Best Osteoarthritis Doctor, osteoarthritis treatment in Ayurveda, etc. |
Why LSI Keywords Are Important In SEO?
In the old SEO keyword strategy, Search engines used to figure out the same topic-based keywords on the page.
If Google saw the keyword "Content Marketing" used in your content multiple times, it will consider that page is about content marketing".
That's why keyword density had importance in earlier SEO.
If you didn't use it so many times, Google wouldn't be able to understand your target topic.
But now Google has become much smarter than before. Today, Google's goal is to figure out a page's overall topic.
And, now Google focuses more on LSI keywords to understand content at a deeper level.
Example- let's suppose you published a blog on the topic "social media.
But still, Google will analyze your page to see the term "Social media" in your title tag, content, image alt text, etc.
And it will also scan LSI keywords like "Facebook", "twitter", "Snapchat" and" Pinterest".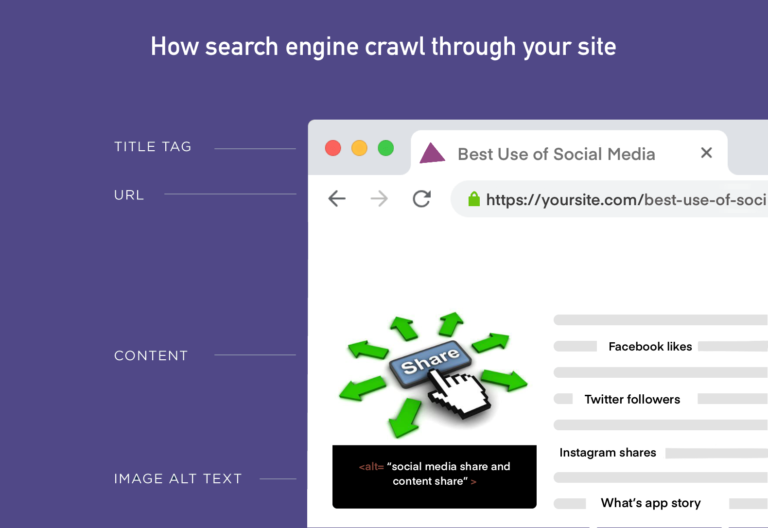 So when the search engine found LSI in your content, it will come to know that this page is about social media."
How To Find LSI Keywords?
While searching for LSI terms, don't even try to focus on synonyms. Just look for related terms and phrases.
1. Use Common Sense
The best strategy to find LSI words is common sense.
Let suppose you are writing a biographical article about Donald Trump then its worth adding part is his impeachment.
In this way, all the related words and phrases will be added.
2. Google Search – Best Terms In Google Snippet Description
Enter your target keyword into Google and look at LSI keywords in the SERP snippets.
For example, your target keyword is osteoarthritis. Look at some LSI keywords for 'osteoarthritis' that you can get from the top search results.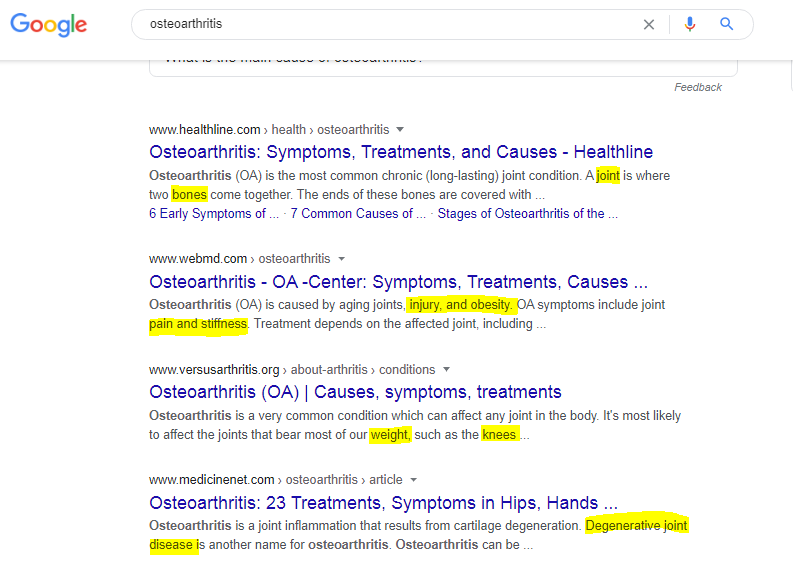 3. Google Auto Complete Results
Google Autocomplete doesn't always show related keywords, but you will get an idea about the term.
Like, we entered the term "Osteoarthritis".
Google's Autocomplete generated related results; "Osteoarthritis treatment", "Osteoarthritis causes" and "Osteoarthritis knee".
4. Google Related Searches
Another easiest way to find LSI from Google Search is to look at 'Searches Related To' at the bottom of the SERPs page:
5. Google Image Tags
Google Images is an awesome feature of google that provides us every kind of image.
And it's very beneficial.
To use this feature, you just need to enter your keyword into Google images.
Look at the same Pinterest image suggestions:

6. Knowledge From Informational Sites
We have many informational websites that provide trusted information. One of the fantastic sites is Wikipedia to find related terms.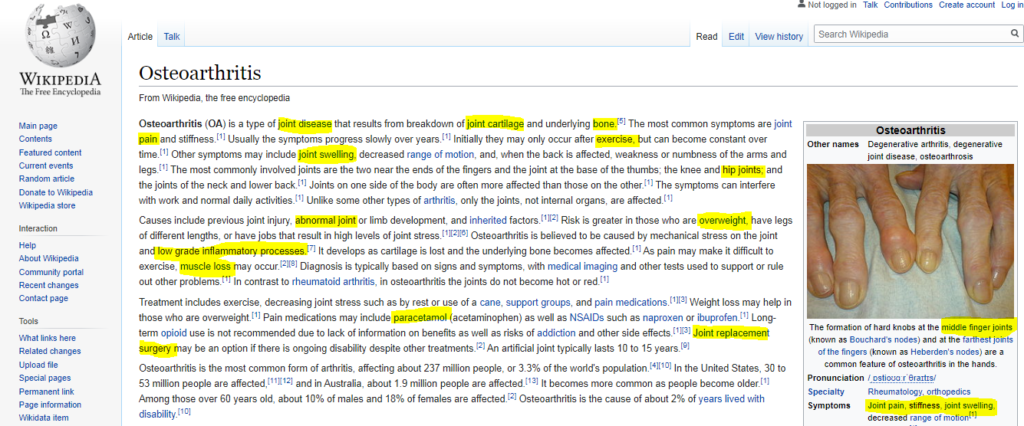 Google also extracts knowledge graph data from this popular knowledge base.
7. Google's Knowledge Graph
Google stores the relationship information between multifarious concepts, people, and things called a knowledge graph. These results display in Google search results.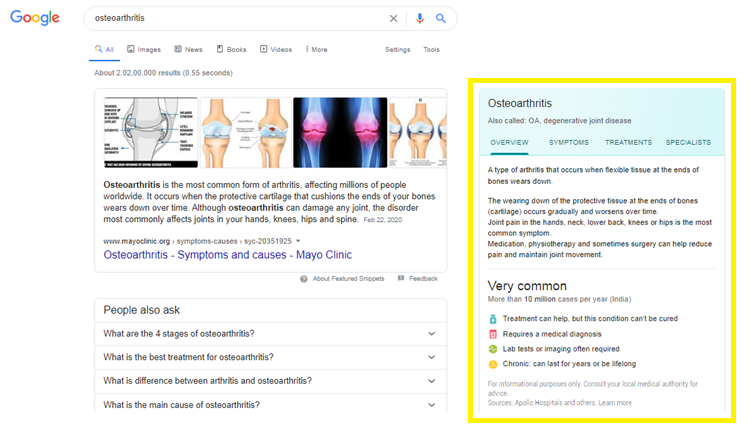 Try searching for your target keyword and see data that displayed on the knowledge graph.
Best Tools For Finding LSI Keywords
You can also use Free LSI Keyword Generators to get the LSI terms.

Here are some of the best LSI keywords tools:
1. Use an "LSI keyword" Tool
The keyword tool is the free SEO tool to get LSI Ideas.
This tool can give you a myriad of suggestions related to your defined keyword. So you can easily optimize your content.
2. Ahrefs Keywords For Top Ranking Pages
Get related keywords and phrases Ideas from Ahrefs section "Also rank for" in keyword explorer.
3. LSI Graph
LSI Graph is the best free tool for generating LSI keywords.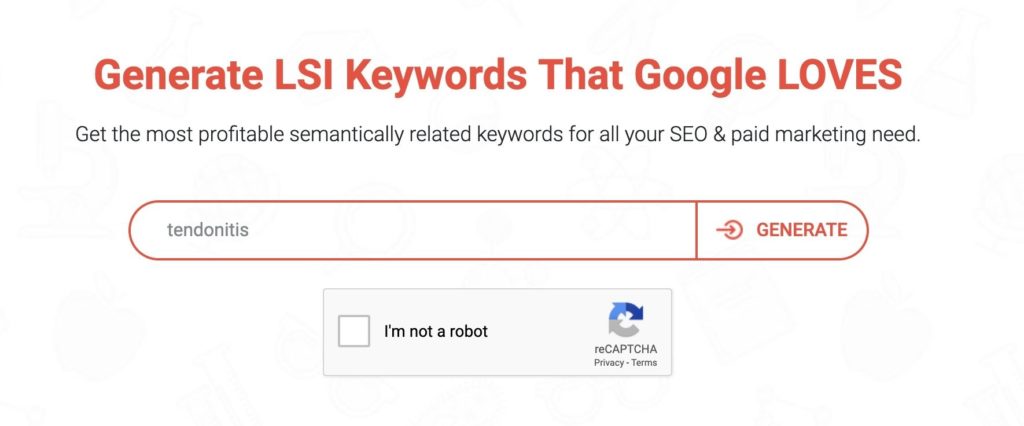 Just enter your target keyword and scroll down to see the keywords:
4. LSI Keywords Tool
Enter your seed keyword and hit 'search'. This LSI tool returns a list of LSI keywords related to 'tendonitis":
5. Ubersuggest
Another great tool for finding latent semantic indexing words. So, it gives me a plethora of LSI ideas.
6. Google Keyword Planner
Find your LSI keywords using Google with its Keyword Planner Tool.
It is a free LSI keyword generator that suggests common search terms and phrases.
Enter your target term and look at keywords that have high search volume and low competition.
7. Keyword Explorer MOZ
Search Your Ranking keywords from MOZ. You just need to sign up & login to Moz.
Enter a target keyword in Moz Keyword explorer and you will myriad of LSI suggestions:
8. Use Alexa's Keyword Difficulty Tool
Alexa tools can help you find related keywords to support.
Just enter your target term into the Keyword Difficulty Tool to get the report of similar words:
How to Use LSI keywords?
These LSI keywords can boost traffic and higher your article rankings in Google search results.
In addition, there are different ways to find these helpful Keywords. So, try to put them in your content at the right place.
Now you have a list of LSI Keywords.
So, How do you use them?
According to my experience, If Google finds these terms somewhere on your page, you're good.
So, Include Your LSI Terms:
⇒ In your title tag

⇨ In image alt text

⇒ As an H2 or H3 subheading

⇨ In your H1

⇒ In the content
Final Thoughts
Latent semantic keywords are the heart of Google to understand the content. Thus, it's important to sprinkle LSI in your content to optimize your blog.
More importantly, make sure to use them where it makes sense.
Content Inditer | Fond of exploring my Innermost phrenic Conceptions to engender content that will evoke deep relatable emotions and ardency in others.