The word curation refers to the selection, organization, and presentation of online content with your audience by using expert knowledge. Combinedly, content curation is a content marketing strategy in which you provide valuable information to your audience by simply re-sharing content on various content curation platforms.
Here is the perfect content marketing mix that will tell you the importance of content curation and what proportion is perfect of content curation.
This article is all about 13 best content curation tools, how to curate content, why it is required and some of the best content curation tools that you can use.
Let's get started!!!
What is Content Curation?
Content curation refers to finding relevant material as per your niche or business and sharing it with your audience through various content curation channels.
This is one of effective strategy to drive relevant audience towards your brand and often used by expert digital marketers. The best way to do this is with the use of content curation tools.
Writing a round-up post is a great example of content curation. Round up posts are written with the reviews of some strong people who are popular in that niche. In the same way, content curation takes place where you share the most relevant & valuable content with your audience. Content Curation can be done through social media channels, news feed emails in order to drag the attention of your audience. It keeps them attentive with the latest updates.
What are the benefits of Content Curation?
Content Curation strategy saves your time, money, and efforts.
It makes you free from creating interesting & relevant content for your audience. Your views and comments in the context of the curated content are enough.
Pick up the most relevant content for your audience from the available best content curation tools.
13 Best Content Curation Tools
Choosing the right platform and best content curation tools is very important in order to make this strategy work for you. Here is the list of 13 Best Content Curation tools that will help you to streamline your efforts-
1. Flipboard- Free Content Curation Tool
Bring stories of the day with Flipboard mobile and desktop app. Content curation in Flipboard takes place in form of mini magazines flooded with the links to the relevant posts from other publication.
It will community with countless world's leading publishers that share voice on Flipboard and also gives you an opportunity to share quality content with your audience base.
All you need to do is follow the niche of your interest and its magazines by different users and share the best or relevant one with your audience base.
For best results, we suggest you to share influential stories that not only informs the readers but also inspires them to engage and interact with the stories.
How to get started?
All you need to do is download Flipboard app. Create new account on it and click on Create Magazine option. You are all set to start curating your first piece of content with your audience.
You have access to check other user's magazines and can share their magazines with your audience by just a quick tap.
Pricing Plans
Flipboard is absolutely free for all its users. So, anyone can start content curation by creating an account today.
---
2. Crowdynews- Social Media Curation Platform
Crowdynews is one of the biggest social media platforms that deliver valuable content to the news media market worldwide. Use AI-powered content generation and engage your audience with the power of social content.
One can analyse millions of articles and social media posts, also, you can deliver best curated content in more than 25 languages with Crowdynews. With the use of intelligent filters, you can control what you want to publish.
Crowdynews will automatically analyse your published content and on the basis of it, it will find relevant content that helps you to stay updated with the latest in your field of interest.
Raise your business conversion rate by sharing valuable and useful content through Crowdynews. Save time and costs with Crowdynews as it is fully automated across social media platforms
Our users can share their complete opinion by including phots, videos and text through various social media channels with complete set of features.
---
3. Content Studio- Social Media Management
Content Studio is next in the list of Best Content Curation tools that enables 60K+ users to manage their social media. It strengthens up user's content marketing strategy by content curation through this platform.
They believe that businesses nurture their community relationships through social media that made them offer tools related to every single content marketing operation. It nourished your social media and blogging channels by discovering and collaboration with valuable content for your business audience.
You are allowed follow topics according to your business and audience interest. In this way you also get notification of trending and latest stories on followed ones.
Pricing Plans
Get 14-Day Free Trial with No Credit Card Details Required.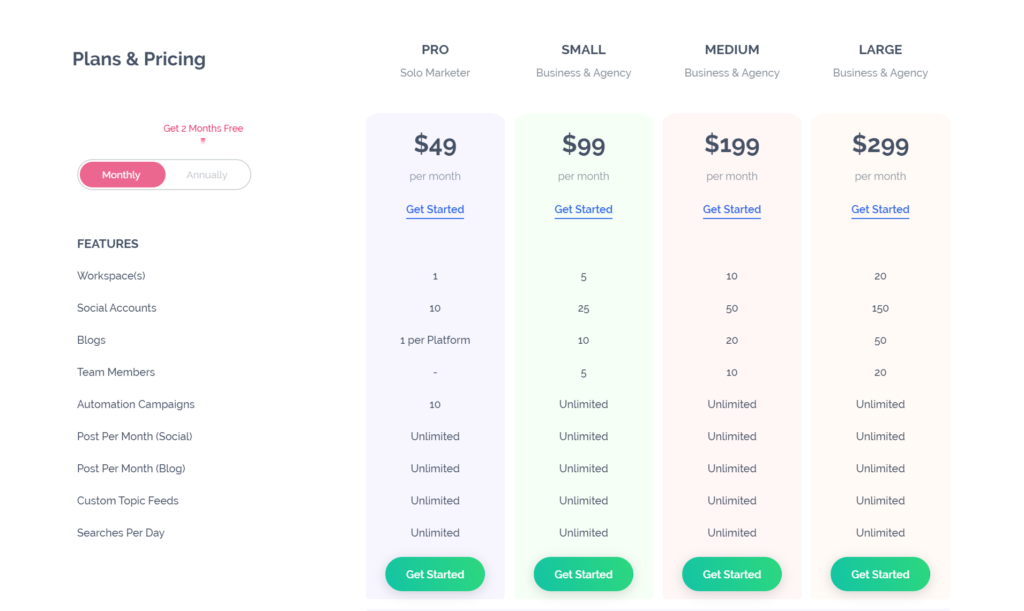 ---
4. UpContent- Free For Single User
UpContent is the team of passionate professionals who believe in creating customer relationship by providing valuable content to readers. It offers the best way to discover, collaborate and share valuable and relevant content from third party to your audience. This also helps in coverting your audience into potential customers of your business.
UpContent provide interactive dashboard after you set up account with it where you get recommendation according to the niche on regular basis. User can easily select relevant content from the notification and asks them whether they want to share it on their account, site or blog.
UpContent is enterprise level content curation software. It is robust software that works best with big companies where there is a team of editors, users and content curators. It provides the opportunity to the team of editors in finding relevant content by customizing content and publishing on various channels.
Pricing Plans
UpContent free for 1 user for a single user and for a single topic. But for accessing more benefits and functionality it also offers list of premium plans. The array of plans offered by UpContent are listed below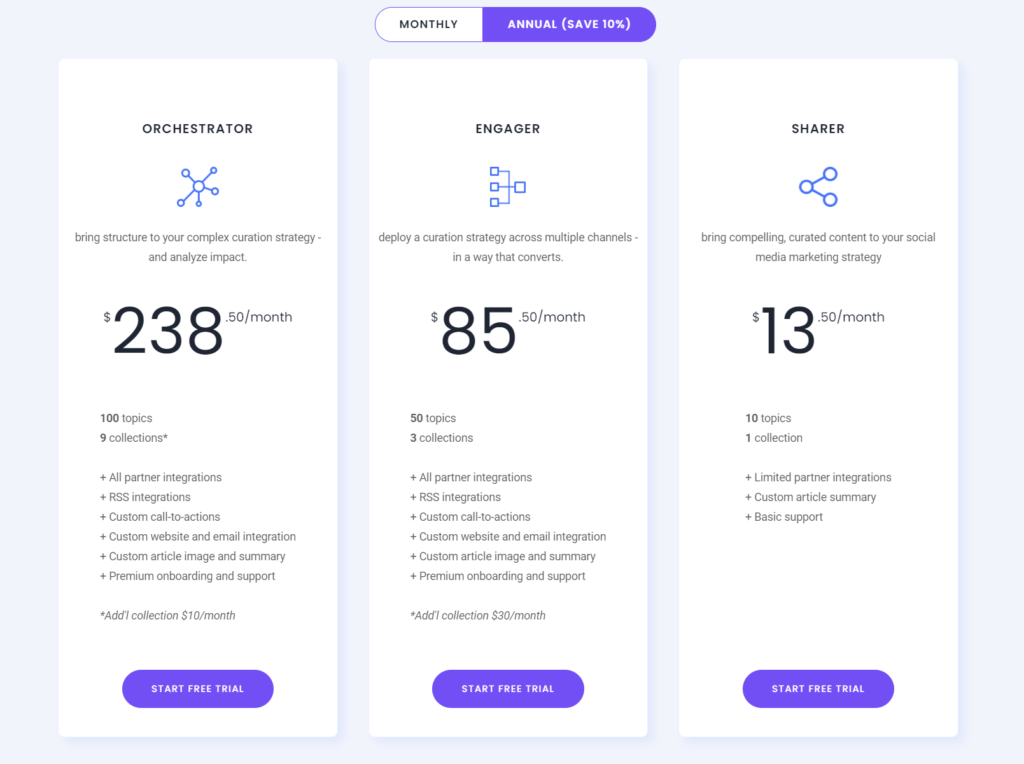 ---
5. Medium- Accepted By Millions
Medium is definitely growing as a reliable platform for content curation. It allows a user to create an account for free then you can create and write publications. Millions of authors and users have linked up with Medium and are also allowed to contribute to your publications. It is available for free of cost to every user. Still, if you are looking up for additional functionality like the creation of an offline reading list then with a minimal amount of 5$ can provide you so.
---
6. Pinterest- Visual Social Media Platform
Pinterest is a visual social media platform that allows a user to share content in the forms of pins under a certain board. These boards can be private, public or shared as per the choice of creator. It is one of best content curation software due to its global acceptance by millions of people. The content curation is done manually in Pinterest.
This fantastic content curation tool can drive masses of potential audience towards your brand and it is able to increase business conversions and sales. Businesses can drive organic reach of audience towards their brand and that too at zero cost.
---
---
7. Curata- Best Content Curation Software
The presence of software Curata is always seen in the list of Best Content Curation Software due to its incomparable features and functionality. You are allowed to choose from numerous numbers of sources like blogs, authors, news sites and so on so that you can collect list of relevant results. You can also add and share content and imagery and share or schedule it on your dashboard.
Curata ease in searching for relevant content without investing a lot of time in it makes it one of the best content curation tools. Search, customize and share the content your audience base that too in few clicks.
Curata pricing information is not made public yet however you can book its free demo now and get to know about its pricing plan as per the requirements of the company.
---
8. Scoop.it- Complex Yet Effective
Scoop.it have excelled as one of the best content curation software where you can create a profile for free. It helps you to create a topic based on topics of your interests and enable you to share relevant content among your team as a valuable resource.
Scoop.it has a lot to offer as a marketer, blogger, business for building some strong business relationships, promotion of content, driving audience towards your brand, building network, getting backlinks, looking for new content ideas and much more. It offers amazing content as people from several niche is joined with scoop.it community.
It is little bit complex to use at initial stage, one need to spend good time on it in order to get maximum benefits from Scoop.it. For a start you can sign up with it's absolute free plan and when you feel need you can also sign up with its paid plan starting at $11 per month.
---
9. Anders Pink- Sign Up With Twitter
Sign up with your Twitter account today in order to login to Anders Pink. After choosing topics of your interest your dashboard will display the top stories from your selected relevant niche and your shared content. Anders Pink share daily digests with you via emails.
Anders Pink is free to use for 2 briefings and a single user but if you want to take more benefits from your Anders Pink account then it is suggested to shift on its paid plan starting at just $9 monthly.
Why to choose Anders Pink?
Get Relevant content immediately according to the niche of your interest with Anders Pink.
Easy and Instant research option to get relevant content instantly.
Fresh content briefing every four hours so that you remain updated with latest news.
Create you, private team, as an audience for sharing relevant content on regular basis.
---
10. BuzzSumo- Easy To Use Content Curation Software
BuzzSumo is one of simplest content curation tools in the market that makes searching topic according to your interest by search filter. It also shares daily digests with its users. BuzzSumo has prebuilt list of topics you can simply select one and see the latest updates in that area.
Content sharing is extremely easy with BuzzSumo. You can also track that whether the content is shared by influencers or authors.
BuzzSumo offers a free plan at the initial stage. For having full BuzzSumo functionality it offers paid plans starting at $79 that also includes trending content tracking.
If you are in the dilemma of buying its paid plan then let me tell you that BuzzSumo is the world's largest index of social engagement data. It has over 300 trillion engagements, millions of articles, and millions more indexed every day. It gives you the largest audience base from which your business can ensure conversions.
---
11. Quuu- Unique Content Curation Software
Quuu is different in its kind of best content curation tools. In Quuu, every piece of content is reviewed by a human before it is ready for posting to Quuu feeds. So, you can ensure 100% quality content with Quuu.
Quuu is free content curation tool that can be integrated with major social media scheduling tools. It only recommends you the best content by analyzing you interest, social media posts and social channels.
Quuu is completely free to use. You can upgrade to its paid plan starting at 15$ per month. In case, you want to integrate more than one social profile of you with it.
How to get started?
Select the topics of your interest. Decide how many times you want to post on your social feeds and when you want to post. Quuu will automatically do the rest. You get the option to manually approve the content. You can also set your Quuu account to auto-pilot mode. It means the posts scheduled by you will automatically get shared on your profile.
---
12. DrumUp- Forever Free Plan
DrumUp helps in discovering great content for your social media along with reducing the social media management time by 90%. Yes, it's true. It also gets integrated with Twitter, Facebook and LinkedIn. Based on your interest, you can add your favourite blog feeds, it shares relevant content with you, now easily monitor relevant content at one place. Hashtag recommendations, content library and social media analytics also works in DrumUp.
DrumUp offers forever free plan with limited features. However, you can switch to its paid plan for additional features.
Pricing Plan
---
13. Feedly- Enterprise Content Curation Tool
Feedly makes content curation very easy. We can thank LEO for this, very own Feedly's Virtual AI assistant. It frees us from checking and analyzing the cluster of useless and irrelevant feed. One can easily add a relevant site in their personal Feedly account and then they eligible to share it with their audience depending upon the choice of plan.
Feedly offers one-click integration with Twitter, Google+, Facebook, and more. Along with easy insights sharing with your team as it also a enterprise content curation software.
Feedly offers forever Free Plan i.e., free up to 100 sources and up to 3 feeds but if you want to access the option of share boards, collect content from unlimited sources and more awesome Feedly functionalities then you need to upgrade.
Here, I have listed Feedly's Premium Plans.
Feedly Pricing Plan
---
How to Select the Right Content Curation Tool?
Before you get into the search for right content curation tools for your business firstly, it is important to analyze the role and need of content curation tools for business marketing.
For example, if you are the single person for marketing then you can opt for go for free content curation tools that can drive good results, also you will come to know the results of content curation.
If you have a team for business marketing operations then your needs and expectations from content curation software might be different ultimately your choice of software would be different.
At that time you will go through some advanced content curation tools with high functionality. It drives a more targeted audience and conversions to your business.
We have enlisted great content curation tools serving the needs of beginners, intermediate or enterprise content curators. Hope you find the right content curation tools from the list!!
Writing is expressing your mind through words. Being a content-writer I always try to script the best of my knowledge about the topic in the form of blogs, articles, and content.