Partner Management Software or Partner Portal Software is used for tracking sales partners. It works as a great opportunity to all the partners to manage sales, campaigns material, deals, etc. Partner Management Software helps to coordinates activities. It boosts the growth of a software business and your partners. This software has inbuilt tools to make your work easy to manage. There are many tools available for partner relationship management. Here is the list of some tools with their pros and cons and pricing, now you can extract the optimum software for your business. is a partner marketing platform used by companies as tracking software to stay updated and track the outcomes.
EVERFLOW
Everflow is considered as one of the most popular Partner Management Software that is used to track performance in every partnership. It could be an affiliate, influencer, referral etc. This software has made the tracking process conveninent than before. Give a shot to this software to get favorable results.
Features
✓ Everflow is quite beneficial in this industry.
✓ It has a responsive supporting team to deal with your queries.
✓ Feasible for you to respond at any time zone on mobile.
✓ It allows simple editing on mobile phones.
✓ Edit the offers in a bunch in few minutes with its features
Pros and Cons of Everflow
Pros-
Supporting team is commendable.
Access of simple editing on mobile phone.
Traffic management is good.
Free trials are available.
Proved to be beneficial for many companies
Cons-
Difficult to access for new users
Needs prior experience to use
Expensive for some companies
No free version of Everflow
Everflow Pricing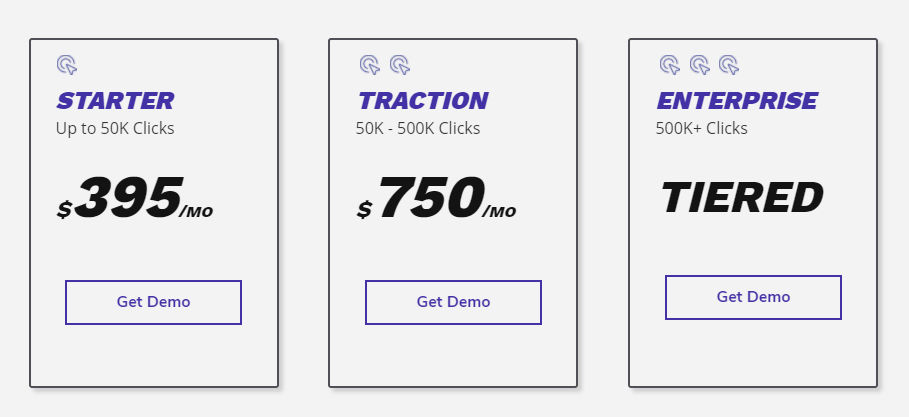 AFFISE
It is a referral marketing platform for brands, advertisers, and agencies. It is highly suitable for eCommerce brands, affiliate networks, and application developers. Affise is paid software but it provides a free trial to its users. It is created in such a way that it gives the finest results.
Features-
✓ Beneficial to Brands, Advertisers and Agencies
✓ Necessary actions are easily accessible.
✓ Simple to understand and access
✓ Check the performance of the campaign easily
Pros and Cons of Affise
Pros–
Very easy to use.
Supporting team is responsive and helpful
Useful to affiliate marketing industry.
Provides free trial to users
Cons–
Extra charges for few services
It has many errors in it.
Supporting team is not alert enough.
Fraud Detention Services could be confusing
Affise Pricing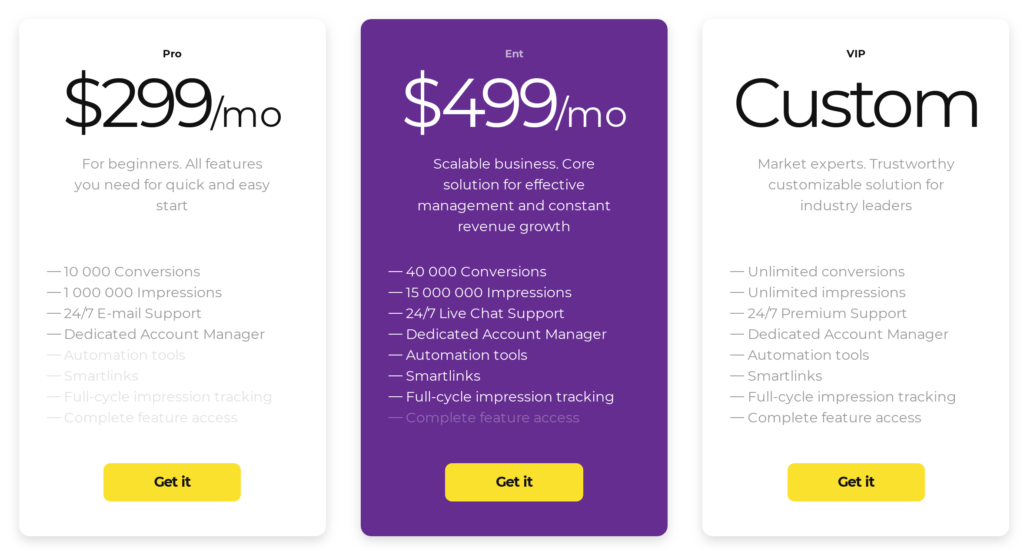 TUNE
Tune is a partner relationship manager that is contributing to the growth of a successful marketing partnership. It is one of the most trusted software and iconic brand across the world. It is highly recommended to advertising networks, technology start-ups, advertisers, etc.
Features–
✓ Highly adjustable platform to track.
✓ Easy to understand for users.
✓ Exemplary informatics or graphic dashboard.
✓ It is a paid SaaS
Pros and Cons of Tune
Pros–
Most flexible platform for building and managing partner programmer
Helpful in growing partner programmers and networks
Provides a free trial
Different set of pricing according to needs.
Keeps on evolving and adding new features
Cons–
Pricing is not convenient for many people
Expensive for some companies.
Price hike is main problem.
It doesn't enable Multiple Conversion Tracking on similar campaign.
Tune Pricing
OFFER 18
This Company has gained popularity in a short span of time and is now considered as one of the best servicing company of this niche. It is one of the best channel partner management software. With highly suitable pricing and different pricing plan, it is preferred in comparison to many high paid software. Offer 18 also provides reliable results to the companies.
Features-
✓ It has a good fraud detention system
✓ It provides a free trial for paid version.
✓ It provides satisfactory results to users.
✓ It has made an ease to track online offers and campaigns.
Pros and Cons of Offer 18
Pros-
Offering services to partner marketing strategy to affiliate marketers.
It is pocket friendly to purchase
It has a free version also.
It is possible to create offers with multiple features it have.
Cons-
Prior knowledge is required to use this software.
It is a bit complicated than other software with similar services
Requires improvement with its user interface.
Offer18 Pricing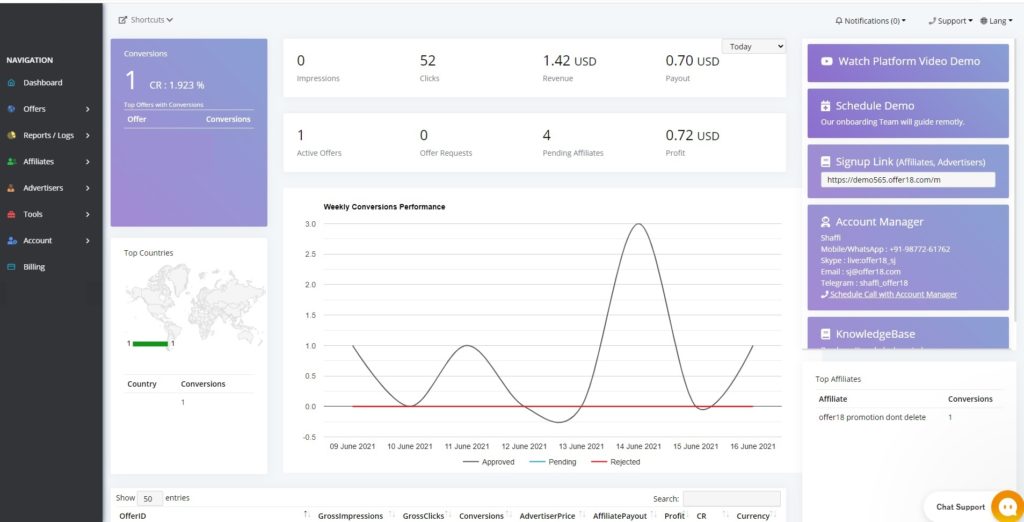 CAKE
It is a tracking software which allows advertisers, publishers to manage, measure and optimize marketing performance in real time to provide expected results. It is the best match for performance marketing advertisers and publishers that control in house affiliate or partner program.
Features-
✓ Very convenient for new users to navigate
✓ Easily accessible
✓ The supporting system is helpful
✓ One of the most reliable tracking system
Pros and Cons of Cake
Pro-
Technical Support team is highly responsive
Customizable Software in marketplace
Not complicated to use.
Time saver for many companies
Cons-
Mobile application is less responsive
All the features are not available on mobile
The new layout was not much appreciated
Cake Pricing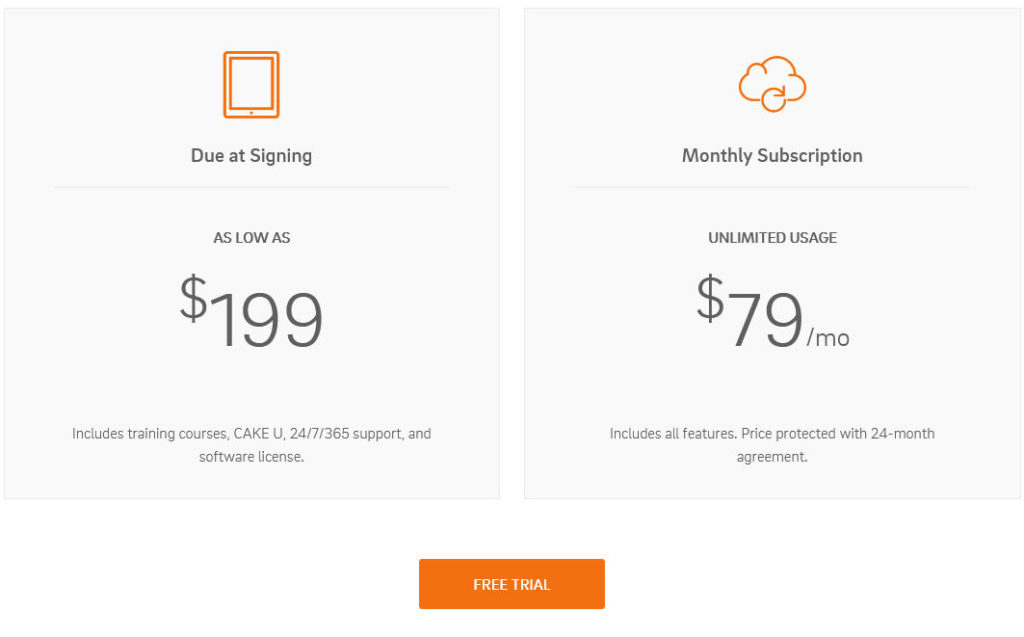 Know more about AMP (Accelerated Mobile Pages)
ZIFT SOLUTIONS
Zift solutions is a channel partner marketing software that provide commendable services to the users. Companies have exceptional feedbacks for its email campaigns and email marketing services. Users of this software have not faced complications while using the software. They can customized it according to their business needs.
Features-
✓ Good platform for lead management
✓ Customer Support is appreciable
✓ Satisfactory reports and analytics
✓ Email Marketing is easy to understand
Pros and Cons of Zift Solutions
Pros-
Impressive outcomes of email campaign
Easy to use
Highly customizable for better experience
Cons-
Few features are lengthy to access
Bulk upload feature is not very convenient
Zift Solution Pricing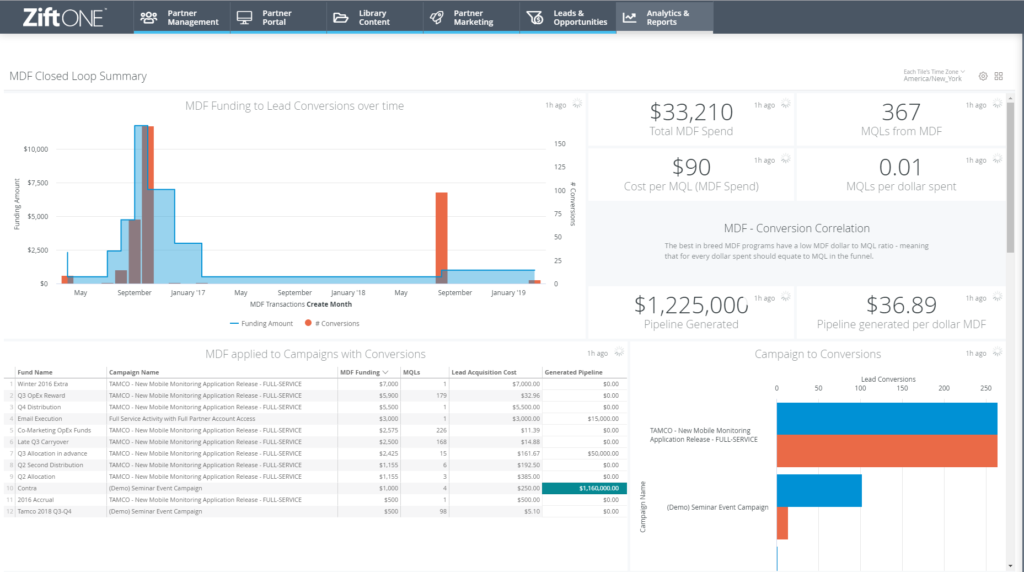 ZINFI
It is one the best partner relationship management software. Zinfi provides partner marketing strategy and partner marketing management to ease their work. It has the capability to providing analytics to email marketing campaign.
Features-
✓ It is quite simple to navigate
✓ Here Systematic and organized presentation is the core point
✓ Help companies to get better leads
✓ The supporting team is quite responsive
Pros and Cons of Zinfi
Pros-
Helpful in reaching out to customer base
Provides user friendly experience
Support Staff is very helpful
Online warranty claim system is highly convenient to access
Cons-
Social Media Syndication is minimal
Site loading gets low sometimes for low bandwidth connections
Some procedures are lengthy to work on
Zinfi Pricing
AMBASSADOR
It is channel partner portal software that amazes its users with the results they were looking for. It is a partnership platform where you can track and manage everything in one tool. These web-based capabilities help the vendor to manage partner relationships.
Features-
✓ The capability of managing multiple campaigns
✓ Highly recommended for managing referrals
✓ Easy customization of the campaign
✓ Provides favorable Results
Pros and Cons of Ambassador
Pros-
Great fit for an affiliate program with partners
Enterprise plans are fully customized
Customer Support Team is helpful
Tracking is easy
Cons-
Package is expensive for small companies
No free trials
No free version of software is available
Ambassador Pricing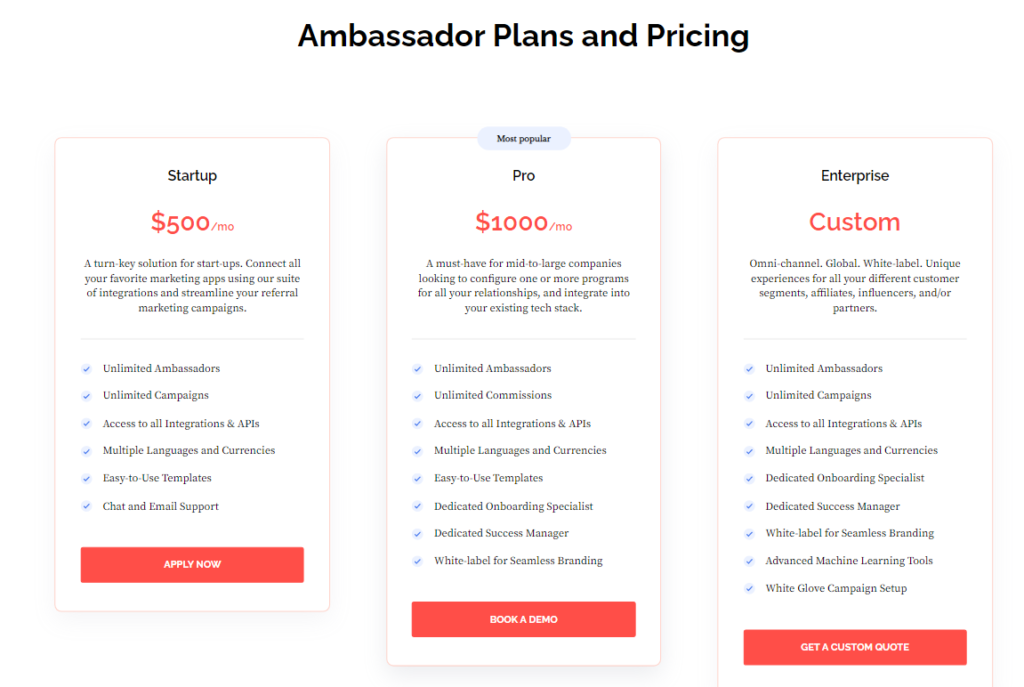 PARTNER STACK
Partner Stack is a PRM software developed to provide its best services to you. It works in such a manner that It can accelerate the growth of your business and amazes you with brilliant outcomes. It makes your work easy.
Features-
✓ It offers multi-channel marketing
✓ Customer service helps to optimize according to your usage
✓ A good tool to manage referrals
✓ Creating customer tracking links is easy
Pros and Cons of Partner Stack
Pros-
Payment method is easy and quick
Brilliant tool to increase affiliate earning
You can get what you aspire for within few clicks
Inbuilt chat system is highly responsive
Cons-
Lack of direct integrations with CRMs
Signing up is lengthy
Less payment methods available
Withdrawal time is long.
Partner Stack Pricing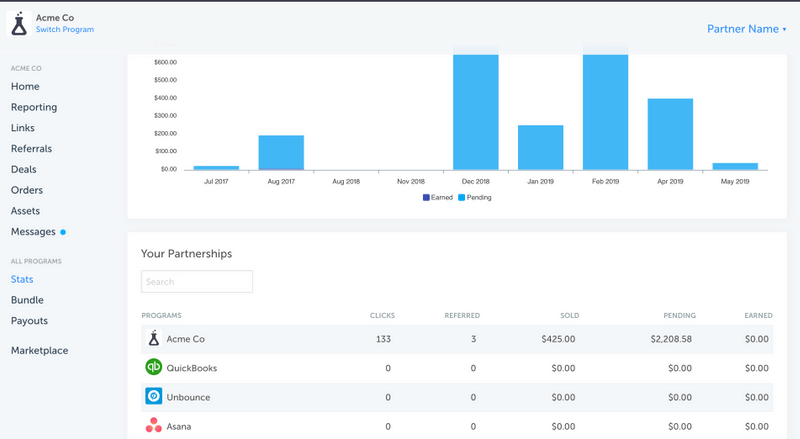 IMPARTNER PRM
Impartner PRM is an experienced and well-reputed company in the market and it is working to boost the revenues of your business. It comes up with the most unique solutions or methods to your problems and requirement. Its sole purpose is to make your work as easy as possible.
Features-
✓ It is a business to business company that makes sales with help of indirect channels
✓ Always open for feedback
✓ Important features are content management, lead management, and goal management
✓ Affiliate management and channel analytics are some of their strengths.
Pros and Cons of Impartner PRM
Pros-
Keeps on adding new features
Innovation is their key
Open to improvement
Support Team is helpful
Cons-
Few business are not as expected
It is a high priced software
Doesn't have free trial
Includes no free version
Impartner PRM Pricing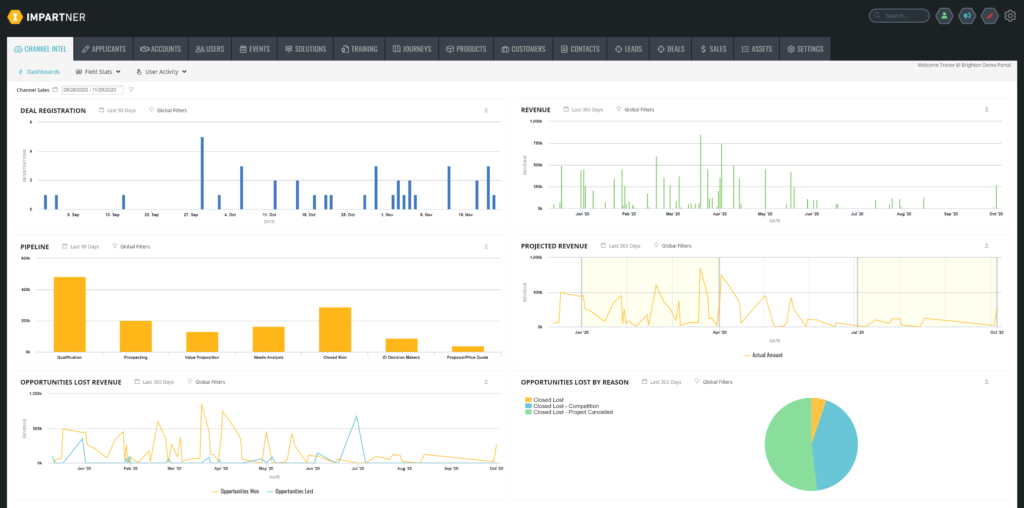 PARTNERIZE
One of the finest tools available for partner relationship management is partnerize. It is spread across most of the countries and territories in the world. Partnerize is backed up by top-tier investors, including AKKR, Mithril, Greycroft Partners and DN Capital.
Features-
✓ Customization is available
✓ Provides everything you require
✓ The support team is friendly and polite
Pros and Cons of Partnerize
Pros-
Analytic capabilities are outstanding
Keeps on updating and adding new features
You can manage all types of partnerships in-house
Cons-
Tough to use
Customization is too lengthy
This is not highly recommended by users
Sometimes consumes a lot of time
Partnerize Pricing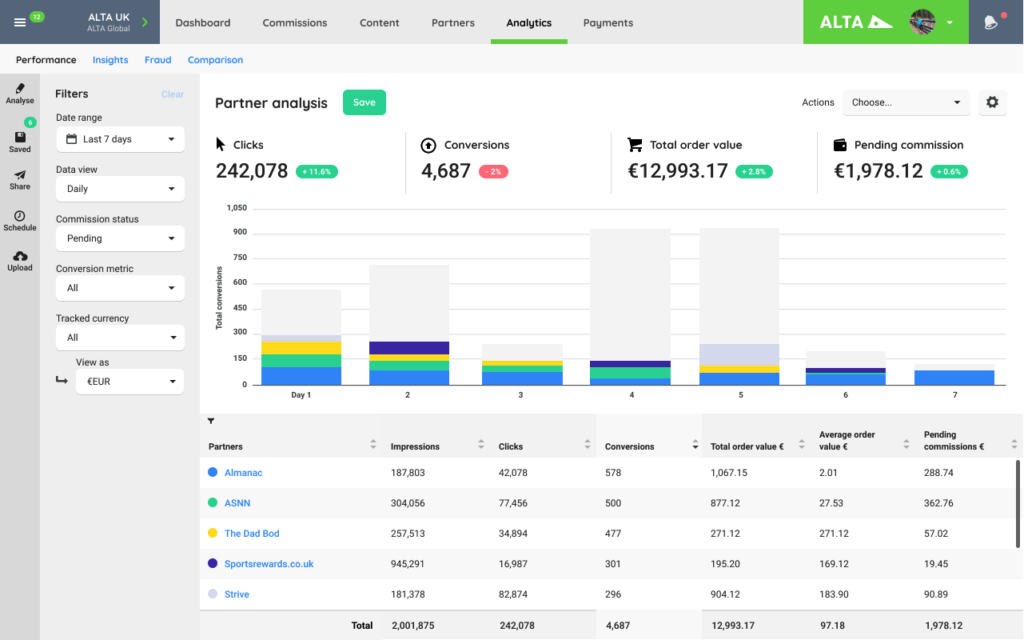 ALLBOUND PRM
Allbound PRM is one of the best partner relationship management software we have. This software is programmable to provide a distinctive experience for different divisions of partners through effective groups. This organization is looking up to make indirect sales channels.
Features-
✓ The important features of allbound are customizable forms and campaign management
✓ It has a great user interface
✓ Made up with the least complications.
Pros and Cons of Allbound PRM
Pros-
Support team is attentive and helpful.
It is easy to use.
Creating content is very simple and convenient.
Good place to train ourselves and to enhance skills
Cons-
Requires few improvements
It has room to add new features
Doesn't have ability to clone content
One cannot reorder the content
Allbound PRM Pricing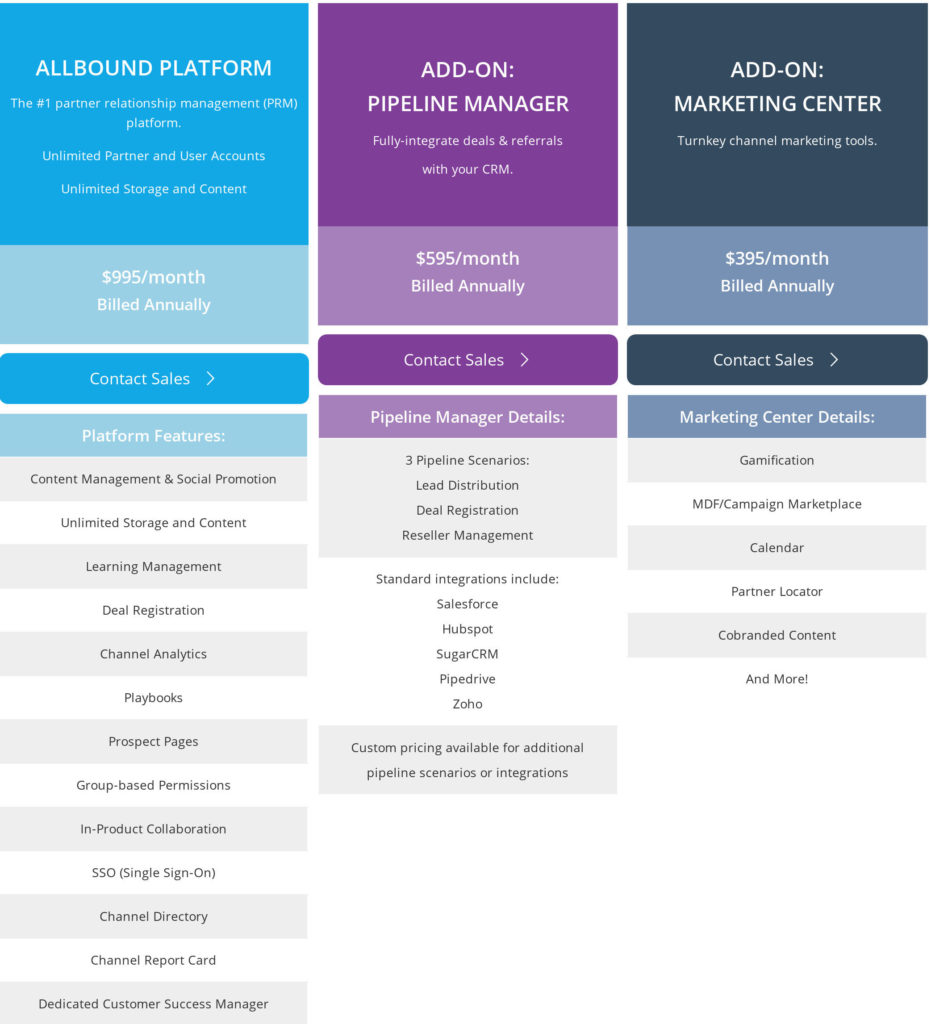 | | | | | | |
| --- | --- | --- | --- | --- | --- |
| Features/ Software | Free Trial | Mobile User Interface | Good Response to Cookieless tracking | Good Response to Affiliate Tracking | Ease to Access |
| Everflow | ✓ | ✓ | ✓ | ✕ | ✕ |
| Affise | ✓ | ✓ | ✕ | ✓ | ✓ |
| Tune | ✓ | ✓ | ✕ | ✕ | ✓ |
| Offer18 | ✓ | ✓ | ✕ | ✓ | ✕ |
| Cake | ✓ | ✓ | ✕ | ✓ | ✓ |
| Zift Solutions | ✕ | ✓ | ✕ | ✕ | ✓ |
| Zinfi | ✓ | ✓ | ✕ | ✕ | ✕ |
| Ambassador | ✕ | ✓ | ✕ | ✓ | ✓ |
| Partner Stack | ✕ | ✕ | ✕ | ✕ | ✓ |
| Impartner PRM | ✕ | ✕ | ✕ | ✕ | ✕ |
| Partnerize | ✕ | ✕ | ✓ | ✓ | ✕ |
| Allbound PRM | ✕ | ✕ | ✕ | ✕ | ✓ |
Content Inditer | Fond of exploring my Innermost phrenic Conceptions to engender content that will evoke deep relatable emotions and ardency in others.