Freelancing is the ideal work opportunity for people as it allows you to show your skills to the world. Freelancing is becoming the major mode of earning due to its flexibility and other additional benefits. It is possible in almost all business niches. Whether you are a marketing freelancer, personal finance freelancer or blockchain freelancer, you will get a wonderful opportunity if you are using top freelancing sites.
The business owners, who don't have much time to analyze work and need skilled people for the project, can simply rely on freelancers. This process is for both parties, it not only helps freelance service providers but also helps the business owners. They can get the work from around anywhere in the world. But again, you need to rely on the best freelancing sites.
MarketerHire
MarketerHire is a freelancing site that provides opportunities and services to both business owners and skilled people under the niche of marketing freelancer. They have been working with top companies and hot start-ups which cut out the risk of fake options. All the companies registered here are top-notch which is claimed by MarketerHire. Also, this website assures the companies to provide quality work from top freelancers in the world under the marketing niche.
We have analyzed this website and mentioned the features, pros, cons and all the relevant information which you need to have before signing in on this platform.
To begin with, I would like to clarify all the marketing freelancer options provided by MarketerHire
Amazon Marketer
Brand Marketer
CMO
Content Marketer
Email Marketer
Growth Marketer
Paid Search Marketer
Paid Social Media Marketer
SEO Marketer
Social Media Marketer
This must be clear by now that the company have multiple options for marketing your business. Let's have a look at the most vital part of MarketHire Review.
Pros and Cons of MarketerHire
Whether you consider it a pro or con of marketerhire, it is not optimized for smaller companies or averagely skilled people. Only the well-off companies can hire freelancers and that too, highly skilled ones.
Pros
Hires Experts– As discussed before, MarketerHire only works with highly skilled people. It provides a guarantee to the marketers that they will get the finest quality work only. For example, if they are hiring social media marketer, the freelancer should be aware of the best social media management tools.
Reliable– This site is trustworthy, as it analyses the company and people before recommending it to you. You can easily trust the people and company which are recommended to you.
Supportive– Even after matching with the company or freelancer, MarketerHire doesn't leave your side and continue supporting you in your troubles
Transparency– The pricing system of this website is transparent; there are no hidden charges at any level.
Impressive Record– MarketerHire has managed to keep an impressive success rate. It has worked with companies listed in Fortune 500.
Easy Re-Matching– If you are unsatisfied with your current marketer, then you can re-match and work with a new company on a new project.
Cons
Not for All– The Company doesn't hire people with average skills. You need to be proficient in what you do. For example, in freelance content writing jobs, companies require exceptional skills of coherence and grammar. If you are performing averagely, then there are high chances of rejection.
No Messaging– No messaging platform or dashboard, you will communicate with your freelancer directly.
Not for Small Projects– It is not ideal for finding marketers when you are looking for small projects or want them as additional income.
Small Businesses Can't Use– As it considers big and long time projects, small businesses can't use it. It will cost them a huge amount in hiring a marketing freelancer from MarketerHire.
To enhance your skills, you can pursue an advanced digital marketing course which will upgrade your skills and will make you eligible for any of these types of marketing.
MarketerHire Working Procedure
MarketerHire's main goal is to interface freelance digital marketing with organizations rapidly and consistently.
For Freelancers-
They effectively observe Facebook updates, discussions/forums, and LinkedIn profiles, and proactively set up responsibilities and request references to track down the absolute best marketing freelancer. Top freelancers who find out about MarketerHire can likewise apply here for work or projects.
MarketerHire analyses every advertiser's expertise, industry experience, client responses, and work tests to survey their best niche and information on the top work. Most specialists likewise complete a skill-specific assessment.
Up next is, the freelancer passes the primary designated spot, and then this company will conduct a video interview to check the freelancer's skills like speaking skills, Professionalism, analytic thinking procedure. If a person clears all the above-mentioned assessments, then they can join MarketerHire people group.
For Business-
For a business that is searching for a top-notch freelancer, MarketerHire gives them a 5-minute admission structure on their site. Organizations give data on their organization size, project objectives, and the different abilities that they are searching for in an advertiser. MarketerHire will then, at that point, decides the best advertiser, conducts an introduction, and help you onboard the marketer. This interaction regularly requires 48 hours, saving organizations the problem of posting on worksheets, directing meetings, and verifying applicants.
These are a few of the questions which are asked to a company before finding the perfect match for their organisation.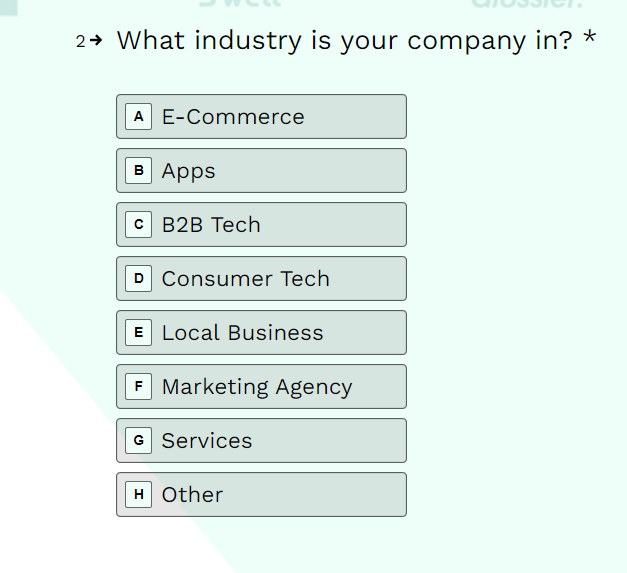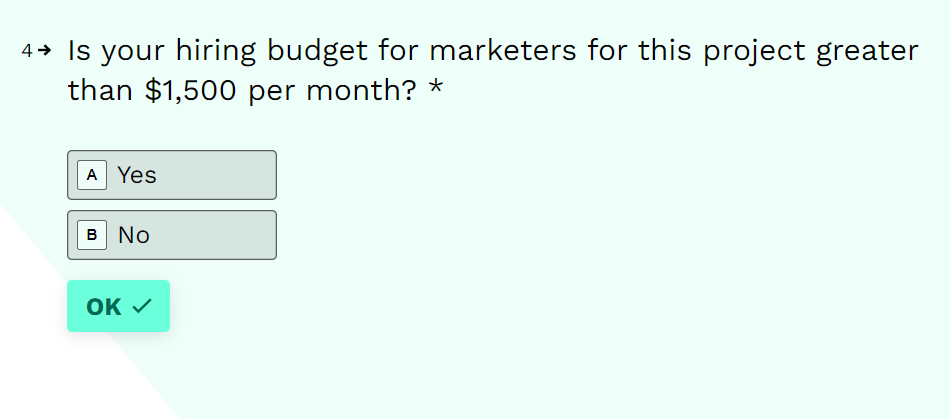 After a freelancer gets the project, MarketerHire will contact the clients at regular intervals of 2 weeks to guarantee quality assistance and fulfilment.
MarketerHire Pricing
The top freelancing sites ask for money before assigning any person to the company. Marketerhire doesn't cost until you get a project and conducts a 30 minutes call for introduction free of cost. This makes the website even more appropriate for the people. There is no contract fee or hidden fees at MarkererHire.
Freelancers marketers decide their prices on their own which is based on a few factors like their expertise, years of experience, their location and many others. Usually, freelancers at marketerhire cost a good amount of money because they have passed so many quality-assuring tests.
MarketerHire pricing typically falls into the following ranges:
Hourly: $80-$160+/hour
Part-time (20% discount for 20-hour commitment): $1200-$2400+/week
Full-time (20% discount for 40-hour commitment): $2400-$4800+/week
To ensure freelancers are placed on high-quality projects, MarketerHire projects also include a soft commitment of $1,500 minimum per month.
MarketerHire Review
One of the top things about MarketerHire is their singular focus, which is MARKETING.
There are a ton of freelancing sites providing Freelance jobs in India, and it can get rapidly overpowering. From a recruiting administrator's point of view, it's not difficult to get distracted by each of the various kinds of specialists available. MarketerHire picked a path and stays in it – they are exclusively centred on finding and interfacing organizations with the best marketing freelancer.
One thing to remember is that MarketerHire is away from the traditional method of freelancing. It can take a while for you to fit in but it is breaking the old methods and coming up with something good. This can take some becoming acclimated to, particularly on the off chance that you're acquainted with no-nonsense independent recruiting practices and stages.
All in all, MarketerHire isn't like Fiverr, Upwork, or Freelancer. You don't approach the ability base through a frontend information base. It's a site for consultants, however, the huge distinction is that it's truly all the more matching assistance. You can't simply peruse, pick, recruit and pay. And keeping in mind that can be a con for some, it's likewise a major selling point.
It is great that MarketerHire removes the mystery of recruiting a specialist consultant. As an entrepreneur, and out of control client of outsourcing sites, there are so many "awful recruits" that unavoidably set us back a great deal of time and cash.
To draw in MarketerHire and begin a freelancer search is extremely basic. You simply need to go to their site and snap "Recruit Marketers". From that point, you complete a speedy study to give them a few beginning knowledge on your business and promoting needs.
This interaction is worth it since you can perceive how this will smooth out the specialist determination process. One of the most mind striking things about traditional freelancing sites is filtering through proposition and consultant profiles. With regards to advertising, everyone appears to have an astounding portfolio. They all look great on a superficial level. In any case, subsequent to talking with a small bunch of consultants, you might observe that they don't have the specific abilities you require. Or on the other hand, perhaps they've never worked in your industry, so they need to go through an expectation to learn and adapt. MarketerHire handles all of this untidy screening stuff for you, which is such consolation.
We recommend working with MarketerHire in the future as an asset to track down great freelancers. One of the difficulties with running an organization comes is staffing, particularly when you get a good deal and need to increase the workforce. You have very little opportunity to find professionals and have to get somebody who is fit for giving an exceptional yield quick. This is the place where a stage like MarketerHire dominates. They get rid of the terrible, so you can zero in on come by results as fast as could be expected.
MarketerHire Alternatives
Upwork
Fiverr
Growtal
Mayple
Credo
Advisable
Content Inditer | Fond of exploring my Innermost phrenic Conceptions to engender content that will evoke deep relatable emotions and ardency in others.