For any business house, customers are the key to extension. Similarly, in the case of the digital world, it is very difficult to run a website effectively. Every website is in a race to have more traffic on it and also there are many ways by which you can accelerate the website traffic on your website through a proper channel. This article will offer you valuable information on Free how companies can grab free website traffic from Quora.
Why Website Traffic is required?
Here, traffic means the number of views or visitors to your website. To offer your products and services and to make people aware of your offerings and services, traffic is needed. If your website is new to the market, you will be in a need to have an identity. Start with blogging, giving free demos or assessments or putting adverts over free platforms, etc. If your website existing or established, provide quality or handmade content by using Google Ads campaign or SEO strategies. Generally, to be recognized in your market, visitors and views are needed.
What is Quora?
Quora Is an acronym for "Questions OR Answers". It is basically an American website and a no. 1 platform to put your answers or your information to any of the questions which are being placed in it. It is one of the number one leading websites to grab free website traffic from Quora which was founded in 2009 and made public in June 2010. The website is daily striving to be the best in each and every question in order to provide useful information to the public.
How to grab Free Website Traffic from Quora?
It is being followed by many of the digital marketing websites so as to rank higher in the digital world. Quora is one of the websites which is daily improving in order to have each and every question page, the best and to provide knowledge to people the best as possible.
Quora Marketing Startegies is being used by a large number of the public worldwide. It has strengthened its base by having a good name over the web. Digital marketers can use it as the best source to get free website traffic from Quora. So, if you will be one of the members of quora, you will get your personal identity and can have a wider reach via social media marketing.
Secret Tips to Bring Website Traffic from Quora
Tip #1- Research Everything- Question SEO or Question to Answer
As we know that, quora is a website for putting questions and answers. So, if you want to have an identity over the web and to invite more, quality and free website traffic from Quora, start answering the questions on it.
It is not an easy step. First of all, you are required to do proper research on the topic of questions that are to be answered.
What kind of research matters for getting website traffic?
Type any of the question related to your interest or as per the content of your website, and Google it. If that question is answered on quora and is appearing at the top of the list, it means that question has high ranking. Go for it.
Another way is explore your questions. There are many websites where lot and lot of questions appear and you can explore for that. One of it is H-supertools.com. Here, you can go to SEO and then to questions explorer. You will get many of the queries related to your topic. Answer that, too, on quora.
How it will help to bring free traffic from Quora?
While answering the questions, you are required to put the link of your website in answer. The more the views to your answer, the more to your website.
---
Tip #2- Answer the Questions
Tip no. 2 is followed by tip no. 1. After researching your question, answer it.
Here the tip is, that there is no need to answer each and every ranked question. Take a mix of high followed questions and the new questions. It will be more beneficial and effective to have your website link highlighted over the web. It is one of the free and effective ways to bring quality traffic from quora.
How to answer the question?
Answering a query over quora is simple.
Select the question which you want to answer.
Write your answer in an answer box below.
Then click submit.
Answering the questions has a tip here that do not go for answering the questions that have already good answers and do not answer unless and until you have something new to add. Quora simply declines the same answers. Also, the answers for personal experiences can be shared as these are different to varied people.
Have ready templates for your answers
Be prepared in advance. Have ready templates for your answers in your system or in hand. Anytime, whenever the question is asked to be answered, be ready to answer by having an answer ready as per your information.
Paste it on quora with some little bit of addition or deletion.
Why choosing ready templates is preferrable?
Accelerate your posting speed.
To post quality content which is prepared in peace.
Enables maximum posting a day.
To reduce thinking time for content.
---
Tip #3- Get Noticed by Another Publishers
Here, another tip that suggests having authority over quora is to start guest blogging. Write articles and blogs as per your interest over leading websites in the same topic areas. If your content is worth reading, you will surely be noticed by high-profile users and publishers over quora. Try to start blogging on reputed sites only as they already have more traffic and visitors.
Paste your links along with your blogs and articles and have an identity over the web for free. It will also accelerate the traffic from quora to your website.
How to start guest blogging?
Choose a topic of your interest.
Create an account on wordpress.com and click 'get started'.
Claim your domain name by creating a one.
Customize the design by creating quality content in it.
Publish it by hitting a publish button. Your blog will be posted.
---
Tip #4- Format your Answers Attractively
A tip to bring more attention to your answers is to make your answers showy and attractive. Choose to format your answers by adding images, lists, tables, and graphs for necessary information. Take yourself in the process. If you get to read the text, it will be boring somehow. But, a text with an illustration will catch more eyes.
Applications of formatting
Pantone studio- An app to create effective and vibrant fonts for your text, to create and organize images in colourful patterns and designs.
Font candy – It is an app which allows you to put text on your images. It allows many diverse fonts of text.
Canva – It is one of high ranked and best graphic designing app which allows you to create any image by yourself. A vast variety of shades of colours allows you to put an effective images to your quora answers.
---
Tip #5- Write an Excellent BIO
Another tip to have a distinguished identity on quora is to have an excellent and effective bio. Bio is something that is not written vaguely. It should be composed of the activities and talents possessed by you. Keep it short, simple, and straightforward.
Mention your interests and hobbies.
Mention your website's offerings and services.
Do post your contact details.
Tell people that how your articles and answers can be effective.
Write about what you currently do and about your job experiences.
Mention about your active participation in guest blogging too, if it is any.
---
Tip #6- Add Website Links to Bio and Answers
This is the tip regarding adding links to your website page to the answers in quora. It is not at all feasible to put more and more links as soon as you get registered with quora. Do not paste links on links in answers on the first day. Start with the building of relationships. Start with answering the questions only. Have an identity over quora. Invest your time and efforts in solving the queries and putting the quality content. Basically, give some value to quora by high-ranked answers. Then, go for adding a link after a week. Then, again, paste answers. Further, think of adding a link after a couple of weeks or months.
If you will put more links in starting, you will be banned by quora. You will no longer be a member to put answers in quora.
---
Tip #7- Create- Edit- Organize Your Quora Spaces
Quora space is a new feature in the basket of this website. It is basically a platform for a community or group of people who have somewhat shared interests and searches. The feature is under testing mode and is available for elite users and publishers which quora currently possess.
Why a Quora space is needed?
Quora space provides users to categorize their work as per the interest of a particular group of people and to showcase the work as effectively as possible. If you have space over quora, your website links can be posted too and you can have a wider reach over social media marketing. It will allow you to bring quality traffic from quora.
How to maintain quora space?
This has been told to have a quora space, but having a space doesn't mean having a reign over market. It should be continuously maintained, edited, and organized as per the demands of the folks.
Add new content on daily basis.
Format and edit the older one too.
Check for new questions daily and answer them too.
Post blogs and articles.
How to create a quora space?
As earlier told, quora space is for elite users. So first of all, you have to prove your ability to create your space over quora. It is an application process and approval from quora. It takes time to have approval.
Steps to create Quora Space
Go to your quora profile.
Click on space+ at right side of your profile.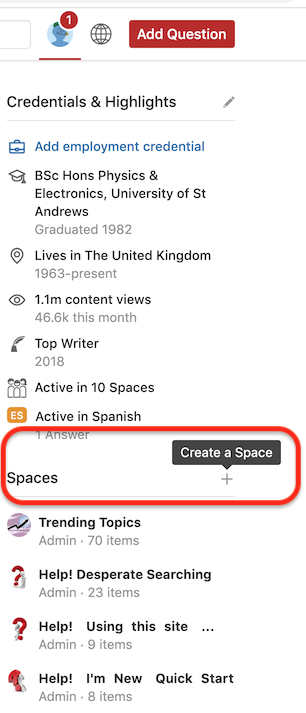 Enter your name and description.
Go to 'Next' button.
Click on 'Add Topics' and then 'Create Space'.
---
Tip #8- Track Your Profile Stats
Last but not the least, to bring traffic from quora, is to review your profile and stats.
Have a look on the views of the answers which you posted.
The answer with the highest number of views means that the question is widely searched. So answer the similar questions.
Check the ranking of your answers over quora.
Remaining updated with the statistics of your profile and postings will help you to perform better in a directed way. Then only, your ideas and identity will reach to million masses.
How to review your Quora Stats?
Go to official Quora Website- https://www.quora.com/
Login to your account with accurate Quora Login credentials such Email and Password.
On the top right corner of the screen there are three dots (depicting more). Click on that.
A drop down menu will appear.
Choose 'View Stats and Log' option from that drop down menu.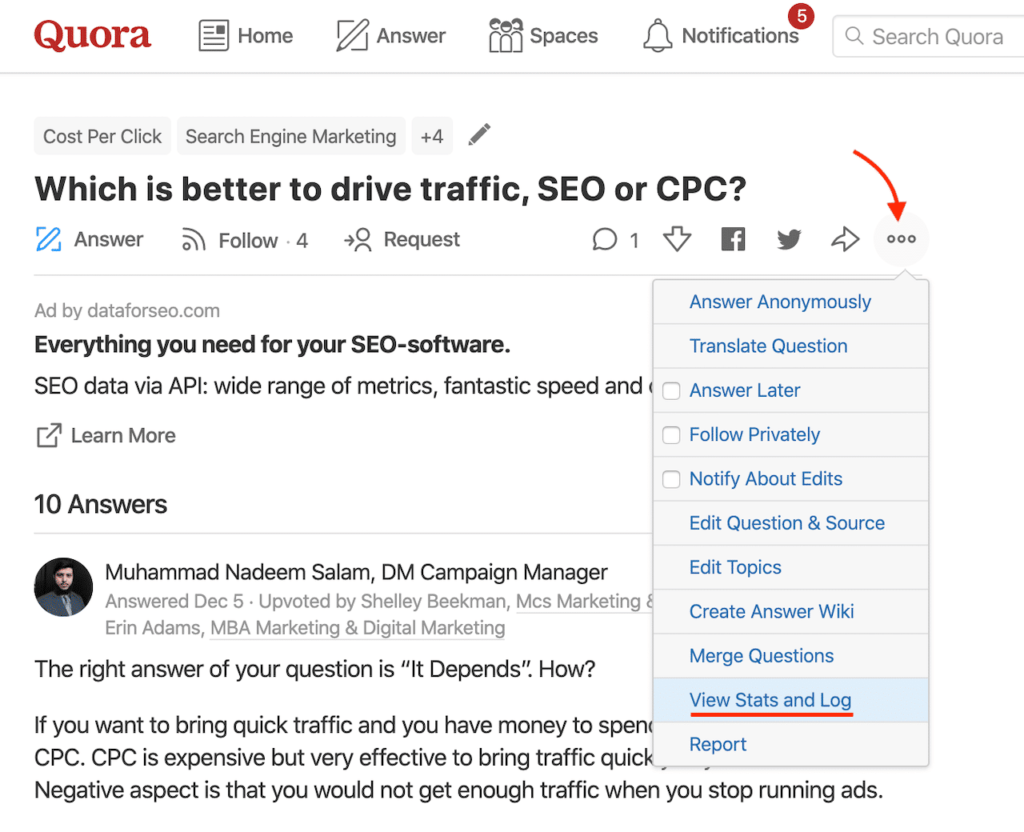 However, there are many paid ways to attract visitors to your website, but for free, try out the aforementioned ways to have views of your site. These all above are effective means to divert more traffic from quora to your website for free.
Writing is expressing your mind through words. Being a content-writer I always try to script the best of my knowledge about the topic in the form of blogs, articles, and content.