As we all know there are multifarious search engines online but most of the websites target Google search engines for deriving traffic to their website but some online marketers are not aware of the capability of other search engines. The most successful online marketers get huge traffic from other search engines like Bing and yahoo. Therefore you should also look beyond Google when it comes to driving traffic to your site.
Let me tell you a great thing about Bing and yahoo. They have a 5% share of the global search market. Do you want to miss out on 5% of the global search market?
I think you won't, so you should be focusing on Bing and Bing Analytics to boost your web traffic.
What is Bing Analytics?
Being an online marketer, we all are aware of Google Analytics. It's one of the famous Google products that digital marketers use to track website traffic analytics. I hope you can assume Bing would have similar features, but Bing Analytics technically doesn't exist because Bing itself returns around more than 30 million results for the phrase "Bing Analytics. So what does exist is Bing Webmaster Tools, it's a dashboard with a collection of features like Google analytics. But, it is more like Google Search Console.
In crux, I'm referring to all the products within Bing Webmaster Tools.
How Bing Analytics Helps You to Drive Website Traffic?
Bing Webmaster Tools offers a plethora of features to improve your website rankings and get more traffic from Bing.
Here it is:
↪ Get Detailed Insights from Bing & Yahoo
With free Google tools like Google Search Console, you will get limited features for analyzing your search performance within Google. I agreed that it provides a lot of data. But it's not the whole story.
But when it comes to Bing analytics in Bing Webmaster Tools, it will give you detailed insights by combining data from Bing and Yahoo. In other words, you can see the impressions, clicks, rankings, and the specific keywords that bring users to your site from two different search engines except for Google.
→ Submit Your Sitemap

Submitting your website sitemap to the Bing webmaster tool will make it easier for the search engine to crawl and index your site. Apart from this, you can see all the sitemaps you've submitted to Bing via Webmaster Tools. If you have used the google webmaster tool so it's easy for you to use the bing webmaster tool.
↪ Demote Site links
Site links are known as those links that display below a website's main listing on the search engine results page (SERP).
Here's how they look on Bing: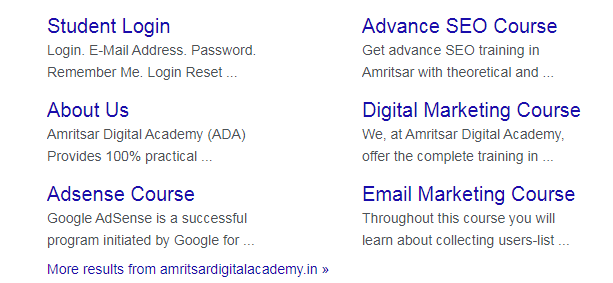 With bing products, you can control the site links. But Google doesn't. Basically, webmaster allows you to block individual pages, hence they don't show up as site links.
For instance, presently I don't need my article 10 tips to get quality backlinks from high authority sites to appear on a site link anymore. Maybe it's not relevant to my current strategy, and it doesn't make sense for it to be displayed within SERPs. With the Bing search engine, I can control that!
→ Control Bing's Crawl Speed
It's one of the great features of the Bing webmaster tool. Let me tell you why. Whenever your site gets a lot of traffic at a particular point of time like on a weekend morning, you don't want search crawlers putting your servers under more strain. So crawl Control feature within Bing analytics is so useful as it informs Bing when you're busiest. Thus, it's like asking a cold caller to call you back later when you're busy. You can't use this feature within the Google Search Console.
↪ Set up Geo-Targeting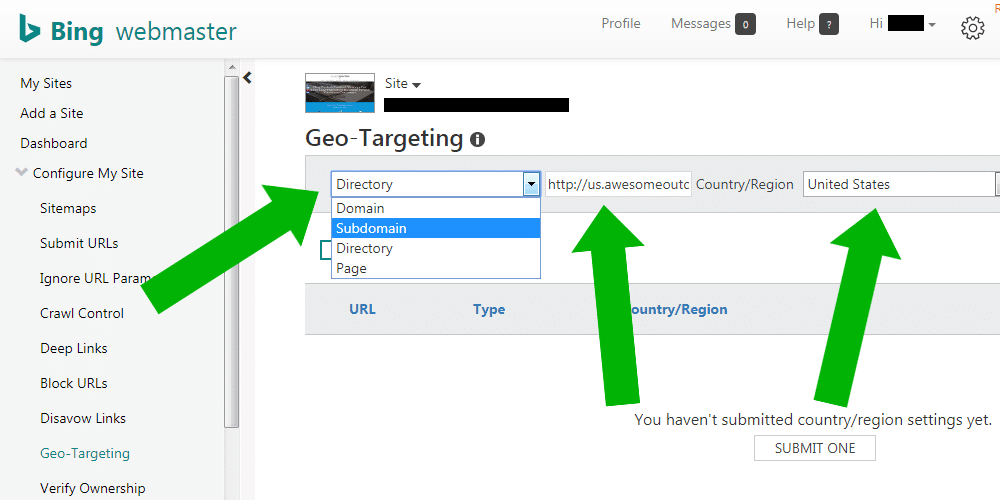 Geo-targeting is useful for good local SEO. It lets you acknowledge search engines that section of your site should be shown to users in different locations.
Bing Webmaster Tools is the only solution to all your Bing geo-targeting needs. Definitely, you can do the same with Google Search Console, but it's really difficult.
→ Connect Social Accounts & App Stores
Website is not only the factor that matters in online presence but you also need to connect social accounts and app stores. Those social pages are a great part of your brand as it is a crucial factor of online business presence. With bing analytics, You can get detailed insights into how people are finding you online.
---
How To Add the Site to Bing Webmaster Tools?
Adding Bing analytics to your site is an easy process. Just search for bing webmaster tool, sign up with a Microsoft, Google, or Facebook account, and then you'll be given two options:
↝ Import from Google Search Console: If your website is already verified by Google Search Console, you can skip the extra verification process with Bing.

↠ Add your site manually: You'll need to make detectable changes to your site so Bing can verify you.
Here are the four ways that Bing offers to verify your site:
1. Upload the XML file on your webserver

2. Log in to your hosting provider account for automatic verification

3. Add a custom meta tag to your website's homepage

4. Edit your site's CNAME record with a custom verification code
---
Boosting Your Traffic with Bing Analytics
Want to boost your website traffic with bing analytics, Here are some useful tips for using the Bing analytics Webmaster Tools features to increase your organic traffic.
↪ Find Low-Hanging Fruit with SEO Reports
Bing provides automated reports through bing analytics that flag areas on your site. That SEO reports rank issues by severity (either Low, Moderate, or High). It gives you the information on how frequently the error occurs on your site, and how many pages are affected.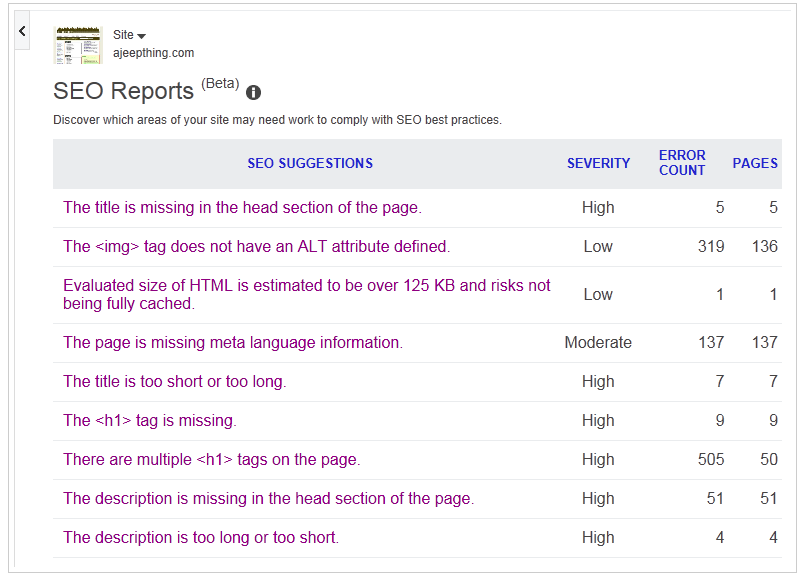 But it won't do SEO work for you. For example, it won't information if your backlink profile is weaker than your competitors.
But it's a great feature that automatically identifies common issues that can harm your search performance, like missing title tags or multiple H1s on the same page.
→ View Page-by-Page SEO Improvements
Bing analytics also offers a page-level tool called SEO Analyzer. You just need to enter a URL of a particular page from your site and Bing will check it against 15 SEO best practices.
The great thing is, you can even use it on pages that aren't indexed.
↪ Assess Your Mobile-Friendliness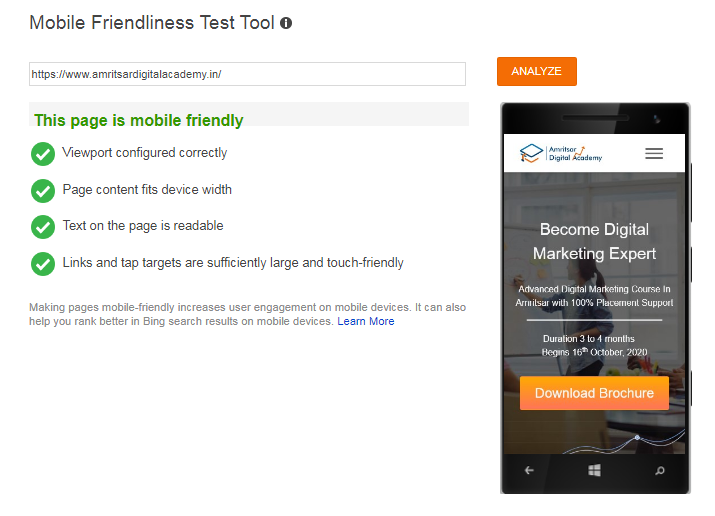 As you know half of all web traffic is on mobile devices. So your site must be mobile-friendly. Like Google, Bing offers a mobile-friendliness test in Webmaster that analyzes how your site performs on mobile. And you can use it to analyze any website. Thus, it's useful for checking in on competitors, too.
→ Find Page Two Keywords
An SEO specialist job is to make the most significant impact on a website's organic traffic. Bing Analytics is a great tool that you can even use the Search Keywords tool to identify keywords you're ranking just off page one of SERPs from 11-20.
Maybe you just need a few more quality backlinks, or you need to optimize your content.
↪ Do Keyword Research
Once you have fixed all the simple errors and optimizing page two keywords, now it's time to explore new opportunities and you'll need to start with some keyword research.
Do you know Bing is the only search engine that offers a keyword research tool based on organic data? And that data comes from searches on both Bing and Yahoo.
Content Inditer | Fond of exploring my Innermost phrenic Conceptions to engender content that will evoke deep relatable emotions and ardency in others.