Majestic SEO is a search engine optimization tool specialized in backlinks. It is another SEO tool including Ahref, Semrush, and Moz. It is an advanced and powerful tool used by SEO experts for backlink analysis. If you want to know more about how to get quality links and improve traffic on your site, you should check on outreach.solutions.
You can explore through the other sites, check their keyword, linked domains, and check their backlinks with one click. Majestic SEO pro helps you discover all the data insights of your competitors. As you are looking for a Majestic review for improving your SEO, you might know that backlinks are very important for the ranking of a website. Thus, Majestic fulfills the needs of SEO analysts for visualizing the scenario of their competitors' strategies.
Have a look at how the Majestic tool helps you in search engine optimization.
An Overview On Majestic SEO Tool
Majestic is a professional SEO tool for analyzing a site and its backlink. It is a powerful and robust tool that is specialized in backlinks. Majestic is not a tool to find the keyword difficulty, rank tracking, keyword search volume, or finding organic traffic.
With Majestic, you can have the advantage of looking at site links including linked profiles, broken links, top pages, and anchor text. Moreover, you can also compare the insights with your competitors of up to five websites. Thus, you could be able to contrast the statistics for a site.
Apart from backlinks, Majestic has an amazing feature of downloading the top Twitter profiles. As Twitter has become an important platform for online business, this SEO majestic tool will help you in bringing Twitter profiles to check out the factors that help them to rank.
Majestic Features
Unlike other SEO tools, Majestic focuses on backlink analysis instead of finding keyword volume and difficulty.
Look at the to Majestic features that this tool provides:
Backlink analysis
Competitor research
Backlinks tracking
Share campaigns
Site Explorer
Compare sites
Custom reports
Metrics History
Business profile checker
Components Of Majestic SEO
Majestic has a lot of modules for searching the metrics you are looking for. Check out here how these components work for SEO professionals.
Site Explorer
Majestic SEO Site Explorer is the majorly used and important component of the Majestic SEO tool. On the top of the majestic dashboard, hover on the tools button dropdown and click the first option i.e. site explorer.
Here in the majestic search box, you can search for details of a site by putting its URL. You will get four metrics of the site that are trust flow, topical trust flow, link profile, citation flow.
Trust flow displays the quality of backlinks, whereas the topical trust flow shows the importance and value of the site in its industry. Link profile shows the backlinks and their referring domains and citation flow is the score for the no. of sites linked to it. These metrics show the domain and page authority of the site.
The data is shown in the graph on the history of backlinks, follow & no-follow links, and anchor text.
Bulk Backlink Checker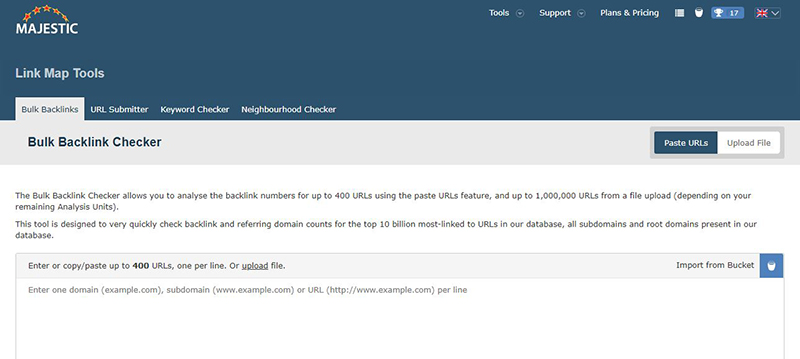 Bulk SEO majestic backlink checker helps to get statistics of backlinks that a site has. You won't see the backlinks in this section, yet you can compare the insights of a site's backlinks. You can check and compare the metrics of trust flow, backlink count, citation flow, and referring domain count. Try majestic bulk backlink checker today.
Campaigns
The campaign in Majestic works differently from the campaign in other SEO tools. It also provides the same information on entering the URL's i.e. trust flow and citations but in a different visual format. It has different data showing methods, usually in a kind of theme.
Keyword Checker
The keyword checker in the Majestic SEO tool is not similar to the order keyword check tools i.e. it will not specify the keyword volume search, competition, or related stats.
Here, the majestic keyword research checker looks for the keyword in URL, title, anchor text, and checks how many times the keyword appears in the text. It has a metric of 'search volume' that does not specify its searched volume but the traffic volume generated for the keyword by the search engine.
Majestic Million
Majestic million shows the list of top million sites with a higher ranking. These are the top 1 million sites on the internet. These help to compare the ranking sites based on referring subnets.
Neighborhood Checker
Neighborhood checker is to find the referring IP's of the backlinks of a particular site. That means, a site having backlinks from different websites but the same IP will not get much value as compared to different IP's.
This is because it might look that the owner of the website has taken backlinks from the same IP. Thus it catches the suspicious of spam activity. Try majestic SEO backlink today with neighborhood checker.
Search Explorer
Search explorer is the Majestic's search engine where you can search for a keyword or site. Majestic has its own algorithm where it shows the results based on SEO factors. The result is based on keyword appeared in title, backlinks, and URL.
Clique Hunter
Clique Hunter is similar to the tool as link interest in MozPro. Here, you can check for the sites that are backlinking to more than one site. You can add up to 10 domains for analysis.
For example, if I enter two sites abc.com and xyz.com, then it will display the list of sites linked to these sites. This will help you get link building opportunities as you got good authority sites. Apart from that, Majestic SEO has filtering and sorting options for filtering your results.
URL Submitter
URL submitter is the feature where you can add no. of links for crawling by Majestic SEO bots. With the gold plan, you can crawl up to 100 links at a time. You can even add the URL of a competitor or affiliated site to get its updated information. You can even add more than 100 by using credit.
Majestic SEO Extension
Majestic looks like other SEO tools but focused closely on backlinks instead of search terms. It offers majesticseo extension for browsers such as Chrome and Firefox. Search for 'Majestic Backlink Analyzer' and add its extension to get a quick review of it.
Majestic SEO Pricing And Plans
To start with, the SEO Majestic tool has a free plan but with limited features and functionalities. You cannot get the overall taste of Majestic if you are using a free account.
Majestic offers three plans based on its features and uses, they are:
LITE

Lite

PRO

Pr

API

API

$49.99/ month

1 User

$99.99/ month

1 User

$399.99/ month

5 Users

Fresh Index
Campaigns
Site Explorer
Bulk Backlink Checker
Use OpenApps
Trust Flow
Topical Trust Flow
Referring domains
Referring IPs
Campaigns
Referring Subnets
Verified Domains

Everything in the Lite plan

Historic Index
Raw Data Exports
Flow Metrics History
Clique Hunter
Custom Reports
Compare Sites
Backlink History
Search Explorer
Network Neighbourhood
Full Business Profile
Share Campaigns
Email Alerts
Keyword Checker
Experimental
Rank Tracker

Everything in the Pro plan

Full API
Custom Monthly Data
No of analysis you need- (100, 300, 1000) million
Create OpenApps
Conclusion
You might find a lot of SEO tools for searching keywords and content but for backlinks analysis, Majestic backlinks are the best tool. Majestic SEO tool lets you find in-depth detail of backlinks. This is really the best data provider for backlinks with the number of analysis methods it provides.
For those doing serious SEO, Majestic works as a great tool for getting an overview of competitor's backlinks and thus rank your site with the best employment.