BlueSnap Overview
BlueSnap, formerly known as Pilmus, is an all-in-one payment platform that provides payment solutions to e-commerce websites. Currently, Bluesnap is working with Fiserv to provide an end-to-end complete solution regarding payment. It is built in such a way that it consists of every aspect that any website requires for smooth payment procedures. It is availing its services in 180 countries and still counting more. The software has pros and cons both and we will be reviewing all the comments and will discuss them in detail.
Watch this video to know about how BlueSnap's payment system works.
Know more- How to choose the best payment gateway for your website?
Features of BlueSnap
Developer Tool– To improve or change user interface, it let's to do that with an ease. The BlueSnap Developer Hub provides control of APIs and documentation.
Recurring Billing– It notifies your customer when their saved card in going to experies and tells them about the recurring bills.
Shopping Cart– This software also coordinates with the best online shopping card software to provide end to end customer satisfaction. Eg of software- WooCommerce, Magento etc.
Virtual Terminal – It allows you to accept customer orders via mails, fax or telephone. It allows you to send payment links and invoices and allows them to pay through debit card, etc.
Offers support for Retail Merchants– It was built as e-commerce software and now it offers support to retail merchants. Currently it has very few clients, but it is expected to grow more.
Diversity– This software is available in more than 180 countries ad allows more than 100 types of payment systems in over 100 currencies, which means almost all kinds of payment systems are here. This is the core reason of increasing popularity of this software.  
Merchant Accounts– It works with many merchant's account and team at backend because it is not a direct processor. This made it even better software for the people.
Pros and Cons of BlueSnap
Pros-
The payment procedure is quick; even if there is an issue with payment, it will resolve it with few hours.
The termination process in commendable, it is so convenient that you do not have to pay any charges for it.
People can manage bill payments, subscriptions, payments for games, etc.
It keeps on improving and updating its features
Organizes Great webinars and shares information for better accessibility
Flexible Termination feature and no additional payment for that
The documentation is impressive.
It has robust reporting system which makes it unique from other payment software.
Cons
The dashboard of Bluesnap is complex; an amateur cannot understand it in one go. Few features can become really difficult to get through even for an experienced team.
Sometimes Bluesnap Support Team takes time to respond which is a problem for many companies.
Doesn't generate automatic reports, you have to create reports manually.
The customer support is not available 24/7. It could be a hindrance for the people living on different continents
Few features are not accessible without the help of customer support team.
BlueSnap Reviews by G2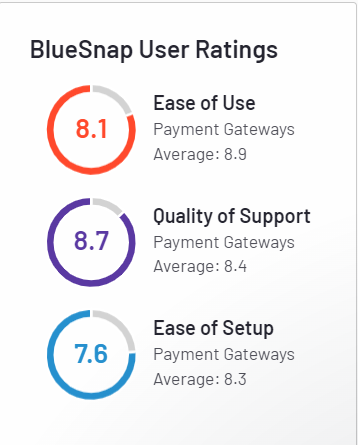 BlueSnap Review by TrustPilot
BlueSnap Revenue
As of 2017, the BlueSnap payment software has the revenue of around $29.1 million
BlueSnap Support Team
The Support has knowledge of all the features and tries to resolve each query. The team is available almost every hour. You can email them anytime and they will reply within a few hours. Here are the timings of the BlueSnap Customer Support Team for Telephone and Live chat-
Monday to Thursday from 1:00 AM to 9:00 PM (EST)
Friday 8:00 AM to 9:00 PM (EST)
Sunday 1:00 AM to 12:00 PM (EST)
The services are not available 24/7 and that is a flaw in the support system. It is serving in 180 countries and the business hours of each country may differ. So providing a 24/7 customer support system can resolve the issues more quickly.
BlueSnap Pricing
The company has introduced 2 pricing plans. The first plan is mainly built for small business owners and another plan is customizable.
Quick Start Pricing Plan– As BlueSnap do not have pricing complication and you can renew your plan every month and even terminate it without additional charges. The plan includes 2.9% + $0.30 per transaction (for US merchants). It is a good fit for small business owners but few companies still consider it expensive.
Customised Pricing Plan– The customized plan has options like flat-rate, tiered, or interchange-plus pricing rates for the companies. The BlueSnap doesn't provide much information regarding pricing so, you need to contact them directly and ask about your requirements.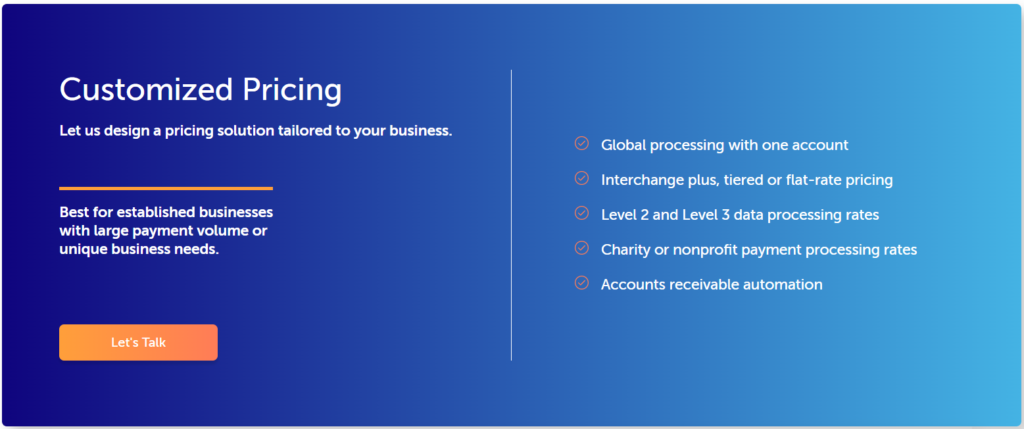 As far as previous information is linked, BlueSnap does not ask for money to open or set up the account. Though, it asks for the money to maintain your account. One more thing that you might find important is, that you have to inform beforehand to BlueSnap regarding termination. Though they won't deduct money according to their rules, the merchant has to inform early. BlueSnap used to change $75.00 monthly for account maintenance but people think that they have removed this charge; this charge is not mentioned on their website.
Note- We highly recommends you read all the documents carefully. It is vital that you know the software in and out for better processing. Avoid any legal battle by reading all the documents and going through them once and for all. Stay updated regarding the news of the software and changes in the pricing plans.
FAQ
Q. What is BlueSnap used for?
A. It is all in one payment software that is helpful for B2B companies and B2C companies to transform their business. It reduces the work of setting up payment modes.
Q. What is BlueSnap Charge?
A. Bluesnap offers 2 pricing plans and out of those, one is fixed and another is open for customization. Read the content to know in detail
Q. How do I cancel/ terminate BlueSnap?
A. Dial (866) 312-7733 phone number- Tell about your condition- Provide your account details to the staff- Ask them to terminate your membership.
Q. Where is BlueSnap based?
A. This software operating company is based in Waltham, MA, USA. The company has more than 200 employees and 5 branches. It is working really well and is generating good revenue.
Q. What is the difference between Plimus and BlueSnap?
A. Both Plimus and BlueSnap are 2 names of one company. Earlier it was known as Plimus and now it is called Bluesnap. The company changed its name due to some legal reasons.  
Q. What is the timing of Customer Support Services of BlueSnap?
A. For emails, you'll get a response within 24 hours. For call or Fax-
Monday to Thursday from 1:00 AM to 9:00 PM (EST)
Friday 8:00 AM to 9:00 PM (EST)
Sunday 1:00 AM to 12:00 PM (EST)
Conclusion
BlueSnap has tried to add almost each and every factor which is required in a perfect payment gateway. This software is very popular among merchants who are dealing in both B2B and B2C networks. Many people have extracted flaws in it but frankly, no software could be perfect. The termination procedure is the best here, and nobody has found flaws in that. So it is worth a try because you do not need to pay an extra amount for account set-up or termination.
List Your Software
You can mail us- info@amritsardigitalacademy.in to submit your software for review. Our team will surely check it and will introduce new software to our readers.
Content Inditer | Fond of exploring my Innermost phrenic Conceptions to engender content that will evoke deep relatable emotions and ardency in others.